STRETCH to REVITALISE YOUR BRAND: ITV
Brand stretching, done well, can play a key role in revitalising a brand. One example of this in action is ITV's new streaming service, ITVX. It launches fully today, replacing ITV Hub. I was lucky enough to work with the ITV team and creative agency Uncommon on their brand revitalisation strategy in 2021. It's exciting to see the brand strategy work now showing up in the marketplace.
Back early in early 2021, when our project started, headlines were full of doom and gloom about the ITV brand. Many marketing people went as far as suggesting that free, advertising-funded, live TV companies like ITV were going to die. Subscription-based streaming services, led by Netflix, had grown rapidly, boosted by Covid lockdowns. To make things worse for ITV, much worse, their ageing streaming platform, ITV Hub, was not fit for purpose. A low-point was when it crashed under the volume of traffic tuning in to watch the Euros soccer tournament in June 2021. "Viewers were forced to watch the same corner kick on repeat, stuck at three minutes into the game, or unable to get onto the coverage at all," reported the Independent (1).
Fast forward today, its early days, but things are looking brighter. Press coverage about ITVX has been positive. "ITV is set to fly high", reported The Times (2). "ITVX will represent the most important change in ITV's offering since the advent of digital," J.P. Morgan analyst Daniel Kerven told The Hollywood Reporter, backing his belief in the re-launch by giving an "overweight" rating to ITV's stock (3). "It will significantly expand ITV's content offering and will improve the user experience. It should drive increased consumption. ITVX is the future of ITV."
In this post we look at ITV's core brand revitalisation and why I believe it will prove to be successful.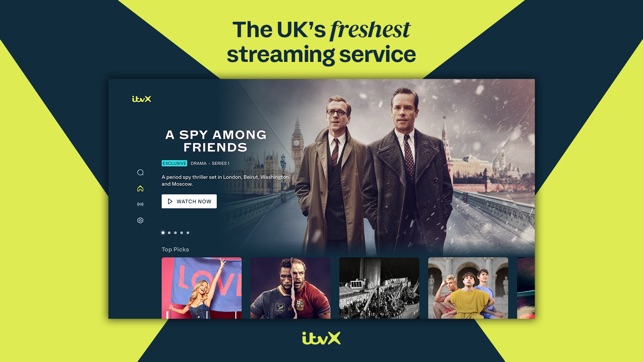 1. REVITALISE THE CORE BRAND
ITV had a big brand strategy call to make when launching the new streaming service. One possible route was to create  a new, youth-targeted brand, without the terrestrial broadcast history of ITV. This was the approach used by NBC for its streaming service, with the launch of the Peacock brand. This new brand had a subtle reference to the NBC masterbrand, which has a colourful, peacock-like visual symbol.
However, the ITV team made the bold decision to back the core brand. They believed the positive brand equity to leverage outweighed any negative "baggage" that might hold back the new streaming offer.
The first big benefit of this approach is the potential of ITVX to revitalise the ITV brand as a whole. In addition, the ITVX launch avoids the significant cost of creating, launching and supporting a whole new, youth-targeted brand. This latter approach is hard to pull off, as it diverts time, talent and energy from the core, as we posted on here using Joon from Air France as an example. 
2. BUILD DISTINCTIVENESS ON STRENGTHS
The key with revitalising a long established brand like ITV is to focus on refreshing what made you famous, rather than on fixing your weaknesses. We call this approach, "brand it like Bond", taking inspiration from how brand Bond has been revitalised over for more than 50 years.
In the case of ITVX, the 10,000+ hours of content is many times more than ITV Hub had, but still much less than Netflix. All4, Channel 4's free on-demand platform, is positioned as the UK's biggest free streaming service (even though ITVX is on track to catch up with them). So, trying to compete by focusing on scale was going to be hard.
A key strength ITV does have versus the US streamers (e.g. Netflix, Disney+ and Apple TV+) is live, "event-TV" such as Love Island, I'm a Celebrity and the soccer World Cup. And this strength has been leveraged in the ITVX positioning: "The UK's Freshest Streaming Service". In contrast to Netflix, there will always be something new and exciting streaming on ITVX. Beyond live, event-TV, freshness will also come from at least one flagship show being launched on ITVX each week (4). ITVX will also offer an ever-changing host of exclusive themed 'FAST' channels, in line with viewer preferences (e.g. Love Island, World Cup, Xmas).
The ITVX naming also drives distinctiveness versus the convention of using "+" for streaming services (e.g. Apple TV+, Disney+, Paramount+). 
Finally and importantly, ITVX is a free streaming platform, which is a big advantage versus the US streamers, especially during the cost of living crisis. Ironically, given previous predictions of the decline of free, ad-funded TV channels like ITV, Netflix is now planning an ad-funded cheaper subscription package.
3. INVEST IN NEW PRODUCT QUALITY
ITV previously attempted to re-launch its streaming offer in 2015. The streaming player was updated with a new name, changing from ITV Player to ITV Hub. The look and feel was updated. And a communication campaign promoted the new offer. However, all this work operated only at the imagery level. It added some emotional "sizzle" but the underlying product "sausage" stayed the same. And as we saw earlier, the ITV Hub product was not up to scratch in terms of user interface or content.
ITVX is a whole different story. Several years of work have gone in to creating, researching and developing the new offer. And ITV announced in March plans to invest an extra £180million in the service. The product sausage is a step-change versus ITV Hub in several ways:
Interface: much improved visually and easier to use
Original content: the hotly anticipated six-part cold war drama A Spy Amongst Friends tarring Damian Lewis and Guy Pearce and Litvinenko starring David Tennant
Britbox: incorporation of this treasure chest of British TV, from BBC and ITV, into the paying tier of ITVX
Content quantity: over 10,000 hours of content, 2.5x more than on ITV Hub (3)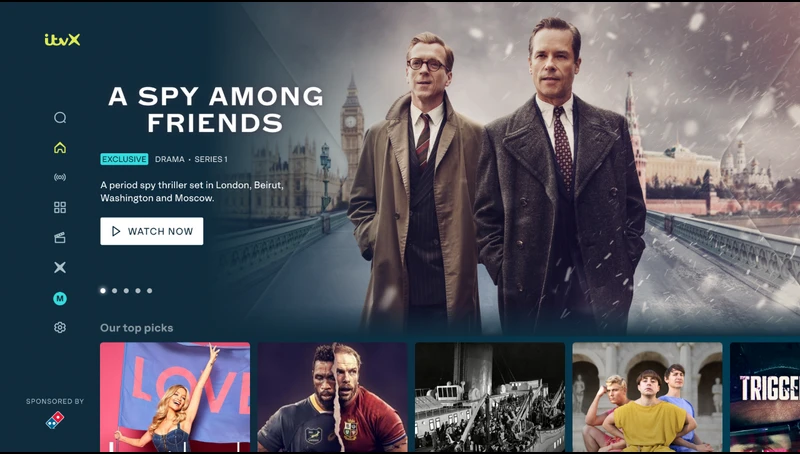 4. KEEP INVESTING IN THE CORE
Whilst the stretch into streaming is key for ITV, the core "linear", live TV offer remains key. And it is good to see that the ITV is still investing time, effort and money on this core business. The channel architecture has been tidied up to aid ease of navigation, with the main ITV channel being renamed ITV1. And more importantly, the company is working hard to create "must-see", live TV moments. Despite what you may think (especially if you are an urban, high income marketing or agency person!), there is still a demand for conventional, TV programming. "Broadcast TV" is still the biggest type of video consumption, including for 16-34s, for whom it was bigger than TikTok and YouTube combined in the 2020 Touchpoints study (see below). 11.5 million viewers tuned in to watch the recent I'm a Celebrity final — the highest for a final since 2018. And a peak total of 18 million saw England draw against the USA in the World Cup.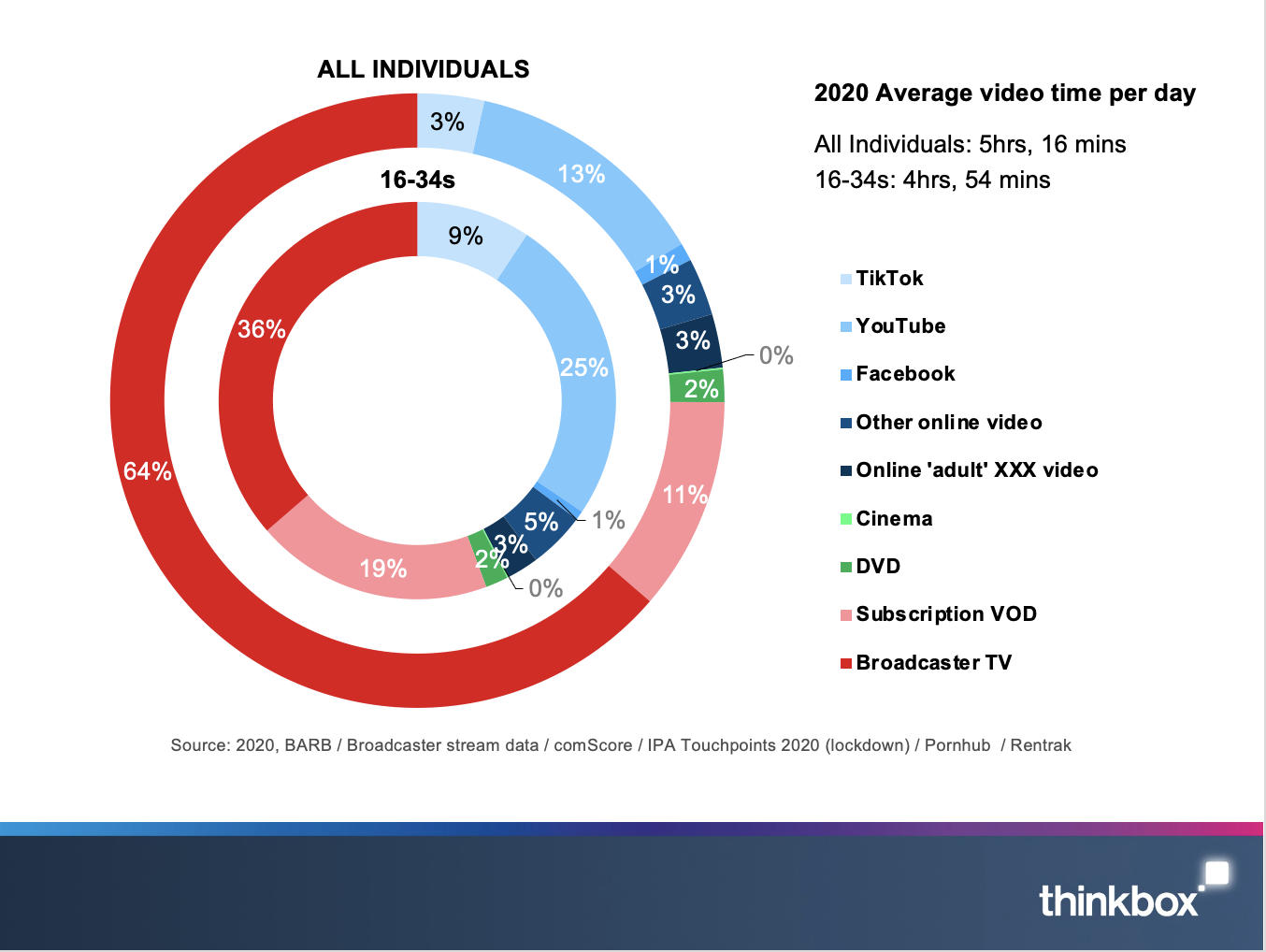 In conclusion, ITVX shows how strategic stretching has the potential to revitalise the core. We'll do an update in around one years time to see how the re-launch has progressed.
Sources