Busting 3 myths about broadcast TV
Broadcast TV is dead or at least in terminal decline. Right? This is what you would believe based on many news headlines you read. However, data on UK viewing habits from Thinkbox (1) shows that the digital doomsayers like the ones below are out of touch with reality.
1. Broadcast TV viewing is NOT a minority pastime
As you'd expect, our thirst for entertainment grew in the locked down land of 2020. Subscription video on demand (SVOD) viewing in the UK grew by +50% from a small base, to 35.5 minutes a day (1). This was fulled by an eye-popping c.$60billion investment in content by the global streaming giants: Disney, Netflix, Amazon and Apple (2).
What about 'broadcast' TV like ITV, Channel 4 and BBC? If you believe the news headlines, broadcast TV has become a minority pastime for old folk.
In fact, broadcast TV in all forms (live, on demand and playback) grew by +5% to 3 hours, 22 minutes. That's almost six times more than SVOD.
2. Broadcast TV is NOT in terminal decline
"Yes, but people only watched more TV in 2020 because of lockdown!" you might reply. In reality, broadcast TV viewing already stabilised in 2019. And it was down only 8% vs. 2015.
Broadcast TV has proved remarkably resilient despite the onslaught of the streamers for two main reasons. First, there is still an interest in live experiences you share with friends, family and the nation as a whole. Two thirds of UK people like to watch at least some live TV according to our own brandgym research. A peak audience of 12.4 million people recently watched the Harry and Meghan interview on ITV, for example.
Second, the TV broadcasters have upped their game by offering their own broadcast video on demand services (BVOD). Examples include BBC iPlayer and ITV Hub. The latter has an over 30million people signed up to its service, including 81% of all 16-34s.
BVOD is especially important for attracting younger viewers. BVOD is 19% of broadcast TV viewing for 16-34s vs. 8% for all adults (see below). Notice how live TV remains by far the main way of watching broadcast TV, even for 16-34s.
3. Broadcast TV remains a key ADVERTISING channel
Zooming out to look at ALL video shows how fragmented our daily viewing has become. Looked at this way, you would question the role broadcast TV plays as a media channel for 16-34s. It accounts for only 36% of daily viewing vs. 64% for all adults.
However, as Thinkbox points out, "What really matters to us in the advertising world is where our ads get seen." As they go on to explain, "Some forms of video don't feature any advertising (e.g. BBC and the vast majority of SVOD). And you probably don't want to advertise within porn, do you?"
When we look at share of video ADVERTISING viewing, we get a different picture altogether. Broadcast TV accounts for a whacking 91% of video ad viewing for all adults and 77% for 16-34s. So, if you want to get across high quality, impactful advertising using video and sound, TV still has a key role to playing in your media mix.
4. The TV set retains an important role
Of course, we all watch content on a myriad of devices these days. But I was intrigued by Thinkbox's observation about the enduring role of the TV set. "Walk into a living room and find the furniture not facing the TV and you're walking into a strange land," they point out. "The TV set continues to account for the majority of our video consumption: 76% among all individuals and 53% among 16-34s."  
And high quality, professionally produced content remains mainly what we watch on the TV set. Broadcaster (82%) and subscription TV (12%) dominate, account for the majority of TV set viewing, with YouTube only 4%.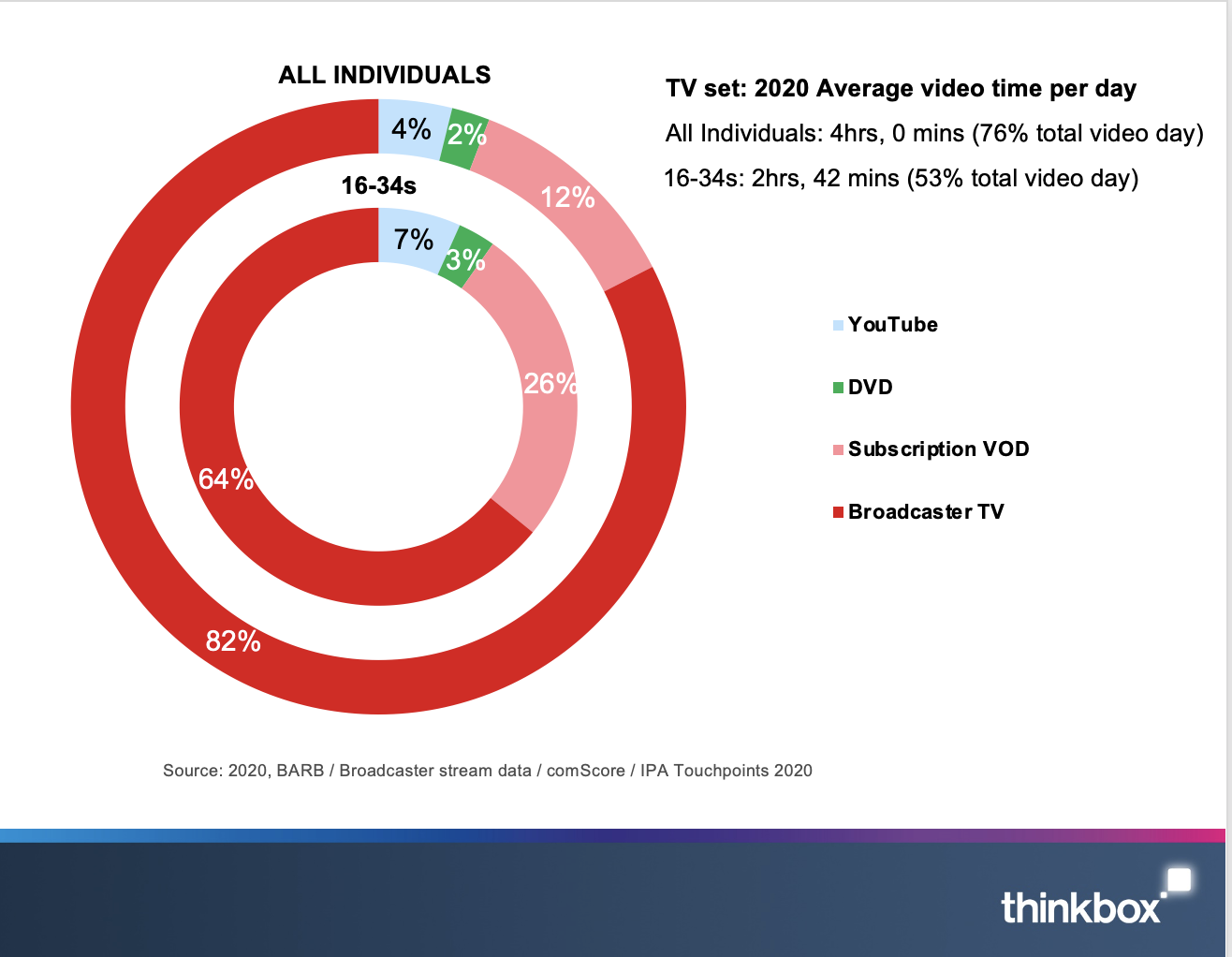 In conclusion, you are now armed with data the next time someone suggests that TV is dead and that you should move all your budget to digital! Different media have different roles to play, of course. And the Thinkbox study only looks at video, whereas online marketing including SEO and SEM has a key role to play for many brands. The challenge is not to ditch 'traditional' marketing altogether but rather to 're-boot' brand strategy, as we first posted on back in 2016 here.
SOURCES
https://www.thinkbox.tv/news-and-opinion/opinion/how-did-2020-change-the-video-world/
https://www.emarketer.com/chart/232178/subscription-video-on-demand-svod-content-spending-worldwide-by-company-2020-2024-billions