Distinctive brand assets: marketers are missing a trick
"Which distinctive brand assets should we focus on?" This smart question was asked in a recent brand strategy workshop. Research by IPOS on 2,000+ pieces of video creative can help provide some answers (1). The study looked at how often different types of brand asset were used. And then at how likley the same assets were to appear in high performing ads.
In this post I look at the findings from the study and lessons for distinctive brand asset creation and management.
1. Characters and sonic branding are under-utilised
The first and most important finding is that marketers are missing a trick when it comes to two key types of brand asset: characters and sonic devices. These two forms of brand asset are the most effective: characters are 6.0x more present in high performing ads and sonic devices 8.5x more. And yet these devices are the least used in communication: 14% for characters and a meagre 6% for sonic devices.
Logos and colours were used most often but had a much lower presence in high performing ads. However, it's important to remember that the research looked specifically at communication. Logos, colours and fonts are extremely important for distinctive packaging that gets found quickly on shelf. But they alone were not enough to create high performing ads.
2. Characters beat celebrities
A second interesting finding is that characters are twice as effective as celebrities (2.84 vs. 6.0). I posted here on Direct Line's decision to seemingly ignore this data when managing their distinctive brand assets.
The brand moved away from a highly effective strategy using Pulp Fiction's Winston Wolf character. Instead, they now use what is in effect a celebrity endorsement strategy featuring famous movie superhero properties.

The big drawback with using celebrities, in addition to the high cost, is that other brands can use them too. The visual below shows three examples where this is happening, diminishing distinctiveness and helping explain why celebrities are half as effective as characters.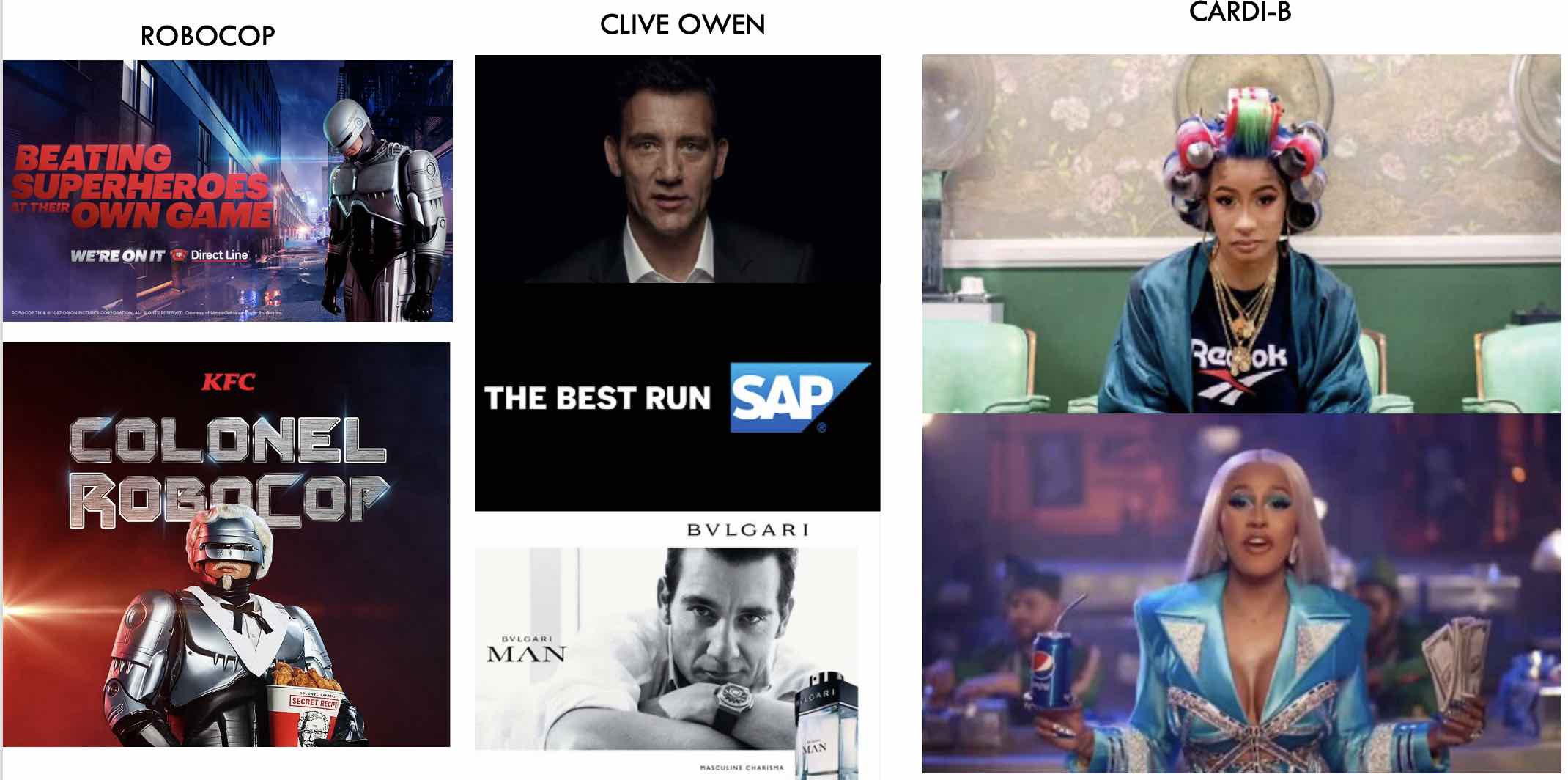 3.Sonic branding supercharges distinctiveness
Sonic branding was the most effective type of brand asset for communication and yet one of the least used. The IPSOS study confirms findings from other research I posted on here by Leicester University. This showed how brand advertising using sound or music fitting with the brand had 96% higher recall than advertising with no sound, or the wrong type of sound.
For example, windscreen repair company Autoglass have used a musical slogan for many years: "Autoglass repair, Autoglass replace." This is used in the UK but also in France, where it is "Carglass répare, Carglass remplace." And sonic devices do more than just prompt recall, they also work as a key to trigger brand meaning. For example, when you here a few notes of the James Bond theme tune a whole set of associations and emotions come flooding into your brain in an instant.
Sonic branding is especially relevant for today's digital world where most media are now 'wried for sound'. Think YouTube, Facebook and Instagram video for example. This creates more opportunities than ever before to harness the potential of sound to create distinctiveness for your brand. And sound efficiently and quickly engages people, something that is important in today's busy world where attention spans are shrinking.
4.Create fresh consistency
The challenge with all brand assets it to balance consistency with freshness to stay relevant for today. Captain Birds Eye is a good example of a brand team battling to get this balance right. The first Captain lasted 21 years, before an ill-fated attempt move to a younger, clean-shaven, cooler looking Captain featuring Sex and the City star Thomas Pescod. The Captain is supposed to be an experienced, sea-farer who knows a thing or two about fish, and this younger version lacked credibility.
Consistency was restored from 2002 to 2016, with a silver-bearded Captain (though the 2016 version looks a bit old and out-dated). Then 2018 saw a re-launched Captain played by Riccardo Acerbi, an Italian actor and watersports enthusiast who grabbed the headlines for his sex appeal! This feels like the perfect balance of freshness and consistency.

5.Treasure and measure your assets
To help strike the right balance of freshness and consistency we recommend that you treasure and measure your own distinctive brand assets. To do this, use a method such as the Iconic Asset Tracking (IcAT) we use on brandgym projects. The Magnum example below shows how the brand's distinctive product visual (top right) was almost four times more effective the celebrity endorsement of Benicio Del Toro (bottom left) which cost the brand millions of dollars.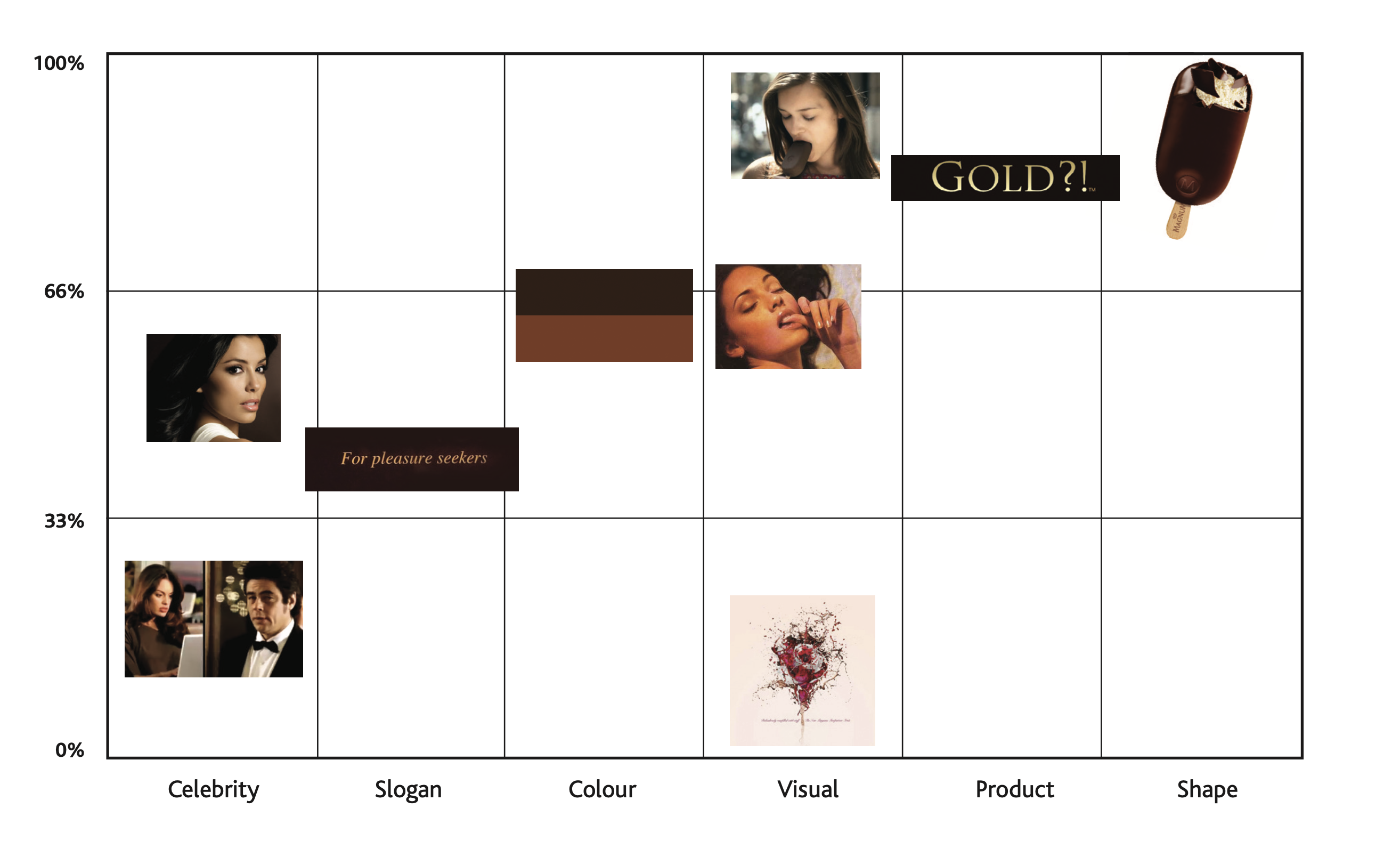 In conclusion, when you work on your next communication campaign, why not look beyond the usual brand assets of logos and colours? And maybe think twice before breaking the bank to pay for a celebrity endorsement. Creating characters and sonic devices requires more creativity. But they are likely to pay back your extra effort with higher levels of effectiveness in the long run.
Sources:
(1) (1) https://www.ipsos.com/de-ch/power-you-why-distinctive-brand-assets-are-driving-force-creative-effectiveness