Breathing new life into old brands: rejuvenation of Mini, Sodastream and Hofmeister
"Too often, investors, entrepreneurs and established companies ignore old brands capable of being reborn," rightly points out Luke Johnson in one of his excellent Sunday Times columns (1). As he says, "The excitement of the new blinds them to the possibilities of reinventing tired classics."
This is music to my ears. As regular readers will know, brand rejuvenaton is something we're passionate about at the brandgym. We've seen firsthand on projects how, if done well, it allows a brand to recruit a new generation of users, whilst also re-recruiting older people who were fans of the brand in the past.
Below I look at some of Luke's tips and tricks on breathing new life into old brands that often languish, unloved, in a company's portfolio.
1. Refresh what made the brand famous
"Goodwill and recognition are valuable attributes; heritage can be attractive if deployed wisely," explains Luke.
Mini is perhaps the most famous example of a brand being re-born, as I posted on here. BMW bought the Mini brand as part of struggling British car maker Rover in 1994. Initially, the company continued to loose money and in 2000 BMW sold off the MG Rover and Land Rover businesses and actually stopped production of the old Mini models. All it retained was the Mini name.
BMW kept the essence of the Mini brand: a hip, fun, nippy car for young-at-heart and image image-conscious city dwellers, with a British heritage. "It's in principle the same technical concept as the old Mini," commented Rainer Bickmann, assembly director of BMW Group in Oxford.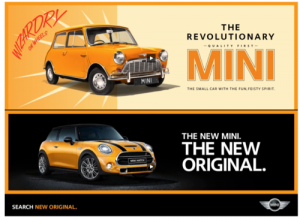 Product design kept the body shape of the original and some of the iconic versions, such as the Cooper S and Countryman. But at the same time the product was substantially upgraded. Improved comfort, safety and technical features were integrated, thanks to investment of £280 million to fund a new, state-of-the-art paintshop, a high-tech body building facility and a new final assembly area (2).
Mini's marketing over the years has reinforced and refreshed the brand's fun, colourful personality. Communication is bright and bold, with humorous headlines. The brand even manages to do money-off promotions in a Mini way, as shown below.
BMW now sells c. 400,000 Mini's a year, accounting for almost 20% of the BMW group's vehicle sales.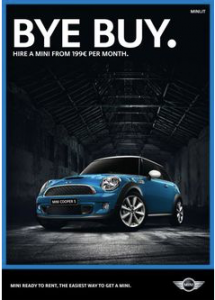 2. Tap into latent 'memory structure'
"I suspect food and drink conglomerates have many brands that are languishing but could take advantage of many of us growing up watching their adverts," highlights Luke.
The historical advertising that Luke refers to may have created valuable 'memory structure' that is stuck inside peoples' heads waiting to be 're-activated'. The trick here is to identify the distinctive brand properties that can help unlock this dormant brand equity.
I posted before on the example of the beer brand Hofmeister that I have invested in myself. Original owner Scottish & Newcastle killed the brand in 2003, following declining sales in the face of competition from premium International beers like Carlsberg and Stella Artois.
Fast forward to 2015, and Richard Longhurst and some fellow investors bought the rights to the brand, believing that it was a good example of a brand with distinctive brand properties. In addition to the Hofmeister name, the brand has a striking yellow colour and the symbol of a bear that was brought to life in an iconic 1980's ad campaign with the slogan, "Follow the bear".
Packaging was updated for the 2016 relaunch, with a more contemporary graphic execution and a premium, 330ml bottle in place of the can. Most importantly, product quality has been significantly improved. A fourth generation family-owned brewery in Bavaria make the beer, which complies with the 500-year-old German Beer Purity Law, 'Reinheitsgebot'. So, Hofmeister is now 5% ABV, light golden blonde in colour, rich in flavour and slow brewed with lower carbonation to be a refreshing, balanced, easy-drinking lager.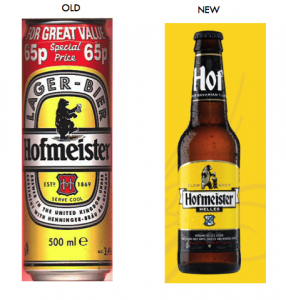 The brand was crowned the Best Lager 2017/18 in the prestigious IWSC Beer Awards. And initial sales results are encouraging. In one trial of the beer on draft, Hofmeister out-sold Staropramen and Grolsch in both volume and value, despite a 30p per pint price premium. It is appealing both to middle aged drinkers who know the brand from their youth, and new drinkers attracted by the distinctive positioning, mix and product proposition.
3. 'Pivot' to surf new trends 
Sometimes a re-launch takes more than just refreshing the brand's historical positioning and mix; in some cases a more radical re-positioning is needed. In modern tech start-up parlance, the new owners need to 'pivot'.
Luke quotes the example of SodaStream, another brand I posted on, here. As he explains, "The brand was bought from Cadbury Schweppes for a modest sum by some savvy Israelis in 1998. Residual memory means the product has instant recollection among millions of customers."
However, the new owners have done more than just re-introduce the brand with the same positioning as in the 1980s, when it was sold as a fun way to make flavoured fizzy drinks at home. Sodastream now focuses on the environmental benefits of home carbonation, tapping into concerns about the environmental damage of bottled water. This rides the wave of negative PR about bottled water and creates the opportunity for some highly distinctive and headline-grabbing campaigning by CEO Daniel Birnbaum: "Plastic bottles deserve the treatment of cigarettes and should have warning labels. Single use bottled water should be illegal, and I believe there will be a time in our lifetime when it is."
The company was taken public in the US in 2010 and has a current capitalisation of almost $1.8bn (£1.3bn). Revenues grew 14.5% to $476.1 million in 2016, with net income up 105.9% to a record $44.5 million.
4. Improve the business model
"Sometimes external management must take painful but necessary steps to reignite struggling family operations," points out Luke. This is an area where new owners may find it easier to 'break with the past' and make hard decisions, as they don't have the same history and personal relationships as the company founders.
Luke gives the example of Dr Martens boots, who needed to outsource production to low-cost manufacturing locations in Asia to revitalise the businesses. Ownership of the intellectual property, accompanied by the right design and marketing, was more important than the location of manufacturing.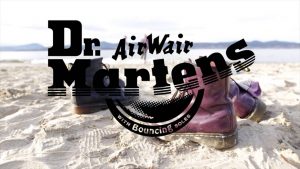 Another example is Triumph motorcycles, that I posted on here. John Bloor, a housebuilding magnate, bought the struggling British motorbike brand and runs the company with his son Nick, the CEO. A massive challenge was to re-configure the manufacturing to get costs down. Whilst 30% of the bikes are still made in Hinckley in the UK, where the 250-strong design and development team is based, the rest of the production is done in Thailand, Brazil and India.
In conclusion, Luke sums up perfectly the challenges of brand rejuvenation. "Making a faded brand work in the 21st century means respecting the past, but making the offer relevant to a modern clientele."
PRACTICAL TOOLS TO START REJUVENATING YOUR CORE
To get some practical help to grow your core business, you can download our Core Growth Driver toolkit by using the form below. This walks you through the 8 core growth drivers we've used on consulting projects and in training for leading companies including Mars, Unilever, Mondelez and AB InBev.
We also offer a short, on-demand course on our brandgym Academy platform here. The course is only £95+VAT and is fully refunded if you go on to take the full Mastering Brand Growth program.
To further explore brand revitalisation, check out the following post HERE
Sources:
1. https://riskcapitalpartners.co.uk/2018/03/04/luke-johnson-theres-life-in-an-old-brand-just-look-at-what-bmw-did-with-mini/
2. http://miniplantoxford.co.uk/facts-figures/history.aspx