Brand Bond's relentless revitalisation: NO TIME to DIE
So, have you seen No Time to Die, the new Bond movie? And if so, what did you think?! Whatever your views, James Bond remains a fascinating and inspiring example of brand revitalisation. No Time to Die is the 27th Bond movie and the franchise is still going strong, 57 years after the first film.
Brand Bond is one of the key case studies in our brandgym Academy Mastering Brand Growth program. And in this post, I look at some learning from the latest chapter in this amazing brand revitalisation story.
1. REMEMBER what made you famous – positioning
James Bond is a striking example of how a brand can stick to the same brand positioning, for not just years but decades. Like every Bond movie before it, the positioning of No Time to Die can be summed up as 'James Bond beats the baddie to save the world'.
Times have changed dramatically over the last half a century. And the world today is unrecognisable compared to, well, the world when the last movie Spectre came out (2015)! However, Brand Bond taps into a deep and enduring human need to see a hero take on beat the bad guys with brain, brawn and humour.
2. REMEMBER what made you famous – distinctive brand assets
Like all great brands, James Bond has a rich set of distinctive brand assets. These are critical for building the 'memory structure' that keeps a brand top of mind at the moment of choice, triggering recognition but also unlocking meaning. We recommend you 'treasure and measure' your brand assets as part of your brand revitalisation, as we posted on here.
No Time to Die is packed full of distinctive brand assets, used since the very first Bond movies, such as Dr No and Goldfinger. These include:
Cars

: the Aston Martin DB5 has a starring role to rival even Daniel Craig! Bond even makes use of the front machine guns, first seen in Goldfinger

Gadgets

: Bond's watch has some fancy functionality that comes in handy. And Rami Malek's baddie makes use of some scary nano science technology to try and reek havoc on the world

Characters

: we have Q, M, Miss Moneypenny and also the CIA's Felix Leiter all present. We also have Bond villain Blofeld, who appeared in the very first movie, From Russia with Love

Locations

: we get to travel again, something many of us have longed to do in a locked down word. We voyage via Bond to the Amalfi coast, Cuba and Jamaica (where Ian Flemming wrote many of his Bond books)

Music

: the Bond music in all its forms deserves a blog post of its own! Is there any other brand that has such a rich sonic branding property?

Visual ID

: Brand Bond's guardians resist the temptation to fiddle with the fundamental visual identity. Check out the 007 logos below: 58 years of brand consistency in action!

Wardrobe

: Bond still finds time to change into a tuxedo, albeit one by Tom Ford.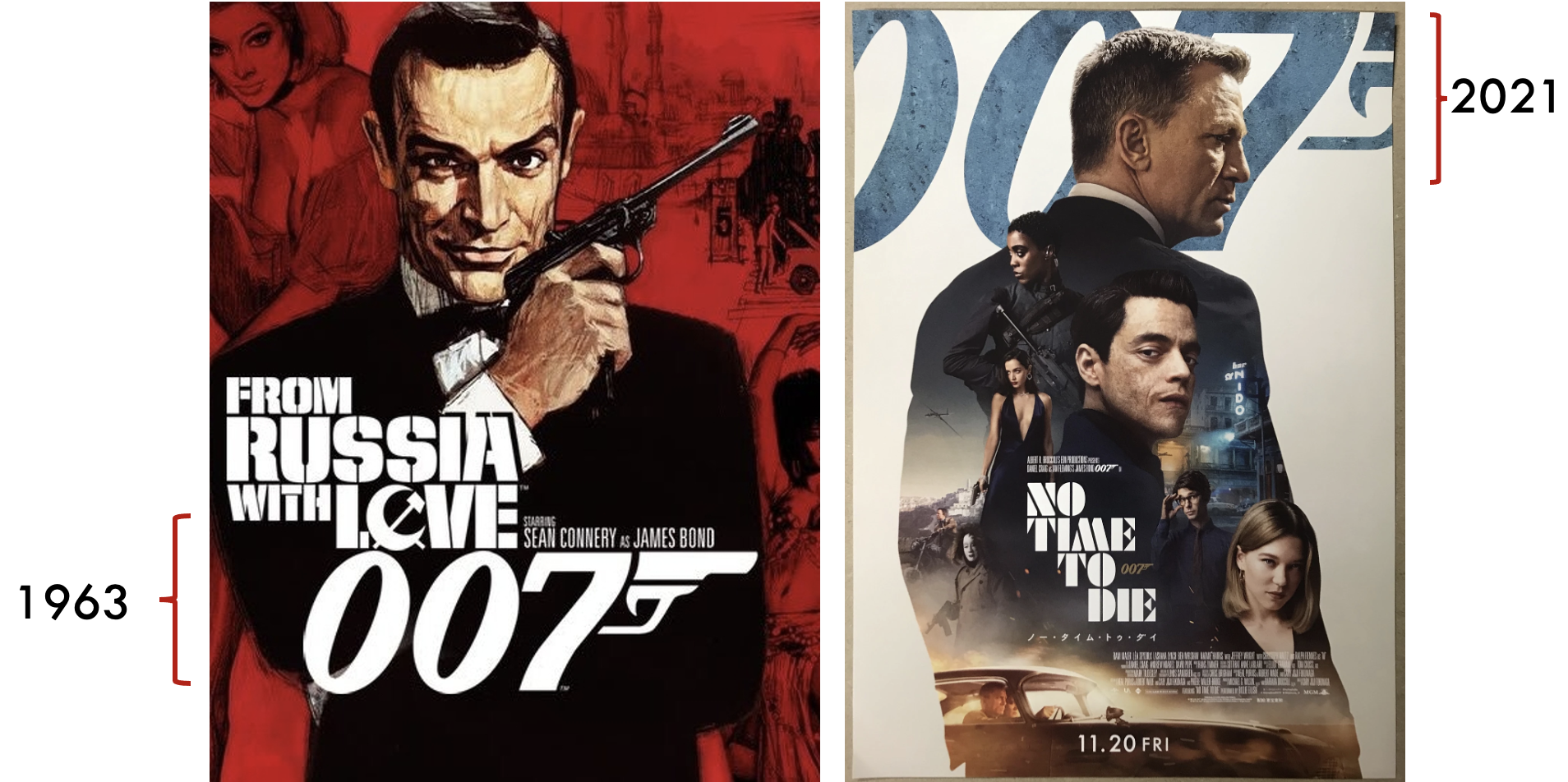 3. REFRESH what made you famous
Remembering what made you famous is one thing. The key brand revitalisation challenge Bond pulls off so well is to also REFRESH what made it famous, to stay relevant. Failing to pull off the 'brand balancing act' of freshness and consistency can be fatal, as shown by Blockbuster, Toys R Us, Nokia and Kodak.
No Time to Die continues and completes the refresh of the Daniel Craig era, that started with Casino Royale 15 years ago. By looking FORWARD at changes in culture, Bond's producers and directors have pulled off a masterclass of brand revitalisation. The Craig era has generated the highest ever box office revenue per movie (below), quite something for a brand that is almost 60 years old (1).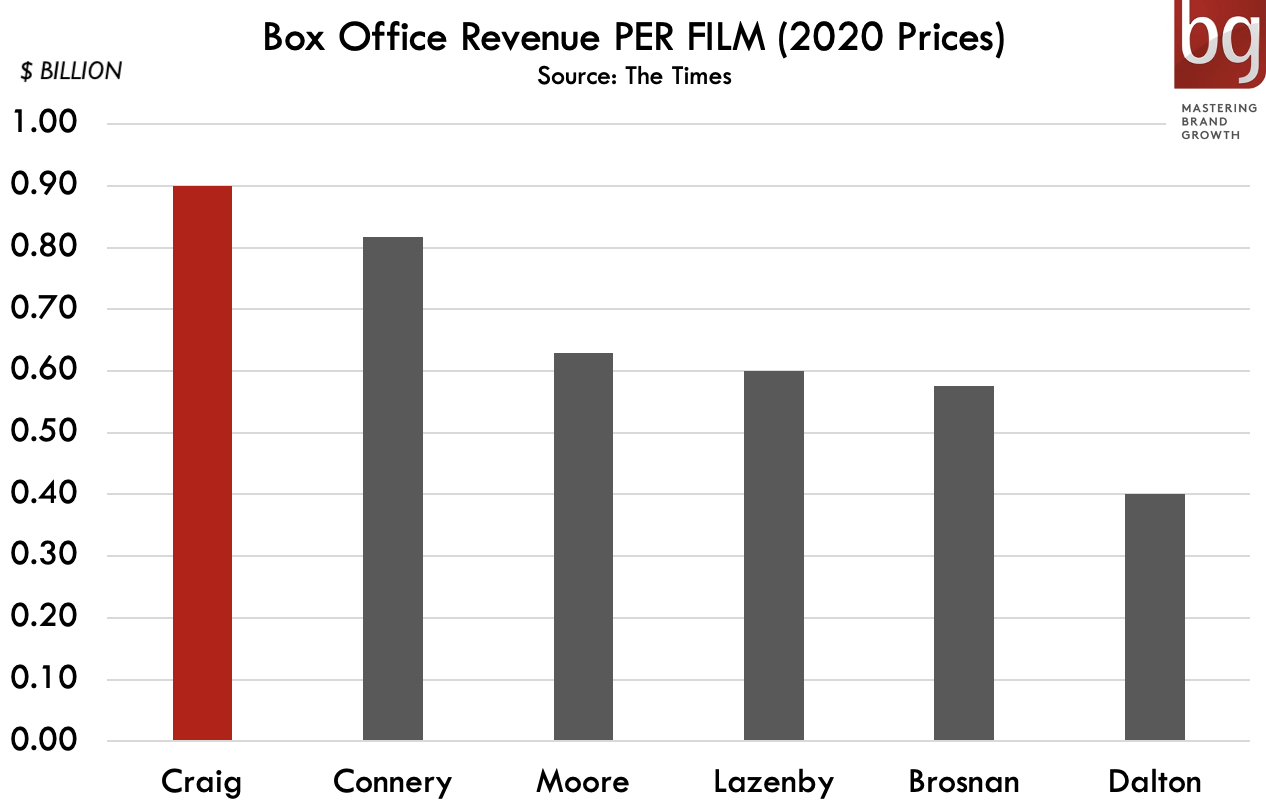 One imperative was to drastically update the role of women. Fellow agent Nomi (Lashana Lynch), is a match for Bond and takes no s**t! She even took over Bond's 007 number while he was away from duty. All-action CIA agent Paloma (Anna de Armas) squirms when Bond tries an old school chat-up line, "Shouldn't we get to know each other first?", when she asks him to change into a tuxedo. Bond's long term love interest, Dr. Madeleine Swann (Léa Seydoux), is a psychologist, not just a pretty face.
No Time to Die continues to show a more vulnerable, emotional side to the Bond character. "We discuss what we will put Bond through emotionally. Not just physical sacrifice but betrayals, broken hearts. It's a three-dimensional character," commented producer Barbera Broccoli (1). Revealing this deeper side should allow a deeper connection with the audience as we care more about the outcome.
The fifth and last Dainel Craig outing also maintains the harder, grittier and darker style of movie. This feels much more in tune with the current times than the previous Pierce Brosnan-era Bond.
The brand assets mentioned earlier are deployed with humour to keep them fresh. One of my favourite scenes is Bond having to give his full name to a MI5 security guard who fails to recognise him. "Bond," he says with an exasperated sigh. "James Bond".
Finally, without giving too much away, the central plot of villain Safin (Rami Malek) is scarily relevant for our current Covid-affected world. Did the producers have some sort of clairvoyance, given the finished filming in 2019?!
4. UPGRADE the CORE
To be effective, brand revitalisation needs to be RELENTLESS. And brand Bond has continued to invest in upgrading the core product via the casting of No Time to Die. We have Oscar winners Rami Malek (Safin) and Ralph Fiennes (Q).
The theme tune is performed by seven-time Grammy winner and future Glastonbury headliner, Billie Eilish.
And on the car front, we have not one but four Aston Martins featured!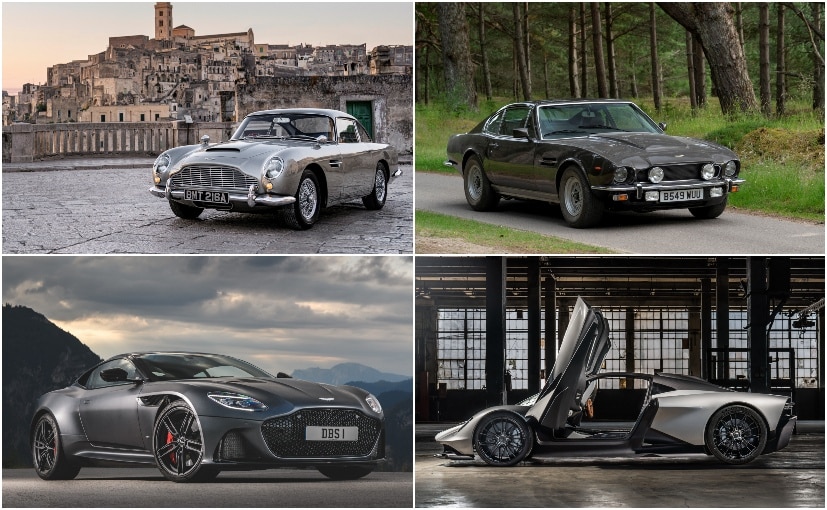 5. The James Bond TOOL
So, how to 'Brand it Like Bond' and apply these brand revitalisation guidelines? To help you do this, I share below the tool below we use on brand positioning projects and on the brandgym Mastering Brand Growth program*.
It helps you look BACK to capture what made your brand famous and look FORWARD at what is changing in your market and in culture generally. It also encourages you to look at both direct and indirect COMPETITION.
*There is still just time to join the latest Mastering Brand Growth program, where Bond will be one of the 60 brand examples we'll explore. Click HERE to join us as we kick off w/c 11th October.
In conclusion, No Time to Die shows again how to relentlessly drive brand revitalisation, by remembering AND refreshing what made your brand famous.
We'll check back in 12 month's time to see how the latest brand revitalisation fares at the box office. But my money is on it being the second Bond film to break the billion dollar barrier. Early signs are promising. Vue cinema customers booked as many seats In the first 24 hours as for the first four and a half weeks of Spectre.There may be some post-lockdown effect here, with pent up demand boosting early sales, but it's still an impressive start.
PRACTICAL TOOLS TO START GROWING YOUR CORE
To get some practical help to grow your core business, you can download our Core Growth Driver toolkit by using the form below. This walks you through the 8 core growth drivers we've used on consulting projects and in training for leading companies including Mars, Unilever, Mondelez and AB InBev.
We also offer a short, on-demand course on our brandgym Academy platform here. The course is only £95+VAT and is fully refunded if you go on to take the full Mastering Brand Growth program.
To further explore brand revitalisation on the blog, see the other posts below:
SOURCES: