5 Lessons from the Bud Lite brand backlash
The recent Bud Lite brand campaign with transgender social influencer Dylan Mulvaney has created a brutal backlash. Sales of the beer dropped 17% after the campaign and $6 billion was wiped off the value of parent company Anheuser-Busch, according to The Times (1). The campaign in question involved an Instagram post by Mulvaney in early April, dressed as Holly Golightly from Breakfast at Tiffany's. In the video, she thanked Bud Lite for sending a special can celebrating her 365 days of womanhood (see below).
Bud Lite's slogan is "Easy to Drink. Easy to Enjoy." But many of the brand's consumers didn't enjoy the campaign. The Times reported on feedback from Bud Lite drinkers. "It's bullshit, they shouldn't have gotten political with beers," said one consumer (2). "Their main demographic is blue-collar guys that drink beer and like grilling." More high profile Bud Light drinkers added fuel to the fire. Singer Kid Rock filmed himself shooting cases of Bud Light with a semi-automatic rifle, with the sign-off "F**k Bud Light and F**k Anheuser-Busch". And right-wing Republican congresswoman Marjorie Taylor Greene said she had switched brands over the controversy (2). The negative reactions were then picked up and amplified by numerous online news sources.
What can we learn from the challenges the Bud Lite brand has faced in the last month with this campaign?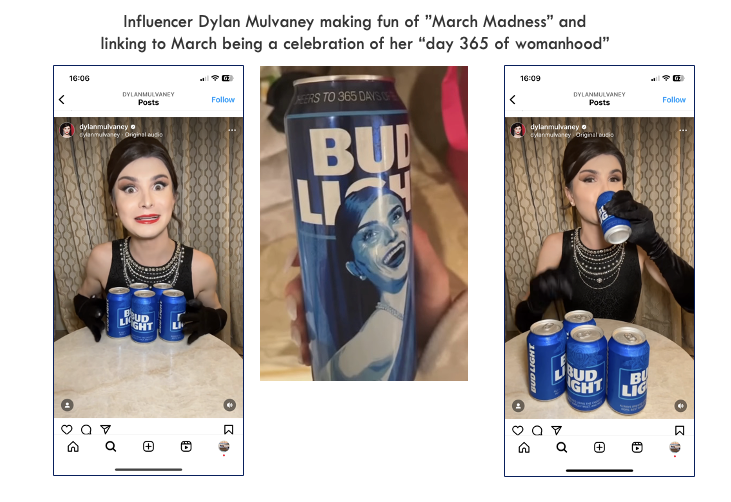 1. Ensure brand coherency
The first and most important learning is that any campaign should be coherent with the brand's core equities. In last week's post, we looked at The Perfect Marc Jacobs campaign with the AKT charity during Pride week to support the LGBTQ+ community. This campaign was coherent with the brand's motto of "Be your true, authentic self", inspired by Marc Jacobs' personal belief that we are all perfect as we are. The commitment of brand owner Coty to diversity is shown by it having a transgender CEO, Sue Y. Nabi.
So, what about the Bud Lite brand? Making the brand more inclusive was part of brand leader Lissa Heinerscheid's mission to rejuvenate the brand. "If we do not attract young drinkers there will be no future for Bud Light," she told the Make Yourself at Home podcast. "It means having a campaign that's truly inclusive and appeals to women and to men." However, Bud Light's marketing still seems to be dominated by masculine messaging with a big focus on sport (see below).
This meant that the Dylan Mulvaney campaign came as a shock. It lacked the brand coherency of the Perfect Mark Jacobs campaign. To make things worse, Mulvaney made fun of March Madness, a month where American sports fans feverishly forecast the winners of the NCAA college basketball tournament."I've heard about this thing called March Madness and I though we were just having a hectic month," she told her followers. "It has something to do with sport, but I'm not sure which sport". The joke jarred, given that the Bud Lite brand itself was promoting and supporting March Madness (see the basketball post below).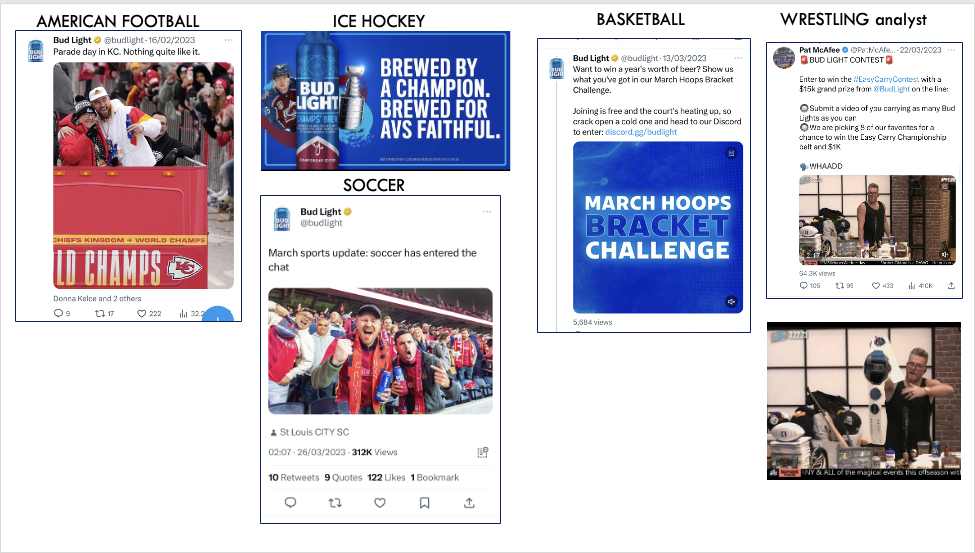 2. Balance freshness and consistency
The sort of brand rejuvenation Lissa was driving needs to balance freshness on the one hand and consistency with what made the brand famous on the other. The brand's Super Bowl ad, viewed 17 million times on You Tube, seems to do a better job of pulling off this tricky brand balancing act. The stylish and light hearted film featured Miles and Keleigh Teller beating the boredom of being stuck on hold with an impromtu dance party, enjoying a Bud Light together. The campaign presented a more contemporary picture of the brand without alienating its traditional user base. "Bud Light, that has for years used silly ads and frat-boyish humor, is ready to grow up," commented Variety magazine (3).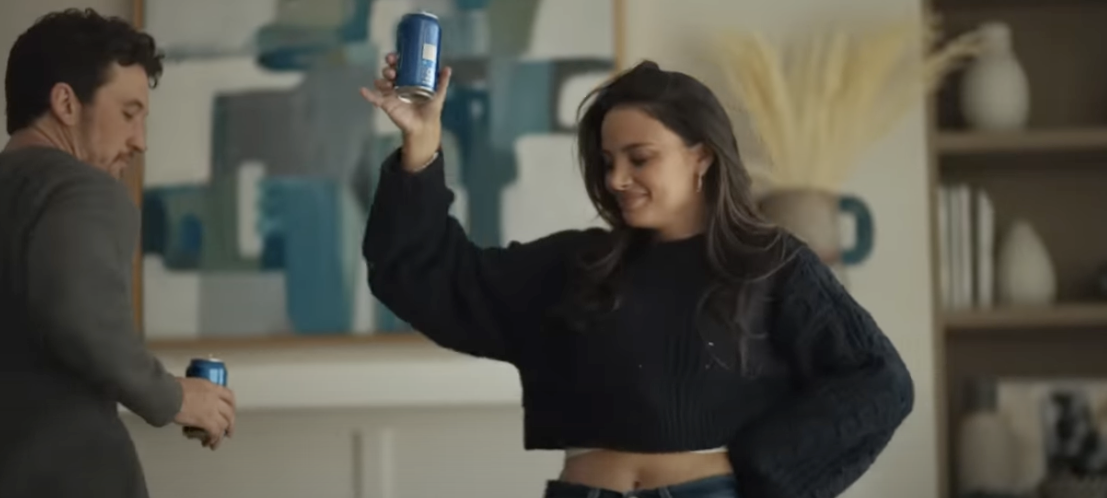 3. Create long term partnerships
Forging long-term relationships with influencers enables a cohesive, coherent brand voice over time, as we posted on last week. It also solidifies trust amongst consumers, showing that the influencer genuinely backs the brand they are collaborating with and vice versa. However, in the case of Bud Light, the Dylan Mulvaney campaign seems for now to be a one-off. The brand didn't even re-post Mulvaney's video on its own social media as far as I can seee. Time will tell if the brand follows up Mulvaney's initial social media post with subsequent campaigns with her, but signs so far suggest this will not be the case.
4. Brave out the backlash
If you do decide to run a campaign likely to create controversy, you need to be brave enough to ride out the storm that is likely to follow. And you need to ensure your your business leaders back you. Gillette created controversy with their campaign against toxic masculinity that I posted on here. Like Bud Light, Gillette believed taking a stand on a social issue would win back younger consumers. In Gillette's case, the company braved out the backlash and threats of boycotts that ensued (see below). They backed up their "storytelling" with some "storydoing", committing to "donate $1 million per year to non-profit organizations designed to inspire, educate and help men become role models for the next generation." Importantly, support for the campaign was led from the top. I saw Gillette CEO, Gary Coombe, stand up in public and boldly defend the campaign, as I posted on here. He described the stress and strain of having to weather the storm of controversy that engulfed him and the marketing team.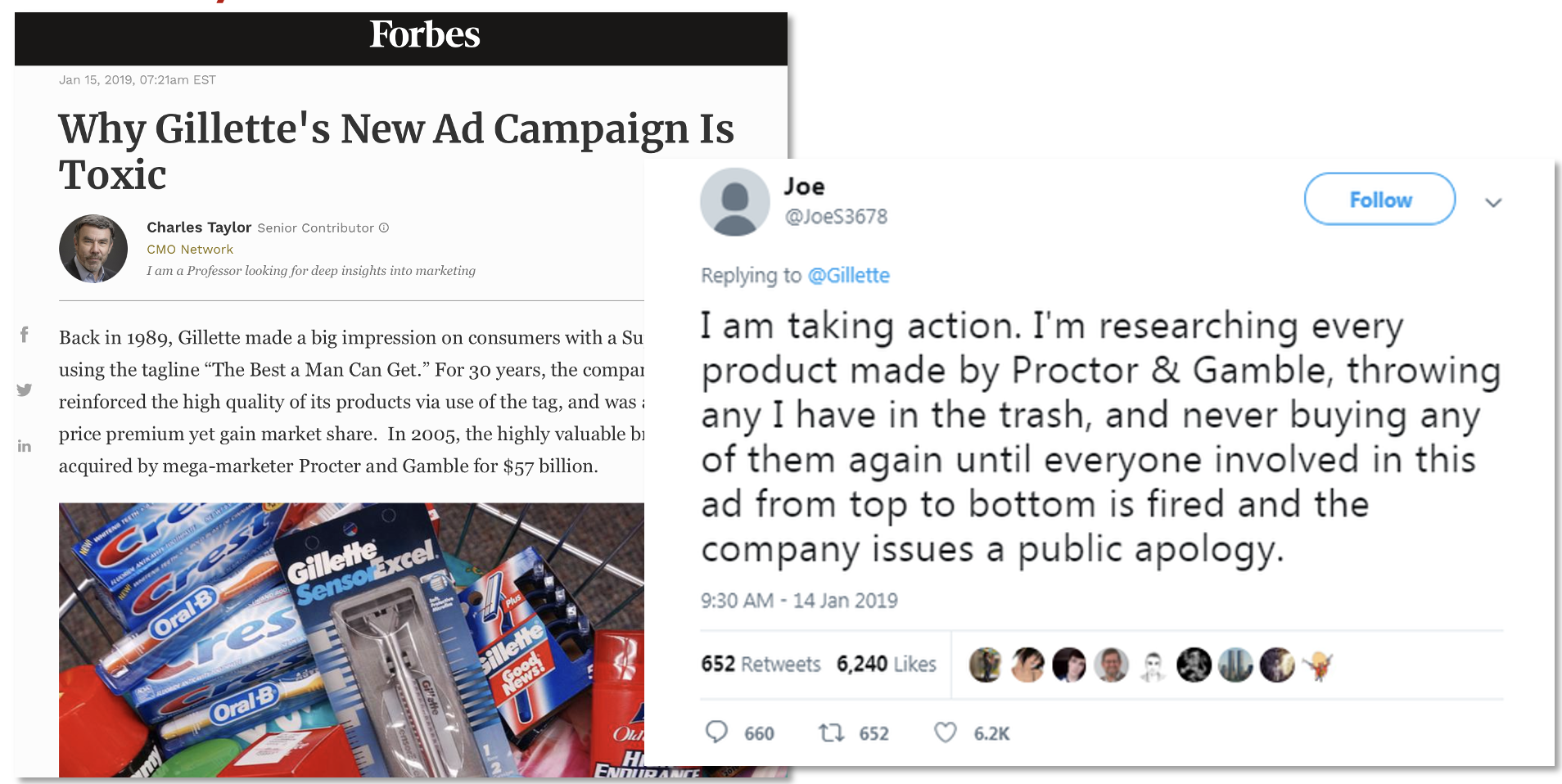 How did Anheuser-Busch react to the Bud Light backlash? Rather than defend the Dylan Mulvaney campaign, CEO Brendan Whitworth struck an apologetic tone with a public statement on April 14th (see below). "We have a proud history supporting our military, first responders, sports fans and hard-working Americans everywhere," he said, seeming to talk directly to the brand's traditional user base. "We never intended to be part of a discussion that divides people. We are in the business of bringing people together over a beer." Furthermore, Lissa Heinerscheid, Bud Light's VP of marketing mentioned earlier, has taken a leave of absence, along with Daniel Blake, who oversees marketing for Anheuser-Busch's mainstream brands. "The company said the bosses 'decided' to temporarily step down, but their decisions were reportedly not voluntary," according to one news report (4). The Bud Light team lacked the backing that the Gillette team had it would seem.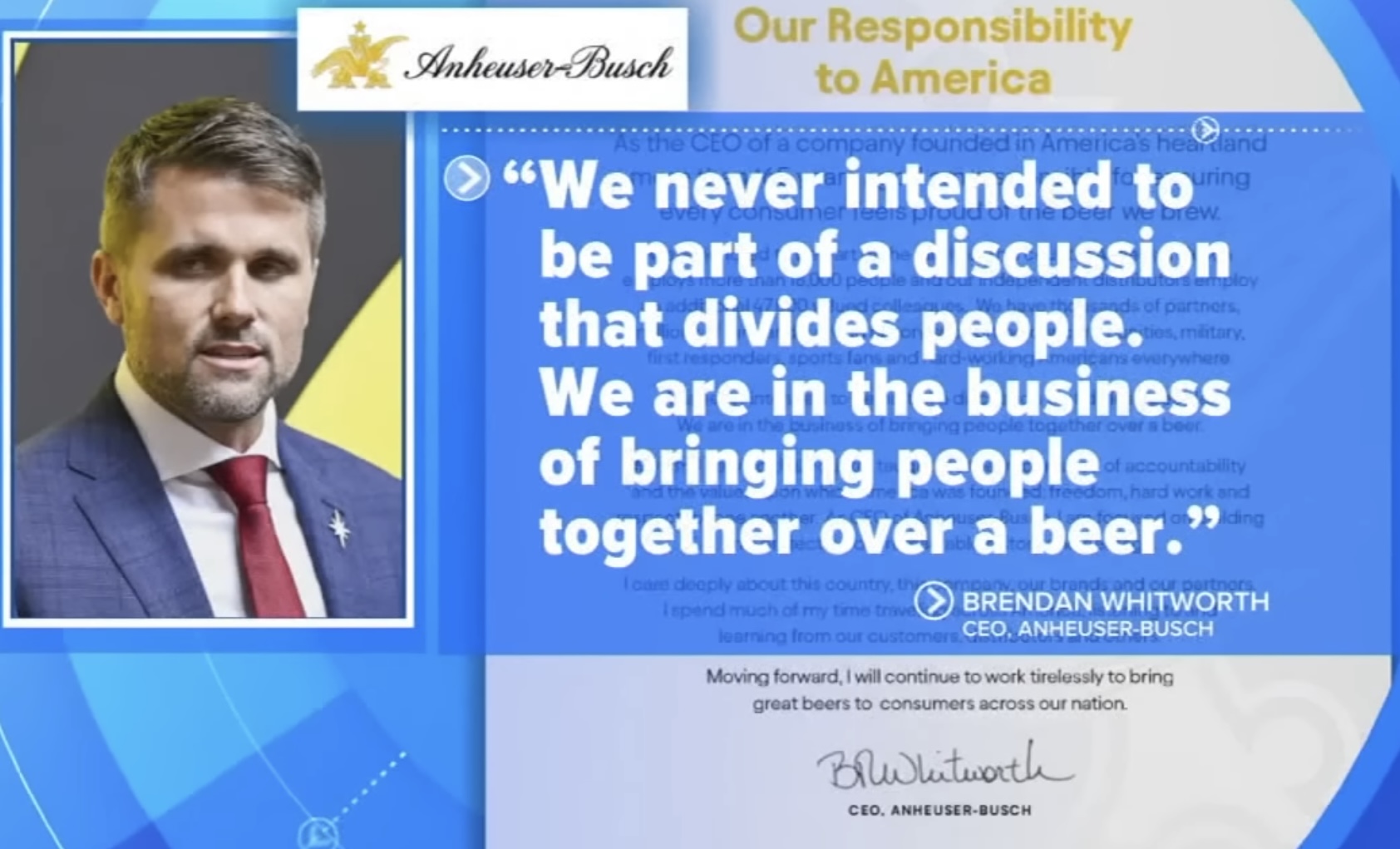 5. Keep your nerve
If you do run a campaign that polarises opinions and creates controversy, research by Cornell University professor Jura Liaukonyte suggests you should keep your nerve and not back down like Bud Light (5). This research found that social media-driven boycotts are often short-lived. Liaukonyte examined the food company Goya being targeted by liberals when the company's CEO praised then-President Donald Trump and calls for Spotify account cancellations after it signed a contract with controversial podcaster Joe Rogan. "What we found is that the patterns were very similar," Liaukonyte said. "They followed one news cycle, coming from zero to a maximum again to zero within two to three weeks." The boycotts did not impact long terms results. The Goya brand even experienced a short-term sales boost from first-time buyers in predominantly Republican counties!
In conclusion, if your brand does decide to take a stand on a social issue, try to do this in a way that is coherent with your brand's core equities. Be committed for the long term, ready to brave out any backlash. And make sure you have a CEO who will back you up, not ask you to take a leave of absence, when the s**t hits the fan!
(4) Bud Light leaders leave of absence