For perspective, Nike's 'Dream Crazy' film featuring former NFL player Colin Kaepernick, got 28 million views and 0.6% of viewers reacted, with an 8:1 positive Thumbs Up/Thumbs Down ratio.
So, what lessons can we take about brand purpose from this campaign?
1. Avoid mixing up brand purpose and social mission
The first thing to clear up is the difference between social mission and brand purpose.
Part of delivering your brand purpose can involve a social dimension, like Gillette's Believe campaign. But you can have a brand purpose that isn't rooted in changing culture and society. "Purpose isn't necessarily about saving the planet. It doesn't have to be worthy per se; it can be about taking small and meaningful actions," observed Stephan Loerke, MD of the World Federation of Advertisers.
Airbnb is a good example of a brand purpose with an emotional dimension, but where the focus is on improving everyday life: 'To make people around the world feel like they can "belong anywhere."' As we posted on here, being more rooted in everyday life versus previous higher-order, societal issues has produced a mix that driven growth for Airbnb's business and brand.
To really get Gillette growing again, and take share back from both own label and online insurgents like Dollar Shave Club, I suggest other 'chapters' of the brand's marketing program need to focus on performance and innovation, not just the social mission.
This approach was used successfully by the Carling Black Label brand of beer we worked with in South Africa. This re-launch also involved a more contemporary vision of masculine achievement. In Carling's case, this meant moving from reward for physical labour to a more multi-faceted view of masculinity and the different ways of being a 'champion man' (brother, friend, husband, father). One chapter did address a social mission, about being a 'community champion'. But others chapters (below) focused on being 'a champion beer' and a global award winning mobile activation campaign, 'Be a Champion Coach'.
[Sorry for blurring in weekly email: Feedblitz issues]
2. Root your purpose in your product
We suggest that brand purpose should be rooted in your product and here Gillette has missed a trick. The campaign has lots of emotional 'sizzle', but is light on product 'sausage'. As Mark comments, "Among all the sanctimonious hectoring there is little room for any reference to shaving or Gillette."
On the plus side, Gillette have stuck with long-standing slogan, 'The Best a Man can Get', and seeked to update it by tapping into a more contemporary vision of masculinity. The film even uses clips from an old Gillette campaign to link back to the brand's past.
But the campaign could have been better if the product had been cleverly integrated. As Julian Marsili of Carlsberg commented on my Linked In post, sons look to dads for advice on "shaving and behaving". Why not portray some heartstring-pulling shared shaving moments, with dads teaching their sons about being 'The best a man can be' in today's world?
Whilst I criticised Nike's Kaepernick billboard last year for being about politics more than purpose, the 'Dream Crazy' film is an example of blending emotion and product to deliver their purpose: 'bringing inspiration and innovation to athletes.' Nike's products are central in the film, showing athletes who have overcome challenges to achieve success in the sporting arena.
The recent campaign about the ban of Serena William's 'catsuit' is an even better product-centric example of Nike embracing controversy: "Our clothing is so damn effective, the tennis authorities had to ban it!" is the message.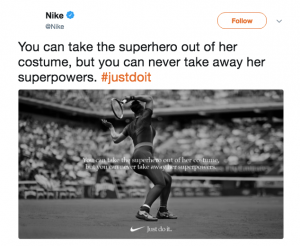 3. Social mission is about actions, not just words.

 
If you do decide to add a social dimension to your brand and shout about it, you need to back up your words with big, bold actions to be credible. And here Gillette falls short, at least based on their current actions.
First, the brand pledges to "actively challenge the stereotypes and expectations of what it means to be a man everywhere you see Gillette." This is fine and good, and part of contemporary brand communication in tune with today, but hardly ground-breaking. Back in 2010 we posted here about the need for the Axe brand to evolve: "Is the style of humour of past its sell-by date: "laddish", over the top, sexist, women as sex objects etc."In 2016 Axe did indeed re-launch, with a much less laddish mix and the band idea 'Find your Magic'.
Second, "Gillette is committing to donate $1 million per year for the next three years to non-profit organizations designed to inspire, educate and help men become role models for the next generation." This equates to 0.02% of Gillette's $6billion turnover and feels frankly like a token gesture.
Putting a social mission at the heart of your brand requires much bigger and bolder actions to be credible in the long run. Patagonia's purpose in anchored on the idea of 'do no harm,' for example. It is brought to life through big, bold initiatives like the Common Threads program. This encourages the repair, recycling and resale of garments via eBay. The brand even ran a full page ad saying: 'Don't buy this jacket unless you really need it.' Here is a brand prepared to sacrifice short-term profit in the pursuit of a purpose with potential long term brand, business and societal benefits
4. Provoke postitively to drive penetration 
If you do decide to take a stance on a social issue, execution is everything. In addition to backing up your words with actions, you have to hit the right tonal chord, leaving people feeling inspired, energized and more likely to buy.
When I first wrote on Tuesday, Gillette seemed to have missed the mark. "We are not being shown the better path, we are being told we are all on the wrong one. It's a poor way to sell razors. Hell, it's a poor way to sell anything," commented Mark in his column. The extremely negative social media reactions seemed to back up this view.
However,  System 1 revealed results from their US testing of the film (2) on Thursday, which made me stop and think again. The film got a 4-Star rating, putting it in the top 13% of ads tested, with 72% feeling positive emotions (happiness or surprise), 17% neutral and only 11% negative. The top reason for happiness was endorsement of the ad's sentiment and praise for Gillette for being one of the first big brands to tackle it.
Why such a difference in emotional response versus the YouTube feedback quoted at the top of the post? "It's possible that the haters  were more organised and quick to react and they weren't representative of the likely wider response," suggests Tom Ewing of System 1.