Insider Tips For Effective Influencer Marketing
Guest post in collaboration with Jessica Taylor, Influencer Marketing Assistant UK & Ireland team at Coty, one of the world's largest beauty companies with an iconic brand portfolio across fragrances and colour cosmetics.
Influencer marketing has grown rapidly in recent years to become a $16.4 billion dollar global industry (1). This growth has gone hand in hand with the explosion of TikTok, which has become a key channel for brands to interact with consumers via influencers. Two years of being locked down during the global pandemic helped, as our daily routines became characterised by a routine of scrolling and screens.
Influencer marketing is reported to have an ROI up to 11x greater than other types of digital marketing (2). But how do you boost your chances of achieving results like this? In this post, I share five tips for effective influencer marketing, drawing on experience working in the area at COTY, across eight luxury fragrance brands including Marc Jacobs, Burberry and Gucci.
Quick re-cap: what is influencer marketing?
An influencer is described as "an individual with a dedicated social following who is viewed as an expert within their niche" (3). Influencer marketing targets potential consumers through the 'social proof' these influencers provide to their followers when they advocate a brand or product. Influencers have the power to 'humanise' brands, by communicating in a more interactive and approachable way than conventional advertising.
1. Create clear influencer criteria
The key part of influencer marketing is, of course, the influencer. So, the first and most fundamental step is to create clear criteria for the type of influencer required. In the case of the luxury brands I work on, these criteria are rigorous; influencers must pass several layers of approvals including the global brand teams and fashion-houses. Ensuring influencers meet strict criteria increases the potential Estimated Media Value (EMV) of the content they will create. Key criteria typically include:
Follower numbers
Engagement rate
Video view rate
Content aligned with the brand's image
2. Stay up to date
Influencer marketing evolves quickly. Keeping your eyes peeled when scrolling through social platforms allows you to identify fresh new talent. It is also crucial to keep on top of competitor activity, to see who has been activated for partnerships on their side. Although this is often a lengthy and challenging process, you can sometimes hit the jackpot and identify an upcoming influencer with the potential to create a powerful and cost effective collaboration.
At Coty, I organise a weekly roundup for the team based on an ongoing scan of the luxury beauty market, with deep dives into competitor activity. Reviewing Instagram and press coverage offers insight into any influencer launch parties, campaigns or trips that have taken place. I keep a particular lookout for new and upcoming influencers seen across several activities and add them to our database for future submissions.
3. Go beyond transactional relationships
Most influencer-brand relationships start with simple gifting of product to the influencer in return for content creation, to allow an early measure of effectiveness. However, to create truly engaging content, brands must move beyond a simple transactional relationship. Organising workshops and events with influencers, where the brand is subtly woven throughout, creates a more memorable and immersive experience for them. This helps them become brand ambassadors who feel a genuine alliance to the brand. This in turn ensures the 'social proof' that influencers offer consumers on behalf of brands is authentic and believable.­
For the launch of BOSS Bottled fragrances we organised the BOSS Beach Club. Influencers were invited to Soho Beach House Brighton for the day to enjoy an immersion talk, lunch, boat trip and some beach-game activities. The event was designed to bring to life the marine, beach club vibe of the brand's communication (see below) to create a memorable and engaging experience for influencers.
4. Mix it up
Whereas brand ambassadors were previously reserved to celebrity names, now 'anybody' can become one. This means a much wider pool of potential influencers, including those available for relatively small fees. A mix of both macro influencers (c.>100,000 folllowers) and micro influencers (c< 100,000 followers) allows you to get the maximum reach for your budget. It also helps deliver the delicate balance of being aspirational yet approachable to consumers. Micro influencers push harder on approachability, whilst a small number of macros influencers deliver the aspiration.
The Perfect Marc Jacobs fragrance is inspired by Marc Jacobs' personal belief that we are all perfect as we are and is symbolized by the word 'perfect' tattooed on his wrist (4). The franchise's motto is 'Be your true, authentic self'. Lila Moss is the famous face of the franchise. However, to create relatable content at a local level we also activated a series of partnerships with a varied roster of micro and mid-tier influencers. For example, we partnered with the AKT charity last summer during Pride week to support the LGBTQ+ community (see below). This allowed us to tap into a diverse group of authentic representatives of the brand's image.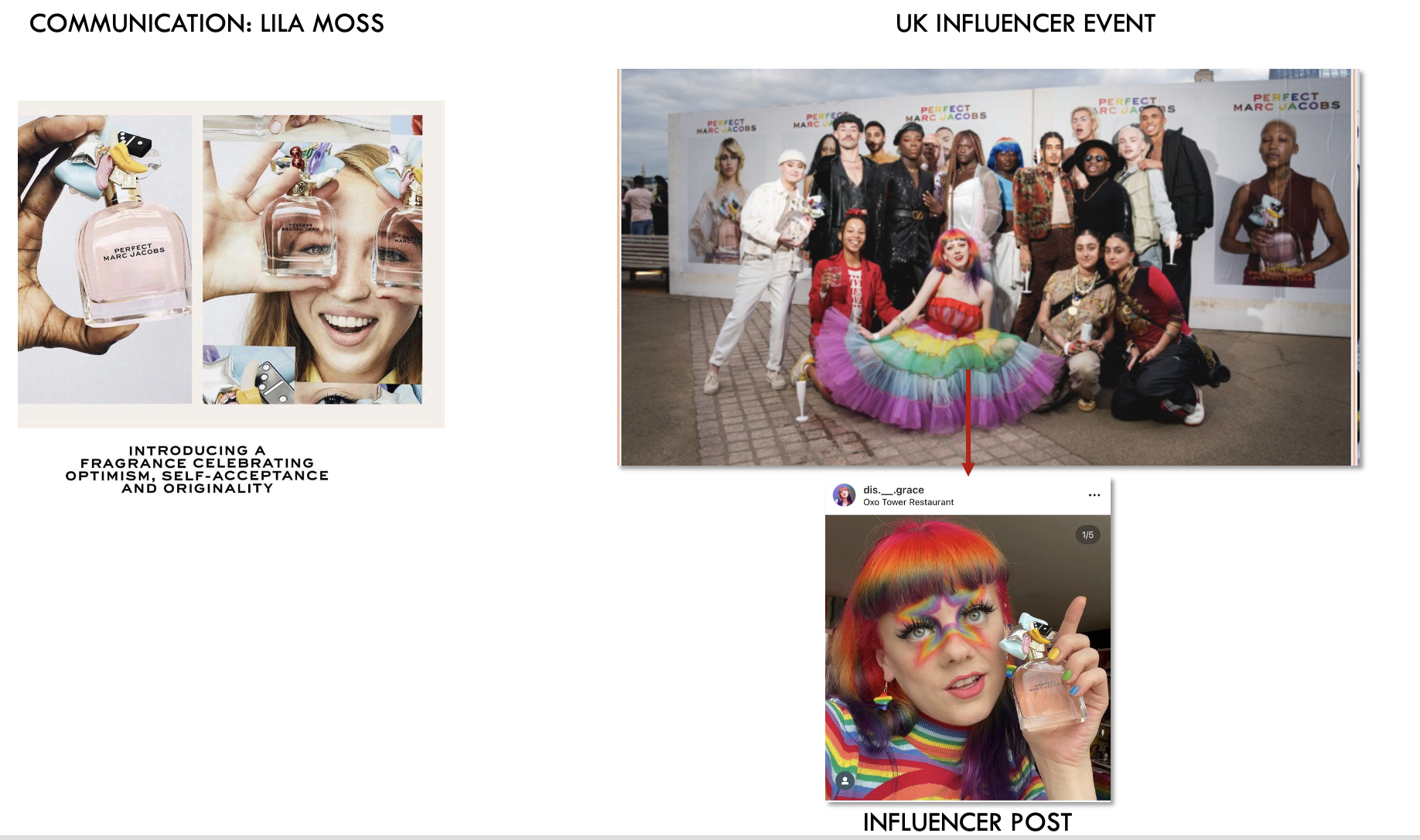 5. Invest for the long-term
Like any healthy relationship, longevity enhances connection. When you limit an influencer collaboration to a single post/campaign, you are restricting the creative juices that can flow. Forging long-term relationships with influencers allows them to grow with the brand. This enables a cohesive, coherent brand voice over time. It also solidifies trust amongst consumers, showing that the influencer genuinely backs the brand they are collaborating with.
For BOSS, we worked with a selection of long-term, male influencers who were approved for re-occurring partnerships with the brand. This helped ensure coherency and strengthened the brand image across all launches. It also allowed for a more developed relationship between the influencers and marketing teams which encouraged a sense of loyalty to the brand. See below for an example, which also shows how the influencer immersion mentioned earlier helped bring to life the marine-influenced feel of the fragrance.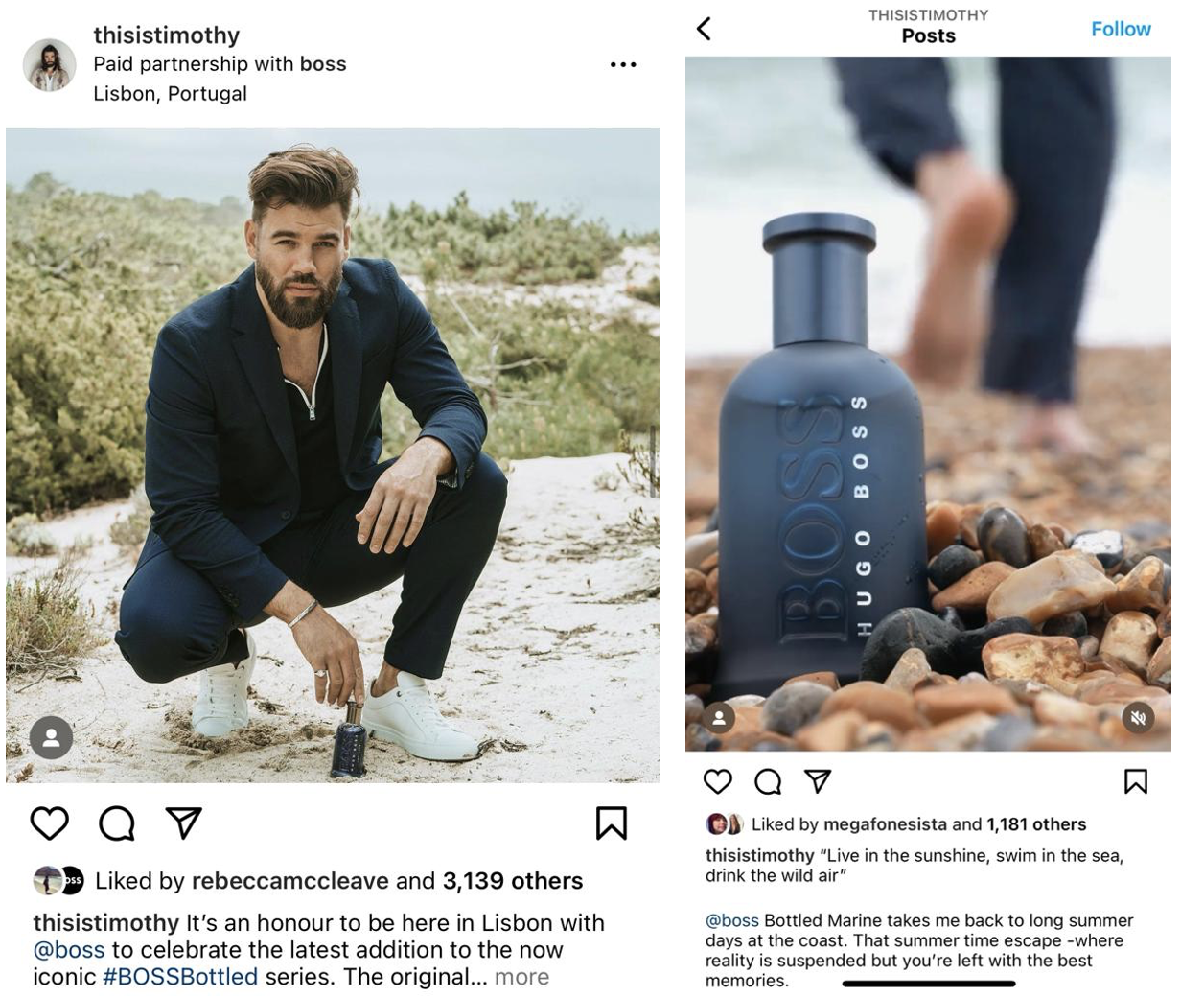 In conclusion, influencer marketing is a potentially powerful way for brands to market themselves in a more approachable way through the power of recommendation. Ongoing insight, long-term partnerships and immersive experiences can help to forge genuine brand ambassadors that bring to life the brand authentically and tap into the purchasing behaviours of a loyal following.
Sources: