Product-led PR boosts Big Soup from Heinz
Brand teams try many things to get PR coverage including events, stunts and pop-up stores. But best of all in my book is 'product-led PR', where talkabilty is 'baked in' to the product itself. Why? Because any coverage achieved has a direct link to the product, building sales not just 'buzz'. Heinz Christmas Dinner Big Soup is a good example of this approach. This limited edition tactical offer (or 'LET-OFF' for short) secured three Drum marketing award nominations this week. The product had everything you'd expect from a traditional British Christmas dinner – including turkey, stuffing and sprouts – packed into a big, chunky soup.
Re-focusing support on the core soup business, including Big Soup, was part of the category growth plan I helped the Heinz meals team develop last year. So, it was great to see the strategy driving positive results in the marketplace.
Below I explore why Heinz Christmas Dinner Big Soup is a more effective 'LET-OFF' than previous examples I posted on, Tropicana toothpaste and Mr Kipling ice cream, using the three key criteria:
REACH (Score out of 4)
REINFORCEMENT (Score out of 4)
REJUVENATION (Score out of 2)
1.REACH
First, we assess how effective the idea at creating "buzz" and social sharing to drive reach and in turn penetration for the brand as a whole.
And here, Heinz Christmas Dinner Big Soup seems to have blown the doors off! The campaign generated half a billion social buzz impressions and an impressive 729 pieces of PR coverage, including the target audience's top three newspapers and top five radio stations. My favourite feature is actress Drew Barrymore (bottom left of the image below) calling the product, "Your holiday din-din in a tin-tin"! In addition, 50,000 people signed up to receive Heinz updates during the campaign.
The first limited run of 500 cans sold out in hours on the Heinz to Home website. And a second larger run sold out in five minutes. But more important than the revenue from the LET-OFF itself (<£10,000 I guess) was the impact on the Big Soup core range as whole. "With this campaign the only marketing activity in 2021, week-on-week sales of Heinz Big Soup rose 14% and our market share rose 5%," reported the team (1). The key point here is that this LET-OFF packed a big punch for Big Soup as whole in terms of awareness.
Heinz Christmas Dinner Big Soup score: 4 out of 4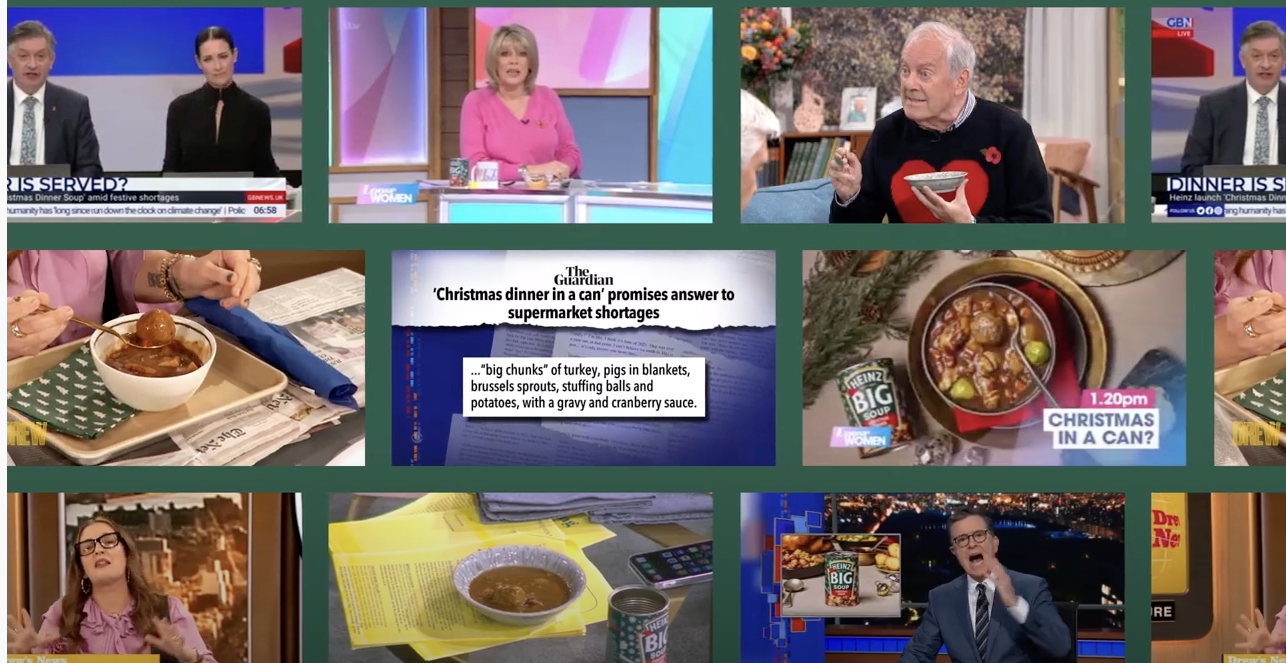 2. REINFORCEMENT
The second criteria for a LET-OFF is how effective the idea is at reinforcing the brand's core benefits. This is where Tropicana toothpaste fell down; the link back to the core product was missing. In contrast, the Christmas Dinner limited edition strongly reinforces the Heinz Big Soup core product proposition: "Full-on ingredients. Big-time flavour. Filled with robust chunks to really hit the spot" (2). This LET-OFF also nicely evokes emotional associations of Heinz Big Soup, linked to feelings of warmth, happiness and being down-to-earth.
Heinz Christmas Dinner Big Soup score: 4 out of 4
3. REJUVENATION
The third and final criteria for a LET-OFF is how effective is the idea at rejuvenating the brand by bringing freshness and popular 'cultural currency'. And here again, Heinz Christmas Dinner Big Soup scores full marks. The product tapped into a culturally resonant moment of the year. Extra PR value was gained by tapping into new stories suggesting possible Christmas food shortages. "With Brits' much-loved Christmas dinner in danger," the Heinz soup team explained, "we were inspired to create Heinz Christmas Dinner Big Soup" (2).
Importantly, the LET-OFF rejuvenated the brand not only with consumers, but with retail customers too. Supermarkets has delisted some of the Big Soup SKUs in the previous year, suggesting a lack of belief in the range. The Christmas Dinner launch helped turn things around, with "buyers from all key retailers asked to list the product" (2).
Heinz Christmas Dinner Big Soup score: 2 out of 2
In conclusion, Heinz Christmas Dinner Big Soup is a great example of a LET-OFF, driving reach for the brand as whole, whilst reinforcing and refreshing the core product benefits. Fingers crossed that the team win big at the Drum awards 🤞!
Sources