Making purpose PAY: new brandgym research (post 2 of 2)
This is the second of two posts sharing insights from our 14th annual research project on brand purpose. We look at how to make brand purpose pay by firmly rooting it on driving business growth. This follows our first post last week here, looking at what purpose is yet to fully deliver on its potential.
The research used a quantitative survey of 160+ senior marketing professionals across the globe covering different sectors. We also surveyed 600 consumers to get new data on the role of brand purpose in driving brand choice.
1. Drive purpose through the

whole

business

The first key driver for effective brand purpose work is inspiring leaders who drive delivery across the whole business, not just sustainability or communication (see below).
The business benefits of this approach are confirmed by Kantar research: 80% of 'over- performing' companies link everything they do to a clear purpose vs. only 32% of under-performers.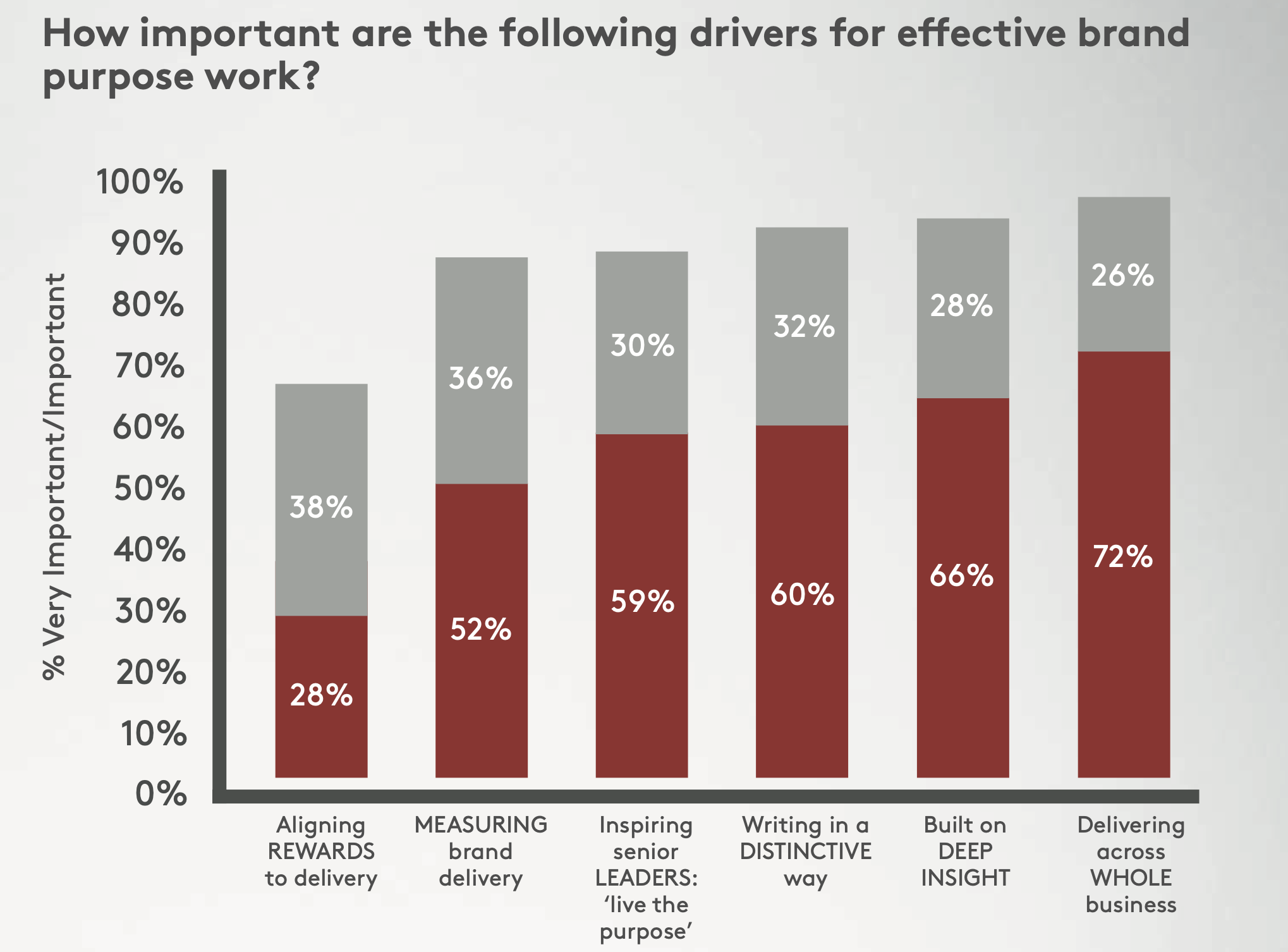 2. Build on deep insight

The second key effectiveness driver is building brand purpose on deep insight. To help teams do this on brandgym projects, we use a tool called 'The Triangle of Truth', which captures three different types of insight which together can help inspire your brand purpose:
• Cultural truth: broader, 'bigger picture' trends happening in society that inform the brand purpose, including inspiration for how the brand can positively impact people & planet
• Human truth: the key human needs that the brand can tap into. This source of truth is vital to ensure the brand is relevant and in touch with the key drivers of brand choice
• Brand truth: the attributes and benefits the brand has to meet the needs of consumers and society. Important to highlight the ways that the brand can credibly and authentically make everyday life better.
3. Align measurement and rewards
One watch-out is the relatively low score (<30% very important) for aligning rewards to purpose delivery. Without setting targets, measuring progress, rewarding delivery and course correcting when needed, purpose is unlikely to be fully implemented.
4. Brand purpose for business growth: Lego
Lego is a good example of driving their brand purpose, To inspire and develop the builders of tomorrow, through the whole business.
This includes exciting new products such as the licensed Harry Potter and Star Wars ranges, strategic stretch into movies with The Lego Movie and a recruitment processes that includes building with Lego.
Lego's sustainability efforts are linked to the core product and help sell more stuff by driving product trial. For example, LEGO Play Days provide a day of fun and games for hundreds of children in need and their parents, using Lego bricks. And Build the Change encourages children to express their hopes and dreams for the future with Lego bricks and other creative materials, plus their own imagination.
We'll do a more in-depth look at the Lego brand purpose and their 'triangle of truth' in the upcoming webinar, which you can sign up to here.
In conclusion, brand purpose will have a better chance of paying off with growth if you build it on deep insight, drive it through the whole business and ensure you measure progress.
To explore BRAND PURPOSE in depth we offer a short, on-demand course on our brandgym Academy platform here. The course is only £95+VAT.
The short course is fully refunded if you go on to take the full brandgym Mastering Brand Growth program where we explore a comprehensive and practical 8-step program for creating brand strategy to inspire business growth. It combines world-class, on-demand content and live Zoom workshops."A strategic, insight-led and practical approach to making marketing pay," is how one CMO described the 8 week online program. 98% of participants say they "boosted their brand growth know-how" and, most importantly, "will be more effective in their jobs". 
To get our latest research paper Making Purpose Pay, just pop your email in the form.
And for more on brand purpose also see this earlier post on Airbnb.