Why is brand purpose failing to fully deliver ? New brandgym research (post 1 of 2)
This is the first of two posts sharing insights from our 14th annual research project on brand purpose. The research used a quantitative survey of 160+ senior marketing professionals across the globe covering different sectors. We also surveyed 600 consumers to get new data on the role of brand purpose in driving brand choice.
This post looks at the growing importance of brand purpose but also why it is failing to fully deliver.
1. Brand purpose is a hot topic
Brand purpose, the role a brand plays beyond purely making profit, is clearly a hot topic. It has become more important for most marketers in our survey (77%). Three potential benefits of brand purpose emerge from our research:
Alignment: Brand purpose, done well, has the potential to align and engage the increasing number of stakeholders a brand needs to interact with. "It's the 'north star' guiding employees, customer and community stakeholders," commented one marketing director.
Consistency: A clear brand purpose can help ensure consistency across the multiple touchpoints most brands have today. "It is paramount to deliver a consistent messages across channels," observed one respondent
Distinctiveness: When executed consistently over time brand purpose can help create the distinctive memory structure that is key to brand choice. Importantly, this is no longer only about consumers. Brand purpose was important for the ideal job of 51% of students/college- degreed workers (Deloitte). And retail customers increasingly want brands to help them deliver their own purpose-led growth agendas.
2. Brand purpose is yet to fully deliver
Brand purpose is yet to fully deliver the potential benefits we saw in the previous section.
Only half the marketing directors surveyed reported that brand purpose had been effective/highly effective at inspiring and guiding business growth.
A minority (15%) said it was not effective and 1/3 were neutral.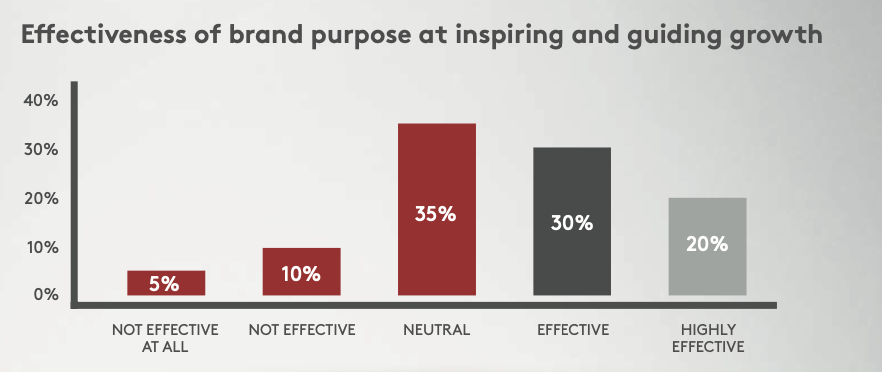 In some cases, teams were too early in the purpose process to be sure of results. But two bigger issues emerged:
2.1 All talk, no action
The first issue relates to a failure to 'brand and deliver' and fully implement the brand purpose throughout the business. "We can say what we want to do, but we're not as good as doing it", observed one marketing director. "Most companies talk the talk, without walking the walk."
2.2 Losing the link with business reality

The second issue highlighted is losing the link with business reality. "There's a risk of 'laddering up' to emotional territories which the brand has no legitimate connection to", reports one marketing director. Two beer brand examples illustrate this point.
Estrella Damm's save the ocean campaign (below left), with an obscure film featuring an underwater dancer, feels disconnected from the brand.
In contrast, Corona's Protect Paradise campaign to clean up beaches (below right) has a clear link to the brand's outdoors, beach-lifestyle positioning. The campaign also helps "sell more stuff": 1m of beach is cleaned for every pack of Corona bought.

3. Balancing people/planet and product
One particular challenge many brand teams face is getting the right balance between sustainability of people/planet and product.
Most marketers (69%) suggest brand purpose should cover both sustainability and core product benefits, with 21% suggesting a focus on product alone. Only 10% suggest a single-minded focus on sustainability. "Brand purpose does not equal CSR (corporate and social responsibility). There's often confusion about this", observed one marketing director.
Marketers are right to root brand purpose firmly in functional and emotional product benefits, not just sustainability. Core product benefits alone are key to brand choice for c.40% of consumers surveyed in the UK, USA and India (below). A further c.50% say BOTH core product benefits and sustainability are key, with only 9% stating sustainability alone.
Rooting purpose in the core product, not just people & planet, ensures a tight link to business reality. This is reflected in our definition: the distinctive role a brand plays in improving everyday life that inspires business growth.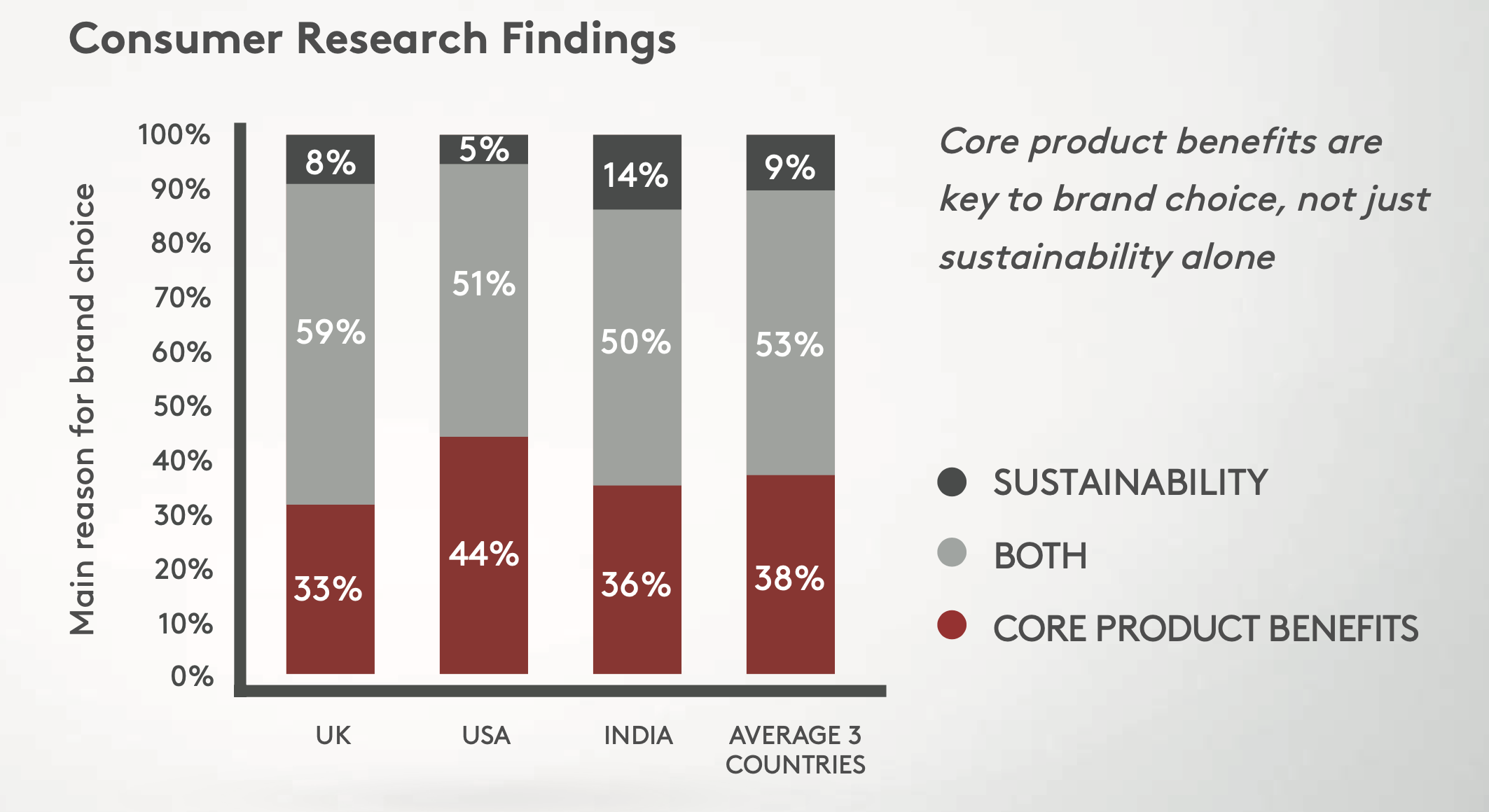 4. Not every brand needs to be an ACTIVIST!
Brand purpose is often portrayed as being only about sustainability of people & planet, illustrated with 'activist' brands like Ben & Jerry's and Patagonia. Teams can mistakenly feel obliged to copy this approach, even when their brand lacks credibility and the company lacks the risk-appetite to fully follow through over the long term. For example, Gillette campaign against toxic masculinity seemed short-lived, with charity donations to support the cause of only 0.02% of brand turnover, as we posted on here.
On brandgym brand purpose projects, we helps teams define where they want to play on what we call 'the sustainability spectrum' and activate accordingly.
Activist brands are at one extreme. But sustainability of people & planet can also play a leading or supporting role. For example, the WD-40 brand of multi-purpose lubricant focuses on products and packs that help people 'get the job done well, in workshops and factories around the world'. Its campaign to help train craft apprentices to meet society's need for more tradespeople plays a supporting role. And this helps sell more stuff by driving trial with potential future brand users.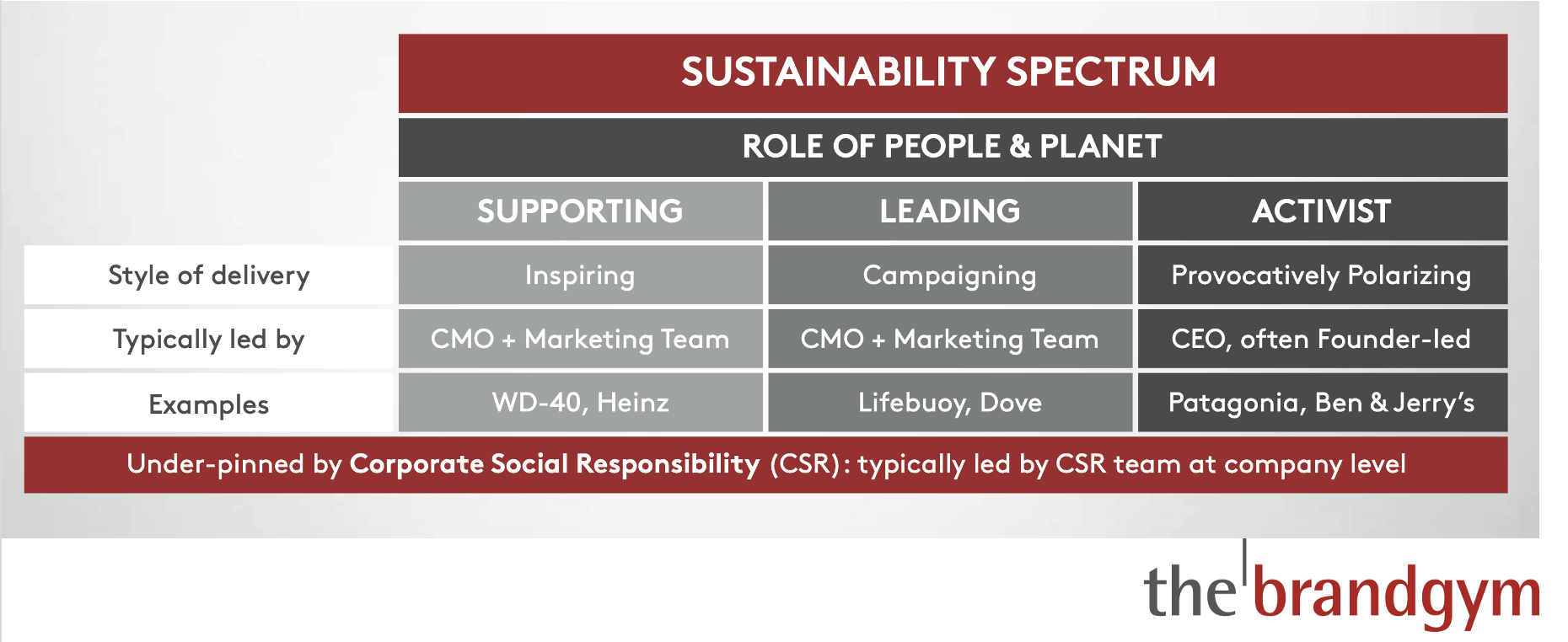 In conclusion, brand purpose clearly has the potential to inspire and guide growth, but it failing to fully deliver owing to a disconnect with business reality. In new week's post we look at how to increase the chances of making purpose PAY.
To explore BRAND PURPOSE in depth we offer a short, on-demand course on our brandgym Academy platform here. The course is only £95+VAT.
The short course is fully refunded if you go on to take the full brandgym Mastering Brand Growth program where we explore a comprehensive and practical 8-step program for creating brand strategy to inspire business growth. "A strategic, insight-led and practical approach to making marketing pay," is how one CMO described the 8 week online program. The +70 NPS score from our first 150 participants is higher than Apple's. And 98% of participants say they "boosted their brand growth know-how" and, most importantly, "will be more effective in their jobs". 
To get our latest research paper Making Purpose Pay, just pop your email in the form.