THE OATLY BRAND GROWTH STORY PART 2: DRIVING DISTRIBUTION
Most of the press coverage about Oatly exponential growth talks about the highly distinctive, provocative communication urging people to drink Oatly instead of milk to help the environment. And in last week's post, we looked at this part of the brand's mix. However, one other key driver from our Core Growth tool (below) has played a key role in transforming Oatley from a sleepy Swedish health drink into a hyper growth lifestyle brand, with a $10 billion valuation. Driving DISTRIBUTION, supported by core range extension, might be less sexy than communication. But boy it is effective as we'll explore in this post!
1. Distribution: Geography
The first and most fundamental way Oatly has used distribution to drive growth is geographic expansion. For the first 20 year of the brand's history, sales were mainly in the home market of Sweden. In 2013, the brand expanded into the UK and also Germany. This expansion drove EMEA sales from $103m in 2018 to $268m in 2020, accounting for almost 2/3 of the brand's revenue.
The US followed in 2016, with limited distribution growing to 7,000 shops and 5,000 grocery stores in 2019. the US is growing fast, more than doubling in 2020, to now account for 24% of sales (below). The most recent expansion is into China, with Asian sales growing 5x in 2020 and presenting a huge growth opportunity.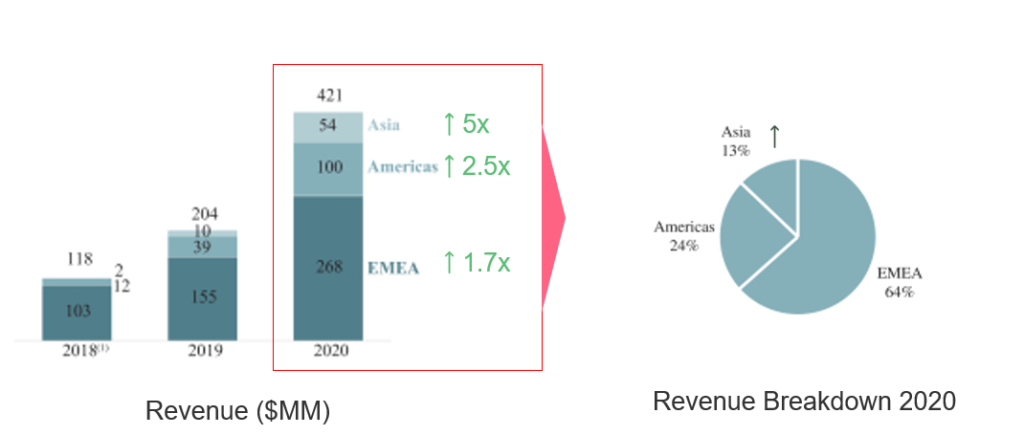 Oatly's global expansion will be helped by now having a proven market entry model. The brand can show how it has successfully led growth of the oat milk category, especially in the UK and Germany (see below). In these markets, Oatly has driven oat milk growth significantly ahead of other dairy alternatives like soy and almond. Impressively, oat milk has now overtaken soy and almond in both these to now be the leading form of dairy alternative.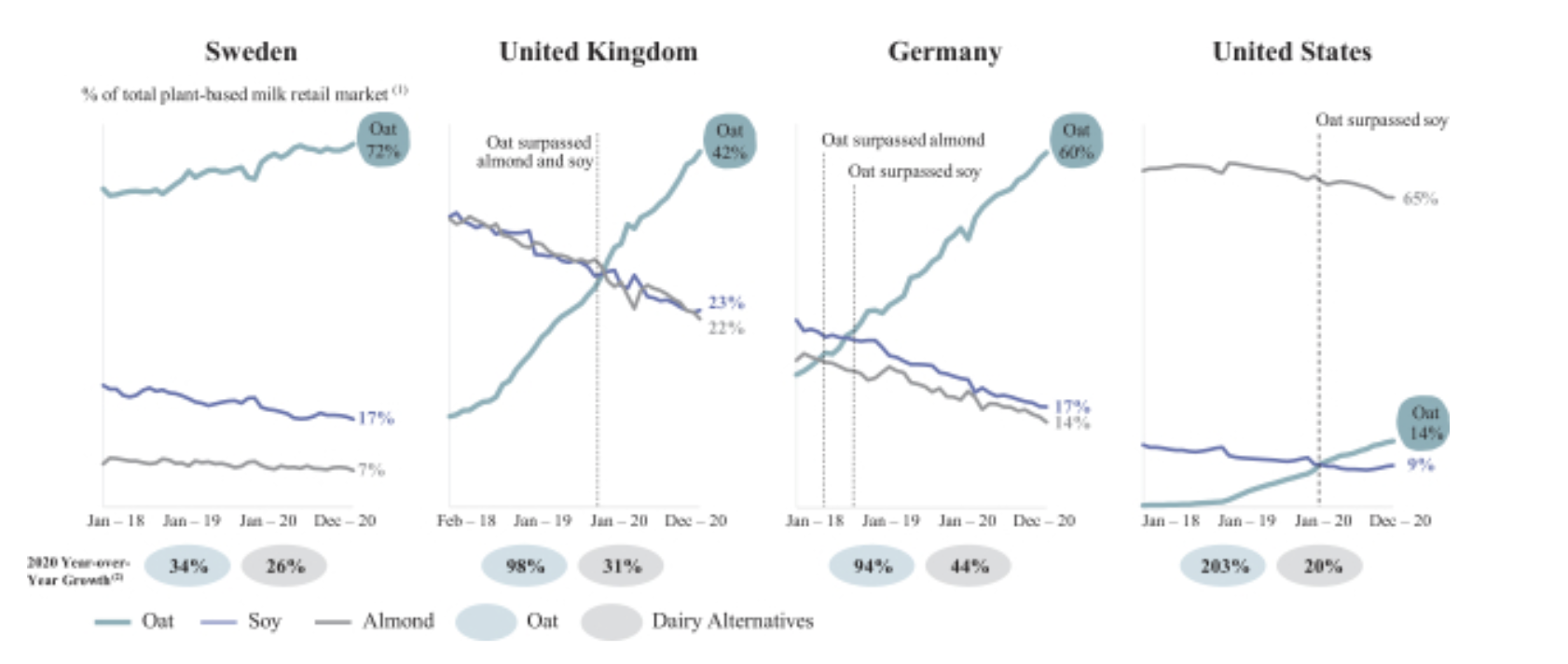 2. Distribution: coffee shops
Rather than go all guns blazing in mass retail from the start, Oatly initially focused distribution in coffee shops. This move included cool, trendy independent coffee shops. But the brand also signed a distribution deal in the US with Starbucks (2). This drive in coffee shops had a couple of benefits.
First, this created 'immersive trial', where people try the product for the first time in an aspirational, emotionally appealing setting. "If you were able to take the recommendation of your local barista and try an expertly prepared latte, that would be a really amazing way to be introduced to Oatly," explained General Manager Mike Messersmith (3).
The second benefit was that Oatly was "fishing where the fish are". Lots of younger people interested in plant-based food and drink hang out in coffee shops, so this was an ideal channel for driving trial.
3. Distribution: retail
Having built initial trial in coffee shops, the brand has expanded into mass retail. Two statistics from the company's IPO filing jumped out at me, showing how much potential there is to still grow in this channel (below). First, the brand has played a lead role in driving growth of plant-based milks, especially in the UK and Germany where it accounted for 43-49% of category growth. This makes the brand highly attractive for retailers, as it is helping them with their own drive for sustainability, a key part of retailers' growth agendas.
The second set of numbers refer to the % of total selling points where Oatly is distributed (the tiny numbers in Oatly's charts above the two right-hand columns below). Whilst distribution grew strongly in 2020, the brand is still in less than 11% of selling points in the UK and Germany, and less than 1.5% in the US. This means driving physical availability via distribution is still a big growth opportunity.
4. Core range extension
On the Mastering Brand Growth program we explore the power of 'distribution-led' core range extensions, a strategy used by Oatly with its Barista Edition version. This form of range extension delivered a double-whammy of growth for Oatly.
First, it helped Oatly create a distinctive product to drive penetration. It appealed to consumers who want to use a dairy alternative in their coffee but are concerned about the taste and texture.
Second, the Barista version was a key enabler of the coffee shop distribution drive discussed earlier. Baristas loved the texture and taste of the Oatly product, which felt designed for them. Demand was so strong that it out-stripped supply, creating what one barista called "The great Oatly shortage of 2019" (3). Cases of Oatly, normally costing $50, were sold on Amazon for $200+ creating more buzz and word-of-mouth (3).
In conclusion, the creation of Oatly's highly distinctive communication grabs most of the headlines, especially in the marketing press. But its only one part of the Oatly brand growth story. Driving distribution, enabled by smart use of core range extension, has also been a key driver of the brand's explosive growth. And it will continue to play a major role in the brand's future growth.
PRACTICAL TOOLS TO START GROWING YOUR CORE
To get some practical help to grow your core business, you can download our Core Growth Driver toolkit by using the form below. This walks you through the 8 core growth drivers we've used on consulting projects and in training for leading companies including Mars, Unilever, Mondelez and AB InBev.
We also offer a short, on-demand course on our brandgym Academy platform here. The course is only £95+VAT and is fully refunded if you go on to take the full Mastering Brand Growth program.
And for more insight on distinctiveness, see this earlier post.
Sources: