Lessons from a successful start-up: Tenzing
I got some great brand inspiration from a recent meeting with Huib Van Bockel, founder of natural energy drink Tenzing. He was one of the brandgym's first clients back in his Unilever days, leaving to work for MTV then Red Bull, before launching Tenzing in 2016. There was a great profile on Huib this week in the Daily Telegraph, where he also shared details of his brand and business.
Huib's insights are useful for any readers running or planning to run a start-up, but also for marketers in big brand companies who are seeking to be more agile.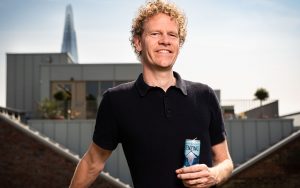 1. Tap into a human truth
Tenzing taps into the demand for drinks that deliver taste and functional benefits, in this case energy, but without artificial additives or added sugar. Huib saw up close during his time at Red Bull that these needs were growing.
Huib's timing was top-notch, as he has also been able to meet an important customer need for healthier drinks. Critcially, Tenzing has less than 5g of sugar per 100ml: drinks over this threshold have to pay a 'sugar tax', which most retailers have passed on to consumers in higher prices. Tenzing has had a positive reaction from many major retailers (Holland & Barrett, Tesco, Boots) but also the National Health Service, who have stocked the brand in hundreds of hospitals up and down the country.
2. Bake the brand into the product
Start-ups don't have big budgets for marketing, so the product and the packaging have to work hard to promote the brand. You have to 'bake the brand' and its story into the product, which Huib has done with Tenzing.
The recipe is based on an energising drink that Himalayan Sherpas drink to fuel them on their expeditions. The six ingredients (green tea, green coffee, guarana, beet sugar, Himalayan rock salt and lemon juice) provide a 'triple-hit' of caffeine, electrolytes and antioxidants, with only 55 calories. The visual identity cleverly cues both energy and the brand's origins, via the upward pointing arrow in the shape of a mountain peak.
This product story is a 'reason to believe' the functional benefit of natural energy, but also makes the brand more distinctive and 'talkable': key for start-ups, but also for big brand companies looking to boost social media presence.
The brand name itself pays homage to Sherpa Tenzing Norgay, who accompanied Sir Edmund Hillary on his pioneering climb to the summit of Mount Everest in 1953. Importantly for brand authenticity, this is not just a case of slapping Tenzing's name on the can. Huib works closely with Norgay's sons, who are business partners and 5% profits go to funding environmental projects in Nepal.
3. Real-life research
In common with other owners of small, 'insurgent' brands we've been talking to, Huib has made great use of 'real-life research'. This means getting out of the office, and away from the data, to connect with human beings. "I found places for every category that we wanted to go into – offices, universities and quick-service restaurants – and tested our prototypes on people there," explained Huib in the Telegraph.
This approach has several benefits:
fast, honest and real feedback
a good start point to sell-in the brand (Huib got listings in Google and King's College this way)
free!
Huib and the Tenzing team have also used a test & learn approach adopted by tech start-ups, first launching a minimum viable product (MVP) and adjusting the marketing mix as he went. Early feedback suggested improvements to the can design to better emphasise the brand's natural ingredients, for example."Get to market as quickly as possible and listen to what people say," says Huib. "Every new product run, we tweaked the look."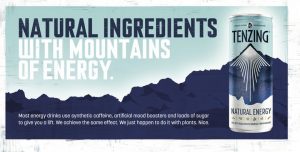 4. Be a 'brand CEO'
Huib is a great example of what we call a brand CEO: the living, breathing manifestation of the brand and its values. Our research shows that people are c. 10x more likely to follow the leader of a brand on social media than the brand itself. For example, 2 million people follow Tesla on Twitter, but 23 million people follow company founder Elon Musk. So, leaders have a key role to play in promoting their brand and business, whether start-up founders, or big brand directors.
To build the brand on a shoestring budget, Huib wrote a book on social branding to get speaking gigs, which help pay the bills but also promote Tenzing. He has a hands on role in building the all-important physical distribution for the brand. And he raises the profile of the brand through articles on the Tenzing story, like the one in the Daily Telegraph.
It's early days for Tenzing, but turnover is growing fast, on track to more then double to £2m in turnover this year. A successful round of fundraising will provide financial fuel to take things to the next level.
In concussion, Huib's story is an inspiring example of how to match a human truth with a brand truth as the platform for creating a distinctive proposition that is relevant to both consumers and customers.
Sources:
https://www.telegraph.co.uk/connect/small-business/you-have-to-be-resilient-to-sell-new-product-tenzing/?WT.mc_id=tmg_share_em