How launching something new can ignite your mojo
This week marks the one year anniversary of launching the brandgym Mastering Brand Growth program. This new online training program is part of brandgym Academy, our global brandgym centre for research, development & learning. As I reflected on the highlights from the last year (see below), I was struck by how launching something had really ignited my mojo *. In my 20th year in the same company, I found I had as much or even more energy and enthusiasm than when I first started the brandgym back in 2002!
In this post, I share some tips on launching something new to ignite your personal mojo.
*Mojo: "a quality that makes you successful and full of energy," according to the Cambridge Dictionary
1. Turn your personal PURPOSE into ACTION
I believe in the power of defining your personal purpose, as I posted on here. You do this by looking back at 'crucible moments' in your life and fully understanding your key strengths. But whilst it's great to define a personal purpose, it only has true value when you turn it into action (see below). And launching something new can be a fantastic way of making your personal purpose tangible and in turn boosting your mojo.
In my case, my personal purpose is as follows:
'To help craft inspiring brand strategy stories that create clarity from chaos'.
Up to 2020, I had mainly lived out this purpose via brand growth consulting and coaching projects. Launching the Mastering Brand Growth program was a whole new way of delivering my purpose and igniting my mojo. It made the principles and tools from the 1,000+ brandgym projects, the eight brandgym books and 1,500 brandgym blog posts accessible to a much wider, global audience. Furthermore, it was highly fulfilling to see hundreds of people boost their brand growth capability over the 8 week programs. The program's +70 NPS score is great. But much more important is the positive impact on participants. They boost their confidence in brand growth by +90% on average. And 98% say they'll be more effective in their jobs as as result.
Action: Have you clarified your own personal purpose? If not, this is a first step to invest some time in. Once you have your personal purpose, what new initiative or project could you create to turn this into action?
2. Stop PROCRASTINATING: Say "Screw it, let's do it!"
Maybe you have your own idea for a project or initiative that could turn your purpose into action, at work or outside it. But if you're like me, you might have created excuses that stop you actually making it happen. I'd talked about creating an online training platform for years. I loved running brand training programs for companies like Unilever, AB Inbev, Mondelez and General Mills. I also got a great kick from teaching at London Business School, on both MBA and Executive programs. But I kept putting creating our own brandgym online training platform in the "too hard" box. "It will cost too much to set up," I told myself. "It will take ages to create. And will anyone want to buy it anyway, given the programs already out there?!"
The lockdowns of late 2020 took away the excuse about lacking enough time; apart from work, there was little else to do apart from dog walks. On one of those dog walks, in October, a close mate asked me how I would stay fresh after 20 years in the same company. I told him about my training platform idea. And his simple challenge was, "Why not just do it: what's stopping you?" This was the final shove to push me into action, like a novice sky diver finally plunging into their first parachute jump. The next day I started planning out the concept for the MBG program. Over the next 16 weeks I worked flat out to turn the concept into reality.
Action: If you have an idea for a launch, why not follow the advice of this earlier post: "Screw it, let's do it." We don't know what's round the corner in life, so don't wait till it's too late.
3. PROTOTYPE to prove potential
A great tip from the guy coaching me on online course creation was prototyping to prove potential. This is the approach we use on innovation projects with clients, as I posted on here. We prototype ideas to get real life learning on consumer behaviour, rather than relying on quant concept testing to measure consumer intentions.
In my case, I quickly mocked up a prototype website showing the outline of the program. Several trusted and supportive clients then took time to review the prototype. The reactions were positive, with one client immediately ready to buy a global program for 60 people in early 2021 (see below). This give me the confidence to invest cash in software and technology. And to invest the significant time needed to create 1,000 pages of polished PowerPoint, do five days of filming and then several weeks of editing, to create the eight modules of on demand video content.
Action: once you've got your launch concept and moved into action, how can you prototype the idea to bring it to life and prove potential?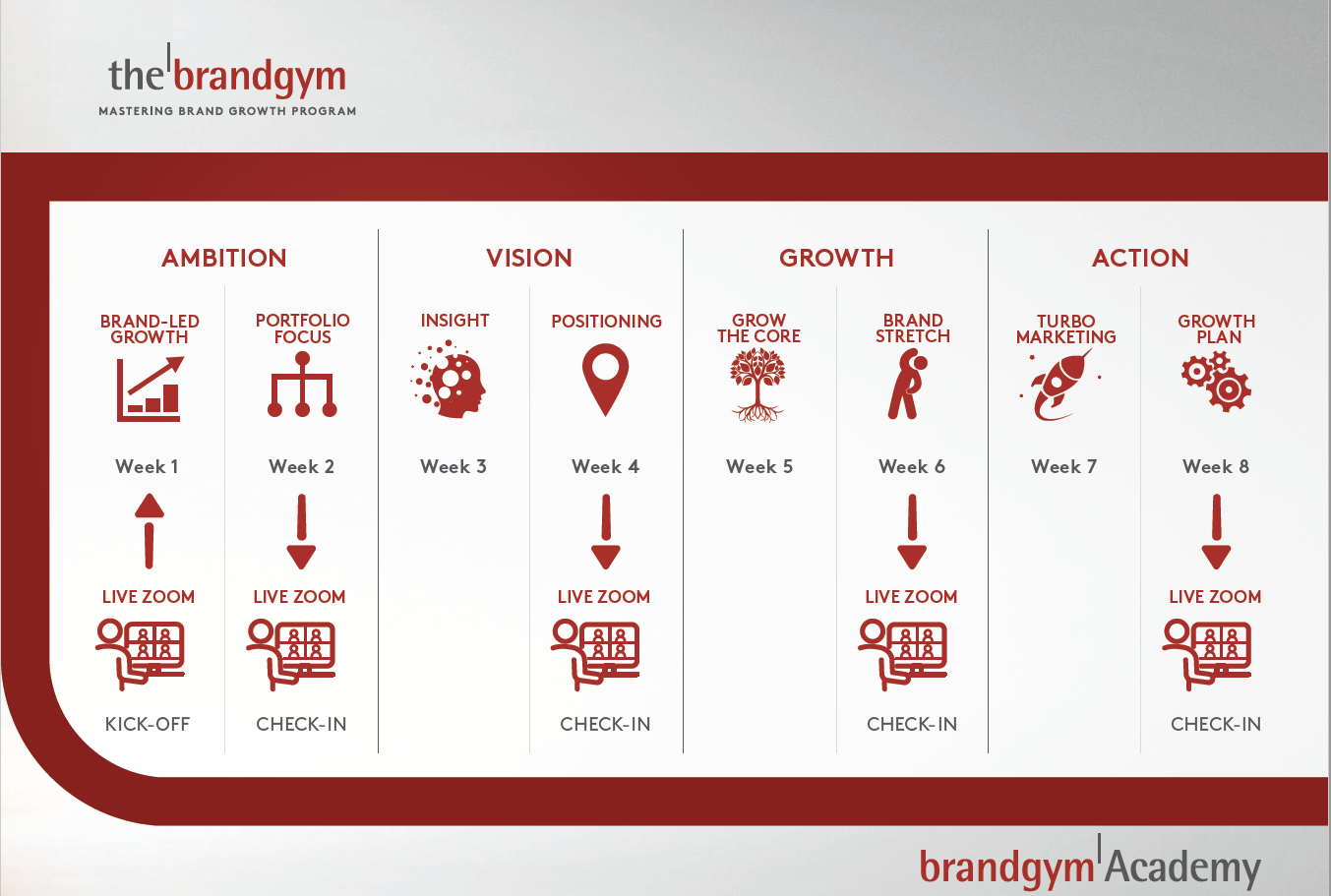 4. PUT your money where your mojo is
Once I had the go-ahead for a first cohort of the Mastering Brand Growth program, I decided to back the idea with some proper investment. And this has proved to be really worth it, creating a product I'm proud of and delivering the best possible experience for participants. This included hiring a PowerPoint professional to help with content design, working with a great cameraman coach (see below, filming with Hamish Nichols), buying a world class online training tech platform, subscribing to special software to measure peoples' capability levels and building a user-friendly feedback system.
Action: if you have proven the potential for your launch, don't skimp on the design and build. Upfront investment will pay off in long term results and also give you the satisfaction of creating something special.
In conclusion, designing and launching the Mastering Brand Growth program helped ignite my mojo and kept me fresh and fired up, even after twenty years in the same company. If you have a project with the potential to do the same for you, why not say "Screw it, let's do it!", prototype to prove potential and then make it happen?
If you'd like to join the next Mastering Brand Growth program, please click here. Or for some more info on how the program could help boost your brand growth capability, pop your email in the form below.