Heck: a sizzling sausage success story
Post by Simon Gore, Managing Partner and our Head of Brand Identity & Naming.
We love growth stories about sausage brands like Heck, the subject of this post, as they literally bring to life our principle of brand building based on substance not spin. We've even written our ow brandgym book about a fictional sausage company:  'Never Mind the Sizzle…Where's the Sausage?'
Heck has achieved £21m sales in five years, growing at +20% (1) and taking an increasing share of the £717m UK market (2). Kerry Foods' Richmond brand is the market leader, with 2018 sales of £117m, but is static (-0.6% year-on-year) (3). Below we look at some of the reasons for their success.
1. Position with purpose
Like many successful small insurgents, Heck is run by founders with a strong sense of purpose, and personal passion for quality. The Keeble family started Heck in 2013 with the ambition to build a brand with true integrity using their family recipes. As well as being their family motto, 'What the Heck!?'* captures their 'no compromise' approach to quality, summed up with the brand idea 'Flavour you can swear by'.
*For non-Northern English readers, "What the heck!?" is a polite way of saying, "What the hell!?"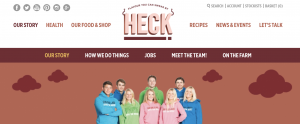 2. Built on proper 'sausage' …
At the heart of Heck is commitment to creating a great product, what we call the 'sausage', with the very Yorkshire claim that "You don't get products like ours by cutting corners". Heck make sausages in small batches rather than mass-producing them, delivering 'farmer's market quality'.
They use the finest ingredients, such as fresh rather than dried and processed herbs. And whilst many sausage brands are made with around 50% meat (e.g. Richmond (42%), and ASDA Farm Stores sausages (52%) (4)), Heck market their signature product, Heck 97%, as 'juicy, lean, bursting with flavour and made with 97% pork'.
3. … with lots of inspiring 'sizzle'
Whilst we believe that behind every great brand is a great product, emotional 'sizzle' in the form of distinctive visual identity and communications is also key to attract and keep consumers.
The Keebles worked with Yorkshire-based design agency Elmwood to create Heck's distinctive look and feel. The focus on the short, punchy brand name, the minimalist look and the bright colours all give the brand excellent stand-out on shelf.
The Heck family and team are very much the living embodiment of their brand, bringing the brand to life in communication and inspiring consumers with their vitality, drawing them into the brand. They get out and about at food shows regularly to get consumers to experience their products at their best.

And Heck are not afraid to share their sense of humour, as with their Limited Edition launch for St Patrick's Day, their pork sausages repackaged under the 'name Feck' (an Irish take on f**ck)!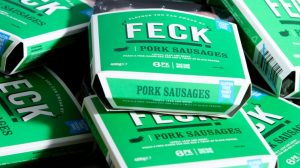 4. Flexing their brand muscles
Now thought leader in the UK sausage category, Heck have started extending their core range.
They launched a chicken range as a lighter meat alternative, and more recently added an innovative 'plant-based' vegetarian range with four different recipes, including Super Green Saus and The Beet Goes On. This appeals to the growing number of 'flexitarians' looking to eat meat less regularly by offering additional health and sustainability benefits that are motivating consumers.
The new ranges also deliver the 'double whammy' we recommend for brand extensions, driving increased penetration AND 'premiumisation'(5):
Core Pork 97%: £7.88/kg (Index 100)
Chicken range: £9.26/kg (Index 118)
Plant-based range: £11.76/kg (Index 149)

5. Manage your portfolio
To complement Heck that plays in the premium priced sector, a second brand has been launched to compete in the mid-priced sector against brands like Wall's and Richmond. The Harrogate Sausage Company offers sensibly-priced sausages, made in the traditional way, with no gimmicks.
In conclusion, Heck and the Keeble family are a great example of brand building based on the combination of 'sausage and sizzle', and shows how much you can do as a highly motivated small business without big budgets.
Sources:
(1) The Grocer on 8.3.19
(2) lovepork.co.uk, Kantar World Panel Retail & Usage and NPD Crest, August 2016
(3) Nielsen Scantrack, December 2018
(4) The Sun on 12.9.18
(5) Waitrose prices on 28.3.19