Farmdrop: building a brilliant brand-led business
This week I learnt first-hand how Farmdrop has built its business by leading with a brilliant product, supported by a social & ethical mission. The Farmdrop website and mobile app allows customers to order a wide range of locally produced fresh produce direct from farmers. The business started in 2012 and is growing at c.600% a year, with total revenue in 2017 of c.£3m (1).
Below I share some insights from a presentation by Farmdrop founder and CEO Ben Pugh, at a Direct-to-Consumer conference organised by Liberum Capital (2).
1. 'Break a consumer trade-off'
Like many great brands, Farmdrop breaks a trade-off we normally have to make between two different, conflicting benefits. It allows us 'to have our cake and eat it', you might say. We can analyse how it does this using a technique we used on brandgym positioning projects called 'the triangle of truth'.
A cultural truth is that people are increasingly interested in fresher, more local produce found at places like farmers' markets….
…. but a human truth is that people lead busy lives and seek convenience, as shown by the growth in online shopping.
Here we have a tension. Whilst we might want to regularly shop at a farmers' market, its too much hassle (to drive, park, queue, pack the stuff in the car etc.)
The brand truth of Farmdrop that breaks this tension is allowing customers to order online direct from the farmer a wide range of local produce, shipped to their door in just 24 hours, over on average of 60 miles. In contrast, food in a typical supermarket takes 120 hours to get from farm to shop and travels on average of 600 miles.
The genius of the Farmdrop operating model is how it compiles in real-time all the orders for, say, carrots and then sends these to the farmer who harvests the food and sends it to a 'hub' to be shipped to customers in electric-powered vans.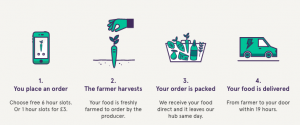 2. Lead with what, not why 
Ben talked about the importance of delivering first and foremost a brilliant customer experience (what/how).
Ben and the Farmdrop team are clearly on a mission to be a more ethical grocer: properly paid farmers selling fresh, locally produced food delivered in 100% electric vans. This ethical mission is also a potent PR platform to cost effectively raise the profile of the brand.
However,  no matter how worthy Farmdrop's social mission is (why), customers simply won't come back they don't get a fantastic product, as we posted on here.
Farmdrop's focus on the customer experience is visible in the evolution of its proposition on the website. Whereas this used to lead with the ethical angle…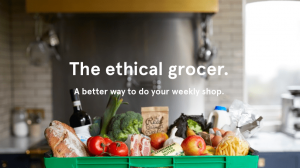 … it is now much more direct, tapping into the cultural and human truths outlined earlier: 'The online farmers' market'.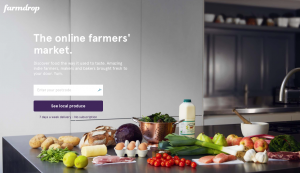 The need to deliver a great customer experience also led to a radical change in the operating model.
Farmdrop was initially a click-and-collect service: farmers delivered to a local collection point where customers had to collect food pre-ordered using Farmdrop's web platform. However, this approach was still too much hassle for customers.
The breakthrough was having farmers to deliver to hubs, with Farmdrop then shipping the orders to the customers' door.
And all the work on customer experience has paid off, with a Trustpilot score of 9.2 that kicks the ass of Ocado (6.9) and especially Amazon Fresh (5.4).
3. Show me the money
How refreshing to see a tech business that actually makes money, earning its valuation based on real profits, not hype!
By using smart technology at each step of the process (customer, farmer, hub, driver) to drive down operating costs vs conventional supermarkets (20% vs. 55%), Farmdrop is able to pull a bloody brilliant business model out of its hat:
The producer gets a much bigger share of the retail price (70% vs. 40%)…
… the customer pays about the same as an online supermarket, and 15-20% less than a 'box' delivery service like Riverford or Abel & Cole…
… Farmdrop makes double the EBITDA margin of a typical supermarket (10% vs. 5%)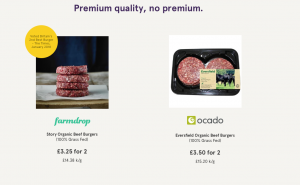 4. Constantly renovate your offer 
Farmdrop is a great example of the need to constantly renovate your core product
The first big improvement was moving from click & collect to home delivery, as we saw earlier
Delivery time was reduced down to 7 days in 2016 and then to next-day in 2017. You can now order before midday and, amazingly, get your fresh local produce from the farmer the following afternoon.
Another key improvement in the service that is critical to growth is expanding the 'physical availability of the brand'. Farmdrop started in London and has now launched in Bristol and Bath, adding a further 170 South-West producers to the 200 already serving London customers.
Last but not least, being what Ben calls 'efficiency junkies' means that the variable contribution (order value less product, handling and delivery costs) for the London hub has grown significantly:
April 16: -£6
April 17: £4
April 18: £7.39
In conclusion, Farmdrop is a brilliant example of brand-led business, with a clear and compelling proposition translated into a great customer experience delivered through a profitable operating model. Their success, I would argue, comes from leading with the what & how, not the why, a topic I posted on here.
And Ben and the team are well positioned for the next stage of growth, having last year raised £7 million in additional funds from investors like Skype co-founder Niklas Zennström.
Sources:
(1) https://www.independent.co.uk/Business/indyventure/farmdrop-app-supermarket-shoppers-groceries-food-drink-buy-customers-online-a7609686.html
(2) https://liberum.com/equities/liberum-expert-access-program