Why is Direct Line's brand strategy "best-in-class"?
Direct Line is again a well-deserving winner in the IPA Advertising Effectiveness Awards, building on their 2016 success that I posted on here, when I reported on a campaign that built insurance quote volumes for both car (+10%) and home (16%). I agree with Mark Ritson's recent column (1) that hails Direct Line as having a "best-in-class brand strategy" for reasons I explain below.
Direct Line is one of the key case studies we feature in our brandgym Mastering Brand Growth program on our brandgym Academy online training platform.
1. Set your brand strategy. Then stick to it
Direct Line have stuck to the re-launch brand strategy defined back in 2014. At the time the brand had lost distinctiveness in the face of growing competition from price comparison sites (e.g. Moneysupermarket.com) that reduced the role of brands and emphasise price. Reduced ad spend was part of the problem but so was positioning and communication. The latest campaign, 'Take the Direct Line', focussed on Direct Line's scale but lacked a relevant benefit.
A core target of consumers looking for control was identified: they wanted flexible, simple and efficient insurance. A positioning based on 'Hassle-free insurance that just works' was identified; this territory of high performance insurance appeared to be untapped. And Direct Line has consistently executed against this strategy with campaign after campaign.
2. Build some substance: product 'sausage' 
I love the way the Direct Line team have used product 'sausage' to make give the positioning real substance. The brand strategy built on research showing that 7/10 complaints related to speed of settling claims and keeping customers informed.
'Your car fixed in seven days or we pay you £10 a day until the job is done, ' was the first new offer. To note, a significant improvement in business capability was needed to deliver this claim, increasing the cars repaired within the 7-day period from 35% to 70%.
The offer was summed up with the endline, 'Can your insurance do that?'
What is really impressive with the Direct Line brand strategy is the pipeline of service renovation ideas they have delivered to follow up on the first product upgrade. On home insurance, for example, they now offer 8 hour replacement for stolen items, if you send in a photo of the item to prove its yours. This is another chapter of the brand story, 'Can your insurance do that?'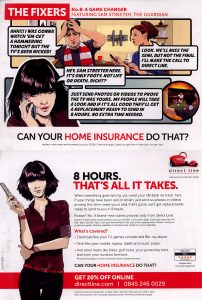 3. Create distinctive brand properties
Direct Line added some emotional sizzle by literally bringing their brand personality to life, with the help of archetypes, a technique we discussed here. Inspiration came from Winston Wolf, the gangland 'fixer' in the cult movie Pulp Fiction. As ad agency Saatchi & Saatchi explained, "He was a superb parallel – a call away, knows exactly what to do, executes without fuss, gets out of your life." In a real coup, the brand and agency managed to hire the actor who played Winston Wolf, Harvey Keitel.
The Harvey Keitel brand property has been a brilliant way of building 'fresh consistency' over a whole series of different campaigns, such as the one below offering a free taxi home if you crash your car. Further consistency comes from the endline, the Pulp Fiction-esque music and also the red phone (and computer mouse) which has been used for over 20 years.
The Keitel character also adds some humour to make the product stories emotionally involving. For example, in one ad a customer looks at her dented car and says, "I'd like to get my hands on who did this." To which the Wolf replies, "I can make them disappear (the dents that is)".
This communication approach has worked to execute the brand strategy. Mark Ritson reports that it "Increased perceptions that Direct Line was a brand that would 'do the right thing'… driving consideration among non-customers, which increased preference and purchase." (1)
4. Follow the money, not fads and fashion
It was interesting to read how Direct Line Group (DLG) used advanced analytics to re-plan its media investment. The team flew in the face of fashion and trends by substantially reducing investment in digital display and programmatic online video.
"We call ourselves digital conservatives but we are not anti-digital," quotes Mark from DLG's IPA submission. "We found compelling evidence for the short-term and long-term effectiveness of TV and radio. By contrast, our research did not support continued investment in a number of programmatic digital media lines." This data-based support for the enduring effectiveness of TV advertising is reflected in DLG's share of 2017 TV spend being double its market share.
DLG also found that the best return came from ensuring that 45% to 50% of spend goes on long-term brand building, in line with findings I reported on here.
In conclusion, Direct Line is indeed an example of best-in-class brand strategy, combining tangible product innovation, emotional sizzle and distinctive brand properties to create fresh consistency and drive growth. For more on the IPA case study, see
this video
.
As mentioned earlier, we explore the Direct Line brand strategy in depth on our flagship brandgym Mastering Brand Growth program. If you'd like more info on the program, simply pop your name and email in the form below.
See some other posts on brand strategy below:
Sources:
(1) https://www.marketingweek.com/2018/10/17/mark-ritson-direct-line/