The Sunspel brand rejuvenation: back from the brink
An email from Sunspel, one of my favourite fashion brands, grabbed my attention today. Sunspel is a great example of rejuvenation, telling stories about its heritage whilst being up to date, not old and dusty. "Founded in 1860, Sunspel is an innovative British brand with a contemporary edge," explained the email. "We make timeless everyday luxury clothing."
In this post we look at how new owners breathed fresh life into a brand on the verge on bankruptcy. The Sunspel brand has gone on to deliver several years of 20% growth, including in 2021/22 when net turnover grew to £18.4m with gross margins stable (1). This was an especially good result given that this period was disrupted by Covid. 
CONTEXT: BOOM to BUST
Sunspel started selling underwear in the 1860s, subsequently adding sea island cotton t-shirts to its range. The company is credited with designing the first pair of boxer shorts in 1947. The brand found fame in Levi's iconic 1985 "launderette" ad. A buff, young Nick Kamen washed his 501s to the sounds of Marvin Gaye (below), wearing nothing but a pair of crisp, white Sunspel boxers (and his socks!).
However, the 1980s revival was short lived. "A lack of investment in new products and a shift in consumer preferences to different styles and brands left the Derbyshire-based business in distress," explains Business of Fashion (2). Sales had dropped to a lowly £1.6 million. Ex-barrister Nicholas Brooke and business partner Dominic Hazlehurst stepped and saved the brand in 2005. This followed a chance encounter with owner Peter Hill, the 81-year-old great grandson of founder Thomas Hill. 
1. LOOKING BACK: UNCOVERING BRAND TRUTHS
A first step in any brand rejuvenation project is to look back at the roots of the brand and dig for brand truths. And here, Nick Brooke found plenty of brand building blocks. "I saw this incredible history, with the fabrics and the expertise of the people making everything. I fell in love with it straight away," he told Business of Fashion (2). The company had 150 years of history, being founded in Nottingham, the capital of Britain's hosiery and lace industry. Sunspel is the only brand to make luxury T-shirts in its own factory in the UK, a relevant truth given a growing interest in brand provenance. And the company is highly selective in selecting raw materials. 
2. BUILD ON A STRONG CORE
Most great brands are built on a strong core product. For Sunspel, this is the classic white t-shirt. These are sold at a hefty premium price versus other t-shirts. But from personal experience, this is supported by the perfect cut, the quality of the cotton and the feel of the final product.
This perfect product also generates valuable PR. "Sunspel's classic T-shirt is crafted in a sumptuous long staple Supima cotton in a unique fabric known as Quality 82, made with only the highest quality long staple Supima cotton fibres. Blowers remove loose fibres for a flawless finish," enthuses Brummel magazine (3). "The T-shirt of choice for discerning men and women, from David Beckham to Daniel Craig's Bond, Sunspel is the best in class."
Sunspel's products also tap into a cultural trend to provide an alternative to 'fast fashion', instead producing products that cost more but last for longer. "The very antithesis of 'fast fashion', Sunspel has always aimed to make products of lasting quality and timeless design," as Brummel puts it (3).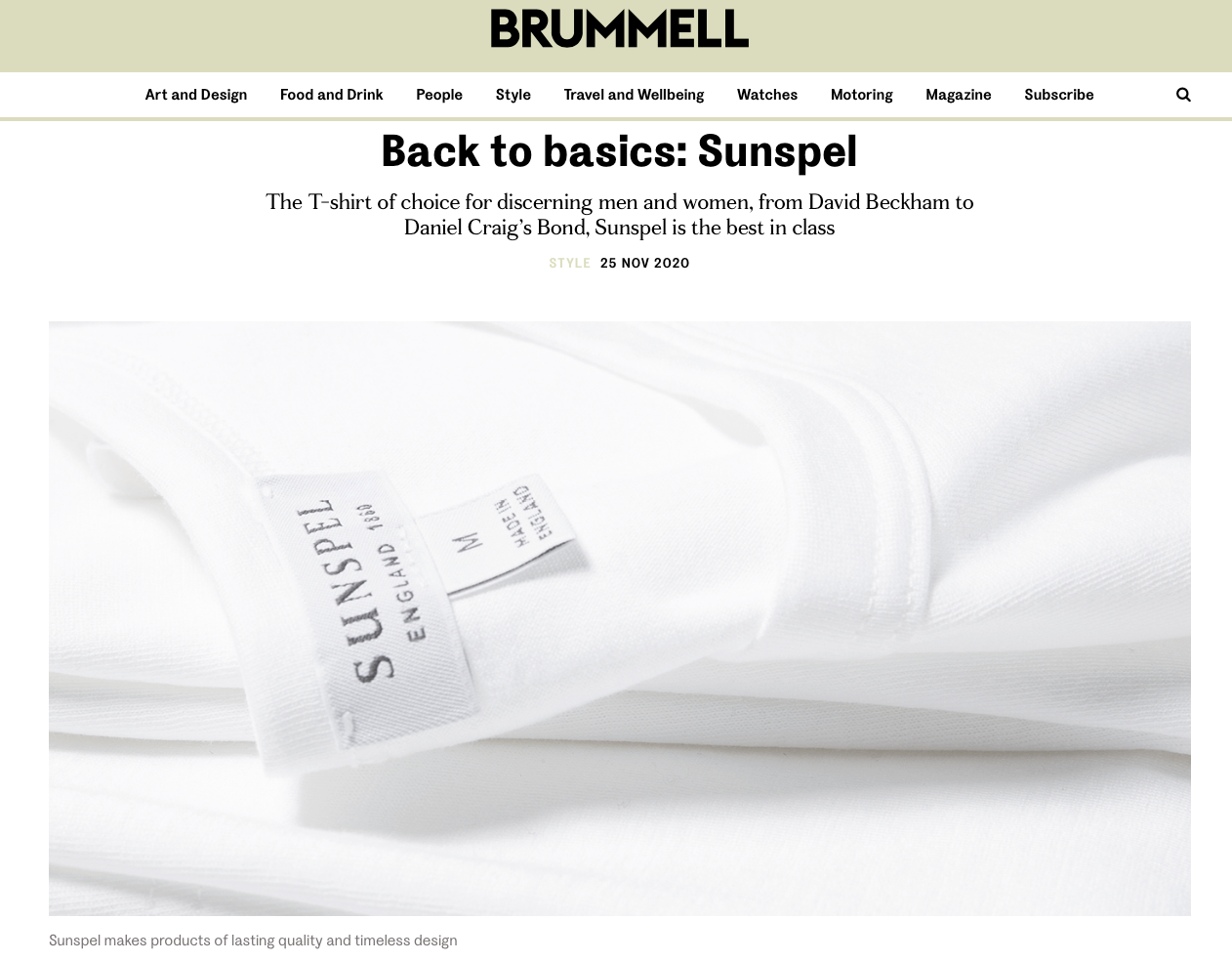 3.FOCUS ON BRAND-LED GROWTH
A key strategic change was to focus on creating brand-led growth for Sunspel. Nick made the brave move too cut back significantly on the 'white label' underwear it made for other brands like Paul Smith. These sales built revenue but did nothing for the Sunspel brand."We realised the product was so good it should be being done for the brand and not for other labels,"  he explains (2). Reliance on white label product has been cut from 15% of the business to only 1% today.
4. UPDATE THE BRAND
The Sunspel brand had a strong core and roots. The challenge was to modernise the brand and make it a heritage label with a contemporary spin that would appeal to younger customers."The target audience went from a 60-plus male buying merino wool long johns to a 30-year old creative who liked design, simplicity and quality," as Business of Fashion reports (2).
Jonathan Anderson arrived as creative director in 2009. The then-relatively unknown designer played a key role in rejuvenating the brand. "He set about updating the fit of the products and the packaging that hadn't been changed since the 1970s,"  explains the Business of Fashion piece. He also worked on the product range, adding new modern designs while keeping key parts of Sunspel's archive.
The updated brand positioning also inspired an updated new visual style (below). "Our ambition was to give Sunspel a new visual spirit, elevate the brand's cultural creativity, give it greater attitude and maximise its rich history," is how creative agency Made Thought sums up the brief (4). The result is an under-stated, self-confident look and feel. Black & white photography is often used and retail stores have a subtle colour palette, with lots of grey, white and light blue with light wood flooring reflecting the brand's "pared-back" aesthetic.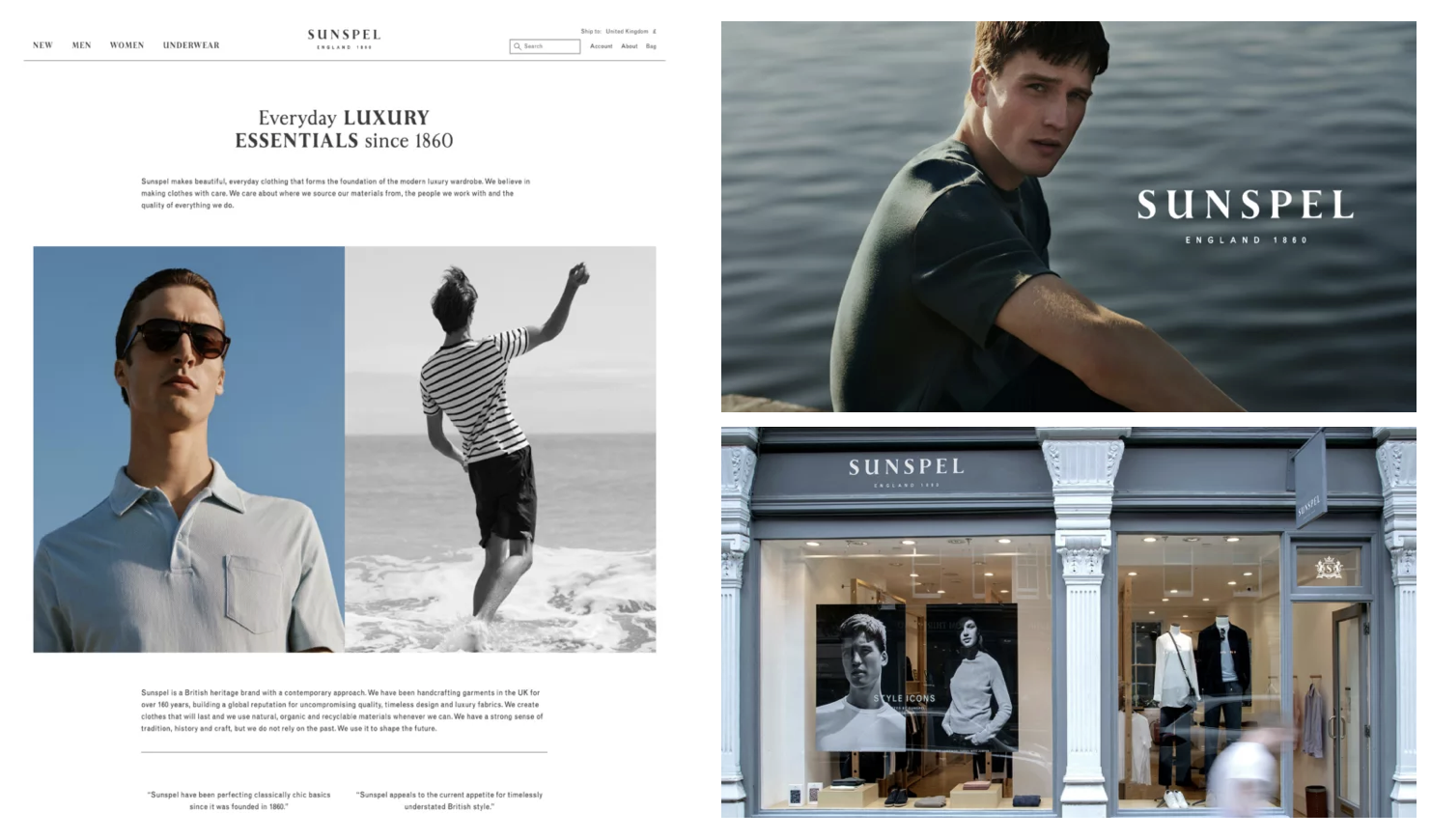 6. USE DISTRIBUTION STRATEGICALLY
The brand carefully selected fashion-forward independent retailers such as Oi Polloi in Manchester. Retail stores also played a key role in the brand's rejuvenation, with the first being opened in Shoreditch in 2010, when this part of London was still seen as edgy. In this way, distribution was used strategically to increase physical availability and also to bring to life the brand's image. "It was a statement. We were setting up the positioning of the brand as contemporary," says Nick Brooke (2).
7. PARTNER SMARTLY WITH INFLUENCERS
Sunspel has co-created two collections with musical legend and style icon Paul Weller (below). This partnership has two key features I feel are key for effective celebrity link-ups. 
First, the alliance is based on a genuine connection between the star and the brand, that goes beyond purely being paid."I'd shopped in Sunspel many times, well before they approached me," says Weller (5). "I've always loved their T-shirts. They're of great quality and that applies to all their garments. Well made, great construction and above all, wearable. Great colours, too".
Second, there is a great fit between the attributes of the Sunspel brand and those of the endorser, as the brand explain on their website. "It is difficult to think of another musician who would make such a good fit with Sunspel, a company that celebrates British tradition and manufacturing and is as uncompromising in its attention to the crucial details of its clothes as Weller is in his." 
The Sunspel brand also has other high profile alliances, including one with brand Bond. "The Sunspel name has been synonymous with the quintessential style of James Bond ever since we tailored one of our original polo shirts for Daniel Craig to wear in his role as 007 in Casino Royale," the brand states on its website (6).
In conclusion, Sunspel is great example of brand rejuvenation. It shows how bold leadership, smart strategy and excellent execution can even bring a brand back from the brink of extinction. 
We explore brand rejuvenation alongside seven other modules on the brandgym Mastering Brand Growth program, which kicks off on April 17th. If you're on the blog website and would like more info on the program, simply pop your name and email in the form below (sorry, form will not show properly in the Monday morning email) 
SOURCES