The recipe of a distinctive brand: Franco Manca
The Franco Manca brand of pizza restaurants was in the news this week, with Japanese restaurant group Toridoll agreeing to buy brand owner Fulham Shore for £93million, a 35% premium on Tuesday's closing price (1). Franco Manca has grown strongly in recent years, weathering the storms of Covid and the cost of living crisis much better than many competitors.
The brand started life in 2008 as a single outlet in south London's Brixton market started by, yes, a guy called Franco. Friend Giuseppe Mascoli and Bridget Hugo, an artisan baker, took it over and called it Franco Manca (Italian for "Franco is missing"!). It was bought by Fulham Shore, which already owned the Real Greek, in 2014. Under CEO David Page, Franco Manco has expanded from a handful of sites in the UK capital to 70 nationwide.
In this post we look at the recipe used by Franco Manco to drive brand and business growth.
1. Cook up a distinctive product
Franco Manca's focus on creating sourdough pizza has helped them stand out in a crowded market. Sourdough is a symbol of quality in pizza and before was associated with more expensive offerings. Offering sourdough pizza at a more affordable price point (see below) created a strong value proposition.
Using traditional methods and simple, high-quality ingredients, the distinctive sourdough base has helped the brand create distinctiveness versus competitors. Sourcing most of its produce direct from suppliers keeps quality up, whilst also allowing cost control. For example, its olives come from a small family supplier in Kalamata, Greece, and its cheese from a supplier in Somerset (2).
2. Drive penetration through affordable pricing …
Pricing strategy has been a key part of Franco Manca's growth. Affordable pricing has helped drive penetration, by attracting a wide range of customers: from students and families to pizza connoisseurs who appreciate value for money. "Franco Manca is so obsessed by price that it has become part of its mantra," reports The Times (2). What stands out for me is how the pricing strategy is summed up such in a simple way, making it easy for teams to remember and apply:
Most expensive pizza should always be cheaper than a Margherita at Pizza Express
Customers should always be able to have a pizza and a Coca-Cola for £10.
3. … by keeping costs low
Offering sourdough pizza at affordable prices has been made possible by smart cost control. The company limits food waste by serving just a few items: no more than three specials each day, and just ten regular pizzas.
Cost control is also applied in the sourcing and fit out of restaurants. Franco Manca tend to opt for smaller, more affordable spaces in up-and-coming neighborhoods rather than expensive high street locations. Smaller sites keep rent and energy costs low. Expensive fit-outs are avoided with simple restaurants using basic furnishings.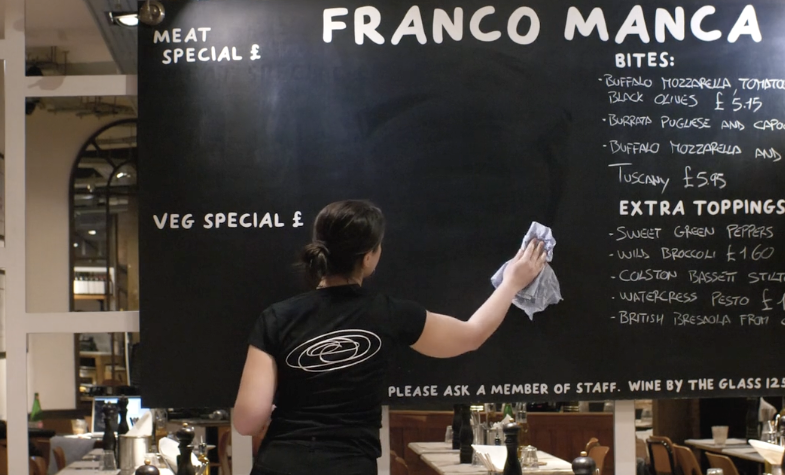 4. Create a distinctive visual identity
Franco Manca's strong visual identity also helps sets them apart from other casual dining chains. The contrast of red awnings and cream painted exterior 'sign-posts' the brand on a busy high street, like the one in my hometown of Putney, South West London (below left)
The logo featuring a hand-written 'swirl' cues the art of making a pizza. Along with the hand-written style of typeface, this creates a fun and friendly feel. The distinctive design language is used consistently across communication channels, including printed materials like menus (below right).
Simple, high-quality materials like wood and concrete create an atmosphere that feels both welcoming and stylish (below middle), with the pizza oven front and centre.

5. Expand reach through new channels
Expanding into delivery gave the brand a lifeline during Covid lockdowns. The new channel has remained strong at above pre-Covid levels, accounting for almost 30% of revenues, compared with 15% before (2).
In conclusion, Franco Manca is a great example of a brand-led business. Growth has been driven by creating a distinctive product and visual identity combined with smart cost controls to produce a compelling value proposition.
Sources: