The Pig's recipe for success: sausage and sizzle
A recent stay at The Pig at Harlyn Bay in Cornwall reminded me about the great brand building job done by this boutique hotel collection. The first Pig was opened in 2011 in Brockenhurst in the New Forest. Since then, a further seven hotels have been added to "the litter". The Pig was created and built by hospitality genius Robin Hutson, who previously started and sold the Hotel du Vin business. The Pig's holding company was recently snapped up by KSL, a private equity group focusing on hospitality.
In this post, we look at how Robin and the Pig team have built a highly distinctive brand combining product "sausage" and emotional "sizzle".
1. Distinctive product
The brand was built from the start on a great product "sausage", apt for a hotel called The Pig!
A distinctive food philosophy and approach is at the heart of the brand. "We have an obsessive commitment to home-grown and local produce, and we celebrate the seasons," as the website explains (2). Indeed, the Pig calls itself a collection of "restaurants with rooms" rather than a chain of hotels. A kitchen garden is at the heart of each Pig, with "kitchen gardeners work hand-in-hand with our chefs to create menus bursting with simple British garden food." What each hotel can't grow or rear itself is then sourced locally, creating what The Pig calls its '25-mile menu'. I picked up an example of a 25 mile map from the Pig at Harlyn Bay, showing all the suppliers this Pig works with (below).
This food approach makes The Pig distinctive and also taps into the deep cultural trend of people being more interested in provenance and local sourcing.
Service at The Pig is also distinctive, being efficient but informal, delivered by staff who tend be pretty young. I've always found the level of service to be great and the people to be enthusiastic and smiley. Two of the secrets to this success were revealed by operations director Tom Ross in an interview (3):
Training: "We take training really seriously and focus on what we call craft skills," Tom explained. As part of this, the PIG Chef Apprenticeship Scheme helps young people get into hospitality and develop them into the chefs and hoteliers.
Hiring: I love the way Tom talks about looking for people interested in food and hospitality. "We want someone who isn't only a waiter, but wants to know about food, wine and the art of service – not just writing an order down and bringing out plates." The Pig also seems to follow another recruitment mantra used by brands who deliver good service: hire based on personality more than skills. "We employ people based on personality as they have interaction with guests and need to have genuine rapport," he explains.
2. Distinctive brand properties
It's one thing to create a single hotel or restaurant. The real challenge is how to scale this type of business whilst maintaining the magic. And this is an area where Robin Hutson is a real master, creating what I call 'service signatures', as covered in a previous post here. These are replicable and scaelebale brand properties, that bring to life the brand at a moment of truth and deliver emotional 'sizzle'.
First, each hotel is create in a renovated old country house with gardens, full of character. Your stay feels special from the moment you step through the door. "They have to be exceptional buildings. We try to ensure that each one feels different," commented Robin (1). The pictures below from four of the hotels show how there is a certain look and feel to a Pig hotel, but each one is indeed different.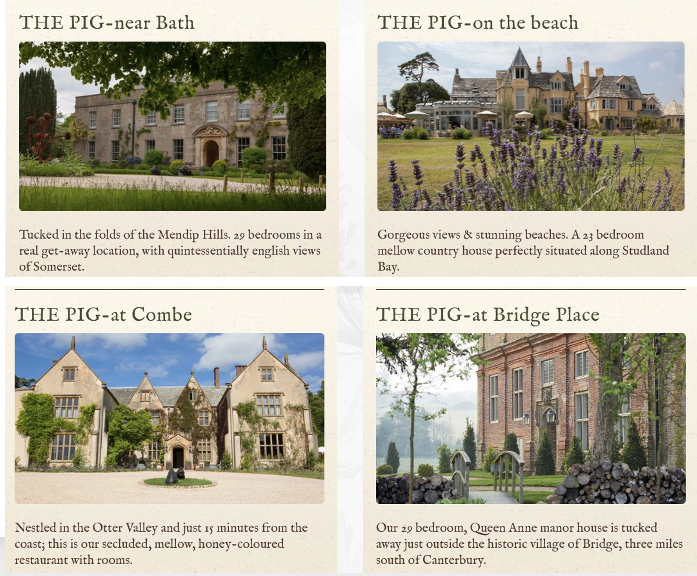 Second, the interior design of each Pig is also instantly recognisable, using a form of 'shabby chic'. "Each Pig has its own identity, each evolved rather than being too designed", as the website says. Antique furniture, battered sofas and old pictures feature in each Pig. There is a sense of slight disorder and chaos, though I am sure this is carefully and skilfully curated!

In addition, the front-of-house staff in each Pig wear the same sort of clothing. Importantly, this is not an unattractive uniform. Rather, people wear and informal mix of pink shirts, jeans and Converse trainers. There is a broad style 'palette'. But my impression is that within this staff have freedom to express a bit of personality.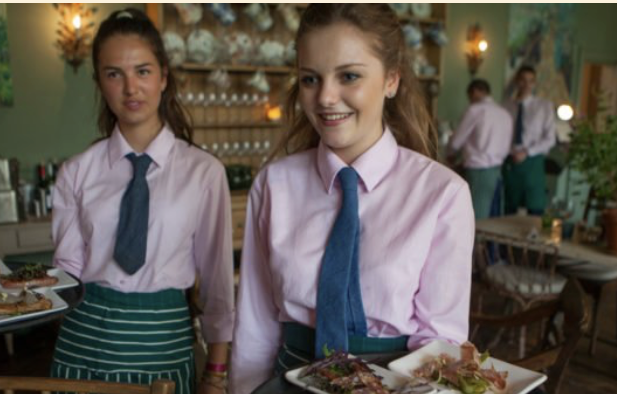 The Pig has also create a replicable activation property, with the Smoked & Uncut Festivals running for several years. There bring to life the country, food-focused feel of the brand. And being based at the hotels, they drive further customer traffic to stay in hotel rooms. Genius!
And then there is also the pig symbol itself, used as a visual identity device on the website, signage and in printed materials. There are also pig sculptures at some of the hotels. The name and symbol is brilliant, being super simple and easily memorable whilst also highly evocative of the countryside lifestyle.
3. Adding freshness via local flavour
The challenge with any chain of hospitality venues is to have brand consistency whilst also keep some freshness, ideally linked to the local roots of each place. The Pig does this really well. For example, at the Pig in Harlyn bay I visited by the Cornwall seaside, a lobster shack opens in the summer "Outdoor eating and drinking, salty ocean air and simple but seriously tasty local food, head straight from the surf to your table and tuck into the daily catch," as the website explains.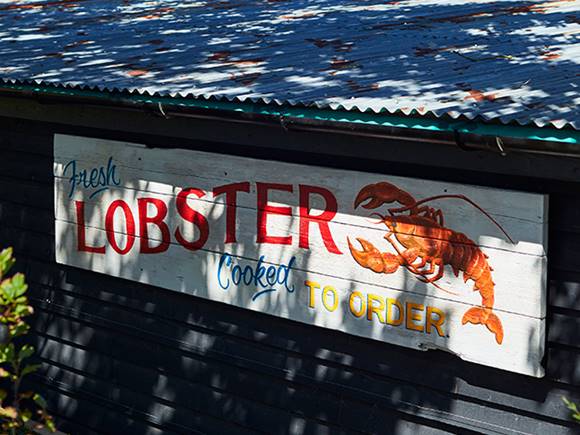 In conclusion, The Pig is a lovely example of a service brand that has successfully combined product sausage and emotional sizzle to deliver a highly distinctive customer experience. And managed to maintain the magic whilst growing from a single hotel to a small collection. I hope the magic stays alive now Robin has sold to a private equity firm!
Sources: