Soho House Brand: Stretching Strategically
I was lucky enough to spend a lovely couple of days at Soho Farmhouse last weekend with Mrs Taylor for a birthday celebration. This country outpost of members club Soho House is made up of cabins spread across 100 acres in Oxfordshire. My stay there got me thinking about what a great job the Soho House brand has done in strategically stretching.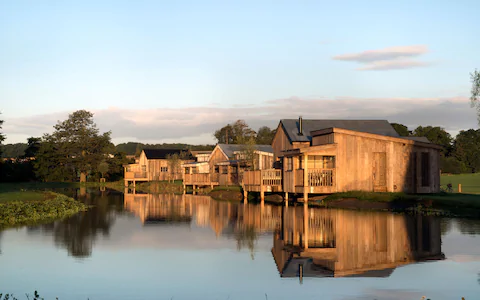 From a single Soho House club opened on London's Greek Street in 1995 by founder Nick Jones, there are now 33 Houses in 14 countries. In addition, the stretched Soho House brand now offers a whole range of services and products. Membership has grown dramatically (see below) and forecast 2022 revenue of c.$1billion is 1.5 times the level of 2018 (1). Profitability has been harder to achieve, with parent company Membership Collective Group still negative at an operating profit level (2). However, adjusted EBITDA is now positive, forecast at c. $70-80mill in 2022, and the leadership team expects to be profitable at an operating level by early next year.
In this post, we look at some of the learning from the Soho House brand story. The first three points are about building a strong core before we then look at how to stretch strategically.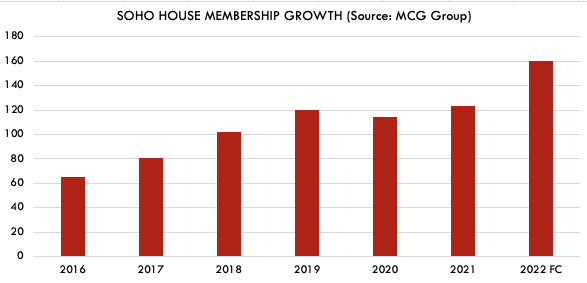 1. Led by a brand CEO
Founder Nick Jones has been CEO up until this week, when he handed the reins over to current President Andrew Carnie. Nick strikes me as the ultimate 'brand CEO': the living, breathing embodiment of the brand. He will stay on in a Founder role, focused less on operations on more on the membership experience. 26 years after starting the business, he retains a passion for hospitality, a sharp sense of the brand's essence and a hands-on approach to brand experience delivery. "I'm slightly obsessed with comfort," he explains in a Soho House book (3). "I sit in every chair, on every barstool, everything we do. Comfort is a big part. It might look good in a photograph, but to me, it's about how a member uses the place."  
2. Have a strong core product anchor
Soho House, like most strong brands, has at its heart a strong core business: the members clubs, or Houses. Membership and in-house revenue together made up 67% of revenue in Q3 2022 (2). And at the "core of the core" is what we call "the anchor product": the purest, simplest version of the brand (think Coke Classic, Bud, the simple Dove bar).
The anchor product for Soho House is the original club of the same name which is still going strong today in the heart of Soho. "Set in a Grade II-listed townhouse, the original Soho House at 40 Greek Street is where our story began back in 1995." This is where the brand experience was born, with a creative and diverse membership connecting and having fun until late into the night (it was one of the first places in Soho to open from 8am to 3am).
The Soho House brand logo reflects the layout of the original House – three floors across three interconnecting houses.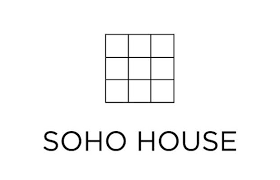 This original logo has since been cleverly adapted for each new house, with local flavour being injected, such as a farm gate for Soho Farmhouse.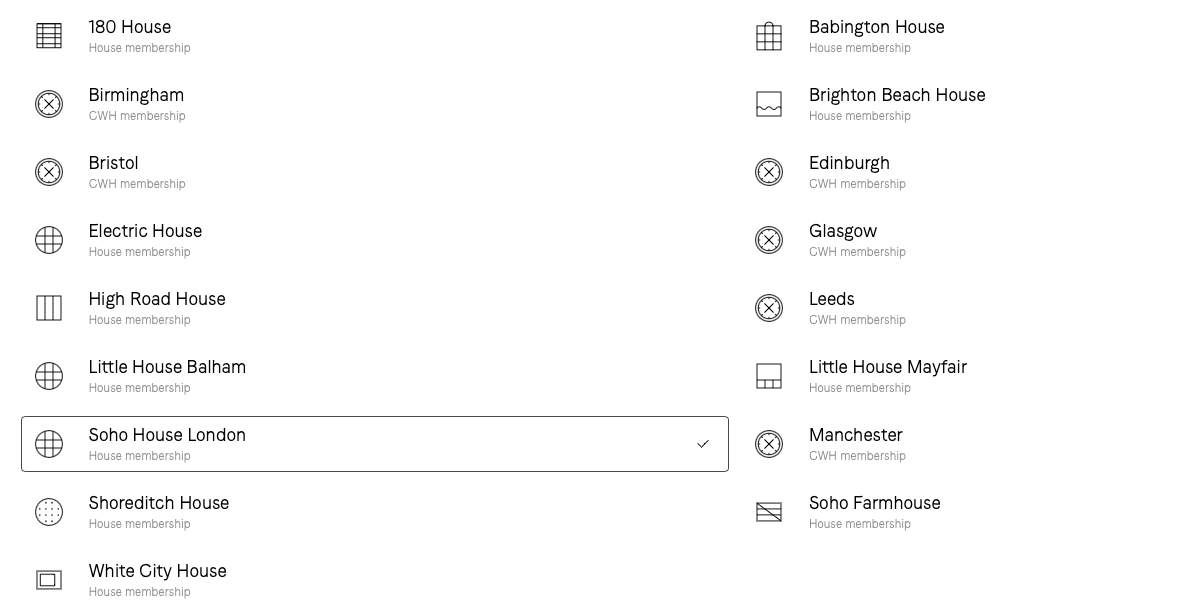 3. Create service signatures
"Service signatures" are a key part of successful service brands, which we posted on here. These are distinctive elements of the service experience which are, importantly, scaleable and replicable. In the case of the Soho House brand, there are multiple service signatures that bring to life the brand proposition: A place for our diverse membership to connect, grow, have fun, and make an impact. This ensures a certain level of brand consistency as the brand has expanded from one house to 33:
Interior design: the distinctive interior design of Soho House clubs is result of "layering", as head of design Marcus Barwell explains (3). "This is what gives each House its soul. We mix different styles and keep it eclectic to mirror how you add to your home over the years," he says. "We source locally lots of vintage furniture to give it a lived-in feel. We later in levels of lighting, rugs, plants, textiles, cushions and accessories."
Minibar: as you would expect for a club with a history of fun and partying, the mini bar is well stocked with all sorts of booze, including pre-mixed Soho House cocktails. A local touch is also given in each House. So, for example, at Soho Farmhouse there was also complementary, locally made sourdough bread, butter, cheese and jam.
Glassware: along with the minibar is a set of cut glassware, to enhance the enjoyment of your in-room beverages. "A drink is a treat. And the right glass is as crucial as the ingredients. There is something about drinking from crystal that elevates the enjoyable to the superb," enthuses Nick Jones (3).

Signature drinks and dishes: wherever you go to a House, you are likely to find some signature drinks and dishes that create brand consistency. For example, you can start with a Picante de Casa cocktail and then follow with a House Mac & Cheese.
Soho Futures foundations: these run across Houses and include a 16 week mentoring programme that helps young people from lower socio-economic and under-represented backgrounds get into creative careers. This is good from a social campaign standpoint but also helps drive long-term penetration by creating more people in creative jobs, the core target for Soho House membership.

4. Stretch strategically
Having built a strong core with the original club as the anchor, the Soho House brand then set about stretching strategically. A few of things strike me as being particularly smart about how they have done this:
Stretch sequentially: there seems to be some form of logic about the sequencing of the stretching, even if this was maybe not intentional (see below)! Initially, core range extension was used to expand beyond the original Soho House in central London, with the 1988 opening of a second house in the country: Babbington House. Subsequent extension saw the brand open new houses in other cities, including New York, Berlin, Barcelona and Istanbul. Once a strong core was established, the brand then stretched further by offering gyms/spas (1998), Electric cinemas (2002), co-working spaces (2015) and home furnishings (2016).
Stretch to grow the core: the real genius of the Soho House brand stretching is how the new products and services work to reinforce the core Homes offer. This is not only in terms of brand image but also in terms of business model. For example, having Electric Cinemas in Houses makes the core offer more attractive. It also provides a venue of industry screenings, attractive more potential members from creative industries. The Soho Home home interiors collection "enables members to bring the House home", reinforcing the brand in memory structure. It also has the potential to drive penetration, by exposing non-members to the Soho House brand via a new channel.
Fresh consistency: the brand stretching has maintained the fresh consistency, with the imprint of the Soho House brand clear.
Leverage capabilities: Soho House has focused on new launches where it can leverage capabilities. This includes launching spas and co-working spaces that leverage capability in hospitality and customer experience. And the Soho Home interiors business builds on capability in sourcing of home furnishing and accessories.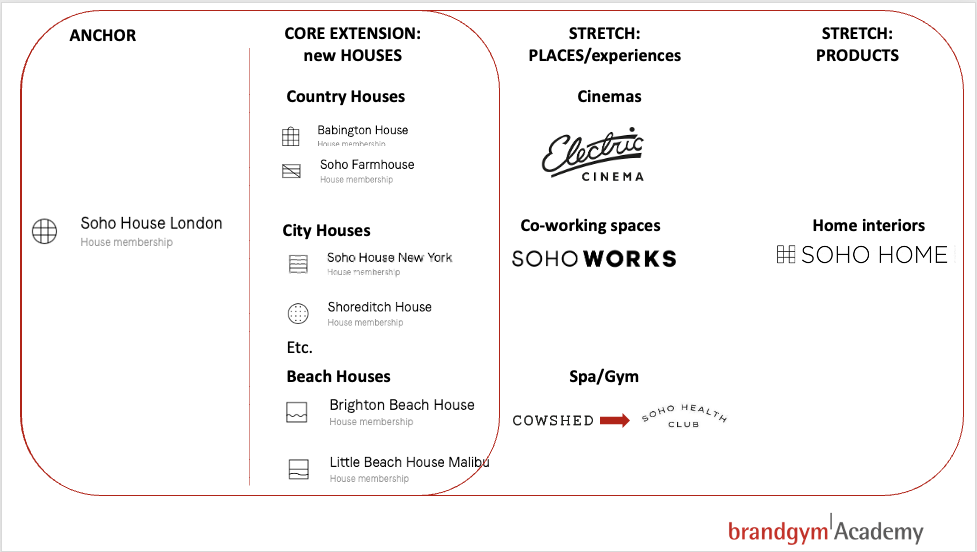 5. Drive penetration to constantly rejuvenate
A key challenge with any members club is how to stay cool, contemporary and desirable. The risk is your members get old and with you and so the brand gets old too! One smart tactic used by the Soho House brand is to offer a special category of membership for people lucky enough to be under 27. They pay half-price membership until their 30th birthday and get 50% off food and drink bills on certain days. This ensures the brand is constantly recruiting new members and also helps maintain a cool, edgy vibe to the place.
In conclusion, the Soho House brand story is a great example of how to build a strong core business and then strategically stretch into new categories.
Sources: