Why are big brand companies buying small insurgents?
"If you can't beat them, buy them!" is an increasingly common approach for big brand companies responding to the threat of small insurgents. In this post we look at the benefits and challenges of this growth strategy, using Unilever as an example.
Unilever has been one of the most active big brand companies when it comes to buying small insurgent brands. They bought a total of 18 businesses between 2015 and 2017 for a total of €8.8bn. The average purchase price of €500m is small compared to the industry's big deals, such as Ab InBev's $100bill acquisition of SAB Miller.
We also propose a framework to maximise your chances of success if you decide to follow Unilever's example.
1.Benefits of buying insurgent brands
1.1Accelerate growth in new segments
Unilever's core business is in mass market consumer products, where growth in many cases has been sluggish. Faster growth is to be found in segments targeting specific needs or consumer groups, often premium priced and sold online.
Buying small insurgents accelerates the process of accessing these segments, compared to building the capability in-house.. "What Unilever is doing is very clever," commented Marting Deboo, analyst at Jefferies in an FT article (1)."It's an M&A strategy that addresses segments, channels and premium niches that core Unilever simply can't access."
Some examples of how buying insurgents has helped target new segments include:
Channel: buying online business Dollar Shave Club step-changed Unilever's insight into a new channel. "When you are a big company like us, you have a hard time establishing [a subscription model] because the culture and knowledge is simply not there," observed Polman at the time of the acquisition (1)
Consumer group: Sundial brands, a US skincare company, brought deep insight into the skincare needs of African-Americans.
Premium price point: skincare businesses Dermalogica and REN.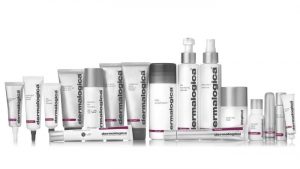 1.2Accelerate growth
The ultimate question is of course whether these deals have the scale to make a difference to the growth of a giant like Unilever.
The 18 acquisitions have a combined sales value only €2.3bn, according to analysts' estimates. This is less than 5% of Unilever's annual revenue of c. €53bn.
However, the new brands bought are fast growing, with revenues rising 16% in the first nine months of 2017 for example. This is eight times the rate of growth of the total business (2.8%). So, even though the new acquisitions are small in total size, they could add an extra 1% pt to organic sales growth in 2019, according to Finance Director Graeme Pitkethly.
The analysis below by Bain (2) illustrated more broadly how small insurgents are small in size, but big in terms of sales growth rates.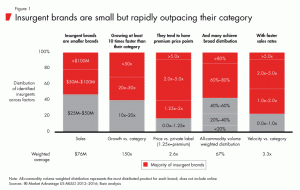 2.Challenges of buying insurgent brands
2.1 Managing complexity
The small brand acquisitions might be fast growing, but they require managing a huge amount of complexity. Each new company Unilever bought has an average revenue of c.€130mill, but this tends to be spread over a plethora of products. Check out the range that Shea Moisture (Sundial Brands) offers in haircare alone.
2.2 Cultural fit
Another huge challenge is how, if at all, to integrate the new businesses into Unilever. Some degree of integration is needed, if the new insurgent is to benefit from the muscle and extended reach of their new big brand parent. But how to do this without killing the agile and responsive culture and operating model that made them an insurgent in the first place?
A classic case of how not to do this was Quaker's acquisition of Snapple, an attempt to access the niche marker of fruit and tea drinks. Quaker eventually sold the business for $300 million, $1.4 billion less than it paid for the brand. Ow. It struggled to manage relations with the independent distributors that made up half of sales, and taking a mass market, less quirky approach to advertising also backfired.
2.3 Getting payback
Sexy small brands are in demand, and so the price you have to pay is often high making it challenging to get a good return on the investment. "The acquisitions in the last three years are likely to have been expensive," observed Andrew Wood, analyst at Bernstein, in the FT (1). He estimates Unilever has paid an average c. 4x sales, above the 3.5x average for home and personal care deals.
3. Maximising chance of success
Focus is also needed when acquiring fast-growing small brands. To maximise chances of success, we recommend an approach called '4S':
Strategy: a crystal clear portfolio strategy to guide you.
Scan boost insight capability, such as social analytics,
to track sales and online influence, highlighting when small brands get 'traction'.
Select rigorous criteria to quickly evaluate potential purchases, including how they enhance core capabilities.
Scale add value and distribution 'muscle', whilst protecting culture, such as housing the new brand in a separate 'ventures' division. Some experts say Unilever needs to up its game here. "Unilever has so far been slow in globalising these assets, whereas L'Oréal is exceptionally quick at rolling small brands out in new markets at full scale,"said Naaguesh Appadu, research fellow at Cass Business School's M&A Centre, in the FT (1).
In conclusion, snapping up small insurgent brands can help big brand companies fight back, providing there is a clear strategy used to select and scale the acquisitions. However, the approach has serious challenges too. Getting 1% of extra total growth (€500mill) by growing its 18 new babies by c.20% a year is arguably more complex than growing the existing core business by 1%. Time will tell if this approach pays off, and it will be interesting to see if incoming CEO Alan Jope pursues the same strategy, or does a sell-off like Quaker with Snapple.
Sources:
1. https://www.ft.com/content/f1bdd72e-d5a9-11e7-8c9a-d9c0a5c8d5c9
2. https://www.bain.com/insights/how-insurgent-brands-are-rewriting-the-growth-playbook/