CureFit: Secrets of a successful start-up
India throbs to the beat of a million start-ups and CureFit is one of the most exciting, making big waves in the world of fitness, just three years after launch. Revenue is doubling every six months and last year the company secured $120mill of Series C funding (1).
Here we look at some of the secrets of their early success, which should be inspiring for smaller, 'insurgent brands' and bigger brands alike.
Post by Prasad Narasimhan, Managing Partner based in Bangalore.
1. Bake in distinctiveness
At the core of CureFit are the Cult.fit centres, currently 75 in number and with an aim to grow to 500+ centres in next three years. Like most successful insurgent brands, CureFit has 'baked in' distinctiveness from the start, creating initial appeal to drive trial and also encouraging word-of-mouth:
No machines: rather than row after row of soulless machines where you work out alone, Cult.fit centres focus on inspiring, high energy group classes.

No boredom: 

energetic 50-minute routines mean you can come, work out and go without getting bored and taking too much time out of your day

No same old, same old: there is a variety of ever-evolving classes, allowing you to train with boxers, pro-fighters, weight-lifters, Zumba and yoga experts.
The excellent customer experience at Cult.fit is reflected in an "insanely high" NPS score of 84% and best-in-class retention of 75% (2).
2. Follow the money
A successful start-up needs a good concept, but also business-savvy leaders who 'follow the money' and CureFit is driven by some of India's finest entrepreneurial brains. The first smart move was to target the fast-growing fitness business. Millions of appearance-conscious young Indians are fuelling a fitness boom: the Indian gym market is worth several billion USD and the broader healthcare industry is estimated to grow to a whopping $280 billion by 2020 (3).
Second, Cult.fit is a good example of a 'brand-led business model', cleverly designed to make money:
Quicker breakevens: 

the lack of machines that are expensive to buy and also to maintain means that capex is lower than $70K per centre, meaning each one breaks even in an average of just 15 months

Standardized service: despite being very personally focused, Cult.fit has standardized its service with certified trainers and well-structured yet exciting routines, reducing training costs and accelerating expansion

Designed for speed: 

the 50 minute end-to-end sessions work for customers but also ensure a rapid turnaround, meaning more paying customers per day.

Digital efficiencies:

Every member has to use the app to book classes, reducing the need for support staff. This also leads to massive customer engagement and provides valuable data to allow CureFit to rapidly respond to emerging trends, a key drive of insurgent brand success in our research here.
3. Stretch strategically
To truly deliver the brand idea of 'Be Better Everyday', CureFit has strategically stretched from the core of the Cult.fit gyms to become a holistic fitness brand that engages users 24×7. It now offers an 'ecosystem' of four solutions, all unified in one single app, that customer access on average 4-5 times a week:
Cult.fit: the core gym offering
Eat.fit: healthy and wholesome meals, prepared fresh & delivered to your door. Eat.fit is currently serves 10,000+ meals a day and claims to be doubling this number every three months
Mind.fit: offers yoga, meditation and group therapy to tap into the demand for mental wellness
Care.fit: online and offline consultations with doctors and health coaches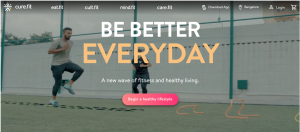 4. High impact marketing
Small insurgent brands use distinctive, high impact marketing to get more bang for their buck, including online amplification. In the case of CultFit, the brand has benefited from the high-profile endorsement of superfit Bollywood hero Hrithik Roshan, creating instant appeal for the brand's core target of millennials. Slick imagery and an edgy style further add to the cool factor.
Importantly, the partnership goes beyond just communication. Roshan's personal HRX workout routine is now integrated into Cult.fit centres, adding 'zing' to the offer. Further credibility comes from Roshan taking his reported $14million fee not in cash but in CultFit equity (4).
In Sum
CureFit is a startup creating a storm. But the principles that underline its success applicable to brands of all sizes: bake distinctiveness into your brand and your marketing from the start and always remember to follow the money.
We explore creating distinctive brands in-depth on our brandgym Mastering Brand Growth program. If you'd like more info on the program, simply pop your name and email in the form below (we'll also send you the weekly brandgym blog email and brandgym Academy news, but you can opt-out at any time).
Sources
https://www.dr-hempel-network.com/growth-of-digital-health-market/digital-health-market-in-india/
https://inc42.com/buzz/hrithik-roshan-pours-in-878-2k-in-fitness-startup-cure-fit/