Relentless revitalisation pays off for Pets at Home
I'm pleased to see that positive predictions about Pets at Home in this post two years ago proved to be accurate. Pre-tax profits rose +81% to £71 million in the 28 weeks to October, 2021 (1). Yes, lockdown helped, with more than 3.2 million households buying pets during the pandemic (1). But what is really impressive is like-for-like sales up 29% compared to the same period two years ago, pre-covid. Pets at Home has benefited from strong, sustained and visionary leadership. CEO Peter Pritchard joined the company in 2011 and given the top job in 2018. "He has been hailed for the turnaround in the group's fortunes since he joined," according to The Times (1).
In this post we take a fresh look at how Pets at Home has revitalised its core proposition, to survive and thrive in todays' challenging times
1. Re-define your market in benefit terms
The first and most fundamental thing Pets at Home did was to re-define the market they were competing in. Rather than being a seller of pet products, they see themselves a provider of pet care. "We are the UK's leading pet care business, providing pet owners with everything they need to be able to look after their pet," as they say on their website.
Linked to the market definition, is a deep understanding of the services pet owners want for their beloved animal companion. Specifically, Pets at Home tap into the phenomenon of "pet humanisation', with owners making their new pet the centre of the family," as The Times reports (2). For example, I was amazed to read that this year 230,000 dog advent calendars have been sold!

2. Stretch strategically
The market definition and consumer understanding led to a stretch from selling food, toys and bedding into providing pet services.
Lots of brands talk about stretching beyond products to create a 'brand experience', but often do this in a half-hearted way. At Pets at Home the stretch has been fully followed through. Services account for 35% of sales, with a long-term target to increase this to 50%, including:
Grooming: through The Groom Room offer, with c. half a million pets groomed each half year
Veterinary service: UK's largest small animal vet services group, with Vets 4 Pets practices in stores and standalone locations.
Pet walking and sitting: In our 2019 post we talked about plans for a strategic partnership with Tailster, a leading online marketplace for pet walking, sitting and boarding. This has now been followed through and launched.

3. Stretch to supercharge the core
Another smart thing about Pets for Home's brand stretching is how this helps supercharges the core business, rather than distracting from it. Forget about possible brand image 'halo' benefits often quoted as a reason for stretching a brand. The brand strategy used by Pets at Home has business model benefits that directly benefit the core.
The new services drive customer penetration, and those customers who use the services become more involved with the brand and spend more on core retail (see the grey bar in the far right column below).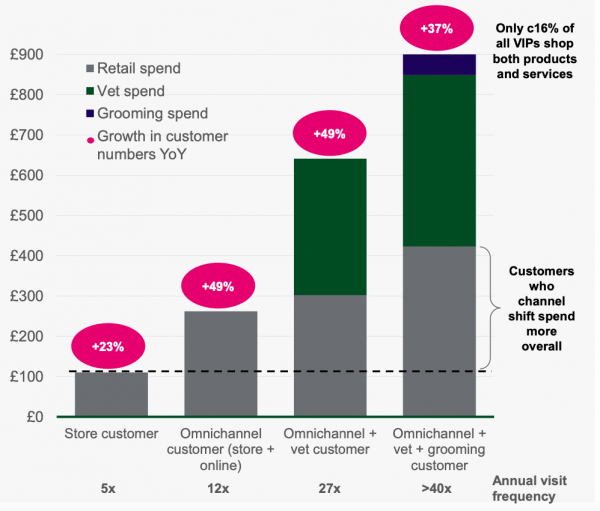 4.Harness the power of data
Data and AI is a headline-grabbing topic. Pets at Home is an example of how to set a clear strategy how to use data: to enhance the pet owning experience.
Back in 2019 we posted on The Puppy & Kitten Club that at the time had 200,000 puppy members, an impressive 20% of the UK puppy population. This club goes from strength to strength, with The Times reporting "107% annual growth in members, with weekly sign-ups running at 25,000" (2).
This approach helps Pets at Home SMS' (sell more stuff), with club members spending 21% more than non-members. Digital analytics allow the company to tailor products for specific pets. This gives them an edge versus Amazon, which "Doesn't know if you've got a Great Dane or a Chihuahua," as Pritchard told The Times (2).
5. Add value with omnichannel
'Omnichannel' is a hot topic but its pratical examples of brands really using it to add value are not that easy to find. Pets for Home is a good example of using omnichannel in this way:
Creating convenient online services that make life easier for customer, and create new revenue streams, such as a subscription service for flea and worm solutions
Opportunity to oder online and pick up in store…
… or browse in store and order for home delivery
This seems to be seamless and also focused on providing relevant added value for customers, rather than using technology for technology's sake which sometimes seems to be the case.
6. Fix the value proposition
Its all well and good offering new services. But big retail brands like Tesco and Sainsbury's have suffered in the past few years by allowing lower priced competitors to create a 'price gap' that undermines their value propositions. Pets for Home has avoided this problem with a three-part strategy:
Ensure 'acceptable' price gap (c. 5%): on comparable products vs. pureplay online retailers
Around the same price: on the most important products to customers
3% cheaper: for customers who opt into 'Easy Repeat' subscription and delivery service
This strategy means that Pet for Home's price position vs the lowest price competitor remains stable. As the brand enhances its service offer, this means that the value proposition should be getting stronger: more service, same price difference
7. Distinctive, brand-led sustainability
Pets at Home is a good example of how to take a brand and product-led approach to social issues. The Pets at Home Foundation raises money to help pets in need across the UK. This does some good for society, whilst also reinforcing the pet care attributes of the brand.
In conclusion, Pets at Home shows the power of defining your market in benefit not product terms, and then using this as the springboard to stretch strategically, to creat news revenue streams and supercharge your core business. 
To explore REVITAISING the CORE in depth we offer a short, on-demand Grow the Core course on our brandgym Academy platform HERE. The £95+VAT course fee is fully refunded if you go on to take the full Mastering Brand Growth program.
We also explore xxx in depth alongside seven other modules on our flagship brandgym Academy Mastering Brand Growth program. If you'd like more info on the program, simply pop your name and email in the form below