Magnum Pleasure Store: refreshing a powerful brand property
The Magnum Pleasure Store is a rare example of a marketing program that a brand has successfully stuck with for the long term. The pop-up stores have been set up in major European cities each summer since 2012, featuring Magnum dipping bars that allow visitors to custom design their own Magnum (see below). "In the world of experiential marketing, a campaign of this longevity is a real rarity," comments Rupert Pick, co-founder of the Hot Pickle agency who helped create the program. Rupert wrote a recent article about the 7th version of the program which was "the biggest and best yet." (1)
Here we look at the barriers to creating fresh consistency, how Magnum have overcome them and the benefits they enjoyed as a result.
1. Marketers are change addicts
Why do brands tend to chop and change their marketing so often, destroying distinctive memory structure rather than building it? "Marketers, myself included, love a shiny new toy," observes Rupert. "Why? Because of ego. An ambition to imprint an identity for ourselves in an industry where prizes go to the creation of ideas, rather than the nurturing of them."
Our own brandgym research confirms Rupert's views. 83% of marketing directors agree that distinctive brand properties (logos, colours and slogans etc.) are a key driver of growth. However, changes to these properties are based not on hard data, but rather on judgement, often linked to a change of leadership or company ownership; the 'new broom syndrome' if you like. Only today, I had a check-in call with a marketing manager frustrated by a new CMO who was pushing her to explore three new concepts for her brand, none of which built on the key product benefit that had driven 10 years of double digit growth!
2. Benefits of building a brand asset
Rupert is spot on when he says, "Credit is due to Unilever for committing to building a genuine brand asset". Repeating and refreshing programs like the Magnum Pleasure Store creates a powerful brand property with several important benefits.
First, distinctive brand properties create awareness for the brand and trigger positive associations, such as pleasure, indulgence and personalisation in the case of the Magnum Pleasure Store.
Building 'replicable' brand properties also make the annual brand planning process more effective and more efficient. Instead of starting from scratch each year, brand and agency teams can instead focus on making a proven program even better next year, as Rupert explains. "The beauty of sticking with the Magnum Pleasure Store is that we've been able to apply our minds to improving the experience from one year to the next." We've used this approach with companies including SAB Miller and Standard Bank to 'turbo charge' 40+ brand plans, creating replicable brand properties such as 'Be the Coach' for Carling Black Label.
One fear with refreshing rather than re-inventing marketing programs is that people will get bored. However, marketers forget that in the big scheme of things their brand plays a small part in peoples' lives; we actually enjoy re-discovering positive experiences, as Rupert  points out. "There's a comfort and satisfaction in the familiar," he says. "The longevity of The Pleasure Stores now generates its own buzz and customers come back year after year and, crucially, they tell their friends. It has become part of a city summer."
3. Creating FRESH consistency 
Importantly, fresh consistency is not the same as repetition. 
First, you need to identity the critical components of a brand property to keep consistent. In the case of the Magnum Pleasure Store these include:
a unique product and service experience founded on a deep-rooted consumer desire for personalisation
bespoke Magnum products created in front of your eyes
iconic city centre locations

 (e.g. Regent Street in London – see below)

gorgeous design in terms of interiors, staff outfits, display cabinets etc.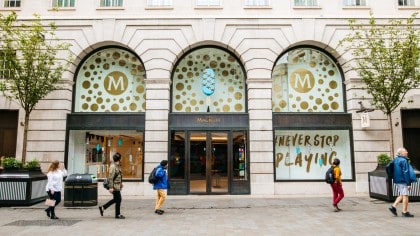 Second, teams need to apply creativity to make progressive programs bigger and better, which for Magnum's 2019 Pleasure Store included:
dramatic installations such as spectacular wall coverings and tactile surfaces
Insta-cabins to discover and photograph your Magnum creation

 

partnership with Elle and Sink the Pink to deliver widened the audience and create a constant flow of content
extended product range including limited-edition flavours inspired by fashion 'look-books'
delivery service

 
In conclusion, as Rupert rightly says, "While the familiar can breed contempt, it can also engender warmth, loyalty and delight. Evolution is often better than revolution."
Sources
1. https://www.campaignlive.co.uk/article/marmite-taught-brand-consistency/1662418