Lego brand's new leader continues core revitalisation
I've posted before on the success of the Lego brand in growing their core business. I was interested to read in the FT about how the company's new leader plans to keep this growth going (1). Thomas Kirk Kristiansen recently took over from his father Kjeld as chairman of Kirkbi, the family investment vehicle that controls Lego. In doing so, he became the fourth generation of family members to run the company. In this post we look at what we can learn from Lego about creating long term growth of your core business.

1. Love the core
Lego is a great examples of growing by focusing on the core. The company is the world's most successful toymaker, with sales and net profits up more than seven-fold since 2006. This reflects more than two decades of a back-to-basics strategy with the Lego brick at the heart. This followed a series of unsuccessful brand stretch attempts including video games on non-brick figures, as we posted on here. 
Lego's leaders have continued to love the core product and believe in it, despite many doubters predicting its demise in a digital age. "One of the first board meetings I attended was with consultants all over the place saying forget about the brick, it will never be relevant again," says Thomas to his father in a video about the leadership changes (2). "Everyone seemed to have lost faith in in the brick but not you."
Importantly, Lego has not succeeded by simply sitting still. The company has constantly rejuvenated the core product to keep it relevant. For example, a tie-up with Nintendo created a Super Mario product that brings together physical and digital play. Users can create their own real-life game, based on a Super Mario figure with built-in functionality: a motion sensor creates different noises depending on whether he is shaken, falling over or jumping.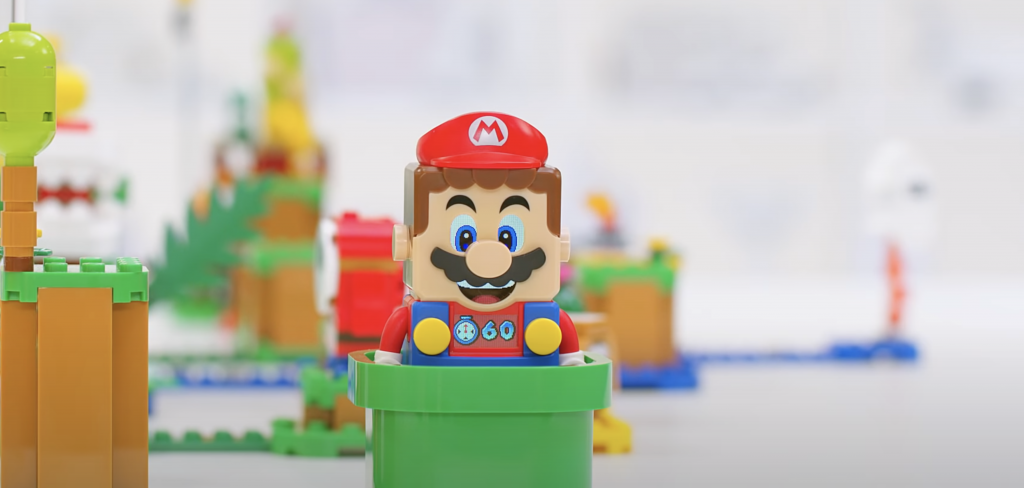 2. Set a clear ambition
Lego has grown strongly with revenues of $9.1bn (including the theme parks) now almost as high as Mattel's and Hasbro's combined. This sort of success can lead to complacency and stagnation. This is why Thomas is setting a clear and compelling future ambition by re-framing the growth opportunity.
You can see this in the way he talks about the potential reach of the brand. "The ambition level is super high — we want to have that impact on every child in the world that we can reach." The company is also re-framing the potential from a business and competitor angle. Mattel and Hasbro no longer offer an inspiring target to aim for. So instead, Lego is looking at the far bigger Disney as a rival, which had $82.7bn in revenues last year. "You start with this small plastic brick company — someday it could be as big as Disney," observes David Robertson, author of a book on Lego, Brick by Brick.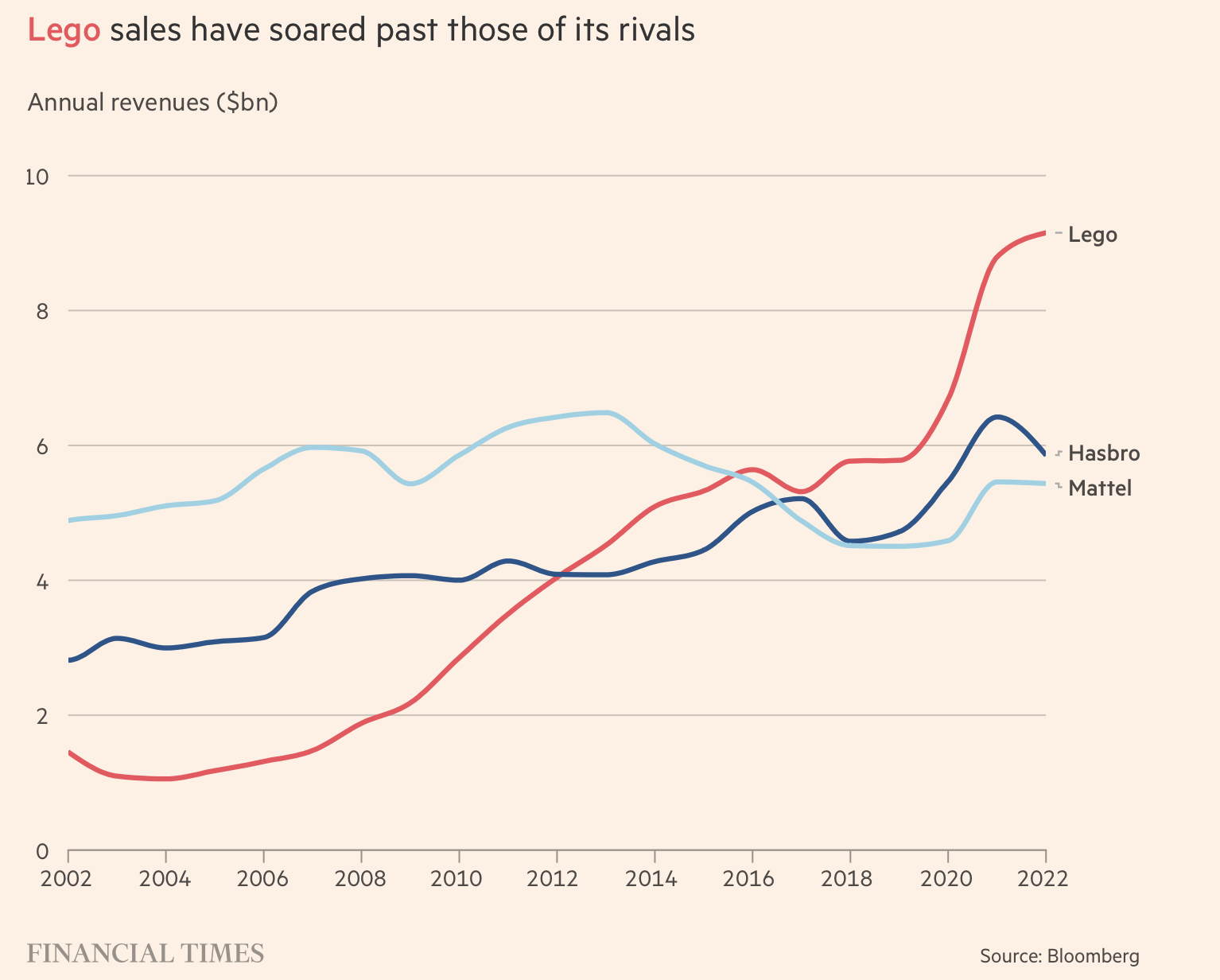 3. Define your market in benefit terms
Linked to the bigger ambition for Lego is a market definition based not on products (i.e. toys) but on benefits: stimulating creativity through play. "My father always said we are more than a toy company," Thomas told the FT (1). "I think the potential and the idea are about so much more." Indeed, he sees Lego's source of business as "everyone out there who takes time from children".
With the broader market definition, Lego has stretched from the core to also offer TV shows, films and theme parks. Importantly, all these offers build from, reinforce and refresh the core product. For example, the movies bring to life the Lego bricks as characters, exposing the brand and the core product to a whole new audience.
4. Insight-led innovation
Lego is investing heavily in insight and innovation to keep the brand evolving. "Lego are a great example of how little innovation experiments can become huge growth opportunities," observes David Robertson. For example, the DreamZzz range was launched this year, following testing of 50 different ideas with 15,000 children. Creative lead Cerim Manovi and his team finally landed on a dream world populated by a series of mash-ups such as a crocodile car, a shark ship and a turtle van. Each set has instructions on how to build the first 80% of the model with an open-ended choice on how to finish it. "We call it 'guided creativity'," he told the FT (1).
Sustainability is another area where Lego is investing in innovation. It currently requires 2kg of petroleum to produce 1kg of plastic. CEO Niels Christiansen says Lego will back many partners and initiatives to find greener plastics, with the company trippling spending on sustainability. "Here is a place where family ownership can help," he adds (1). "We may take a bigger load than most companies will early on to get the ball rolling."
5. Broaden your reach
Lego's growth shows the power of driving penetration by broadening your brand's reach. The company his continuing to do this in several ways:
Consumers
Lego is a great example of driving reach to as bigger group of consumers as possible. Lego Friends was created to appeal specifically to girls versus the boy-oriented focus of the brand before. Another important source of growth are the adult fans of Lego, or AFOL for short. It offer numerous huge sets for adults from football stadiums and cars to the Titanic and Concorde.
Geography
Geographic growth beyond the traditionally strong markets of the UK, US and Germany is another key way of driving reach. China is a key market for Lego and the company is creating some products specifically for this market, such as the Monkie Kid range.
Distribution
The company continues to be committed to physical retail, in addition to growing sales online. Lego has expanded its network from 317 stores that year to about 1,000 currently. Physical stores are seen as a key marketing tool to drive trial in new markets like China where parents did not grow up Lego. "Kids get to see what Lego is and play with it," current CEO Niels Christiansen comments. "It's a brand built on the physical."
6. Smartly control costs
Lego is driving revenue growth in many ways, as outlined above. But the company is also a master at smartly keeping costs under control. In particular, design teams are required to repurpose existing plastic bricks to make new objects. This keeps inventory to a minimum, reduces complexity and in turn keeps costs down. For example, the Botanical Collection of orchids, wildflowers and bouquets reuses items as diverse as pterodactyl wings, robot heads and car bonnets!
In conclusion, Lego shows how a leadership team can drive constant core revitalisation to deliver sustainable and profitable growth.
Sources: