Hype busters: cutting through the hype about branding today
Each year we do a set of New Year cards as a source of inspiration for our clients and contacts. This year the theme is 'Hype Busters: Busting the Hype about Branding Today'. Below I headline some of the myths we seek to debunk.
If  you'd like a full set of postcards, just drop me a line at david@thebrandgym.com or on Twitter @thebrandgym
1. TV IS NOT DEAD…IT RETAINS UNIQUE POWER TO DRIVE REACH
The myth that TV is dying or already dead continues to be propagated by digital divas. Ironically, some of the companies who are busting the hype and using old fashioned media are new age, digitally-led brands.
Harry's is an example. It has burst onto the shaving market as a disruptor to Gillette with a direct to consumer online distribution model. However it is also doing something more traditional – using TV and getting stocked on shelves of the major grocery retailers. Disruptors need to drive reach and volume too.
See here for an earlier post on the reach advantage that TV still has vs social media.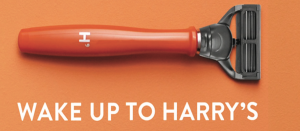 2. MILLENNIALS ARE NOT A SEGMENT… TAP INTO DEEPER NEEDS TO ACHIEVE BROAD APPEAL
My recent post on the nonsense of treating Millennials as a homogeneous segment seemed to hit a nerve: it was viewed over 18,000 times on Linked In, the most of any brandgym blog post.
As explained in the post, Millennials are a life-stage made of people with different needs and attitudes. Indeed, there is more difference between different Millennial sub-groups that there is between Millennials and different life stages.
Winning brands tap into deeper needs and emotions that are prominent with certain Millennial consumers, but also have cross-generational relevance. Apple's beautiful design, innovation and ease of use make it the most loved brand for everyone from Millennials to Boomers.
3. BIG BRANDS AREN'T DOOMED TO DIE… BUT MUST REVITALISE TO THRIVE
Hype and headlines suggest big brands are doomed to decline in the face of new, smaller and more digitally-driven competitors. In reality, whilst half the top US brands did lose sales in 2016, half actually grew share.
What big brands need to stay ahead is constant revitalization, as I posted on here. A good example is Red Bull. It has continued to grow globally to $6bn and kept it's no.1 position in the US, despite continued assault by Monster Energy.
4. GROWTH COMES FROM DRIVING PENETRATION, NOT 'LOYALTY BEYOND REASON'
One of the most enduring myths in modern marketing is that the key to growth is 'loyalty beyond reason'.
In fact, loyalty levels within a category tend to be similar. The key to growth is driving penetration to reach as many people as possible, including light and non users.
Alpro is growing at 19% by doing just this, leading the expansion ofthe plant-based drinks category with their integrated 'Change a little, enjoy a lot' campaign.
In conclusion, there remain many myths of modern day marketing that are hyped in the press and at conferences, but not based on data. At the start of 2018, we invite you to join us in busting the hype!