Forget 'the new normal'. The ABCD of marketing during 'NO NORMAL'
"Will Covid-19 change everything or nothing for brands?" we asked back in May in this post. Four months on and real-life has, of course, ended up somewhere between these two extremes. There have been fundamental changes in consumer behaviour likely to last, especially moves to digital commerce. On the other hand, as predicted, other behaviours have 'snapped back' to pre-Covid levels. However, we're a long way from any sort of 'new normal', with turbulence and unpredictable changes likely to continue into 2021.
In this post we cut through the hyperbole and hysteria to look at hard data, and suggest how marketing needs to adapt to help brand survive and thrive during the era of 'no normal'.
Some behaviours ARE 'snapping back'
As we predicted back in May, consumer demand has 'snapped back' in several categories following the loosening of lockdowns. This is because fundamental human values are broadly stable, despite claims by some experts that consumer attitudes have changed forever. Needs for hedonism, stimulation and security in April 2020 during lockdown were similar to pre-Covid levels, for example, according to research by Reach Solutions.
Take the hospitality sector. The desire to eat and drink out with with friends and family has not fundamentally changed. Yes, some folk switched to take-away food during lockdown-enforced restaurant closures. But almost 80% didn't switch, or switched and were unhappy, according to our research (see 3rd column below). The same goes for switching drinking in the pub to drinking at home. "Lots of people are waiting for a chance to go back to the restaurant or pub!", we posted back in May. To note, severe social distancing restrictions in cinemas make it hard to see if our predicted slower snap-back has happened, given there was more satisfied switching from cinema to online movies.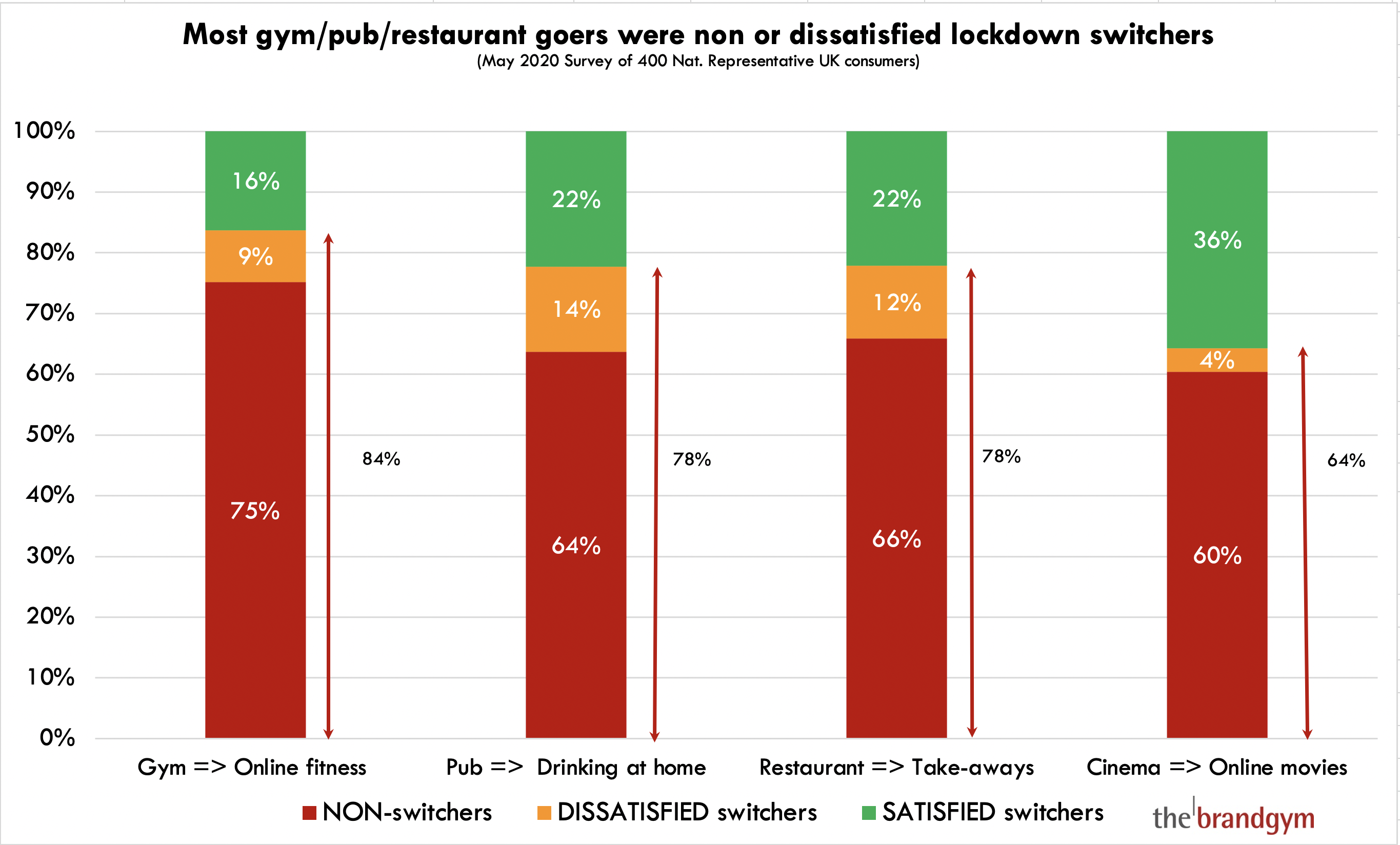 And indeed, once lockdown ended, back to the restaurants and pubs people went. UK seated restaurant dining quickly recovered and was then boosted way above year ago by the UK Government's bold Eat Out to Help Out scheme: 50% off eating out Monday-Wednesday (up to £10) during August. Note how Monday's numbers are massively up vs 2019, but even other days are in line with year ago. Spending in pubs was also up in August, by 9.3% (1)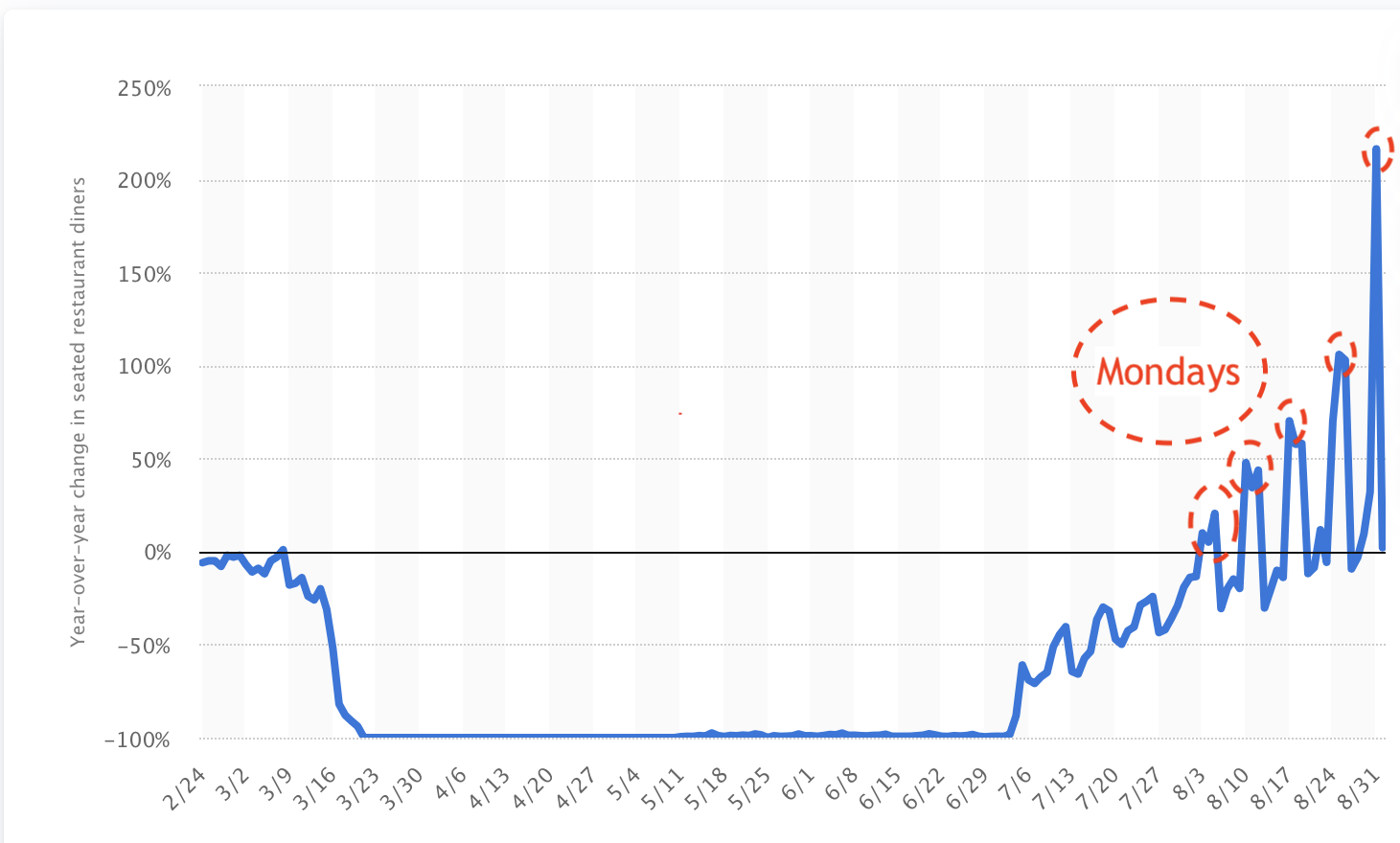 This shows how marketing teams can help get brands growing again:
Explore how to 'kick-start' demand, like Eat Out to Help Out
Reassure nervous consumers with clear action and messaging on hygiene and social distancing
Be creative to maximise capacity utilisation whilst meeting social distancing requirements 
2. Digital 'growth spikes' will stick
Fundamental and lasting changes have happed to HOW people are shopping. In particular, we've seen an acceleration in digital disruption across many categories. Online spending at UK supermarkets grew 102% in August (1) and online alcohol sales in the US grew even faster (+400%) during the first weeks of lockdown, as people switched to in-home drinking.
This growth reflects a sharp 'spike' in online consumer behaviour that has driven massive trial. For example, 15% of US consumers tried grocery delivery for the first time during the COVID-19 crisis according to McKinsey (2). Importantly, 80% of these trialists were satisfied and 40% intended to continue with the new habit post-crisis.
However, step-change growth is unlikely to continue, unless we see further nationwide lockdowns. This is shown by US Google Search trends for online grocery shopping: a large spike on lockdown driving trial, followed by a return to pre-Covid levels a couple of weeks later (below).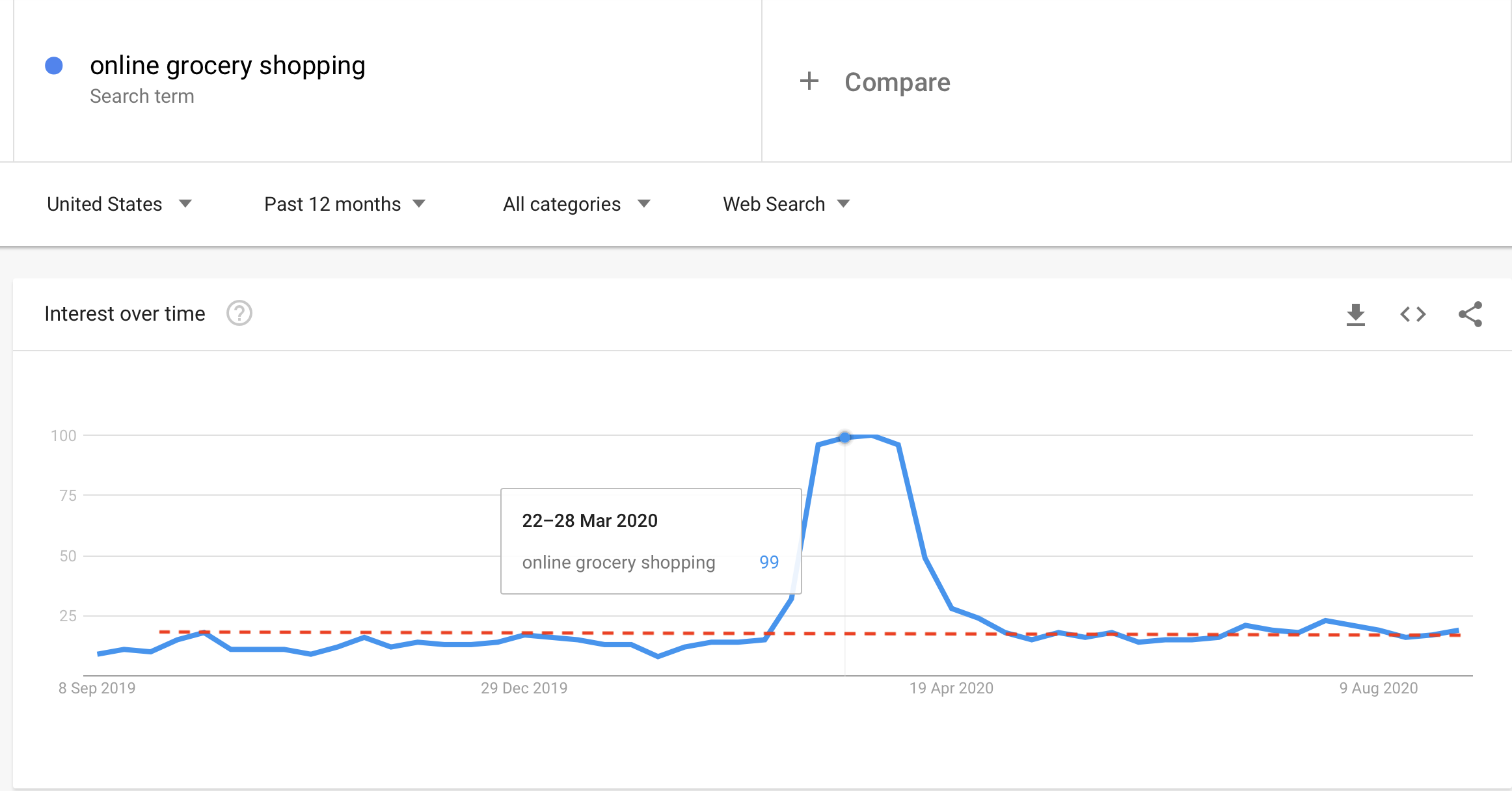 We see the same trend for digital home-exercise brand Peloton. Note how New Year (new fitness resolutions) and especially Xmas (gift planning) had just as big or bigger impact on US search trends than the Covid-19 lockdown.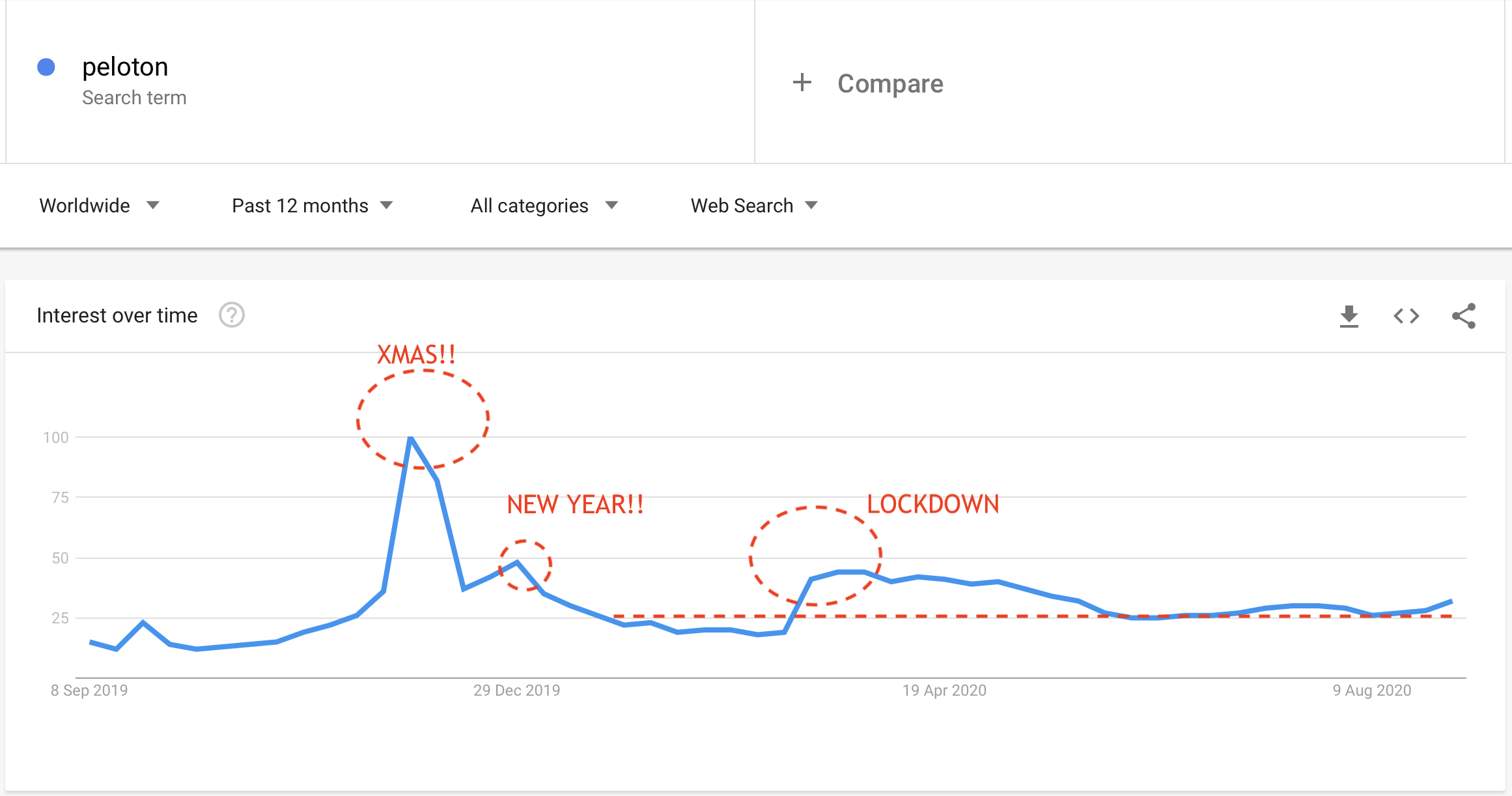 A likely scenario is, therefore, that digital commerce trends will return to pre-Covid levels but with 'the growth line' at a new, higher level (see below for an example).
3. Supply-side turbulence will continue
The sudden and immediate shut down of 'supply' via government imposed restrictions makes this crisis different to any seen before. Even during the Second World War schools, pubs and cinemas stayed open!
For example, British Airways owner IAG plans to operate 60% less capacity versus year ago during October-December 2020 and make 13,000 job cuts. The key issue here is less to do with consumer demand and more to do with strict and constantly travel restrictions and quarantine requirements. Demand for holidays to Portugal rocketed when the UK government removed it from the list of countries requiring a post-holiday quarantine of two weeks, only to collapse when a U-turn reversed the change shortly after.
Unfortunately, supply side turbulence is set to continue into 2021, with governments making constant changes to try and keep up with the ever-evolving spread of the virus. Only today, UK law has changed to make social gatherings of more than six people illegal, threatening many sectors including holiday rentals, where 25% of self-catered properties being for 7+ guests (3).
4. The recession is yet to bite
The biggest challenges for brands in the first six months of this crisis have been cuts or restrictions to supply, but this is about to change. Government funded schemes to pay workers temporarily laid off from work are about to be wound down, bringing the threat of job cuts and recessionary pressures. For example, 700,000 redundancies are forecast in the UK following the end of the UK's furlough scheme that paid non-working employees 80% of their salary (4). We made suggestions on how brand teams can prepare for the likely recession in our earlier post here.
5. The ABCD of marketing during 'no normal'
Forget about planning for 'the new normal', I suggest. Instead, marketing teams should adjust to a period of 'no normal', with an approach summarised as ABCD:
A

gile: we posted two years ago on the need for big brands to be more agile to respond to attack from 'insurgents'; the Covid crisis has made this even more important. Teams need to be able to adjust to rapid and sudden changes in both the demand and supply sides. For example, online card and gifting brand Moonpig.com quickly updated its core product offer during lockdown with new 'Stay at Home' cards making up 10% of sales, and changed its 24hr delivery promise to 5-7 days, to manage supply chain issues.

B

usiness focused: more than ever, brand teams need to focus on solving real-life business issues that help companies sell more stuff (SMS) and/or cut costs.

C

onsumer closeness: brand teams need regular and rapid insight to stay on top of changes in attitudes and especially behaviour during these turbulent times. Forget for now expensive and lengthly annual surveys, I suggest.

D

igital transformation: an obvious need is to drive growth through digital channels, especially in terms of e-commerce. This can be via online retail partners, or via experimenting with a direct to consumer approach that we posted on here.
In conclusion, our crazy Covid times will continue to be turbulent and unpredictable, creating an acceleration of several important trends that were already underway, especially the move to more digital commerce and the need for agile marketing. Marketers who embrace the challenges of today with a 'can-do' attitude will be the winners, a theme we return to in next week's post.
Sources:
(1) https://www.thetimes.co.uk/article/august-is-the-time-to-eat-drink-and-be-merry-wtmcfqg3f?shareToken=5e1fd777150fe3c948b671cb3b8294b2
(2) https://www.mckinsey.com/business-functions/marketing-and-sales/our-insights/understanding-and-shaping-consumer-behavior-in-the-next-normal
(3) https://www.telegraph.co.uk/news/2020/09/14/travel-news-quarantine-airport-tests-portugal-greece-denmark/?li_source=LI&li_medium=li-recommendation-widget
(4) https://www.walesonline.co.uk/news/uk-news/more-700000-redundancies-could-announced-18928760