Driving Distinctiveness of Brand Assets: JKR x IPSOS Research (part 1)
More and more companies are recognising the role brand assets can play in marketing. In new brandgym research, to be published after the summer, 87% of marketing directors said brand assets played an extremely important role in driving growth. New research by JKR and IPSOS, Be Distinctive. Everywhere, sheds valuable light on the importance of brand assets. It also shows how much room for improvement there is in driving distinctiveness (1).
There is so much "juice" in the research paper, that we will two blog posts on it! In this first post, we look at the research method and the overall findings. In next week's post, we look at the detailed learning and recommendations by type of brand asset.
About the research
The IPSOS research was robust to say the least. They tested perceptions of 5,046 assets from a mix of brands assets with 26,000+ respondents around the world. Assets were graded into gold, silver and bronze based on two axes: 
'Implicit brand linkage': is the asset instantly associated with the brand?
'Uniqueness': is the asset exclusively associated with the brand?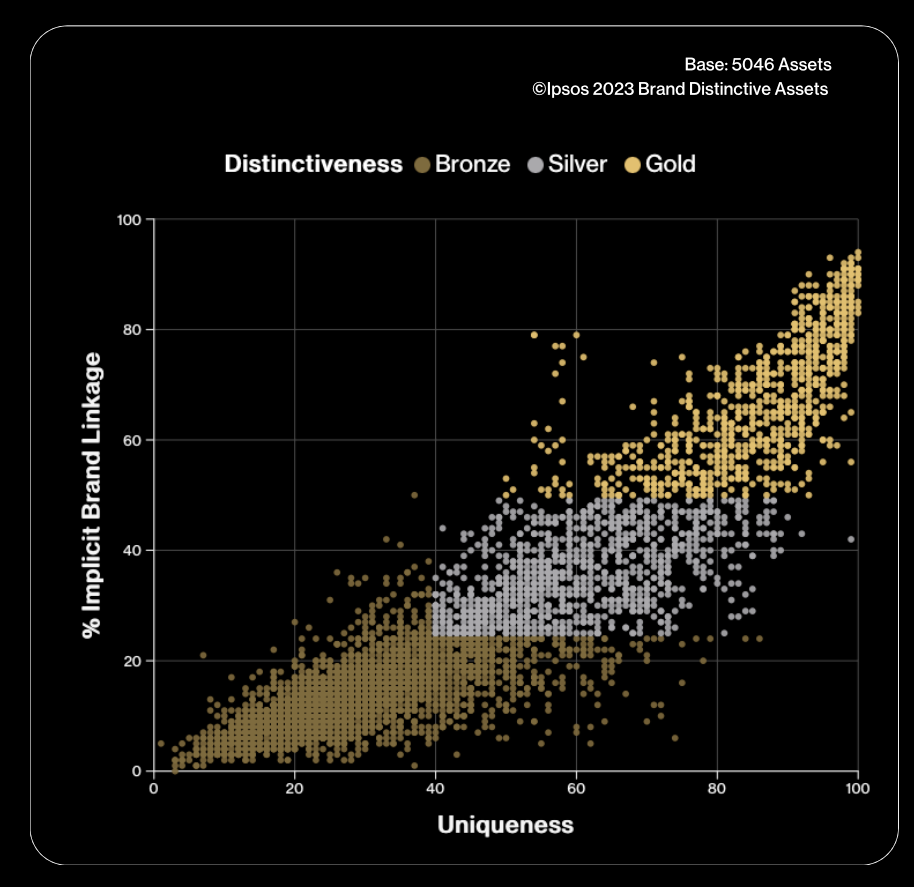 1. Brand assets DO drive effectiveness 
The presence of brand assets is strongly linked to positive branded attention effects. When comparing high vs. low performing creative, little difference is seen in the frequency of brand mentions or display. However, brand assets appear +34% more often in high performing creative. In other words, it's not enough to simply slap on your logo to get remembered. Rather, you need to 'bake your brand in' to your marketing in a distinctive way.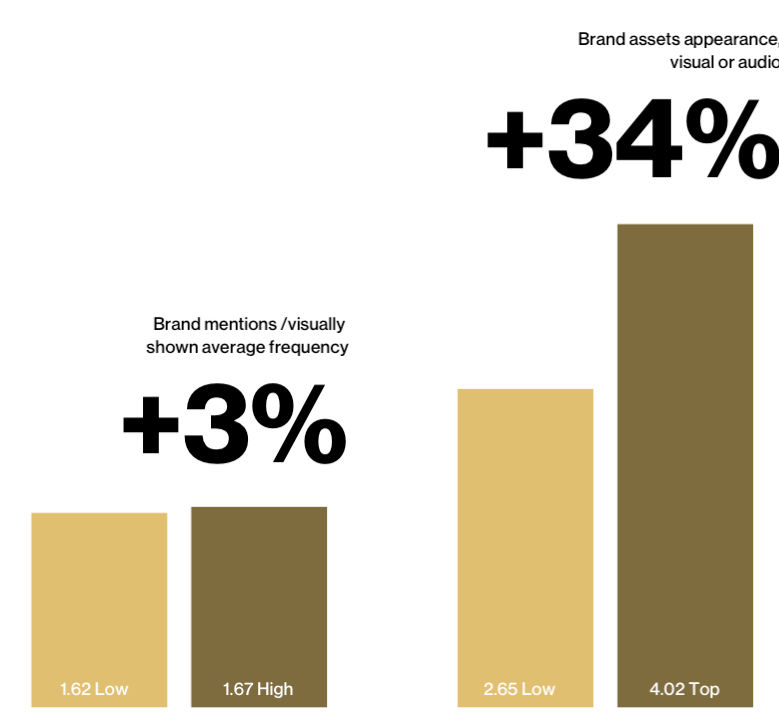 2.Brand assets need 'fresh consistency'
Managing distinctive brand assets over time requires a delicate balancing act we call 'fresh consistency'. On the one hand, you need to "treasure and measure" your assets and ensure consistency of key elements. On the other hand, you need freshness to move with the times.
The JKR x IPSOS report uses the example of AMEX to illustrate this approach. The brand's new campaign builds on and refreshes their famous campaign 'Don't leave home without it', which ran during the 1980s and 90s. In 2018, the brand returned to a refreshed version of the slogan with a new global campaign, 'Don't live life without it' . As the report goes on to rightly recommend, "The next time you appoint an agency, don't just throw the baby out with the bathwater. See what happens when you let it grow."
3.Brand assets need to be more distinctive 
The report findings revealed that a mere 15% of brand assets tested were truly distinctive. A further 20% were ranked silver. The pretty shocking result is that 2/3 got the bottom bronze ranking. Within this, there are significant differences across types of asset (below).
The strongest performing type of asset with 31% gold is a subject close to my heart: distinctive products. This is followed by logos (19% gold) and mascots/characters (16% gold), which are both above or in line with the average.
The two weakest asset classes include colour (4% gold). This is perhaps understandable, given that is pretty much impossible to own a colour in isolation, without other visual devices such as WD-40 brand's blue and yellow shield or the yellow and red shell of Shell. But perhaps one of the most shocking results is the mere 6% of slogans that make it into the top gold ranking, given what a central part of marketing this type of brand asset is.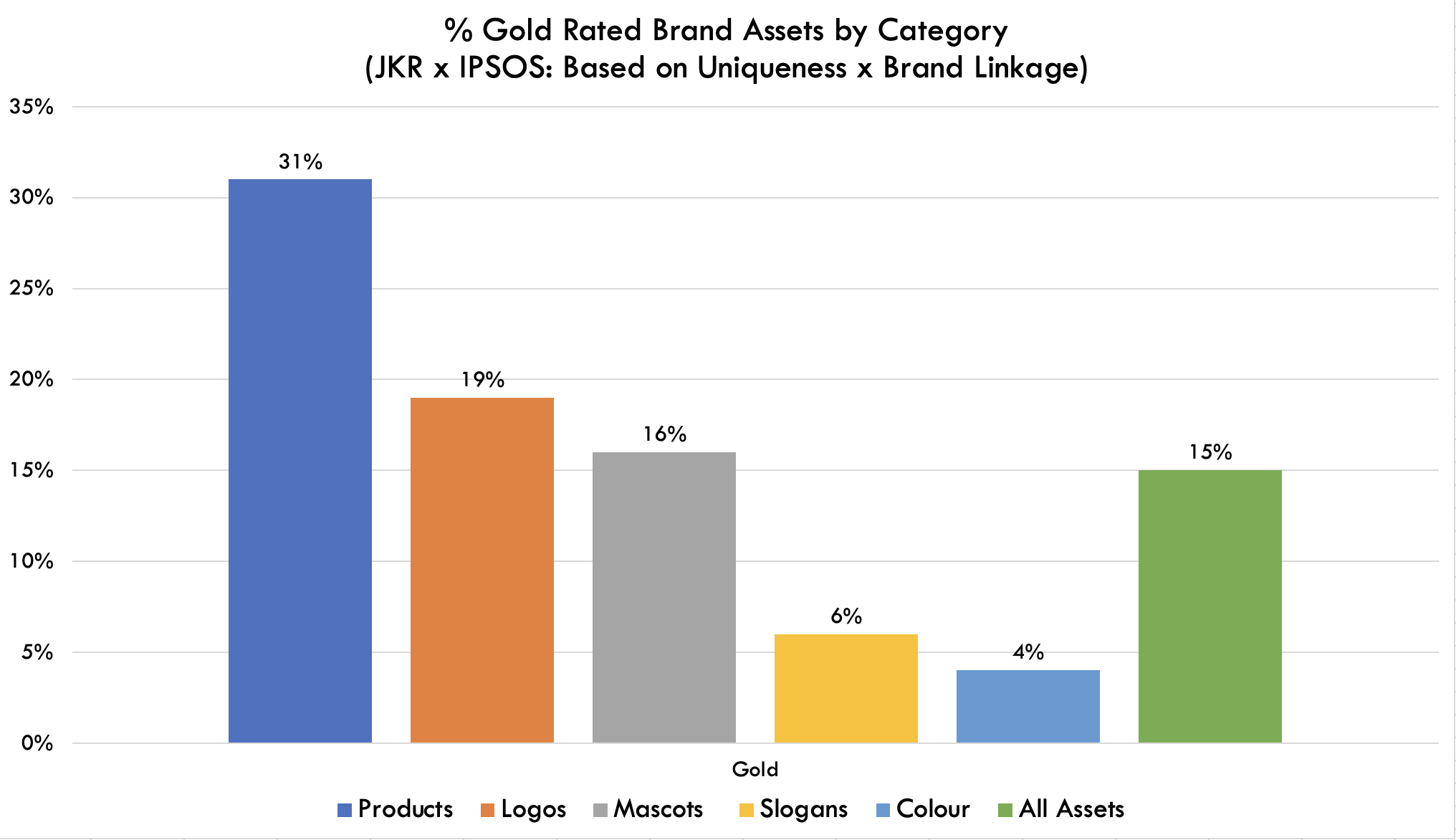 In conclusion, as the JKR x IPSOS report rightly states,"Billions are spent measuring and perfecting performance at the lower-end of the funnel. More of our attention (and investment) should be spent on what drives the top-end of the funnel."
Look out for next week's post, when we will explore the detailed learnings and recommendations by type of brand asset. 
SOURCES: