Defining a distinctive brand personality: Fettle
Getting your bike repaired is not the most fun activity. However, recently repairing my own bike did provide inspiration on defining and delivering a distinctive brand personality. The inspiration came from the bike repair firm I used. Fettle was founded in 2019 and is now the UK's fastest growing bike repair network. It has five workshops across London, including the one I used in my hometown of Putney, Southwest London. The welcome email I received (below) grabbed my attention. It felt different to the communication you normally receive from a repair service, being warm, personal, friendly and with a touch of humour.
In this post I share some tips on how to define and then deliver an effective brand personality.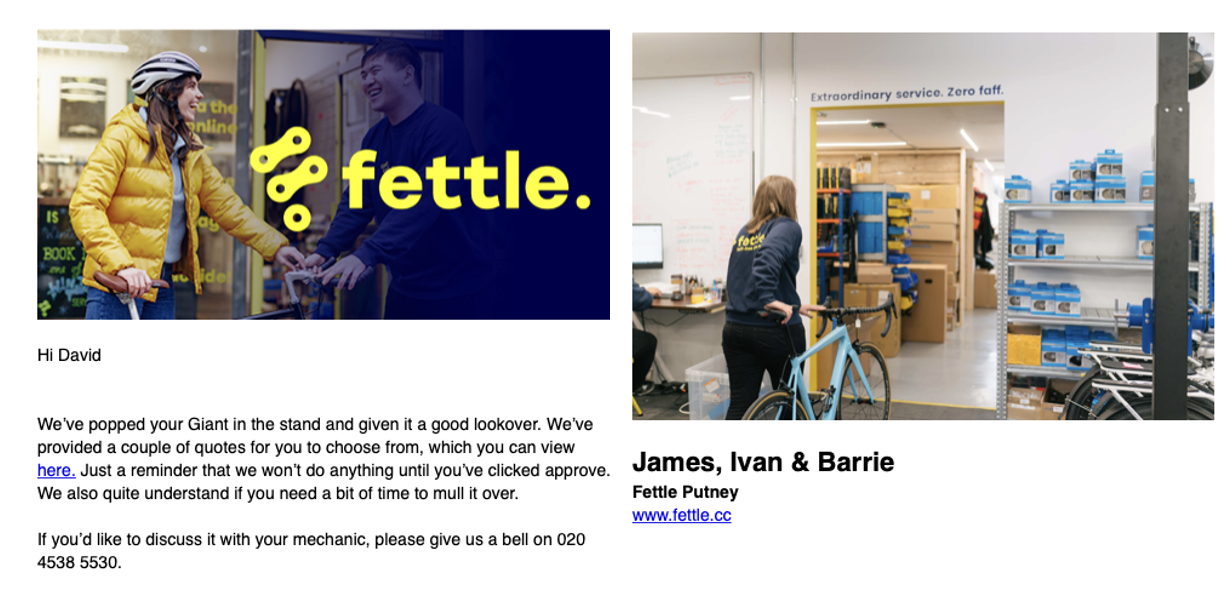 The role of personality
Brand personality plays a key role in transforming a mere product into a true brand. It involves defining the human characteristics you want your brand to embody. These in turn help add emotional "sizzle" to your brand, working with and reinforcing the product "sausage". The personality guides the look, feel and tone of all your marketing.
Define your personality
I still see many brand positioning tools with a shopping list of five, six or more adjectives for the brand personality. There are a couple of problems with this approach. First, a list is just that, a list. It doesn't really bring the brand to life as person. Second, a long list of words is practically impossible for anyone to remember. In this case, asking teams to recall the brand's personality produces a whole range of responses. This means the team is not aligned on the brand positioning.
I apply "the rule of three" drilled into me early in my career at P&G. I try to stick to a total of around three words, ideally with two adjectives and a noun. In this way, you actually describe your brand as if it was a person. This makes it more evocative and also easier to remember. So, in the case of Fettle, it might be "a friendly, efficient expert." This simpler structure actually has a chance of getting remembered and used.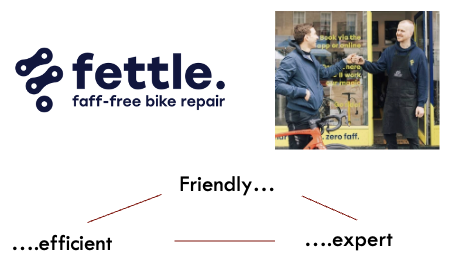 Using insight as a springboard
Different types of fresh insight can be used as a springboard for defining your brand personality."Projective" techniques as consumers to imagine the brand coming to life as a person. For example, you can ask how your brand would behave if it was at a party with other competitive brands. Other options include imagining the brand as a planet, a hotel (good for service brands) or a car. This way seem a bit crazy, but can give some interesting results.
A projective exercise by Direct Line insurance's agency suggested a brand personality like Harvey Keitel's character in the movie Pulp Fiction, Winston Wolf. The idea was a non-nonsense, ruthlessly efficient fixer. This led to Keitel being recruited to star in a long-running, highly effective campaign, as I posted on here.
Another technique that can help inspire brand personality definition is archetypes, that we posted on here. This involves using a universal set of personality types defined in mythology that have similar meaning for people around the world (e.g. "Ruler," "Jester", "Hero").
Immersive insight is another approach to help uncover opportunities for a distinctive brand personality. Fettle co-founder Jeyda Heselton used this technique when working on the creation of the Fettle brand and business model. "I spent a lot of time in bike shops and the overall experience was not great," explained Jedda. "It was hard to tell what I was agreeing to most of the time. As soon as talk turned to drivetrains, derailleurs, disc brakes and tubulars, my face went blank." This helped define the brand personality of an expert who was more friendly and personal, communicating in easy to understand, non-technical language.

Bring your brand personality to life
Words can only get you so far in defining your brand personality. It is important to work on bringing it to life for the business team and your agencies.
One favourite technique is to do an IS and ISN'T visual board. This visualises how you want the brand to show up, but also how you don't want it to come across. In this way, it creates "guard-rails" that teams find useful to keep them on track. This IS and ISN'T approach can also be used to give examples of written copy that are on and off brand. For example, you can write a brand email that brings to life the brand personality and another that doesn't.
When working on mobile network brand T-Mobile, we recorded a customer service call that was on brand and another that was off brand. Again, this really brought to life the desired brand personality.
Deliver your personality
Having defined your brand personality, the real challenge is then to fully deliver this across the while business, not just in communication.
Visual identity
Fettle's brand personality is delivered in the overall look and feel of the brand. The blue and yellow colour scheme is bright and friendly. The name in the logo uses a lower case, sans serif typeface which is also approachable. And the visual device cleverly uses the cogs of a chain to cue expertise in bikes.
Service style
For a service brand like Fettle, the people working in the business literally bring the brand personality to life. The guys who greeted me in the Putney brand were certainly friendly, efficient and expert. They quickly diagnosed the problem, communicated clearly and had my bike repaired in no time.
Service features
Fettle's approach is to "combine old school expertise with tech innovation," according to their website. Technology plays a key role in delivering repair expertise in a friendly and efficient way, in line with the brand personality. You can book in your bike for repair online or through an easy to use app (below). The app then shows the progress for your repair and also allows you to pay once the work is completed.
Another service feature that delivers efficiency for customers is an option to pay £10 for Fettle will pick up, service and deliver your bike back to you. This is actually quite useful if you bike is totally knackered and can't be ridden to the repair shop!
Communication
Brand personality plays a key role in guiding and inspiring communication. For Fettle, this is reflected in the slogan: "Faff-free* bike repair". It has a fun, friendly tone whilst also communicating efficiency (* For non-UK readers, faff = hassle!).
The email I mentioned earlier is another great example of Fettles' brand personality in action. Here are some excerpts that bring to life the friendly, efficient expertise of the brand:
"Hi David": personalised
"We've popped your Giant in the stand": use of friendly language ("popped") and also in a nice touch, mentions the brand of my bike (Giant)
"We've provided a couple of quotes": efficient and gives me options of what to choose
"If you'd like to discuss it, give us a bell": personal service with option to talk to someone. More friendly language ("give us a bell")
"James, Ivan & Barrie": friendly sign-off with first sames
"Fettle Putney": local neighbourhood branch mentioned, gives a friendly feel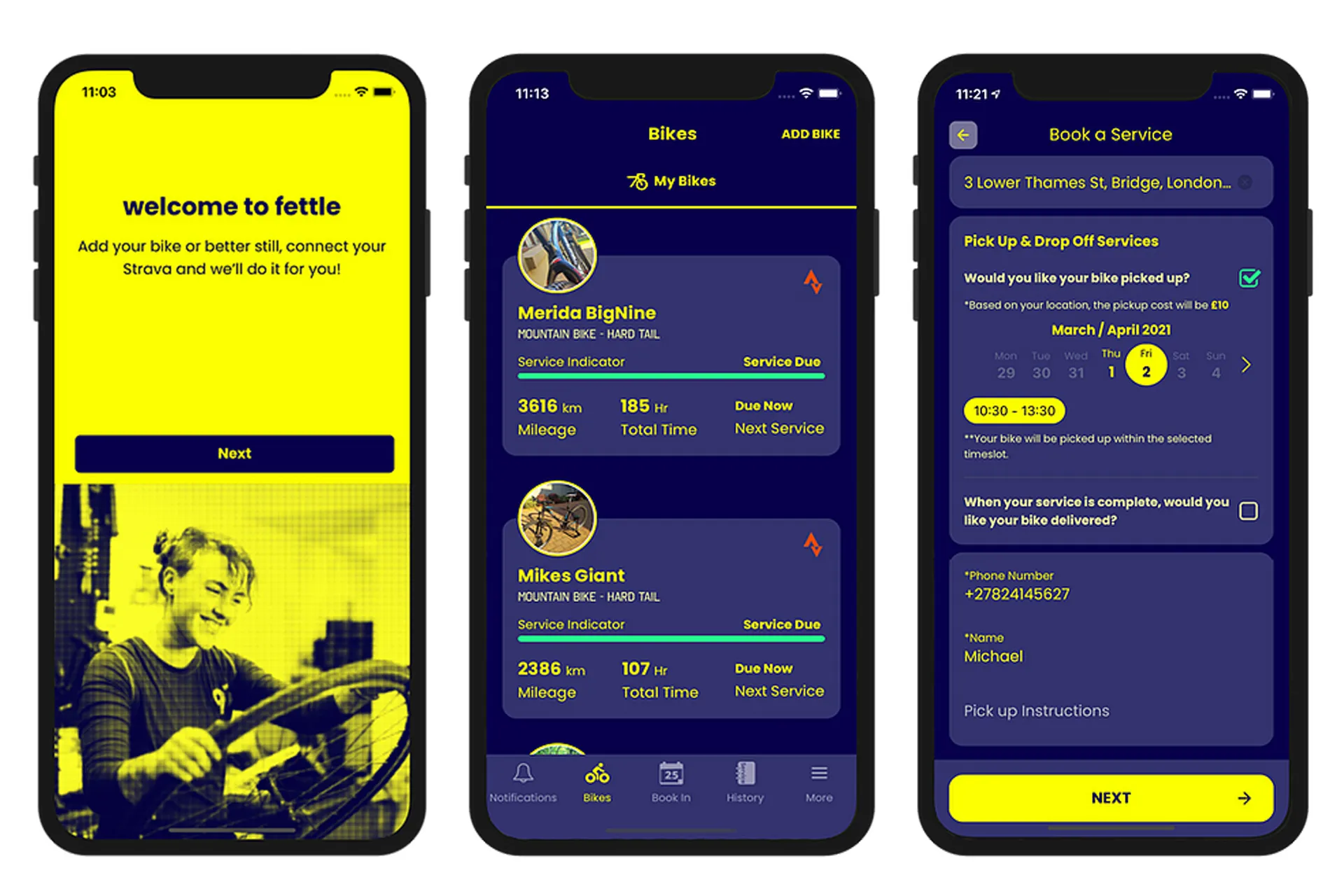 In conclusion, Fettle show how defining, bringing to life and delivering a clear brand personality can play a key role in driving distinctiveness for your brand.
We explore brand personality as part of brand positioning on the brandgym Mastering Brand Growth program, alongside seven other modules. We kick off on April 17th and still have a few places left.
If you're on the blog website and would like more info on the program, simply pop your name and email in the form below (sorry, form does not show properly in the Monday morning email)
SOURCES