Creativity to Grow the Core: Burger King
Burger King are famous for pushing creative boundaries, winning 94 Cannes Lions in the past four years, including four Grand Prix awards. But key to Burger King's success has been focusing this creativity on driving brand-led growth, especially on the core, based on an interview today with CMO Fernando Machado at Effworks 2020 (1).  
As Fernando has stated before, "We're in the pursuit of ideas that link back to our business and brand strategy, with clear objectives." (2) This approach has helped grow global revenues +70% to $1.8billion since Fernando joined in 2014 (3). 
In this post we share some of Fernando's recommendations for harnessing creativity to drive growth on your brand.
1.Clarify your brand positioning
Fernando reinforced the importance of putting a clear brand positioning at the heart of all you do. "If you can't explain what the brand is about, you can't make great campaigns," he rightly says (3). In the case of Burger King, the brand's emotional side is about putting a smile on peoples' faces by being provocative and irreverent (the 'sizzle'), under-pinned by the product promise of the flame-grilled Whopper's superior taste (the 'sausage').
2.Drive distinctiveness
"People are distracted and no-one really wants to watch your TV campaign," points out Fernando. This makes it hard to cut through, especially when you're out-spent by your biggest rival, as is the case with Burger King. Given these challenges, distinctive marketing helps the brand stand out. "Burger King is a brand that speaks louder than its size," explains Fernando. "Creativity is the catalyst for that, and a way to survive and thrive." (3)
For example, in the 'McWhopper' campaign proposed to McDonald's to mark Peace Day with a truce and a co-created product combining the Whopper and the Big Mac. Unsurprisingly, McDonald's refused the the offer made in the New York Times, but this only helped fuel the campaign, which generated 8.9 billion global impressions and $220m in earned media (4).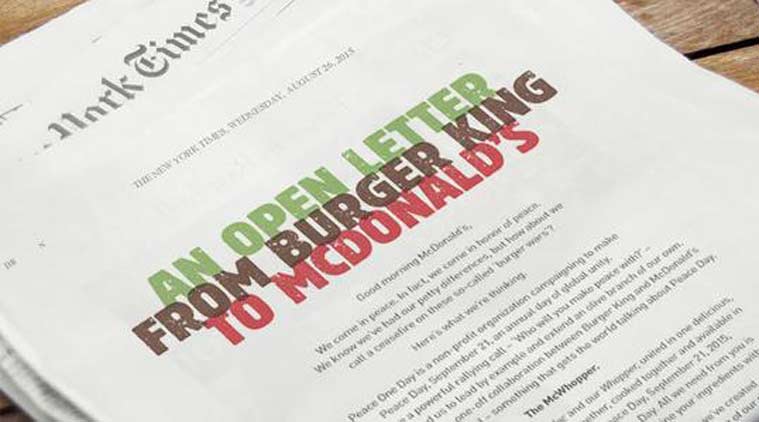 3.Keep focused on the core
My favourite part of Fernando's Effworks session was his reminder to focus on the core. "As marketers we like new things and want to expand. This can risk leaving the core exposed," he warns. "The challenge is to re-invigorate the core and keep its exciting." Burger King is a great example of reinvigorating the core, with the brand's biggest campaigns focused on the core Whopper product.
An example of such a core brand campaign is The Whopper Detour. This campaign proposed a limited-time offer to purchase a Whopper for one cent to customers within 600 feet of a McDonald's restaurant. Customers taking up the offer were directed to their nearest Burger King restaurant to pick up their Whopper. The app was downloaded 1million+ times, boosting Burger King to first place in iTunes App Store for food and drink, with 50,000 redemptions c. 20x any other Burger King app promotion (5).
One important aspect of this campaign which get little attention is how it addressed Burger King having less 'physical availability' than McDonald's: 7,000 stores in the US vs. 14,000 (6). The Whopper Detour effective 'piggy backed' on Mc Donald's bigger physical presence to drive trial of the Whopper.
4.Get people comfortable with being uncomfortable
Fernando also emphasised the importance of engaging and aligning the business behind a brand's marketing campaigns, including senior management. "You need to galvanise people around the idea, especially if it's a campaign that will get people talking and therefore isn't vanilla," he explains (3). Specifically, he recommends starting small with a simple idea to prove effectiveness and gain credibility, in order to "get people comfortable with being uncomfortable".
In conclusion, Burger King is a good example of how to harness creativity to stand out and reinvigorate your core business. The challenge laid down by Fernando is "to be relevant in pop culture and carve out a space in people's minds, to make the strong stronger and deliver a business result."
Sources
(2) https://www.statista.com/statistics/266462/burger-king-revenue/
(3) https://www.marketingweek.com/burger-king-galvanise-idea/
(4) https://www.marketingweek.com/burger-king-cmo-creativity-digital/
(5) https://postfunnel.com/5-ways-burger-king-is-shaking-things-up-with-sensational-marketing-ideas/
(6) https://www.contagious.com/news-and-views/burger-king-whopper-detour-strategy-cannes-interview