Bumble's CEO shares secrets of successful brand building
On a plane (yes, a plane!) this week I read with interest Whitney Wolfe Herd, founder and CEO of 'female-first' dating app Bumble, talking about her secrets of success in GQ (1). And what a success she is. At just 31 she's built Bumble into a business with 42 million monthly users and a cool £9billion valuation, following an IPO earlier in the year.
So, what are her secrets when it comes to successful brand building?
1. Don't try to change the world. Try to solve a specific problem
How refreshing to hear a CEO talking common sense about the role of their brand. "There's no promise we're going to solve the world's problems," she says.
Whitney has avoided the problem of 'laddering' so high up the ladder of benefits that you end up trying to create world peace. Instead, she and her team are focused on creating a relevant solution to a specific problem in the dating world.
2. Don't understand the consumer. BE the consumer
Whitney seems to have followed the path of many successful entrepreneurs. Not by understanding the consumer. But rather by being the consumer herself and identifying a problem she felt viscerally in her gut, as we posted on here (Mr and Mrs Smith) and here (Rapha). "I identified [something] that felt broken: the way men and women have ben trained to treat each other," she explains. "Bumble's always been about making an empowering, safe, inclusive space." Key to this solution was an app where women have to initiate contact with their potential match first.
3. Use a core target to reach a broad consumption target
One of the most interesting topics I cover on our Mastering Brand Growth program is how to use a well defined CORE target to create a clear positioning that appeals to a broad CONSUMPTION target. And Bumble seem to have benefited from this approach.
Bumble is loved by college age students, who are a core audience. However, single people exist in every age group and will share the same needs as the core target and certain occasions. Here, word of mouth has played a key role in spreading awareness to this broader consumption target in what Whitney calls 'the ripple effect'. "College students who found love on Bumble come home and tell their single parents … the parents download it and tell their parent, who may have gone through divorce or the loss of their spouse."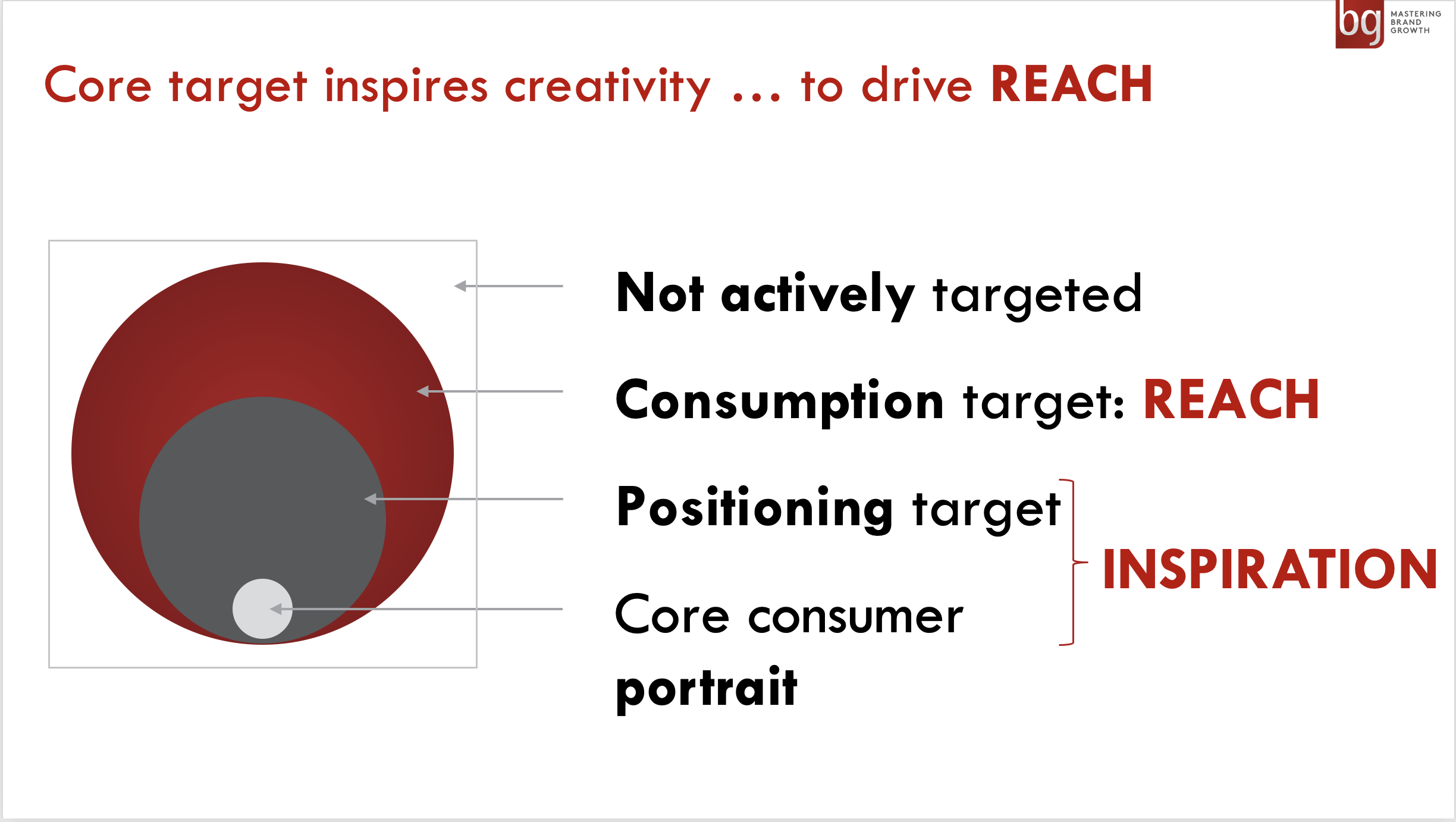 4. Bake your values into your brand
A brand should be more than just an 'image wrapper' made up of your visual identity and communication. It should be a central idea that is driven through the whole business. Best of all is to 'bake the brand in' to your product or service, as Whitney and her team have done at Bumble.
"We've tried to pull our [brand] values into our algorithmic approach," Whitney reveals. One way Bumble does this is with their "VIBee" scheme. This awards "good users" who behave really well on the platform, by not harassing others or by responding well to chats.
5. Turn PR problems into PR opportunities
Brave brand leaders like Whitney tackle problems head on rather than trying to cover them up. In doing so, you can end up actually enhancing your brand's reputation. She gives the example of a woman posting on Twitter about an "atrocious" experience on Bumble with a man named Connor. Whitney's team were upset and worried, but the CEO saw an opportunity to "lean in to the fact this happened and we're not going to tolerate it." The team put together an open letter, "Dear Connor", that said in no uncertain terms that the behaviour he showed was unacceptable on Bumble. The letter went viral and had more than 1 billion impressions.
In conclusion, Whitney Wolfe Herd is a great example of what we call a 'brand CEO' who leads by example, rooting the brand in consumer insight and creating a brand idea that is driven through the whole business.
If you'd like some more information on the Mastering Brand Growth Program, please pop your details in the box below. We'll also send you brandgym blog weekly updates, but you can easily opt out whenever you want.
Sources:
(1) GQ July 2021 edition