True business to business branding: Technogym
Using a Technogym machine at the gym today got me thinking about what a good job this company have done in true business to business branding, especially given the competitive market they operate in. The fitness industry is undergoing significant change, with many new forms of training  (boxing, martial arts, military-style training etc.) and a multitude of fitness apps allowing you to monitor your activity levels.
In the face of these challenges, Technogym is in good health: 2017 revenue of c.€600million was up 7.7%, with profits up 40%. A total of 35 million people use Technogym products every day in 100+ countries in 65,000 gyms, in addition to 200,000 homes.
Below I explore some of the success factors in the company's brand and business growth.

1. Clear sense of brand purpose
Technogym's business to business branding starts with a clear sense of purpose: 'to help people live a better life through wellness', summarised with the idea, 'Let's move for a better world'. This goes beyond the product, gym equipment, to capture the role the brand wants to play in making everyday life a little better.
As is often the case, you could look at the purpose and say, "Any brand could say that!" However, its one thing to say it, but another to deliver it with the energy and commitment of Technogym. As will see below, the company really does what it claims to on the website: "To promote wellness in everything we do, from product design and medical-scientific innovation to social projects."
2. Led by a 'brand CEO'
Technogym is great example of a company led by a 'brand CEO', who is the living, breathing embodiment of the brand. And what an interesting guy Nerio Alessandri seems to be. After education as an industrial designer he founded Technogym in 1983, at just 22 years of age. He designed and built the first pieces of gym equipment  in his own garage (see below), combing his design skills and an enthusiasm for sport.
In the early 90's he was a forerunner in defining the concept of 'holistic wellness': improving quality of life through regular physical activity, a healthy diet and a positive mental attitude. And he is still leading the company today.
Alessandri's commitment to wellness is dramatised by the 'Romagna-Wellness Valley' initiative, promoted by the Wellness Foundation he created in 2003. The goal is to "create Europe's first wellness district" in Technogym's home region, "a living laboratory on enhancing quality of life by leveraging wellness." This involves a whole series of health & wellness initiatives, including restaurants, sports facilities, research projects and an impressive company HQ, the Technogym Village , a 60,000 m2 campus dedicated to wellness. And it seems to be working: Romagna was judged to have the best quality of life in Italy in one newspaper report (1).
3. Creating end-user 'pull'
Technogym's products combine visually attractive Italian design with functional performance, based on scientific and medical research. Distinctive black and yellow colours used on all equipment help in the business to business branding process, creating stand-out and easy recognition.
The company constantly renovates the product line to improve the user experience. For example The latest running machines feature new and improved consoles with a wide range of entertainment and training options, along with high-performance Dolby Surround Sound speakers as you train. And strength equipment has a neat visual console that track reps and helps you do the movements correctly.
The company has harnessed digital-enabled fitness by creating a 'Technogym Ecosystem' with the My Wellness app. This allows users to access personal fitness information and training programs on any Technogym machine in the world, from any personal device (mobile, tablet, smart TV, Apple Watch).
The distinctive products and value-adding services enhance the end-user experience, acting as a form of B2C marketing that creates interest in and demand for the Technogym brand. This in turn increases the brand's appeal to gym owners. Technogym do a good  job of selling the business benefits of this approach, with one worldwide study on the Artemis line showing that gym facilities using this equipment enjoyed:
+45% in gym attendance
+10% in memberships
+26 pts in satisfaction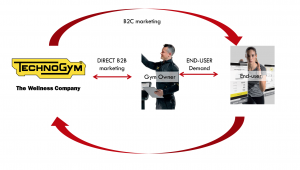 4. Supporting customers
Technogym is active in helping gym operators and personal trainers be more effective in using the brand's equipment, providing courses and software applications. These added value services make the brand more attractive to new customers, and encourage loyalty from existing ones.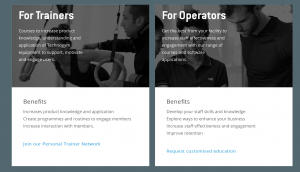 5. Business to business branding social responsibility 
Technogym is also a great example of using what we call 'brand social responsibility' (BSR), where the social activity is baked into the end-user experience. This contrasts with corporate social responsibility (CSR), were the company just raises and donates money to a good cause.
'Let's Move for a Better World' is a social campaign that aims to raise awareness in the fight against obesity. Gym members around the world donate their 'MOVEs' as tracked by Technogym's digital ecosystem. The campaign encourages people to be active and get fit. In addition, the gym facility in each country collecting the most MOVEs gets to donate state-of-the-art Technogym equipment to a local school or non-profit body.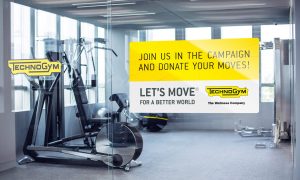 In a clever move to encourage gyms to drive end-user participation, a representative from each of participating facility is invited to attend a special conference and event the Technogym Village.
Impressively, Technogym has run this campaign over multiple years, building 'memory structure' by creating a distinctive brand property. The growing participation in the campain shows the power of 'fresh consistency' and how you don't have to re-invent your marketing plan every year; marketers get bored before customers and consumers do!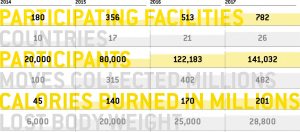 In conclusion, Technogym is a shining example of strong business to business branding, harnessing distinctive product design with value-adding services, for both end-consumers and customers.
We explore business to business branding on our brandgym Mastering Brand Growth program. If you'd like more info on the program, simply pop your name and email in the form below (we'll also send you the weekly brandgym blog email and brandgym Academy news, but you can opt out at any time).
Take a look at which leading B2B brands thebrandgym work with from around the globe.
And for more posts on business to business branding, please see below:
https://thebrandgym.com/distinctive-communication-boston-dynamics-dancing-robots/
(1) Il Sole 24 Ore published in October 2009 the rank of Italian regions based on the innovate Well-being Index by Nobel Prize winner John Stiglitz