A brand-led business is born: Greenwood
Post by David Nichols, Group Managing Partner and Head of brandgym|Create.
We're always looking out for examples of what we call brand-led business: where the brand drives the whole business, not just communication. The new digital bank Greenwood looks like just such a brand. The bank only launched in the US in October, but after a week it had a waiting list of 100,000 customers. Not a bad start.
Greenwood's key point of distinctiveness is being a digital mobile bank made for Black and Latinx customers. It is named after the former Greenwood district of Tulsa, Oklahoma, an early 20th century African-American business community so prosperous it was nicknamed 'the Black Wall Street'. 
In this post I look at what we learn about brand-led business from the early days of Greenwood.
1.Inspiring core target
Traditional banks tend to have generic, 'vanilla' products and communication. One explanation is trying to appeal to everyone. Greenwood has defined a tight core positioning target: Black and Latinx customers who care about the community. It can be super-relevant to this target and develop a mix with them in mind. At the same time, wanting to support the wider community has broad appeal to a much bigger 'consumption' target. Two thirds of people say they'd pay more to companies committed to positive social impact in research by Nielsen, for example.
2. Distinctiveness more than differentiation
Greenwood's basic banking services are not 'differentiated' in the classical sense. Other new digital 'challenger banks' like Chime (US), Monzo (UK) and Revolut (Global) also offer checking & savings accounts, mobile deposits and peer-to-peer transfers.
What Greenwood does have is distinctiveness. Importantly, their active community support is 'baked in' to the product. Customers are able to 'pay it forward' with their daily actions. For every customer sign-up, Greenwood provides 5 meals to a family in need. Every swipe of a debit card triggers a donation to UNCF for education, Goodr to feed the hungry or the NAACP to support civil rights. And every month a $10,000 grant is given to a Black or Latinx small business owner that is a Greenwood customer.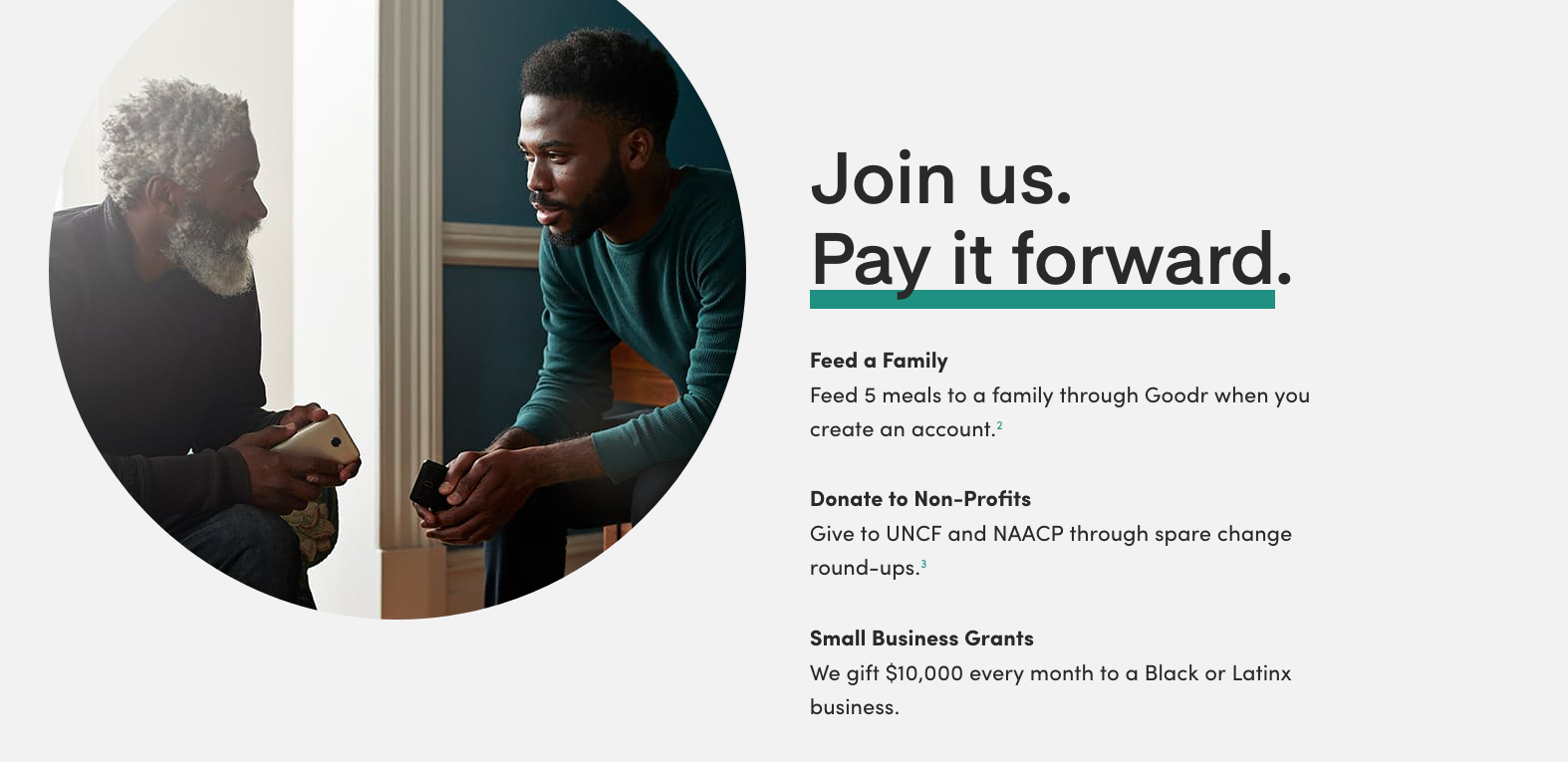 3. Build distinctive brand properties
What also makes Greenwood distinctive is its high-profile non-banking founders. Greenwood was created by Bounce TV founder Ryan Glover, his close friend, rapper-activist Michael "Killer Mike" Render, and former Atlanta Mayor Andrew Young. These passionate founders allow Greenwood to get extensive press coverage and punch well above their weight in terms of brand exposure, invaluable for quickly building brand awareness. They don't just talk about the brand. They are the living, breathing embodiment of the brand.
4. Create deep connection
Greenwood is not just about banking, but also an approach to how you want to live your life. Greenwood connects with customers based on shared values, not just rational features. People will probably choose to bank with them not because they offer, for example, 0.2% more on a savings rate, but because they want to play a small part in making change happen. And this sort of deep connection means customers are more likely to pay a premium for services and to promote the brand (1).
5.Ensure your product delivers
Greenwood has strong emotional 'sizzle' as we've seen above. At the same time, they will need to deliver a great product 'sausage' too. One reason for the failure of Bo, another digital bank we posted on here, was the product not being up to scratch. Greenwood has some nice product features including the promise of having no hidden fees, ever, to help its customers prosper. It will also need to ensure that the day to day service runs smoothly, especially if demand if high.
Conclusion
Greenwood is a great example of a brand-led business. It has used deep understanding of the lives of its target audience to connect emotionally. Combined with the convenience of mobile digital delivery, this gives Greenwood the potential for global disruption. The largest of digital bank, NuBank, was valued at $10bn in 2019. It will be interesting to see how quickly Greenwood can reach the same sort of valuation.
Sources:
(1) https://www.gartner.com/en/trends/top-insights/smac-topinsights-2017-18