7 brand building steps that doubled Peloton's business
In this post, I explore in detail how the brand building of Peloton drove explosive growth, using seven 'workouts' from our brandgym Academy Mastering Brand Growth Program. I also explore the digitally-driven Peloton brand in a recent webinar, that you watch HERE.
Long term brand building
Articles on the Peloton brand tend to focus on what happened in 2020. The brand is often portrayed as an 'overnight success story': simply in the right place at the right pandemic-hit time. However, this recent short-term growth was made possible by years of longer term brand building. Revenues were already doubling annually in the years prior to the pandemic (see below).
Recent events have then 'added fuel to the fire'. Revenue growth accelerated in the July-September 2020 quarter (+232%) to $757 million. Penetration grew and users were more active (workouts per subscriber doubled versus year ago). This growth spurt also pushed Peloton into profitability. Net income was $69 million versus a loss of $50 million a year ago.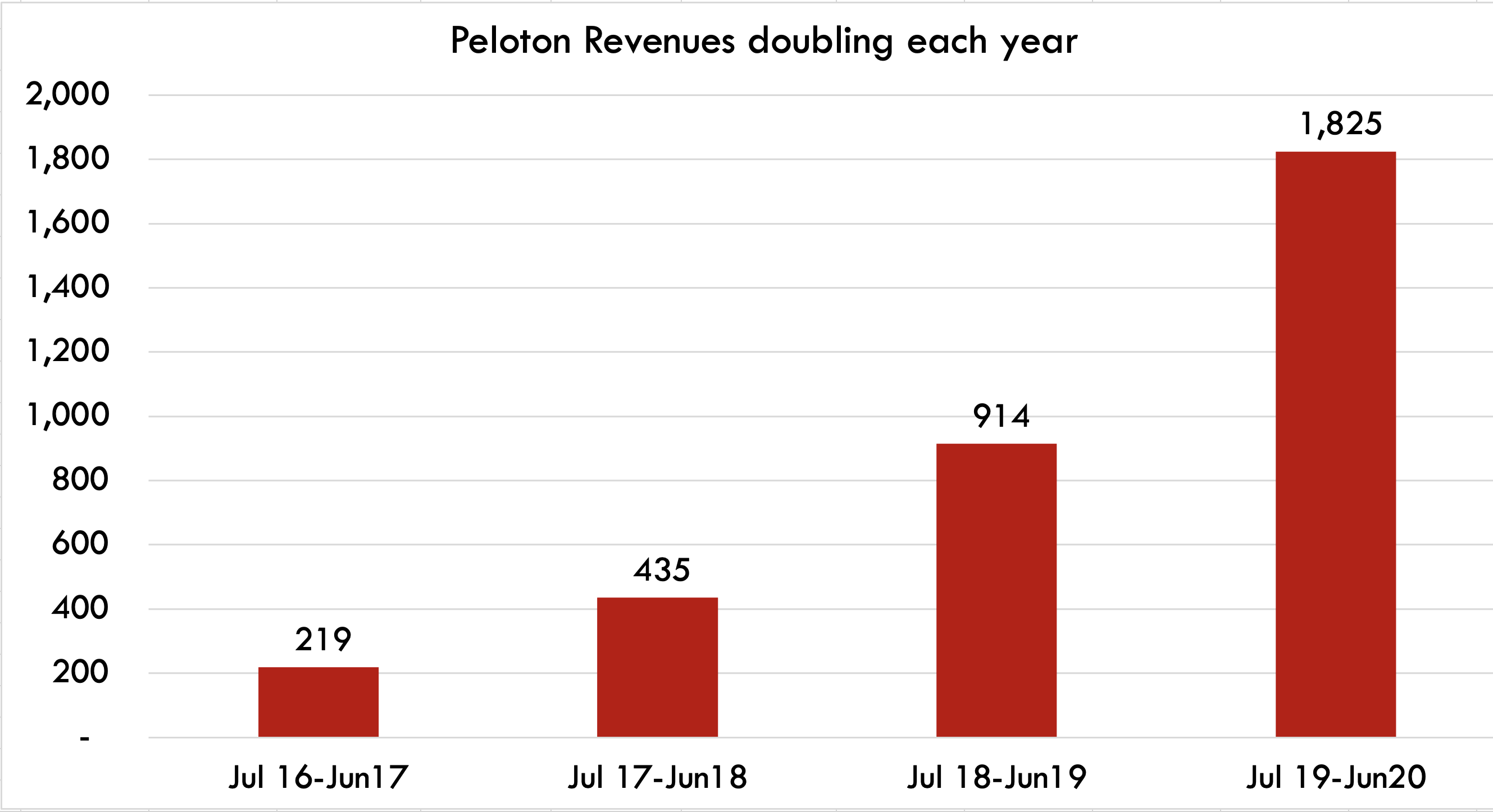 Brand building Step 1: Brand Ambition
Peloton founders John and Jill Foley had a clear ambition from the start. Their vision went way beyond simply selling a stationary exercise bike. They wanted to create an immersive fitness experience, enabled by technology and design. Their brand ambition was to create one of the most important and influential interactive media companies in the world. The 'brand peer group' they used for inspiration was not other home fitness brands like Nordic Trac. Rather, the looked at technology and media brand brands. "Our impact on your day is every bit as much as Apple or Amazon or Tesla," Foley is reported as saying (1).
This burning sense of ambition was critical to keep the couple going in the early years. Foley pitched Peloton to over 400 investors but none of them were interested (2). The Foleys had to dip into their retirement savings and put up their home for sale to fund the launch. They also made the risky move of tapping friends and relatives for investment (1). They had to build a prototype bike on a bootstrap budget and then get a model built in Taiwan.
And the ambition still burns inside John Foley today. "We have 1.3 million subscribers. Our goal is to have 100 million," he said in The Times interview.
Brand building step 2: Define your market broadly
A key step in brand building is defining your market broadly in benefit terms, not product terms. In the case of Peloton, the market definition was not related to the direct competition of exercise bikes. It was broader: inspiring and energising fitness experiences. This meant that the brand could compete not just against other exercise bikes, but against fitness classes in gyms. The brand's objective was "to bring the community and excitement of boutique fitness into the home". A failure to see the bigger market opportunity was a key reason for early investors' lack of interest (1):
"How big is the market for a $2,000 stationary bike?!"

Short-sighted investors early in the launch of Peloton
Brand building step 3: Search for True Insight
On our Mastering Brand Growth program we explore how to use immersive insight. This allows you to go beyond consumer understanding to 'consumer empathy'. And the best way to do this is to BE the consumer. The idea for Peloton came to John Foley in just this way.
Back in 2011, John was trying and failing to get into over-subscribed fitness classes. "If you tried to do a cycling class in New York, the best instructors at the best times would be sold out in 20 seconds," he explained (1). His genius was thinking about not just the 50 people who actually did the class. He also thought about all the other ones who couldn't get in. And to think beyond the confines of New York to the country as a whole and beyond. "What if you could offer one of those white-hot, oversubscribed spin classes to people around the world? Would 50,000 people want in?"
Beyond the functional need to make fitness classes more convenient, John also tapped into a deeper need. This was related to the emotional experience of fitness classes. These classes weren't just about getting fit, they were about feeling energised and inspired.
This led John to an insight along the lines of, Fitness classes can inspire and energise people … but why can't they be more accessible and convenient?
Brand building step 4: Position with Purpose
The next brand building step was using insight as a springboard for creating an inspiring brand purpose and positioning.
Brand purpose
Peloton's brand purpose clearly captures the bigger role the brand plays in improving everyday life.
To connect the world through fitness, empowering people to be the best version of themselves anywhere, anytime.

John Foley, Peloton Founder and CEO
Brand values
I also like the way Peloton has brand values, not bland values. The team have put some heart and soul into these. They used memorable and meaningful short phrases, not the usual suspect words like 'quality', 'trust', 'innovation':
Put members first
Operate with a bias for action
Empower teams of smart creatives
Together we go far
Product sausage
In terms of positioning, Peloton's overall proposition has been summed up by John Foley as: the most engaging, entertaining, immersive and motivating home platform for fitness and well-being (3). The brand is is built on a strong product 'sausage', with a set of inter-related proprietary components:
Bikes: beautiful design, durable, high performance
Screens: to tune into live-streamed or pre-recorded classes
Programming: top quality production values
Software: creating an immersive experience
Instructors: inspiring, engaging, cool
It's the investment in creating this brand 'ecosystem' which makes the positioning powerful and hard to copy. For example, the company recently spent $50 million each on new film studios in New York and London.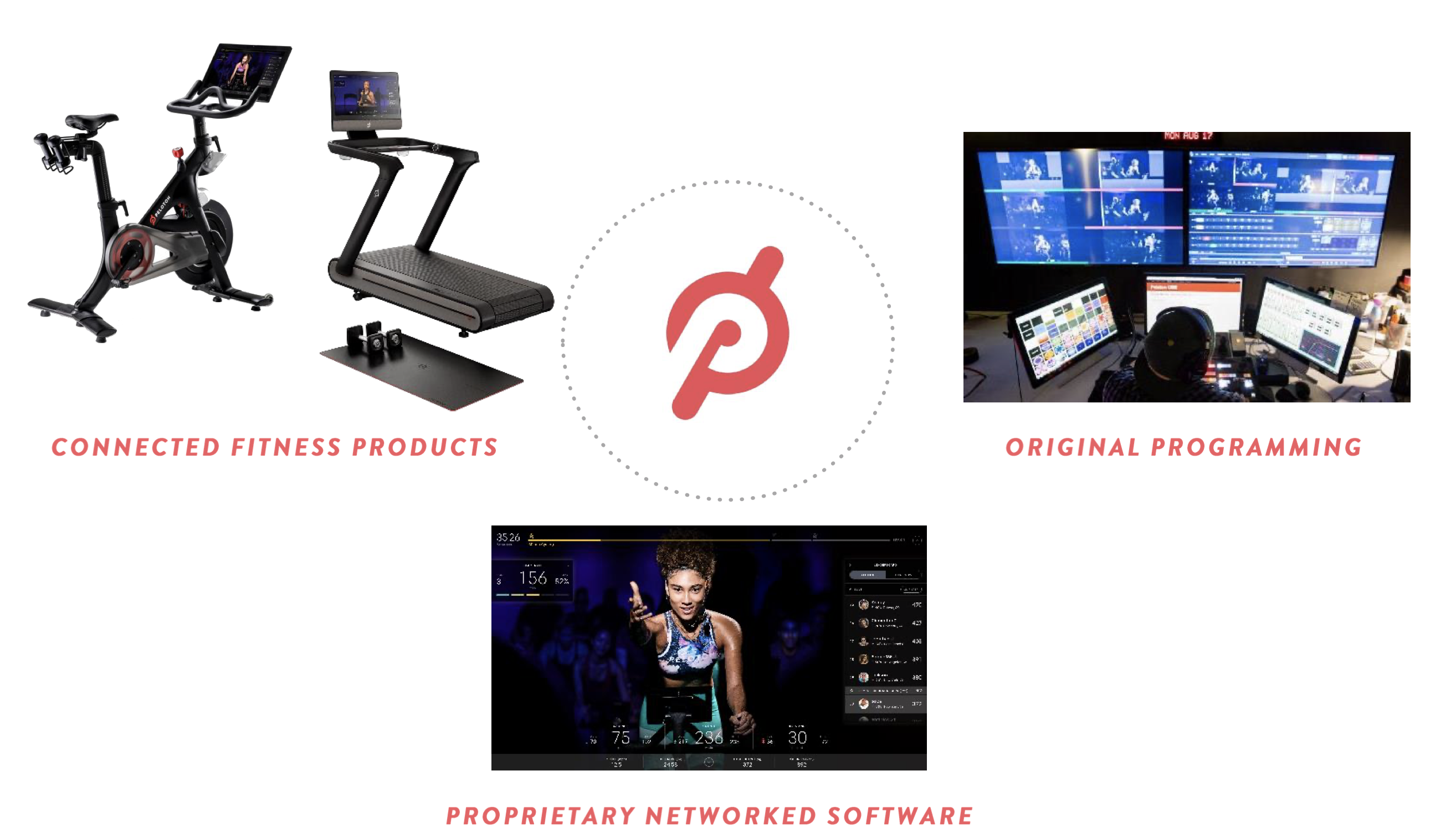 Emotional sizzle
Peloton also has a lot of emotional 'sizzle'. The focus is on making you feel that you've not just physically worked out, you've also been entertained and energised. "You get on the bike and 45 minutes later, we've transformed you," says Foley. "We've mainlined endorphins into your body through your hard work, but entertained you so much, you didn't even know it was happening." (1) Other brands can try and copy the look and feel of the physical bike and screen. But the deeper emotional experience, delivered by the instructors and inspired users, is hard to replicate.
This combination of product sausage and emotional sizzle has helped Peloton support a premium price from the start. The bike price of $2,300 double that of some competitors. There is then an extra $39/month to subscribe streamed fitness lessons. This delivers healthy gross profit margins of 45% on hardware (1.5 x that of Apple!) and 57% on subscriptions (4).
Brand building step 5: Grow the Core
Having defined a clear positioning, the next brand building step was to grow the core. Here, there are three key drivers: distinctiveness, distribution and core range extension.
Distinctiveness
The whole Peloton experience was designed to be distinctive. Before Peloton, exercise bike brands focused on trying to re-create the outdoor riding experience, by simulating a mountain bike route for example. Peloton made its experience distinctive. It sought to capture the music, motivation and community of indoor cycling classes, such as SoulCycle. For example, the brand's screens have leaderboards to let people participating see how their performance stacks up against other class members.
A second key source of distinctiveness is the Peloton instructors. The brand gave aspiring fitness instructor the chance to reach a much bigger, global audience compared to teaching in a physical gym. There are now 33 instructors, some achieving almost celebrity status and having their own followers called 'tribes'. A special distinctive twist is the connection these instructors create with their followers, enabled by Peloton's technology. The control room sends instructors key information to their dashboards. This allows them to call out directly to people to celebrate a birthday or fitness milestone, for example.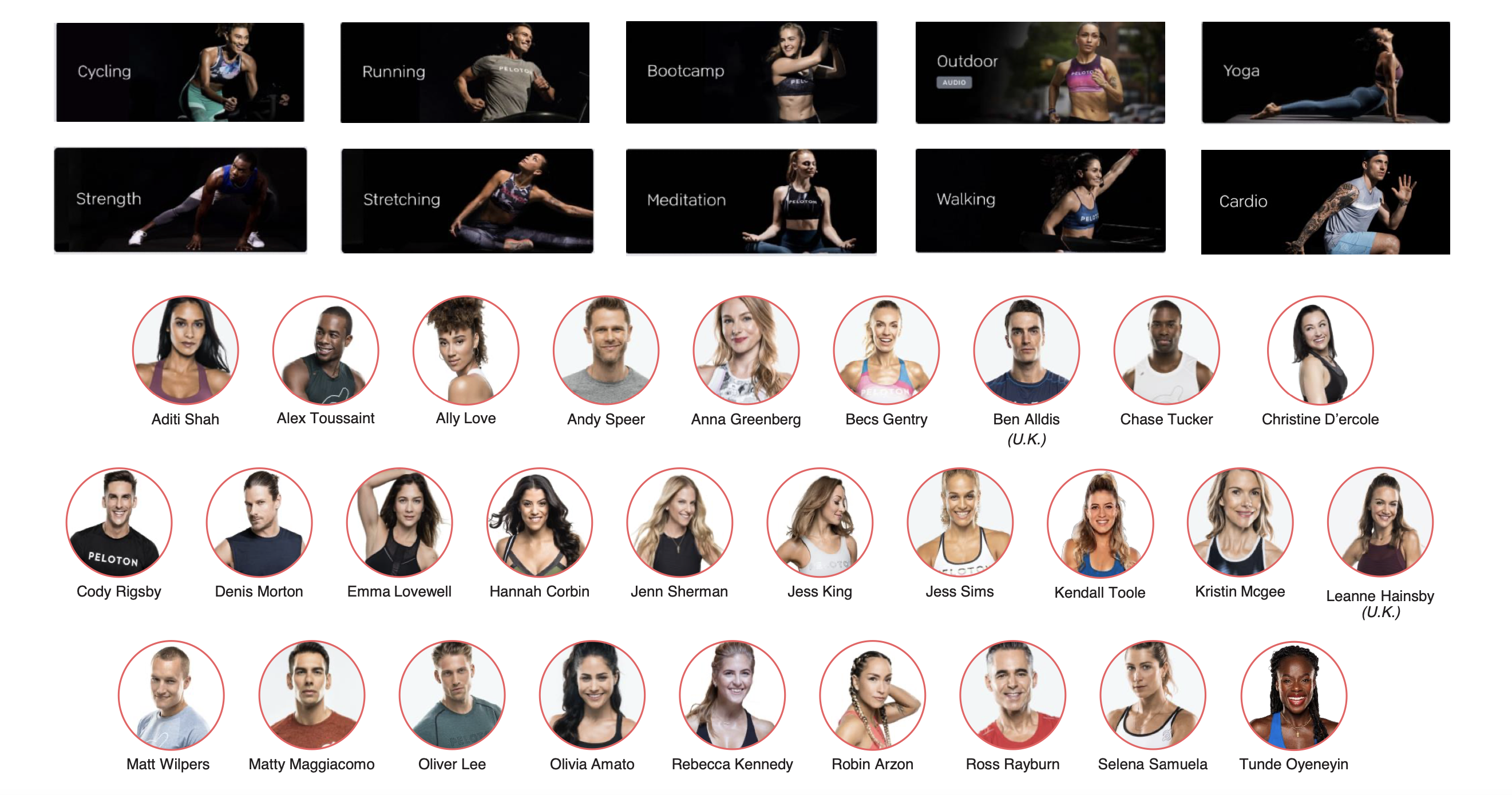 Thirdly, the brand created a distinctive visual identity from the start. Distinctive brand properties includePeloton's 'P' device and the use of black, white and red colours
Distribution
Distribution is a second core growth driver for Peloton. The brand is an excellent example of a direct to consumer distribution model (D2C). This gives it control over product listing, pricing and promotion.
First, the company used placement in hotel gyms as a way of creating awareness and driving trial
Second, the brand has also invested heavily in its own 81 retail showrooms. Peloton uses these stores to sell product but also to bring to life the brand world. This is similar to the approach of Apple and Tesla
Third, the brand has a highly sophisticated and effective online channel.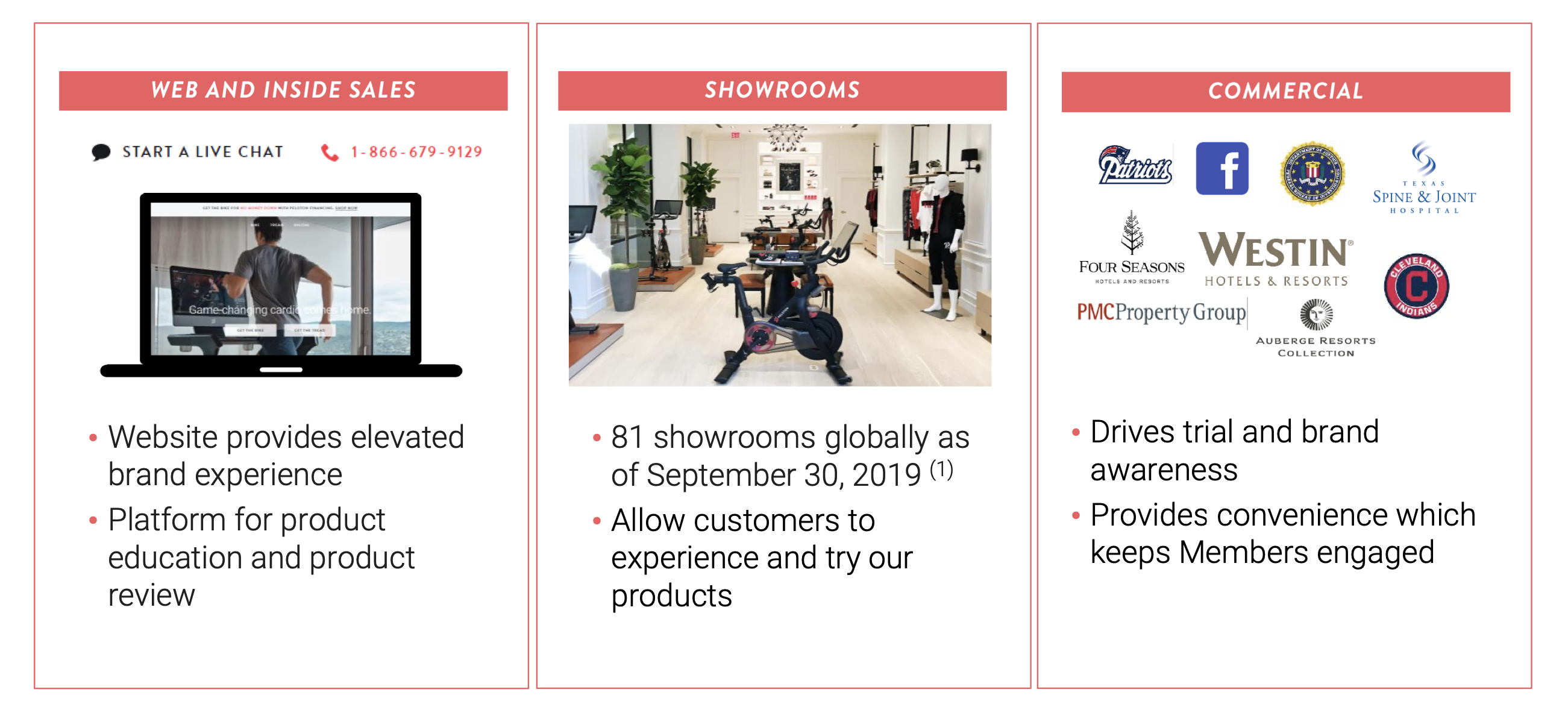 Core range extension
Peloton maxed out the potential of distinctiveness and distribution before moving on to range extension in 2020. Peloton's first core range extension, Peloton Bike+, was launched only in 2020, eight years into the brand's life. This new product illustrates the two key roles a core extension can play. First, it drives penetration by offering new benefits. It has a 24" rotating HD touchscreen, a high-fidelity 4-speaker sound system and 'Auto-Follow'. This feature automatically scales resistance based on the instructor's targets. Second, it drives premiumisation by charging a higher unit price, c. 20% above the normal price of the original bike.
Renovate the core
In addition to innovation, brands also need core renovation to stay ahead of the competition. Peloton has constantly renovated its core fitness class offering. Two recent examples are the addition of a Bootcamp workout, with strength building to complenent cardio exercise, and a Peloton Barre workout.
Creating turbo charged marketing involves balancing freshness on the one hand and consistency on the other in a series of brand 'chapters'.
Brand building step 6: Turbo charged marketing
Each chapter creates freshness, with a new part of the same brand story, Brings out the best in us, whilst also bringing new news. For example, one chapter introduced the new Bike+products. Another featured an activation with a social mission, Pelothon, which raised $1million for hunger relief in 2020.
Consistency comes from smart use of the distinctive brand properties discussed earlier. So, across time we have consistent use of the logo, the colours, upbeat music and of course the Peloton instructors.
Peloton has also benefited from celebrity endorsement. Michelle Obama, Richard Branson and Hugh Jackman amongst the famous fans of the brand. The key to this has not been paying influencers to plug Peloton. Rather, the key has been investing in creating a distinctive product and experience. This allowed celebrities to enjoy a proper workout without being hassled by fans and photographers at a public gym.
7. Brand Stretch beyond the Core
Finally Peloton moved on to strategically stretch their brand, but only after they had exhausted all the opportunities to grow the core.
Merchandise
First, from the start the brand offered a range of merchandise. This includes special shoes, clothing and fitness accessories such as water bottles. Now, these products might be limited in revenue, with some estimates suggesting they account for only 1% of sales. However, they play an important role in strengthening the core. The merchandise helps drive brand awareness, when people share pictures of themselves working out on social media. In addition, it further builds the lifestyle experience of the brand, strengthening the emotional connection people have with it.
Treadmill
The second stretch is the treadmill product, launched in 2018. This helps drive penetration by appealing to people who are attracted to the Peloton fitness experience but don't like doing spin cycle classes.
Digital app
The third stretch has been to expand beyond physical products into the fitness app category via the $13-a-month Peloton Digital subscription offer. This platform gives access to streamable workouts. These cover 10 categories (e.g. strength, yoga, meditation, cardio) accessible via a smartphone or tablet. This stretch drives penetration and in doing so grows the core. It introduces the Peloton brand to a wider group of people who might consider upgrading and buying a bike.

Conclusion
In conclusion, Peloton is a great example of long term brand building. This starts with setting a clear ambition and then use immersive insight as the springboard for creating a clear and compelling positioning. This platform then inspires both core growth and brand stretch.
Boost YOUR brand fitness
To explore these brand building workouts and apply them to you own brand, you could join us on the next Mastering Brand Growth marketing training program. It's a practical, action-oriented 8 week program combining world-class, on-demand content and live Zoom workshops. The principles and tools build on 30 years of experience leading companies, from running both consulting projects and training programs. If you'd like more info on the program, just pop your name and email in the form below.

And for another example of a fitness company building its brand, see this earlier post: 10 LESSONS FROM GYMSHARK'S BILLION DOLLAR BRAND BUILDING
Sources:
(1) www.thetimes.co.ukWeb resultsHow Peloton became a billion-dollar company in a pandemic
(2) https://www.wsj.com/articles/take-a-ride-with-peloton-ceo-john-foley-1541431221
(3) https://www.zdnet.com/article/peloton-wrestles-with-supply-demand-imbalance-in-q4-but-so-popular-it-can-cut-sales-and-marketing/
(4) https://productmint.com/the-peloton-business-model-how-does-peloton-make-money/