Brand growth inspiration from our first 20 years
This year we created a special set of new year postcards, celebrating the first 20 years of the brandgym: BG20. In the spirit of fresh consistency, we re-visited the postcards we did 10 years ago, to see if the principles proposed then have stood the test of time: encouragingly, they have indeed. In this post, we pick out five of the key brand growth inspiration themes. If you would like the full set of 10 BG20 postcards, please just drop us an email.
Use fresh consistency like Snickers.
In 2012 we recommended balancing freshness and consistency. This principle has grown in importance, being a key way to build the distinctive memory structure made famous by Byron Sharp's book, How Brand Grow. In the last 10 years Snickers has been a great example of creating fresh consistency, with their global You're not you when you're hungry campaign. Multiple executions have been used in 58 markets, driving growth and winning multiple effectiveness awards.
Bake your brand into your business like Magnum.
10 years ago we suggested the best way to drive distinctiveness was to "bake your brand in" to your product or service. And we continue to bang the drum for great products, refusing to accept the idea that emotional 'sizzle' is all you need for brand success.
Magnum is a marvellous example brand growth inspiration for driving distinctiveness. The core product itself is the most distinctive brand property ever tested with our IcAT method. The Pleasure Store pop-ups have baked the brand into customer experience in major European cities for the last 10 summers.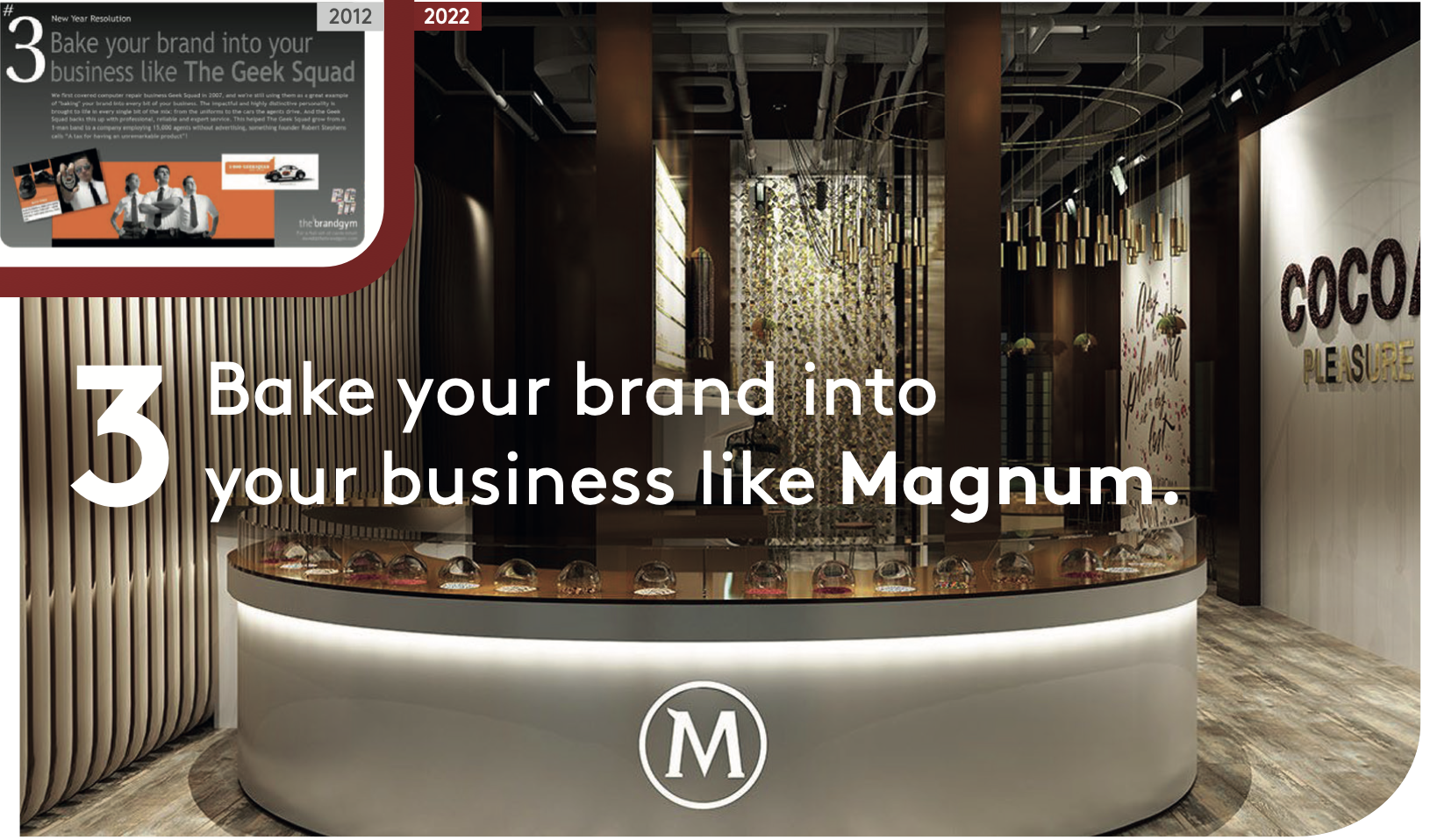 Revitalise your brand like James Bond.
Back in our 2012, the Bond re-boot with Daniel Craig was only two movies in. The relentless revitalisation has continued with a hat-trick of hits (Skyfall, Spectre and No Time to Die) generating almost $3billion at the box office. Each movie remembers AND refreshes key brand properties including characters, gadgets, glamour, catch-phrases and music.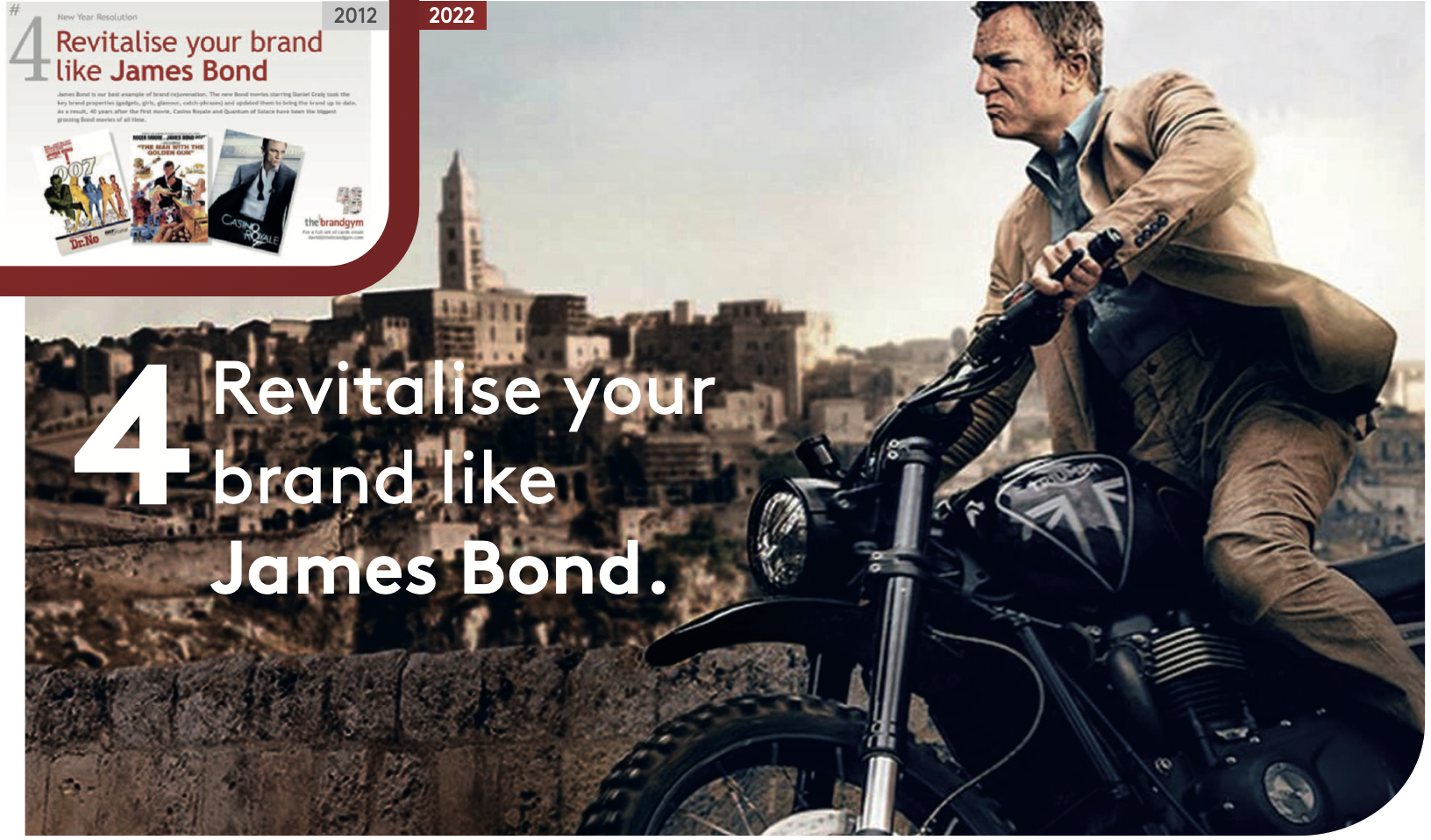 Grow the core like the WD-40 brand
Growing the core has been remained a key focus for us since 2012. We've been lucky enough to work on multiple projects with the WD-40 Company, one of the world's leading examples of growing the core.
In particular, the brand has used pack format innovation like Smart Straw and EZ Reach to add convenience, drive new usage occasions and premiumise the brand. Sales have grown globally and the company's share price has increased 500%.
Use a brand-led approach to sustainability like Corona
Back in 2012 we recommended delivering sustainability at a brand level (BSR), not just at a corporate level (CSR). Since then, sustainability has grown in importance and become a central part of delivering a brand's purpose.
Corona's Protect Paradise campaign shows how a brand-led approach can help planet & people, but also drive distinctiveness and sales: every 6-pack bought cleans 1m of beach.
In conclusion, the core principles of brand growth remain more relevant than ever today, 20 years on from when we started the brandgym. We look forward to using them for the next 20 years to help marketers achieve their ambitions: brand, business and personal!
If you would like to learn more about these enduring principles of brand growth, check out the latest training programs on our brandgym Academy platform here.