Has Unilever lost the plot on purpose?
Famous fund manager Terry Smith recently joined Byron Sharp and Mark Ritson in slagging off brand purpose. Terry's target was Unilever. He ridiculed what he called an obsession with "publicly displaying its sustainability credentials", criticising the policy of having a purpose per brand, according to The Times (1). This focus on purpose was a key reason for the company's recent poor share price performance versus peers, he suggested.
So, is Terry right to poke fun at purpose and suggest it has no useful role to play for brands?
1. Focusing solely on sustainability can be bad for business
Terry suggested that Unilever was spending too much time on 'virtue signalling', and not enough time on business fundamentals. Here, he is right to flag up the risk of being too focused on sustainability. Danone's CEO was pushed out by activist shareholders who felt he was doing just this.
Consumers care about sustainability. But they care more about core product performance, according to our research (below). Only 10% of consumers claim to chose a brand on sustainability alone. And this is why we recommend that brand purpose is rooted in your product, rather than focusing solely on sustainability. I suggest that Terry Smith has made the mistake (like Byron Sharp, Mark Ritson and many others) of treating sustainability and purpose as the same thing.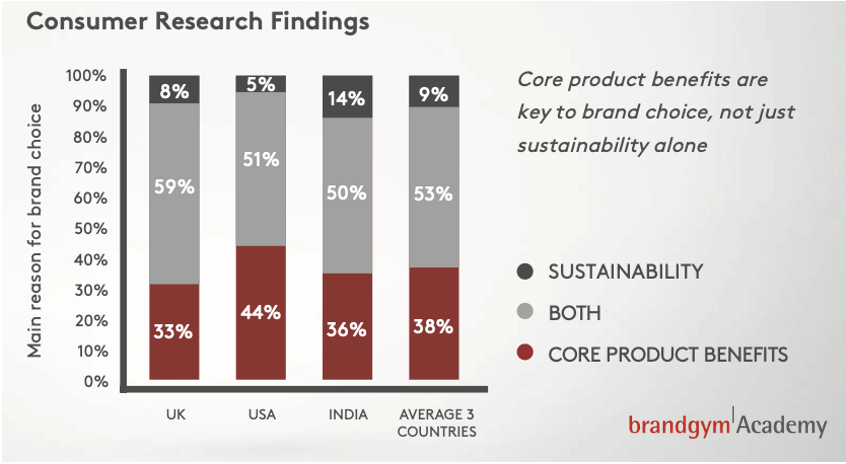 2. Making purpose pay = Product + People & Planet
The fact that Hellmann's has a purpose at all raised the ire of Terry Smith. "A company which feels it has to define the purpose of Hellmann's mayonnaise has clearly lost the plot," he said. "Hellmann's mayonnaise has existed since 1913 so we guess that consumers have figured out its purpose (spoiler alert — salads and sandwiches)."
So, is it really that simple: Hellmann's just needs to talk about how its mayo makes salads and sandwiches tastier? Here Terry is wrong again, I suggest. Hellmann's, like any true brand, can and should be about more than pure functionality and rational benefits. As I wrote in our first brandgym book back in 2003, "Purpose is the reason to exist beyond the purely functional and financial: the higher-level, more emotional concept about improving everyday life."
However, to make purpose pay it should be rooted in making good products and making customers happy. The visual below summarises this product-centric approach to defining brand purpose to ultimately drive profit.
4. Brand purpose can actually help sell more stuff
Ironically, Hellmann's is actually a good example of a product-centric brand purpose: To help people enjoy the simple pleasure of good, honest food without worry or waste. This purpose inspires not only sustainability but also marketing ideas, including new products and activation that expand the brand's appeal. It seems Terry doesn't know that i. Hellmann's sells more than mayo and ii. it has been successful driving usage on more than just sandwiches and salads.
As part of delivering its purpose, the brand's #maketastenotwaste campaign is good example of how sustainability can help sell more stuff (SMS), not less, as I posted on here. The campaign inspires people to use Hellmann's to turn leftover food like pizza crusts into tasty meals (1 in 5 of us don't eat our pizza crusts). "Hellmann's hope to rescue more crusts from the bin by encouraging the nation to make them the star of the show with flavour," explains the brand's website. This does a bit to help the planet, by reducing food waste, at the same time as driving trial and penetration. And this approach seems to be working, with 10% year on year growth in the latest quarter, according to the Times article (1).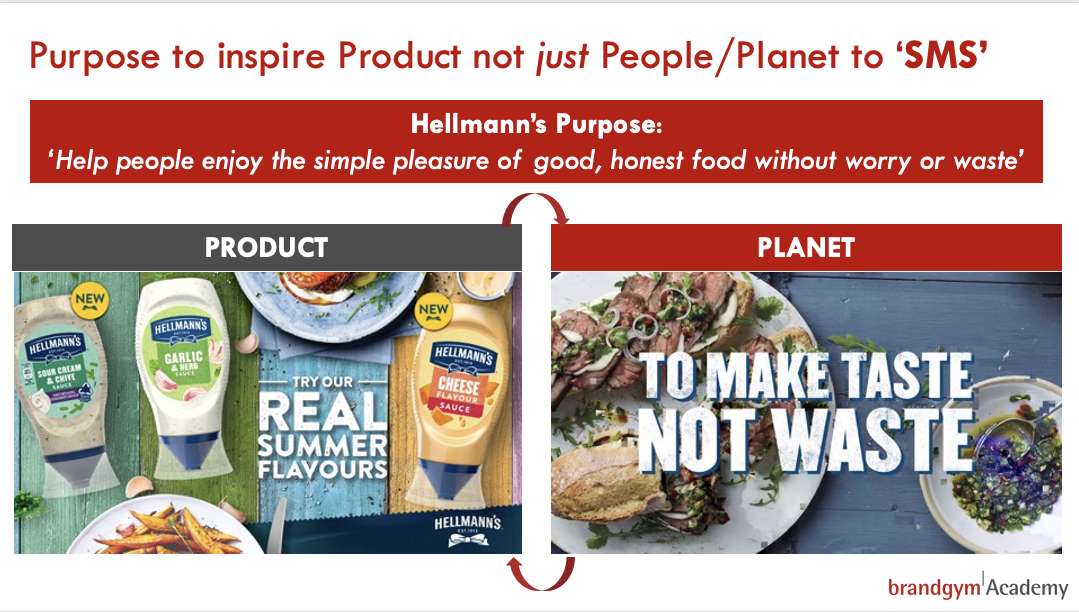 Three other brands questioned for having a purpose in The Times article have also performed well in 2021, with underlying sales growth (USG) ahead of Unilver's 3-5% target (see below).
5. Is purpose really to blame for poor stock price performance?
You can see why Terry Smith is pissed off with Unilever. He holds £888 million of stock. And Unilever's poor performance was a big factor in his Fundsmith Equity fund producing a return (22.1%) below the MSCI World Index benchmark (22.9%). In the last year Unilever's shares (bottom blue line below) have lagged peers, especially P&G, (black top line below). But is brand purpose really to blame? Other analysts think not. "I don't entirely buy Terry Smith's argument", says Martin Deboo of Jefferies. "There are significant cohorts of people who want to buy brands with purpose." (1)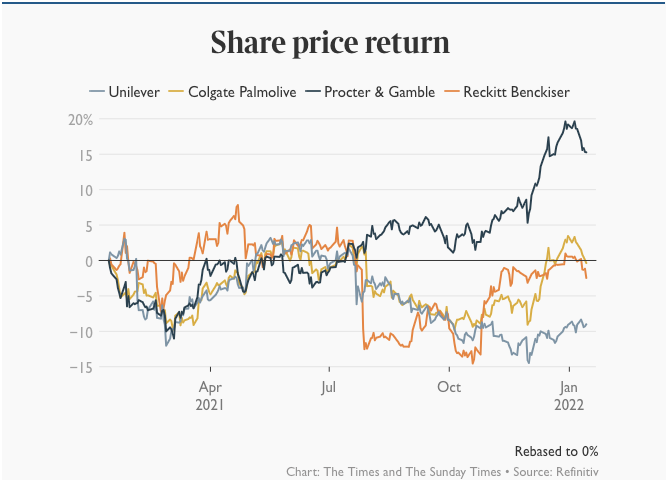 Other issues seem more likely to be weighing on Unilever's performance, including:
i. Inflationary pressure driving up prices: Q3 2021 was the first time in over a year the company missed its 3-5% USG target. This reflected a drop in volume (negative -1.5% in dark blue below), partly in reaction to price increases (+4.1% in turquoise below) to re-coup massive raw material cost price increases of up to 200%.
ii. Geographic focus in lower growth areas: North America has grown strongly in the last couple of Covid-affected years, where Unilever is relatively under-weight (19% of sales). In contrast, geographic strongholds including parts of Asia, Latin America and Africa have suffered. However, this geographic focus could help Unilever when sales recover. Indeed, in the past this heavy weighting in developing markets was seen as a strength.
iii. Product mix: "rivals have been boosted because of their higher exposure to petfood, coffee and nutritional products," reports The Times (1). CEO Alan Jope is leading a product portfolio shift. The slow-growth tea division has been sold. And Unilever is building its presence in functional nutrition and prestige beauty. Each of these two segments is a billion dollar business with USG of 20%+.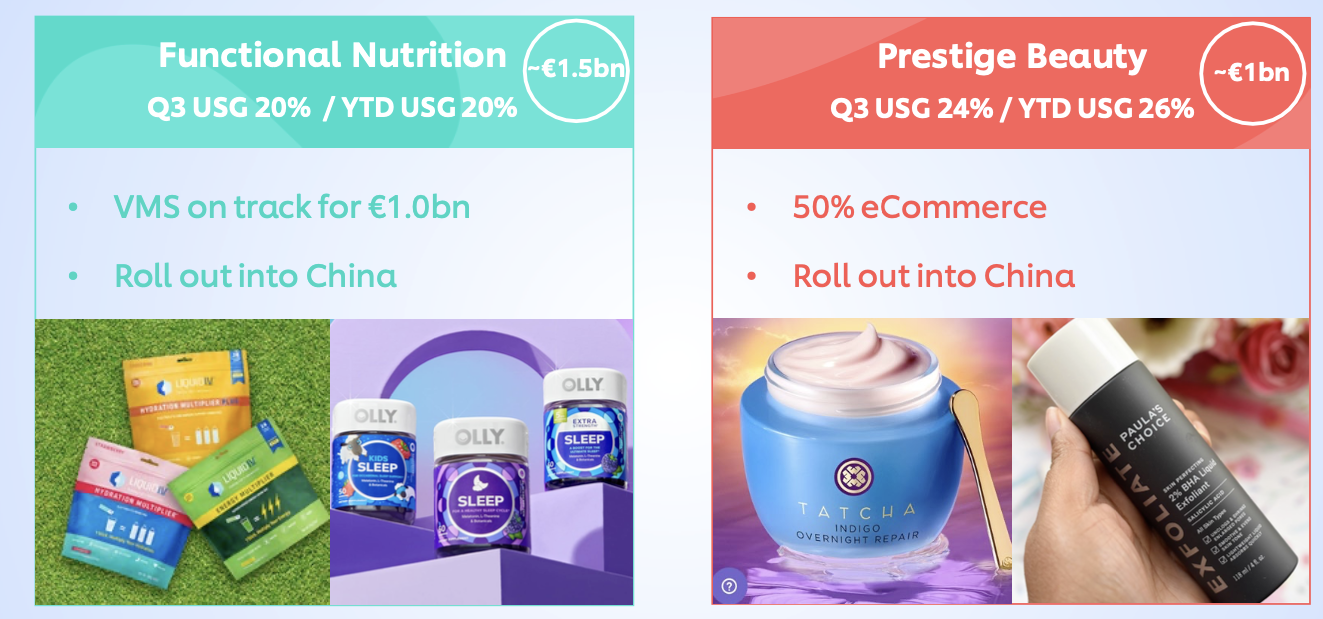 iv. Organisational "friction" slowing the company down? James Edwardes Jones at RBC suggests there are organisational challenges relating to being such a big company. "Many internal rules, regulations and good intentions (are) paralysing the business," he suggests. Feedback from Unilever insiders does suggest that the company can sometimes be a bit process-heavy. There are a lot of high quality principles and tools, but so many for teams to complete that this can slow them down.
There are some signs that Unilever is also addressing this potential problem. For example, the company has separated some of its smaller beauty and personal brands into a separate stand-alone business, Elida Beauty, to allow them to operate with more freedom (and potentially to be sold off).
In conclusion, Unilever clearly has some challenges affecting growth. But a focus on brands with purpose is not one, I suggest, at least not when you define brand purpose in a product-led way to drive growth, not just drive a sustainability agenda. Maybe Alan Jope and the Unilever team should re-phrase strategy number two below (from their Q3 Strategy Update), to reflect a more product-led approach to purpose. "Drive growth with purpose-led brands through distinctive marketing and innovation" for example, rather than "Win with our brands as a force for good"?
A growth-focused story using data like that the company used on purpose-led brands back in 2019 (see below) would be more likely to reassure Terry Smith and other investors.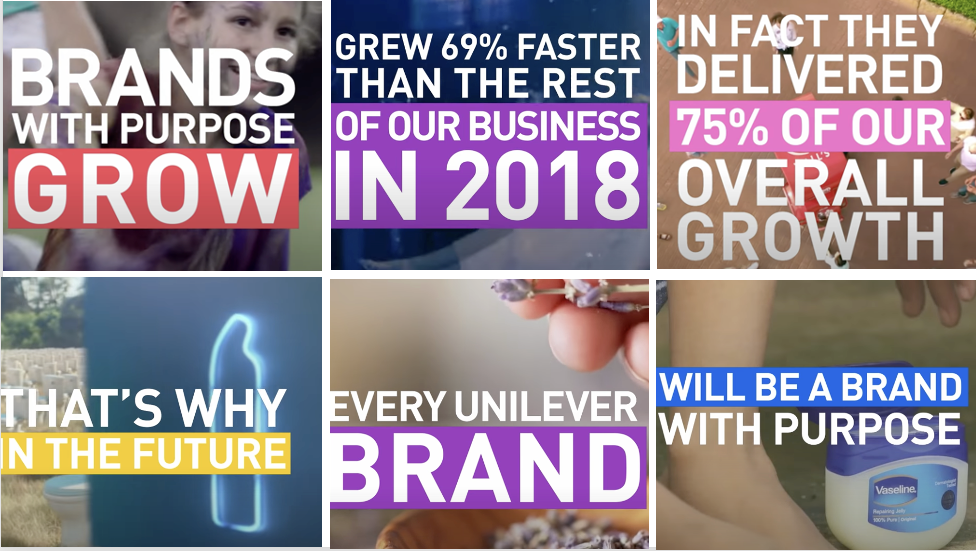 To explore BRAND PURPOSE in depth we offer a short, on-demand course on our brandgym Academy platform here. The course is only £95+VAT and is fully refunded if you go on to take the full Mastering Brand Growth program.
To get our latest research paper Making Purpose Pay, just pop your email in the form below and click GET THE PURPOSE GUIDE.
Sources: