Brand Portfolio Rationalisation to Currys: "Gear shift, not facelift"
I read with interest the Dixons Carphone group's planned name change linked to brand portfolio rationalisation. In this post I explore why this change is strategically sound, in contrast to the recent name change nonsense we posted on here f Abrdn Stdrd chgng nm t Abrdn (if you find the missing vowels, please email them to david@thebrandgym.com)
The Dixons Carphone change will see four brands of electrical goods (Currys PC World, Carphone Warehouse, Team Knowhow and Dixons Carphone) being merged into one single brand: Currys. This major overhaul starts now and will be completed by October 2021. Changes will be made to 300+ stores, 13,000 uniforms and 300+ vehicles (1).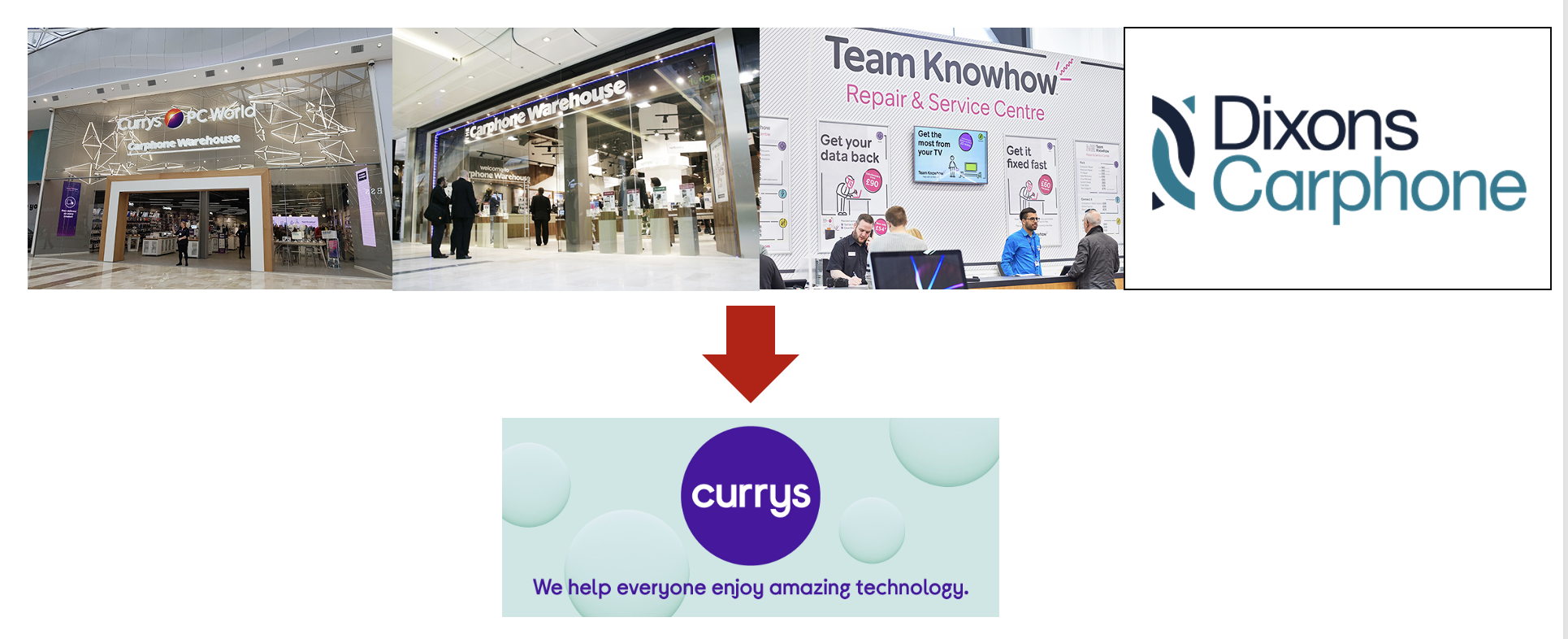 1. How many brands do Dixons Carphone NEED?
We use an approach called "Need and Feed" when working on brand portfolio rationalisation, on brandgym projects and on our brandgym Mastering Brand Growth program. 
The first task is to assess how many brands we think we NEED, based on two criteria.
First, we look at the 'market map' of growth opportunities (sometimes call 'demand spaces') you are going after. Second, we look at the brand assets you have. Combining these two bits of analysis helps you decide if the strongest brand can over ALL the growth opportunities. Dixons Carphone have clearly decided that the single Currys brand is strong enough to cover the whole market. "Choosing Currys as the brand was a no-brainer," commented CEO Alex Baldock (2). "Since starting in 1884, Currys has been the best-known and most trusted brand in tech."
And this makes sense. Carphone Warehouse had a role to play when mobile phones were new technology. At the time (many years ago as the name Carphone Warehouse shows!), Currys may have struggled to cover this need. Ditto for tech advice, leading to the launch of the Team Knowhow brand. But today, with mobile devices and advice both more mainstream, Currys should be able to cover all these needs. 
2. How many brands can Dixons Carphone FEED?
The second big task for brand portfolio rationalisation is to work on how many brands you can FEED. This is based on the available marketing resources: both financial (marketing spend) and human (marketing talent).
Launching and building brands today is more costly and expensive than ever. Therefore, less is more when it comes to your brand portfolio. This cost factor probably also helped persuade Dixons Carphone to go for a mono brand portfolio solution.
3.Brand portfolio rationalisation: the power of focus
The  mono brand portfolio delivers significant benefits in terms of efficiency, through cutting costs and complexity. "We're becoming one brand for our colleagues," explains Alex Baldock. "We've worked hard to become one joined-up business and becoming Currys reflects and accelerates that." The brand portfolio rationalisation should also enhance effectiveness, by channeling all investment into building a single, strong Currys brand.
4.New name as a symbol of change
Currys brand portfolio rationalisation and name change is business-focused. I love how Alex Baldock describes the change as "a gearshift not a facelift." This is a great reality check which should be used by any team considering a name change: is it a facelift, based on changing just the 'image wrapper' of visual identity? Or, is it a gearshift where the name change is a symbol of more fundamental, consumer-relevant change. "Currys will have a bold and up-to-date look and feel but, above all, we're doing this for customers," Alex says. "Our recently announced surge in investment in colleagues, digital and stores will strengthen our position as market leader."
The investment Alex mentions is £190m in 2021/22 to make shopping easier for customers including:
Talk tech with tech people: investing c.£25m in skills, wellbeing and reward programmes for colleagues to enhance customer experience. Launch of the RepairLive virtual repair service to get tech up and running again without the need for a home visit.
Online made easy: A new Currys website enabling better content, more personalisation and a slicker, quicker experience.
See it. Feel it. Try it: making product trial possible for a wider range of tech and upgrading interactive content (e.g. show the steam function of washing machines)
Get your green on: new tools and training to help customers understand the environmentally sustainable choices, including repair rather than an upgrade.
In conclusion, the brand portfolio rationalisation and name change to Currys is refreshingly based on substance, not spin: a gearshift accompanied by consumer-relevant change, not a facelift limited to visual identity.
If you're interested in exploring brand portfolio strategy further, see an earlier blog post here, check out an example brandgym project or enter your email below to get more info on the brandgym Mastering Brand Growth program, where portfolio strategy is one of eight weekly modules.
Sources:
(1) City AM, 13th May
(2) DixonsCarpone corporate website