Brand growth inspiration from … Mr Bean! (updated)
Inspiration on brand growth this week comes from an unusual source: Mr Bean. An article in The Times (1) explored some of the reasons for the character's enduring and ever-growing global appeal. "He has more Facebook followers than Taylor Swift, more YouTube subscribers than Adele and his dance moves are all the rage on TikTok," reports the article.
In this post, I look at what serious lessons we can learn from this comedic character.
1.Compelling brand idea
First and foremost, Mr Bean is a reminder of the power of having a simple, clear and compelling brand idea for brand growth. The fundamental 'brand story' behind Mr Bean is relevant and engaging to viewers of all ages and all nationalities: a good natured bungler who despite good intentions ends up creating chaos. The quality of storytelling comes from the highly talented writing double act of Rowan Atkinson and Richard Curtis, writer/director of Four Weddings and a Funeral and Notting Hill.
The episodes from the original 1990 TV series have minimal production values. And yet they've been watched billions of times and remain more relevant than ever. In today's crazy Covid times, who doesn't need a bit of Mr Bean to make them see the funny side of life, and think, "At least I'm not in as much s**t as him!"
2.Brilliant brand properties
Mr Bean is also a brilliant example of creating and amplifying distinctive brand properties to drive brand growth. First, there's the simple and memorable name: two syllables, easy to remember, catchy. Then, we have his outfit, with the tweed jacket and tie. And then of course there are the facial contortions and physical exploits of comic genius Rowan Atkinson.
3.The power of visual storytelling
Mr Bean shows the power of brand storytelling that is highly visual. Mr Bean doesn't say a single word. The comedy relies 100% on the physical performance of Rowan Atkinson. And visual storytelling makes being a global brand much easier. "Because the comedy is so physical and language-agnostic, it's one of these great brands with global reach, because anyone can enjoy it", said Shaun Keeble, of Banijay Rights, the company controling the rights to Mr Bean (1).The TV show has been sold to 100's of countries and is especially popular in Brazil, India, the Philippines and Indonesia. His global appeal is also a key reason for him being used in the first global execution of the Snickers 'You're not you when you're hungry' campaign that we posted on here.
4.Remember and refresh what made you famous
Over 30 years since the first TV episode Mr Bean is still going strong. He's an inspiring example of how to constantly renovate yourself to drive brand growth, by remembering and refreshing what made you famous. Consistency comes from the brand story and multiple brand properties described above.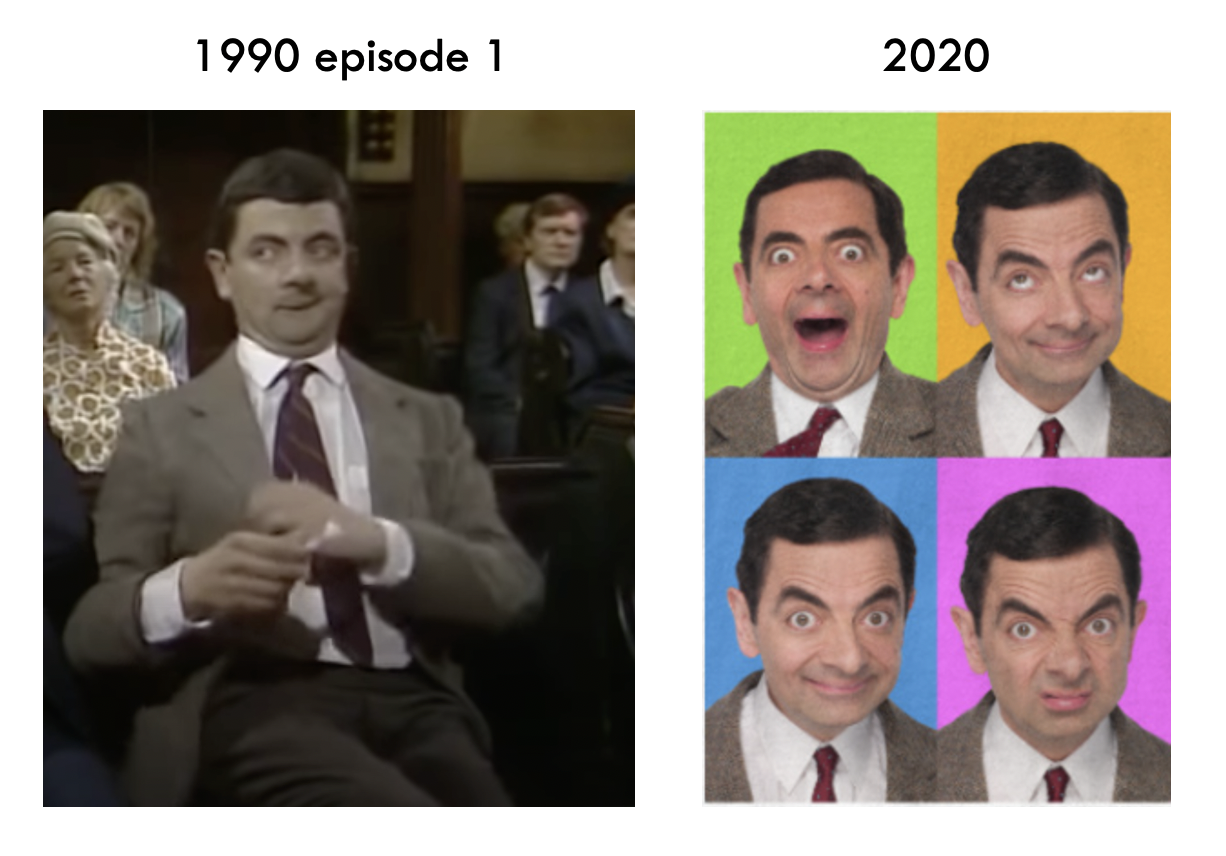 Freshness comes in several ways. First, core brand growth has been achieved by finding new channels of distribution, to drive physical availability of the original TV content:
Facebook: 99 million followers, the single biggest television page on the platform and the 11th most popular overall, ahead of mega-stars such as Rihanna and Justin Bieber
Instagram: 7.5 million followers
YouTube: 30 million subscribers to three channels
TikTok: 2 million followers, with 13,000 users re-creating his dance routine for a contest on the app in 2019
Second, the brand has been strategically stretched into new spaces:
Movies: Bean (1997) and Mr Bean's Holiday (2007) together took c.$500 million at the worldwide box office
Animated cartoon series: a spin-off with 130 episodes so far, which has the advantage of being able to go on forever, without the need for Rowan Atkinson to act in it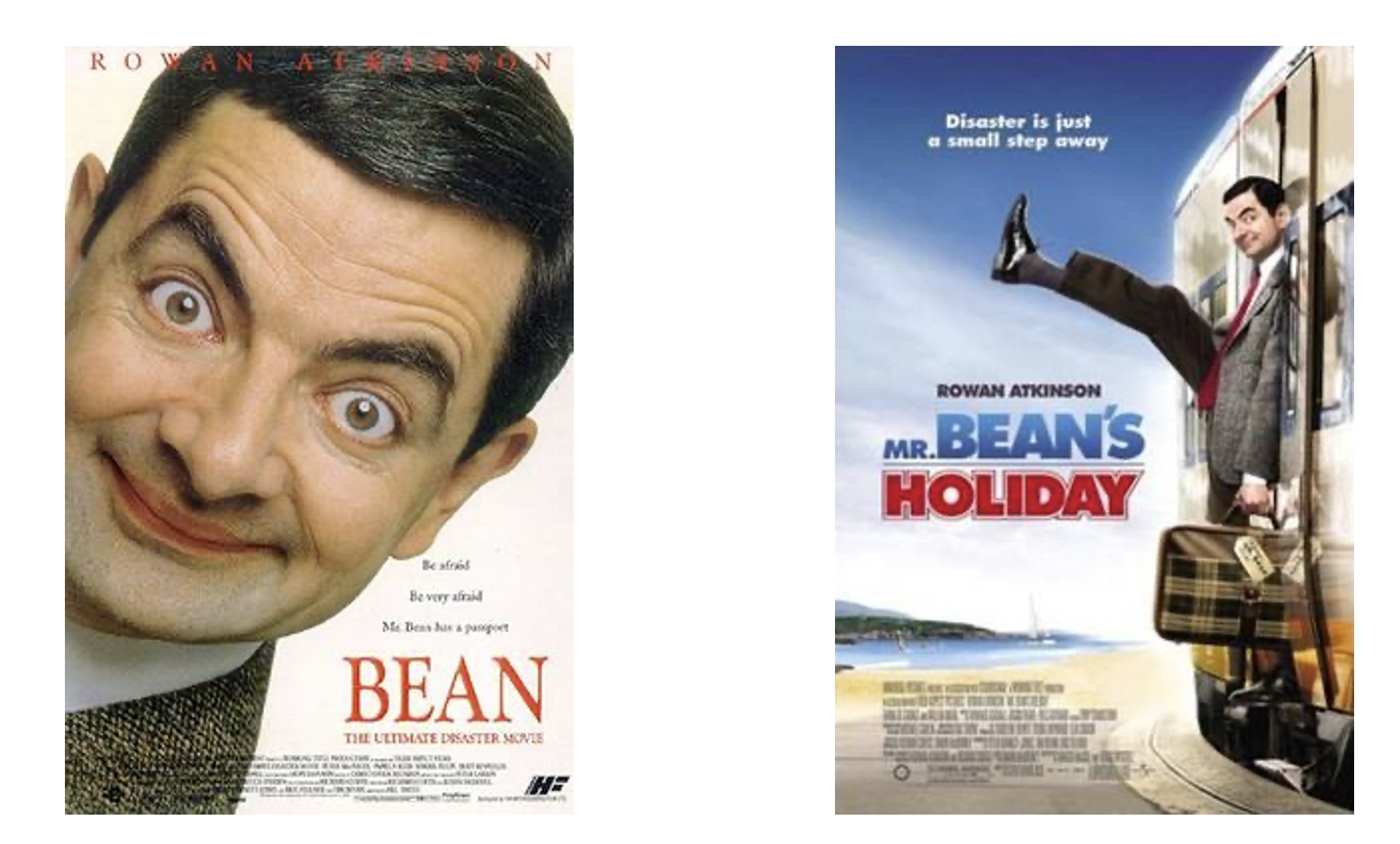 In conclusion, Mr Bean is a reminder that in a marketing world that gone through seismic changes in recent years, the fundamental success factors for brand growth remain: craft a simple, compelling brand story that is brought to life with distinctive brand properties. And then constantly renovate your brand by remembering and refreshing what made you famous.
Now, time to watch a bit of Bean as a reward for finishing the weekly blog!
We explore brand growth in depth on our brandgym Mastering Brand Growth program. If you'd like more info on the program, simply pop your name and email in the form below (we'll also send you the weekly brandgym blog email and brandgym Academy news, but you can opt out at any time).
To explore brand growth further, you can check out these other posts:
TYSONS FOODS TURBO-CHARGED GROWTH SHOWS BIG BRANDS ARE NOT DOOMED
"BRAND GROWTH IN A DIGITAL AGE" – BRANDGYM BOOK POST 1
HOW JUST EAT KEEPS DELIVERING GROWTH
Sources: