Brand portfolio focus: Coca-Cola "kill the zombies"
Coca-Cola is pursuing brand portfolio focus in response to the Covid crisis, which contributed to a 2nd quarter sales drop of 27%, the biggest quarterly decline in a decade. CEO James Quincy announced plans to cut a number of "zombie brands" and focus resources on its biggest, most profitable lines according to a Marketing Week article (1).
In this post, I look at the brand portfolio focus lessons from Coca-Cola's planned approach. This will be one of the key topics on our brand new Mastering Brand Growth program, which brandgym blog readers will be getting an 'avant premiere' of in the coming weeks!
1.Follow the money
A key part of brand portfolio strategy is to 'follow the money' and objectively review your brand assets. An amazing finding from analysing Coca-Cola's 400 masterbrands is that half of these are small local country brands that account for only 2% of the company's sales. The other 200 brands account for 98% of revenue.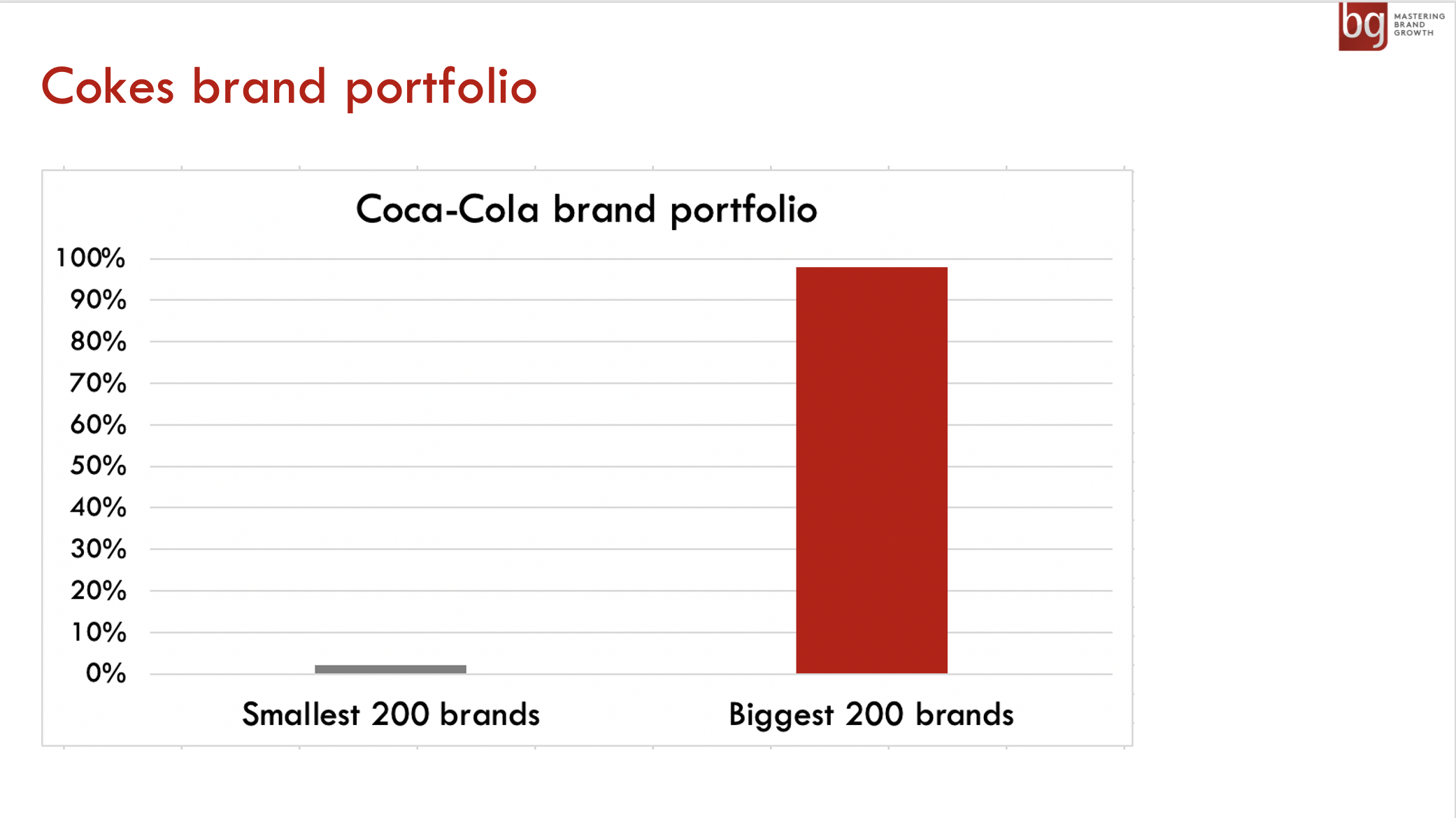 These small brands divert resources from brands with more potential to grow, both in terms of money but also time and talent. "They are going slower than the company average but each one still requires resources," Quincey commented (1).
2.Define brand portfolio roles
I like the three-tier brand system Coca-Cola designed in 2019 to help manage its brand portfolio strategy:
Explorer: category disruptors, very fast growth, gaining a core of consumers
Challenger: gaining market share with potential to get to leadership
Leader: leading positions with scale and more favourable margins."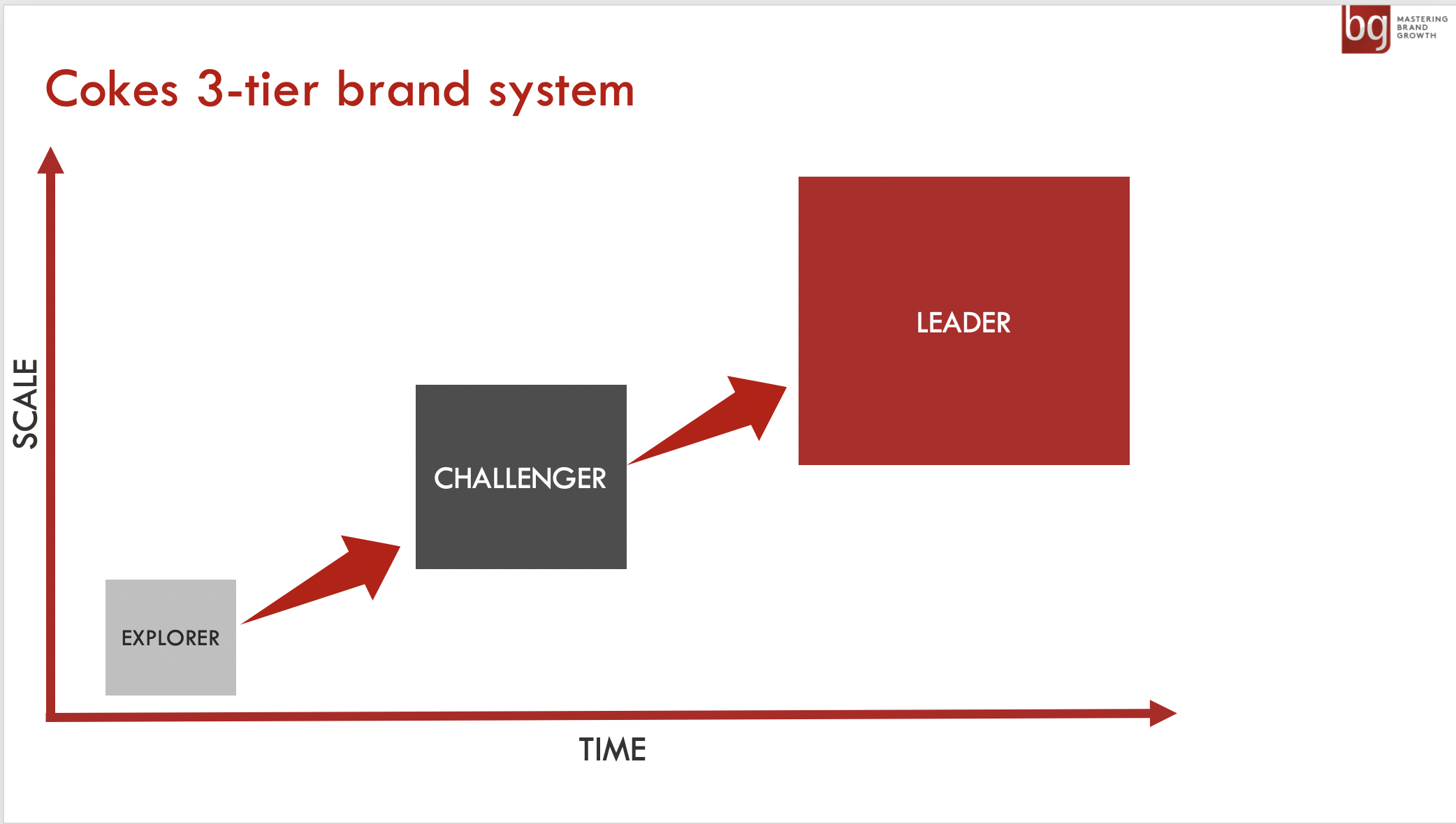 This system clarifies that its OK for a brand to be small, provided that it has the potential to grow. This requires a process to measure the 'momentum' of a brand to assess how fast it is growing in terms of sales, but also awareness and 'buzz', such as social media mentions.
A big company like Coca-Cola will have to adopt new ways of working to manage smaller, Explorer brands sound similar to the 'insurgent brands' we've posted on many times. These brands require agile, digitally-driven marketing and ways of managing small initial volumes, such as 3rd party manufacturing, as we posted on here.
3.Kill the 'zombies'
Coca-Cola plan to cut smaller 'zombie' brands and redirect resources to brands with better growth opportunities (1). This is music to my ears and makes me wonder if James Quincy read the research paper we published earlier this year. We recommended that companies respond to the Covid crisis by "focusing on brands with the best return, culling 'dwarf' brands that drain resources and distract from the core".
The critical question here is growth potential. "Is it a dwarf or a baby?", asked a smart manager in a brandgym training program. A baby brand or product is small but will grow to be big. Unfortunately, a dwarf brand or product is small and will stay small. Forever.
Coca-Cola's task it to sift through the 200 smaller brands and define which category each falls into. "We are weeding out brands that have stayed small over time and are not growing," as Quincy observed, who wants to see brands progress from Explorer to Challenger and on to becoming future Leaders.
In conclusion, Coca-Cola show that in these crazy Covid times brand portfolio focus is more important than ever, to ruthlessly cull brands that drain resources and distract from the core.
For more insights on how to create a brand portfolio strategy, check out this earlier brandgym blog post.
Sources:
(1) https://www.marketingweek.com/coca-cola-cut-zombie-brands/