2022 IN REVIEW: TOP POSTS (PART 2)
As 2022 draws to a close, we're looking back at highlights from the 52 blog posts we published in the last 12 months. In this second of two posts we look at the top posts from July to December, based on the number of views on Linked In.
JULY: SONIC BRANDING – 40 YEARS OF CORNETTO'S CAMPAIGN
Continuing on the themes of brand properties, this post zoomed in on the power of sonic branding. A new advert from ice cream brand Cornetto featured a modern refresh of the brand's famous theme tune, Just One Cornetto, whichfirst featured in an ad in 1982, a full forty years ago! The post explored how sonic branding devices are the most effective type of distinctive brand asset but also the least used.
AUGUST: PRODUCT LAUNCH LESSONS FROM WALKERS SENSATIONS' 20TH BIRTHDAY
Brandgym partner Jon Goldstone looked at lessons from the launch of Walkers Sensations that he led back in 2002. In his post he highlighted key success factors including:
Be profit positive: unlike many new product business cases which offer flaky promises of profitability 3-years down the road, Walkers Sensations was very profitable from day 1
Be fluent: successful launches Walkers Sensations tend to be 80% familiar and 20% new
Have a clear source of gains: targeting a new consumption occasion, 'me time', in order to be incremental to the already very broad Walkers range
Keep the fly wheel spinning: The Walkers business was on a roll in 2002. The key was sustained effort to keep "the fly wheel of growth" spinning

SEPTEMBER: PATAGONIA – PRACTICAL LESSONS FOR BRAND PURPOSE
In September Linked In was full of applause for Patagonia handing the company to a trust tackling climate change. This was an admirable and impressive move. But how relevant was it for marketers working in for more conventional companies? I suggested in this post some practical steps to take in using inspiration from Patagonia:
Profit is still key: the Patagonia business will continue to work to generate a profit. "This isn't some kind of hippie-tie-dye-running-through-the-flowers thing," commented the company's chairman, Charles Conn
Make great products: only 10% of consumers claim to chose a brand on sustainability alone, according to our brandgym research. This is why brand purpose should be rooted in making great products, not just focused on people (societal change) and planet, to ultimately drive profit
StoryDOING not just StoryTELLING: our research shows that the number one success factor for brand purpose is to drive it through the whole business. And this means using storyDOING, not just storyTELLING. For Patagonia, this includes repairing more than 100,000 garments in 2020 to help prolong their life.
OCTOBER: VASELINE GROW THE CORE FOR 150 YEARS AND MORE
In this post we looked at how the Vaseline is still going strong, more than 150 years after the brand was launched. Growing the core was central to the sustained success, with key learning including:
Clear sense of brand purpose: a purpose firmly anchored on its core product, avoiding the temptation to "ladder" up too high into an emotional space that loses touch with reality
Strong from the core: Vaseline Jelly sits at the center of the product portfolio, serving as a source of authority and a source of profit
Iconic visual design: updating and refreshing key assets including blue colour, jar with blue top and white brand name in lower case
Stretching strategically: identifying the core functional benefits of the brand and the core competences of the company, then leveraging these to stretch into adjacent categories

NOVEMBER: HOW TO REVITALISE A BRAND – BN
This post looked at the revitalisation of an iconic brand that lost its way: BN. We explored the approach used to put the smile back on the brand and business:
Re-connect with the core: re-focusing on and re-connecting with the core target of parents buying BN gouter biscuits for their kids
Search for true insight: working on 'the triangle of truth', searching for insight at a cultural, human and brand level
Brand vision to action: turning the brand vision into big, bold actions including visual identity, product upgrade and communication (below)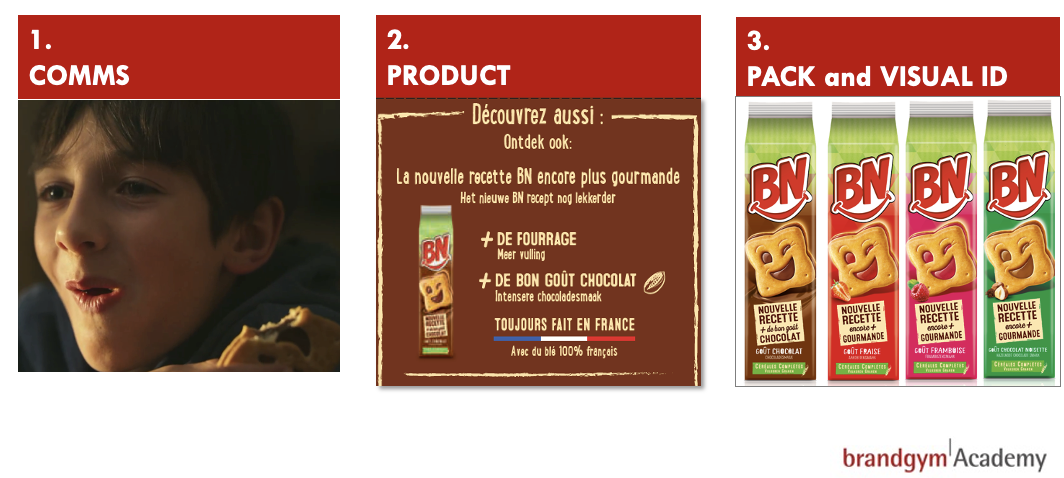 DECEMBER: BRAND MARKETING CONTINUES TO WORK FOR AIRBNB
In one of 2022's final posts we did an update on Airbnb's strategy of re-focusing on brand marketing and reducing short-term, "performance marketing". This approach has continued to pay off, with the company posting its most profitable ever quarter. Some of the key lessons included:
Brand marketing reduces the need to 'buy' customers: re-focusing earlier in the customer decision journey, at the Awareness stage, to builds distinctive memory structure with a broad group of potential customers
Make the product the hero: Airbnb plans to give their product more of a leading role in telling their brand story, including the AirCover policy for hosts and promoting Airbnb Categories, a way to search for homes based on criteria such as style or closeness to an activities like surfing or hiking
So, there you have it. Another year of brandgym blog posts, aiming to deliver bite-sized nuggets of insight on brand growth each week. Thanks to everyone who has commented on or re-shared our posts in 2022. Its great to know the time and effort that goes into researching, writing crafting the posts is adding value!
We'll see you back here in 2023!