Vaseline grow the core for 150 years and more
I'm always on the hunt for new examples of growing the core, to use in our brandgym projects and on our brandgym Mastering Brand Growth program. Growing the core is an important but neglected topic. We've written one of only two books on the topic, whereas there are 60,000+ book on Amazon covering innovation! So, it was great to read on Linked In this week about the success Vaseline has achieved by focusing on their core business for brand success (1).
In this post we look at how the brand is still going strong, more than 150 years after Robert Augustus Chesebrough launched pure petroleum jelly under the brand name of Vaseline (see below).
1. Clear brand purpose
Vaseline has a clear sense of brand purpose. In particular, it is refreshing to see a brand with a purpose firmly anchored on its core product. Vaseline has avoided the temptation to "ladder" up too high into an emotional space that loses touch with reality:
We believe skin health is essential for wellbeing. And we're on a mission to give everybody, everywhere access to the skin care they need.
The reference to "everybody, everywhere" is simple but important, as we shall see later when we look at the brand's social initiatives.
2. Strong from the core
This is spelt out loud and clear on the brand's website. "Vaseline Jelly sits at the center of our product portfolio." Vaseline's growth demonstrates the two key benefits a strong core product:
Source of AUTHORITY: to again quote the brand, "Our skin health credentials stem from the original Vaseline® Jelly". Note that the Vaseline brand was launched in 1870 and stayed a mono-product brand for almost 100 years. The brand spent a century building a rock-solid core product which embodies the brand's functional benefits of skin care and repair
Source of PROFIT: the core product is usually an important source of revenue. Given this scale and the company's long-established mastery of making the product it also tends to be profitable. In the case of Vaseline, it is impressive that after 150 years and multiple new products, "the classic Vaseline Jelly tub is the brand's highest-performing product in the past year."
3. Iconic visual design
We recommend that brands "treasure and measure" their iconic visual assets. Vaseline certainly seems to have done the former, applying our principle of 'fresh consistency', by updating and refreshing the following on the core product:
Blue colour
Jar with blue top
White brand name in lower case

4. Expand geographically
The home market of the USA remains key to Vaseline. But the brand has also grown by expanding geographically. Asia in particular has seen extremely strong results. The brand was launched in India in 1947 and Thailand in the 1980s, and its performance in both countries "outstripped forecasts last year", according to the Unilever blog. China's results are even more impressive. Vaseline relaunched there in 2015 with strong growth since and the country now being the brand's second-biggest market worldwide.
5. Stretch strategically from the core
Stretching strategically involves first identifying the core functional benefits of the brand and the core competences of the company. The second task is to then leverage these benefits and competencies to stretch into adjacent categories where the brand can add value. This ensures you avoid what I call 'brand ego tripping', where you rely solely on emotional 'sizzle' and your brand name to support your new launch.
How nice to see a brand that is crystal clear about what it stands for and has the discipline to deliver this in all its new products:
Every product we make promotes healthy skin either by healing, protecting, or reversing and preventing skin dryness. We create the most researched, scientific formulas that everyone can use. Whether it's Vaseline® Healing Jelly to help with minor scrapes or Vaseline® Advanced Repair lotion to soothe very dry skin
Vaseline Intensive Care and Vaseline Lip Therapy were launched many years ago (1968 and 1980s respectively) and still seem to be going strong. They both leveraged both the brand's skin care & repair benefits and the visual assets. The addition of white adds extra clinical efficacy when used alongside the brand's blue colour.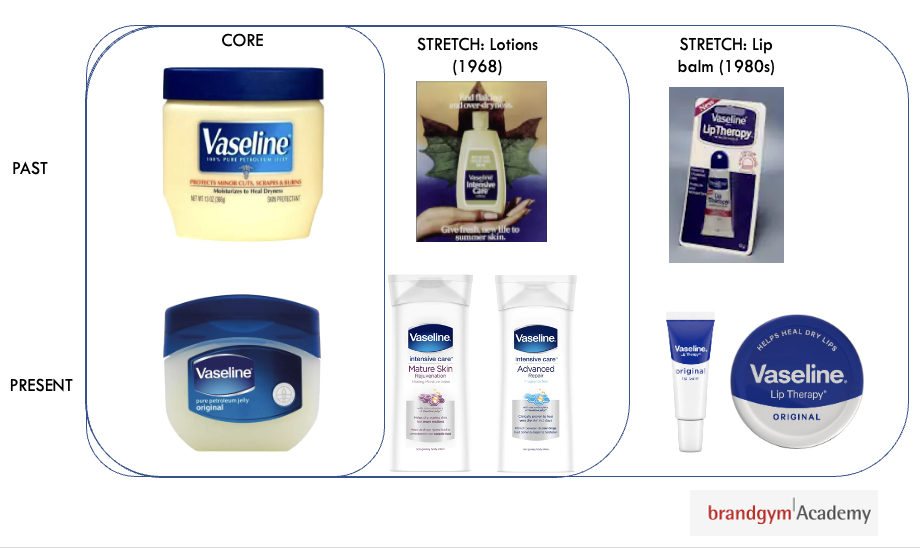 The Pro Derma range launch in China seems to continue the brand's strategic stretching. This premium priced range leverages the blue and white colours and offers a high level of skin care: "It allows skin-nourishing ingredients to penetrate deep into the epidermis to rebuild and restore ceramides – the 'glue' which regulates the skin's natural barrier. Pro Derma is clinically proven to double the skin barrier's strength from its first use," according to the Unilever blog (1). Sales now account for 20% of Vaseline's business in China.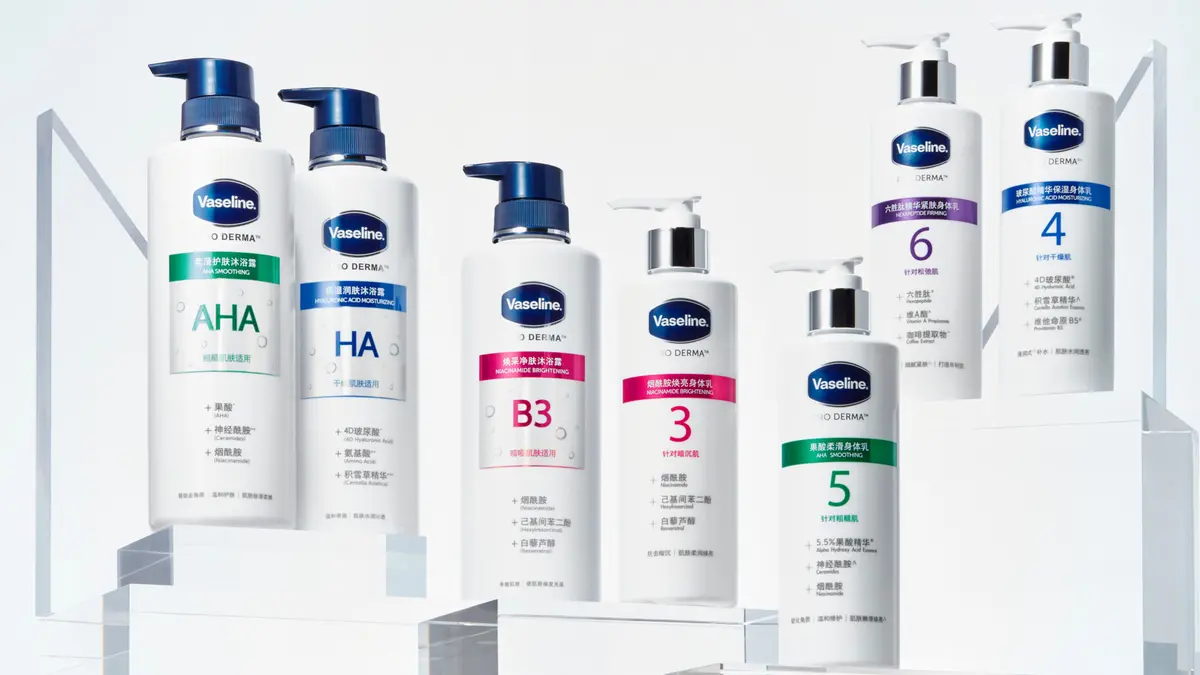 Personally, I'm less convinced by the summer range of body serums launched in India this year. The light, non-sticky formulas are designed to the meet the needs for sun protection and brightening in for tropical heat conditions. The plus side is that the launch could increase the brand's appeal during summer months, assuming sales are skewed to the winter when skin is perhaps in need of more care. However, at first sight the range does a less good job at leveraging the brand's visual assets (see below) and looks less therapeutic. It certainly feels a world away from the Pro Derma range.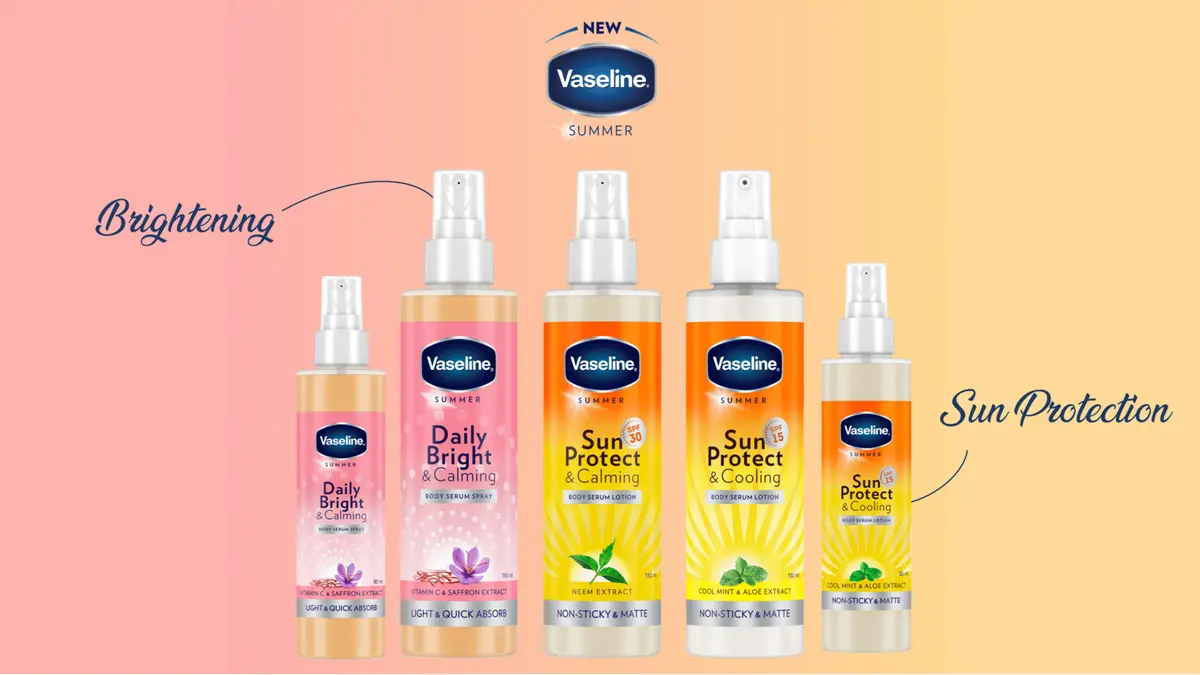 6. Drive the brand digitally
Physical distribution remains key to Vaseline, which is stocked in supermarkets, small-scale retailers and chemists around the world. But digital channels also play an important role, both in terms of commerce and communication. It is good to see an example of a big, long established brand keeping up with new insurgent competitors, as recommended in 2018 research paper, Big Brands Fight Back, here:
Online sales: have taken off significantly for the brand in recent years too, particularly in Asia. In China, "digital commerce is the primary way Vaseline reaches and sells to consumers," according to Unilever's blog. "The brand has launched successful partnerships with e-commerce giants Alibaba and Tmall".
Amplifying trends: Vaseline has benefited from a skincare trend called "slugging" which has been amplified online (below). It involves coating your face in Vaseline overnight, to prevent transepidermal water loss and keep moisture in your skin. The only watchout here is the risk that this is a short to medium term trend that then dies away.
Influencers: Vaseline works with influencers to demonstrate products and showcase superiority in a crowded beauty market
7. Social mission rooted in the product
We have two main recommendations when it comes to the People (social mission) & Planet (sustainability) part of brand purpose. First, any social or sustainability initiative should be anchored on the core product. This ensures that the brand has authority to take a stand on a particular issue. It also reinforces the brand's imagery and may even be able to drive trial. Second, that a brand's social mission should be delivered not only through storytelling, but also through storydoing.
Vaseline's social initiatives deliver on both of these recommendations. The core Vaseline Jelly product is central to The Vaseline Healing Project. And, as the brand says on its website, "We not only believe in "Skin Health for All", we put those words into action".
For example, The Vaseline Healing Project was created in 2015, in partnership with Direct Relief. The brand provides dermatological care, Vaseline® Jelly, and medical supplies to people living in areas with acute need or affected by natural disasters worldwide. Vaseline also provides training for dermatologists in places with limited access to skin health care. The programme aims to triple its reach from 1 million to 3 million people per year by 2030.
More recently, Vaseline has worked with healthcare tech startup HUED to co-create: i. a search tool that helps people identify dermatologists of colour and those experienced in treating melanin-rich skin, and ii. See My Skin, the only online visual database designed for people to search conditions on skin of colour.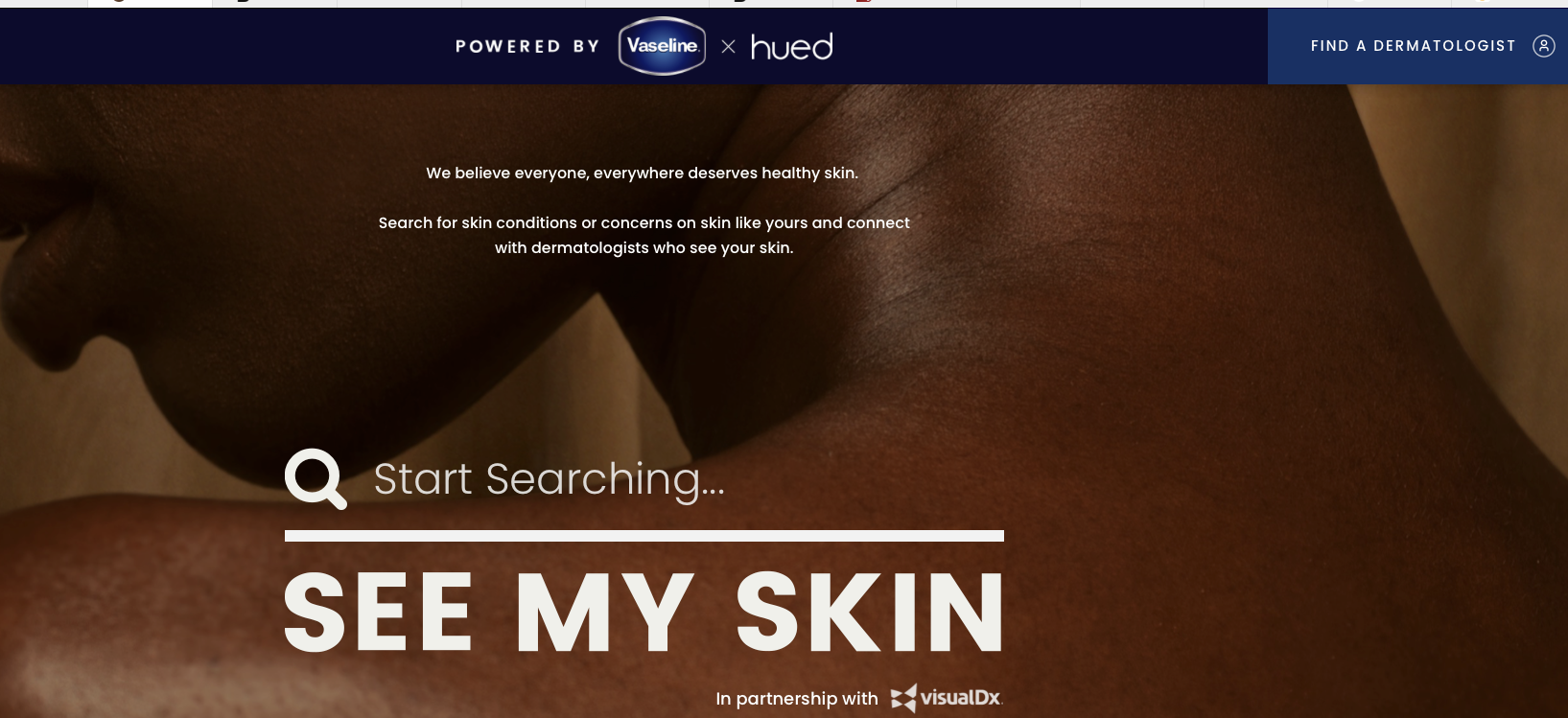 In conclusion, Vaseline is a great example of a brand that has grown by being strong from the core, remembering and refreshing what made it famous to stay relevant more than 150 years after it was launched.
If you want to explore growing the core, we offer a short course on the topic here, which you can complete in a couple of hours. The course is fully refunded if you go on to take the full brandgym Mastering Brand Growth Program which you can learn about on our brandgym Academy site.
Sources:
The Grow the Core book: