Big brands fight back
In this final post on 'big brands under attack', we propose how big brands are fighting back, covering both brand strategy and operating model.
In a previous post here we showed how the threat to big brands of smaller, fast growing 'insurgent brands' varies by category and geography. This first set of findings was also covered by Campaign online here.
We also highlighted in a second post here the growth drivers of small brands: product quality and naturalness, backed up by a more agile and responsive operating model.
If you'd like the full research paper, just drop me a line at david@thebrandgym.com
1. Relentlessly renovate the core
Forecasts of big brand decline overly pessimistic. Big brands can survive and thrive as long as they revitalise, according to 66% of the marketing directors we surveyed.
First and most fundamentally, big brands need to sharpen their positioning and use this to inspire and guide a revitalised mix.
Big brands also need to renovate their core products and services to respond to new needs, in order to maintain and build the 'trust advantage' that should come from being a large, well-known brand.
In our new research, big brands Ben & Jerry's and PG Tips are more trusted to deliver product quality in their respective categories versus insurgents (Halo Top and Pukka Herbs), reflecting the work done on revitalising their mixes. To note, this trust advantage includes Millennials, despite common claims that they always prefer smaller insurgent brands.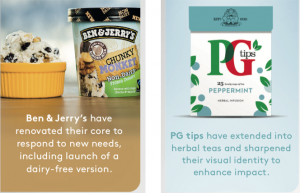 In contrast, established brands SunPat peanut butter and Butterkist popcorn have much weaker trust scores vs insurgents (Propercorn and Whole Earth), especially amongst Millennials. The smaller brands also catching up in sales terms. This weaker position seems to reflect less effective renovation: artificial ingredients, more sugar and packaging that looks less natural vs. insurgent competitors.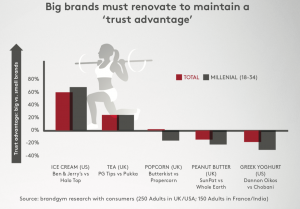 2. Re-ignite a passion for insight
To help inspire a relentless program of renovation, big brand companies need to boost insight capabilityto keep in touch with evolving consumer needs. This is especially true in consumer goods, where many companies have followed the cost-cutting model of 3G Capital (buyer of Heinz, Kraft & SAB Miller).
Marketing leaders need to re-focus on being the champion of the consumer and creating 'demand-led growth', like successful small brand companies do. And this means getting close to real-life consumers, not just mining mountains of data. "Get out and meet people: go to every trade show, every sampling event, you don't get research like it," recommended Steve Kearns, Managing Director of Cawston Press
3. Be an 'agile giant'
In terms of operating model, big brands need to above all be more agile, a real challenge given high volume manufacturing, heavy structures and onerous reporting needs.
Practical solutions from our research include
Small-scale tests with retail partners to get rapid, real-life learning
Using 3rd party sourcing to experiment with smaller-volume products
Weekly Top Team check-ins to speed up decision making
Unilever shows how big brands can be responsive to local opportunities and leverage global scale. Global directors now have more control over local delivery of the global portfolio strategy, blending high quality global mixes (e.g. Magnum) with strong local brands. They can also recommend acquisition of smaller brands to fill portfolio gaps, such as the Talenti super-premium artisanal brand in the US. This approach, along with off-loading the declining spreads business, has helped Unilever deliver industry-leading total shareholder returns of c.60% over 3 years.
4. Leverage scale: mental & physical availability
Big brands must re-embrace the benefits of bigness. "Size should be nothing to be afraid of; in fact size gives you a whole lot of good things," observes Nestlé CEO Mark Schneider.
First, this means driving superior reach to create mental availability. A key opportunity is to blend digital/social and conventional media, as many insurgents do: Dollar Shave Club's viral YouTube film gets a lot of press coverage, but the brand also invests in TV advertising.
With imagination and focus, big brands can create distinctive experiences at scale that small insurgents can only dream of. Nike has successfully fought off insurgents like Under Armour with a 'brand ecosystem' including innovative products, live events like Run London, flagship retail stores, ecommerce and mobile apps.
Big brands must also leverage superior physical availability.
This means maximising share in the fast growing e-commerce channel. For most brands, this means partnering with online retail specialists like Amazon. For example, P&G is an early adopter of Amazon initiatives such as Amazon Dash re-ordering buttons and bought 1% of UK online grocery store Ocado to learn about ecommerce.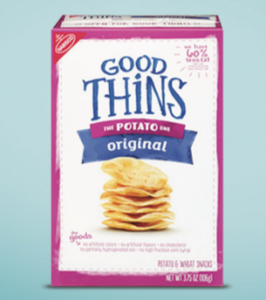 Big brands should also re-build physical distribution that remains key for reach (1/2 of US consumers never buy online, for example).
Small brands often enjoy more than their fair share of shelf space as retailers like their contemporary, authentic, premium priced/margin propositions and personal touch. Big brands need to win back the shelf space they merit by rapidly renovating the core, including on naturalness and health. Superior retail analytics can also help big brands, by optimising pack/price architecture by channel .
Nabisco leveraged its massive distribution presence when launching the Good Thins range of healthier, more natural snacks. $80million sales in year one made it the No 1 new snacking brand in the USA.
In conclusion, big brands are NOT doomed to die, but must revitalise to survive and thrive:
– Be inspired by the insurgents: small brands have delivered a wake-up call to big brands that have become complacent and too focused on cost-cutting. Big brands need to re-focus on consumer insight and 'demand-led growth'.
– Remember and refresh what made you famous: look back and look forward to craft a sharpened brand positioning that helps focus investment and inspires a revitalised mix.
– Re-discover the advantages of scale: leverage scale more effectively to drive reach and create unique 'ecosystems' that blend products, experiences and digital services into unbeatable offers.
If you'd like the full research paper, just drop me a line at david@thebrandgym.com
We explore how big brands can renovate themselves in depth on our brandgym Mastering Brand Growth program. If you'd like more info on the program, simply pop your name and email in the form below (we'll also send you the weekly brandgym blog email and brandgym Academy news, but you can opt out at any time).