Brand Architecture for Business Growth
Brand architecture can be a theoretical and over-intellectual process that takes place in a conceptual vacuum, divorced from business reality. One resulting problem is brand proliferation, where a company tries to build more brands or sub-brands than they can realistically support, fragmenting both financial and human resources.
However, done well, brand architecture can help you grow your brand and business, with benefits for both the company and consumer. This is one of the key topics on our brandgym Mastering Brand Growth program on our brandgym Academy online training platform.
Below we look at extracts from a recent Admap article on Brand Architecture for Business Growth, available here (subscription needed). The article proposes a practical approach to brand architecture, based on findings from client work and our series of branding books.
[Featured image from optimizemybrand.com]
1. Focus on benefits: business and consumer
The first critical step to a more practical, bottom line-focused approach to brand architecture is clarifying why we are doing it in the first place.
Brand architecture should benefit both the consumer and the organistion, as reflected in our definition: 'Structuring and organising a brand's offering to aid consumer choice and maximise organisational efficiency'.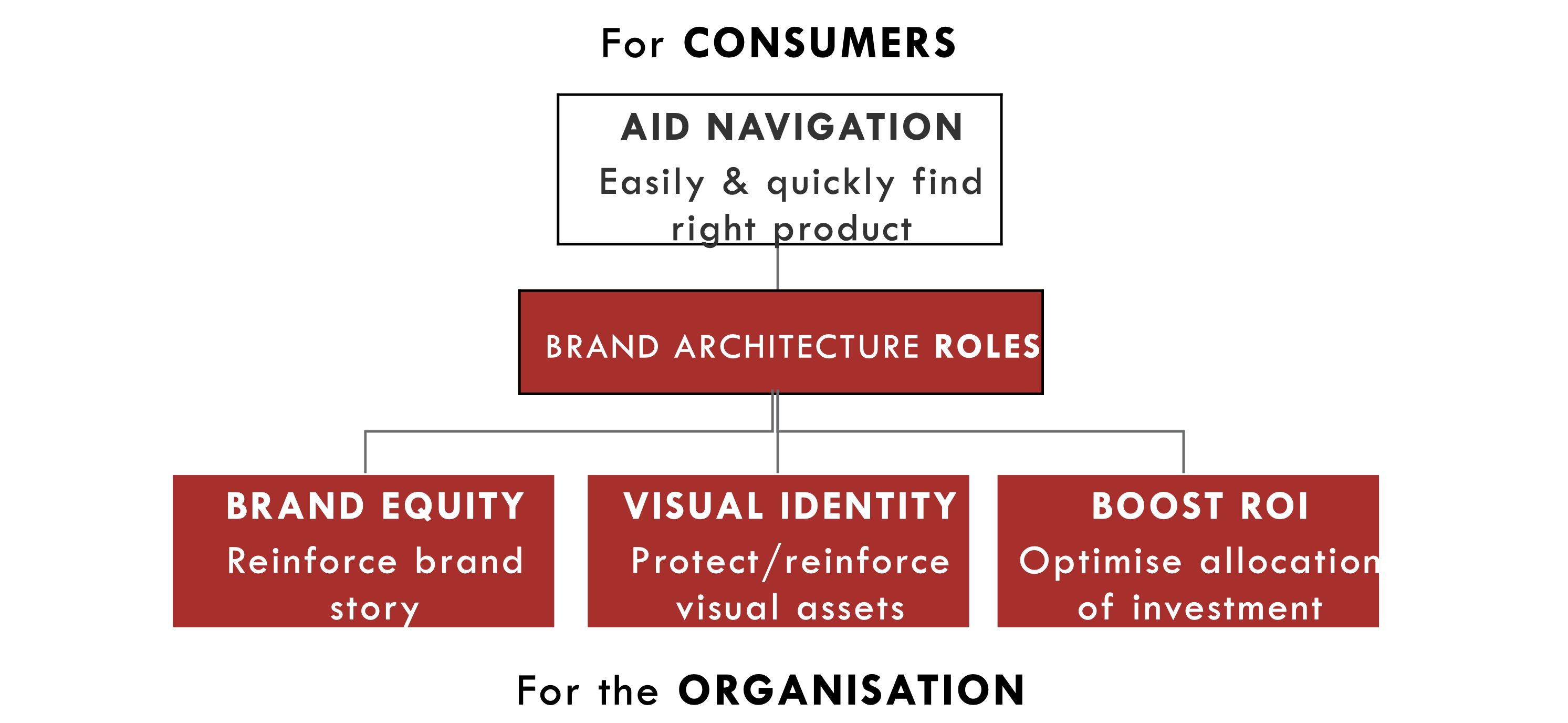 2. Assess your assets
Before starting to structure and organise a brand's offering, we need to understand the 'brand assets' at our disposal. This process should be objective and data-driven, not just based on opinion.
We use an 'Iconic Asset Tracker' (IcAT) on projects to do this. Importantly, this uses an 'implicit thinking' approach, where people have to react quickly to brand assets (colours, symbols, names etc.) to highlight the iconic assets, those that are truly embedded in 'memory structure'.
An IcAT for Ben & Jerry's ice cream, done in partnership with Decode Marketing, showed that iconic assets to provide 'visual glue' across the brand's range included the cows/sky and the 'holding device' shape for the brand name.
3. Start with strategy, not execution
We often find that teams launch straight into discussions and debates about execution, such as naming and visual identity. However, the first step should be to build a solid strategic foundation.
Specifically, this means measuring the stretch from the core equities to the products and services in the range, both current products and possible new innovation. It is important to consider two dimensions of stretch from the core:
Functional stretch: perceived competence of a brand to deliver the functional attributes of a given product or service. How confident are potential buyers that the brand is capable of doing a good job in the category?
Emotional stretch: how different does the personality, tone and style of a product need to be compared to the core brand. Big stretch here is often linked to a change in target audience (e.g. younger consumers), or a different price positioning.
Combining these two dimensions gives a framework to guide the optimum branding architecture:
Functional stretch – Descriptor e.g. Dove stretch from skin cleansing into shampoo
This was a relatively small functional stretch: the product was still about personal care and cleaning. In addition, the personality of Dove worked well in the new product area, so the emotional stretch was limited. In this case a simple descriptor, 'Shampoo', was sufficient. Sometimes ownable descriptors are used to give a distinctive twist to a name e.g. Absolut Kurant (rather than blackcurrant)
Emotional stretch – Sub-brand e.g. Gillette Fusion
When the stretch of a product or service from the brand's core equity is emotional, not just functional, a descriptive name may not give the new product/service enough of its own personality. Here, a sub-brand is a possible solution.
Gillette Sensor, Mach 3 and Fusion meet different needs and, importantly, support different price points. These sub-brands have more emotion and personality than descriptors such as 3-blade, 4-blade and 5-blade.
The Fusion sub-brand is a new chapter in the masterbrand story, but not a different story altogether. Unifying elements include the Gillette logo, a visible house style, the focus on shaving performance and the 'Best a man can get' end-line.
Done well, the sub-brand ('christian name') and masterbrand ('family name') combine to create a composite name: Gillette Fusion.To be easily memorable, the composite should be no more than four to five syllables long.
A stretch too far – New brand e.g. Lexus (from Toyota)
Where stretch is very far, even a sub-brand may lack sufficient credibility and appeal, hampering rather than enhancing the chances of success. In this case, a new brand may produce a better return on investment. In some cases, new brands stand alone without any visible endorsement, such as Toyota's stretch into luxury cars with the Lexus brand. In other cases an endorser is used to provide extra reassurance, such as Goldman Sach's recent launch of Marcus, a digital consumer bank.
4. Make your architecture intuitive
Brand architecture should work intuitively, so people can choose and buy quickly and easily on autopilot, using 'system 1' thinking. We've seen teams debate for hours the names of products in a range, and what detailed text to use. However, go shopping with real consumers and they are more likely to look for 'the blue one' than 'Extra Moisturising for Dry and Damaged Hair', for example.
To help people easily navigate and find what they want, other brand identity elements are more important, as shown by Nescafé's coffee range. Consistency comes from the same Nescafé logo in white, in the same place on each pack. The key elements used to help navigation are:
– Structural packaging
– Pricing
– Pack graphics
– And finally, naming
5. Time for Action
Having sense-checked your brand architecture against the business reality of available budgets, you can create a clear action plan. Example brand architecture action plans include:
Brand deletion/divestment: Burberry removed its three sub-brands Prosorum, London and Brit in 2016, consolidating the ranges under the Burberry masterbrand, as we posted on here. Navigating the three sub-brands was far from intuitive, with the only visible difference between the trench coats below being a massive price difference. "By unifying our three lines under one label we can offer a much more consistent experience of Burberry's collections," explained CEO Christopher Bailey at the time.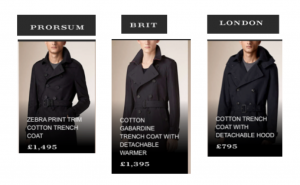 Brand migration: In some cases, stand-alone brands lack the equity and growth potential to justify the high investment needed. One solution is moving the products and services concerned under a stronger brand 'umbrella'. For example, EE killed off the Orange and T-Mobile brands in 2015 to use EE as a single brand in the UK mobile network market. Creating one single, powerful and fresh brand helped Deutsche Telecom and France Telecom to sell the business to BT for £12.5 billion in 2015.
New brand creation/acquisition: Creating or buying a new brand should be a last resort, when the stretch required for existing brands is too big to be credible. For example, Facebook paid an eye-watering $1 billion to buy Instagram in 2012. This enabled Facebook to step-change its capabilities in mobile, which accounted for 84% of ad revenue in the fourth quarter of 2016 versus nothing in 2012.
In conclusion, keeping rooted in the real world can help make brand architecture a practical exercise with benefits for your consumers and your business.
We explore brand architecture in depth on our brandgym Mastering Brand Growth program.
For some other posts on brand architecture to explore, please see below:
BRAND PORTFOLIO FOCUS
PRACTICAL BRAND ARCHITECTURE
RANGE ARCHITECTURE