Sonic branding: 40 years of Cornetto's campaign
The power of sonic branding came to life for me last night during an ad break in Love Island (with three daughters in their early 20's, essential viewing to understand most of the conversations at the dinner table!). A new advert from ice cream brand Cornetto grabbed my attention. It had a modern refresh of the brand's famous theme tune, Just One Cornetto. This is an amazing example of updating and leveraging a distinctive brand asset: the jingle first featured in an ad in 1982, a full forty years ago!
In this post we look at the power of this under-used form of brand asset and tips on how to manage sonic branding devices.
Background to the Cornetto campaign
The original ad featured a lady eating a Cornetto while relaxing in a Venetian gondola (1). She is serenaded by a man in another boat arriving from the opposite direction. He sings (in English!) Just One Cornetto, set to the tune of a famous Italian opera song, 'O Sole Mio (2). She sits back, eyes closed, thinking she is being wooed. But the gondolier is only after her Cornetto, which he whips out of her hand as the boats passes (see below: apologies for image quality – a very old ad!)

The latest ad using song and slogan features a family fighting it out to get hold of the Cornetto. And it seems that remembering and refreshing what made the brand famous has been effective. UK sales shot up 29% in 2021 to £39million (3). Lock-downs forcing people to work from home helped 'hand-held' ice cream sales. But Cornetto growth was stronger than fellow-Unilever brand Magnum (+6%).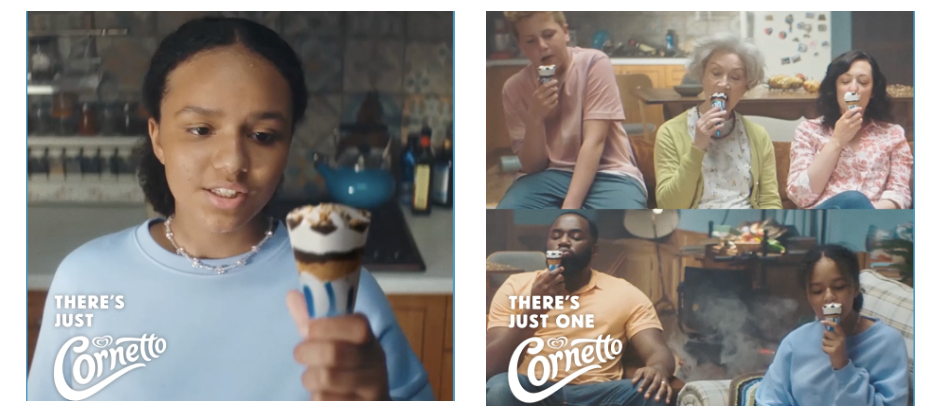 1. Sonic branding: effective but under-used
Marketers are missing a trick when it comes sonic devices, as shown by  IPSOS Research I posted on here. The study analysed 2,000+ pieces of video creative. It looked at two things: 
i. how often different types of brand asset were used: sonic branding was the most effective, 8.5x more likely to be in high-performing ads (see below).
ii. how often these assets appeared in high performing ads: sonic branding was the least used, in a meagre 6% of campaigns
The IPSOS study confirms findings from other research I posted on here by Leicester University. This showed how brand advertising using sound or music fitting with the brand had 96% higher recall than advertising with no sound, or the wrong type of sound. Sonic devices tends to stick in our heads. Over 90% of us regularly go about our days with songs from ads playing in our heads according to another survey (4).
In addition, hearing the sonic device triggers brand associations. When you hear a few notes of the Cornetto tune, for example, a whole set of associations flood instantly into your brain (e.g. ice cream, Italy, tasty, creamy, nuts).
2. Sonic branding: more relevant than ever
Sonic branding is especially relevant for today's digital world where most media are now 'wried for sound'. Think YouTube, Facebook and Instagram video for example. This creates more opportunities than ever before to harness the potential of sound to create distinctiveness for your brand. And sound efficiently and quickly engages people, something that is important in today's busy world where attention spans are shrinking.
3. Treasure and measure your EXISTING assets
Most companies are bad at treasuring and measuring their distinctive brand assets, as I posted on here. Companies often chop and change brand assets (e.g. jingles, slogans, logos) without hard data. Only 24% of brand property changes are based on quant research (see below).
We recommend using a research method such as our own Iconic Asset Tracking (IcAT) to measure brand assets and identify the strongest ones. An example of a brandgym IcAT study on ice cream is shown below.

From what I can see, Cornetto has at time strayed away from its Just One Cornetto song and slogan. In the mid 2010s, for example, the brand used cheeky press ads as part of a Walls campaign called #goodbyeserious (see below). Its good to see that the Cornetto team have again re-discovered and used their sonic brand asset. And what an asset it is. It was voted the catchiest jingle of all time in one survey, ahead of Go Compare!, P-p-pick up a Penguin, and A Mars a Day helps you work rest and play (5) (Note how the 2nd and 3rd of these are also campaigns from decades ago).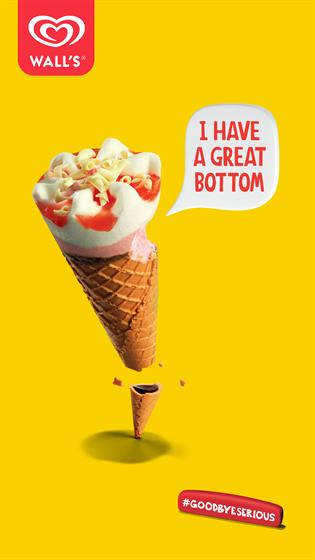 4. Fresh consistency to update sonic branding assets
Marketing teams sometimes ditch distinctive brand assets because they are worried that consumers will get bored with them. In reality, marketing teams themselves, working on brands all day, get bored way before the consumer does. However, there is a need to avoid simply repeating a distinctive brand asset over and over again. Instead, the challenge is to create fresh consistency. Remembering what made you famous, but also adding fresh ideas to keep the idea relevant for today.

In the case of the Cornetto campaign, the brand recently ran an activation campaign with Heart Radio that brought the Just One Cornetto idea to life (see below). The contest offered the chance to win a holiday to Venice, cleverly giving a nod to the original 1982 ad, for those old enough to remember it!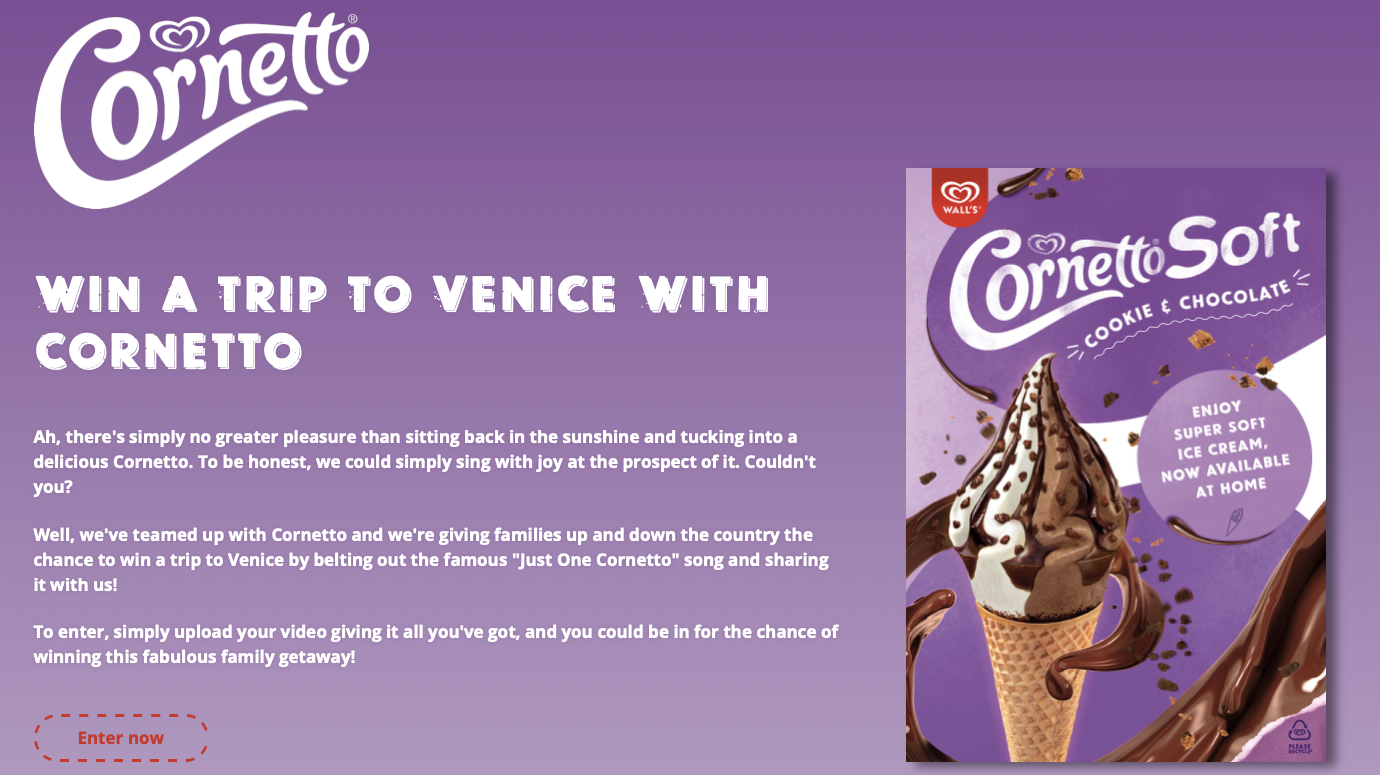 5. Tips to create NEW sonic branding assets
What if you don't have a sonic branding device but want to create one? Sonic branding device creation warrants a post of its own in the future. But an article in The Independent shared a few useful tips on creating 'earworms': sonic devices that burrow into your brain! (5)
Simplicity: "The more irksome, the more facile it is, the harder it is to get it out of your brain," suggested 'sonic ident' composer Nick Norton-Smith. Intel's famous jingle is effective but used just four notes (all flats: D, G, D, A)
Link to memorable imagery: in the case of the original Cornetto ad, the song is linked to imagery of the two canal boats in Venice
Use 'borrowed memory structure': re-use of an existing melody, such as Cornetto with the O Sole Mio opera song, helps a brand enter the popular consciousness
In conclusion, Cornetto shows just how powerful remembering and refreshing a sonic device can be, with the brand's song going strong forty years after is first aired.
Sources:
4. Survey on brand jingle singing