Being brave to break category codes: Whispering Angel
What better subject for a summer blog post could there be than rosé wine? I'm certainly looking forward to sipping a glass or more on an upcoming Taylor family holiday to the South of France! And the chances are that our tipple of choice will be the Whispering Angel brand. In this post, I share learning from the growth of the brand, which is now sold in over 100 countries with annual sales of one million cases. It has become the leading brand of premium rosé wine with a 65% market share, according to Forbes (1). And it has done this by having a leader brave enough to break the conventions of a category and re-imagine it for the future.
1: Set a bold ambition
The bold ambition of founder Sacha Lichine was critical to the growth of the Whispering Angel brand. If he had started with the rosé market as it was back in the 2000s and taken an evolutionary approach, he wouldn't have got very far! "Rosé was seen as cheap and cheerful and it gave you a headache on holiday in St Tropez," Lichine explained in an interview with The Times (2). "It was a day drink, a lot of it was quite sweet and it wasn't seen as 'real' wine." Indeed, people in the wine business thought he was crazy. "No customer would pay good money for it, no critic would endorse it and no sommelier would touch it," the Times article goes on to say.
Rather than start with the market as it was, Lichine had a vision for what it could become. He had an intuition that people would be willing to pay more for a top quality rosé wine, partly informed by the success of pink champagne at the time. So, he bet against the odds and dedicated himself to producing a rosé that could redefine perceptions. He was able to draw on decades of experience in the wine trade. He started at a young age at his family's wine chateau and worked in different areas of the business from the vineyards, to the cellars, to labelling wine bottles and working as a sommelier in America, according to a report in The Gentleman's Journal (3).
2: Invest in quality
Lichine acquired Château d'Esclans (below), the vineyard that produces Whispering Angel, in 2006. He invested in state-of-the-art vinification equipment and enlisted the expertise of Patrick Léon, a friend and renowned oenologist. Not only did they focus on the growing and harvesting process, they also implemented modern wine production methods such as the use of stainless steel tanks and temperature-controlled fermentation, to protect the integrity and flavor of the grapes.
The other key visual cue for quality was the colour of the wine. "Lichine recognised that the shade of his rosé was of critical importance since, beside sauternes, it is the only wine which is bottled in clear glass," explains the Gentleman's Journal piece (3). Traditionally, rosé wine was often associated with a dark, pronounced pink hue, indicating a sweeter, heavier wine. This was a result of a winemaking process where the grape skins were left in contact with the juice. In contrast, the production process of Whispering Angel created a paler colour, by using methods to ensure minimal skin contact and the maintenance of cold temperature. This lighter, paler pink hue suggested a more refined, delicate and balanced flavor profile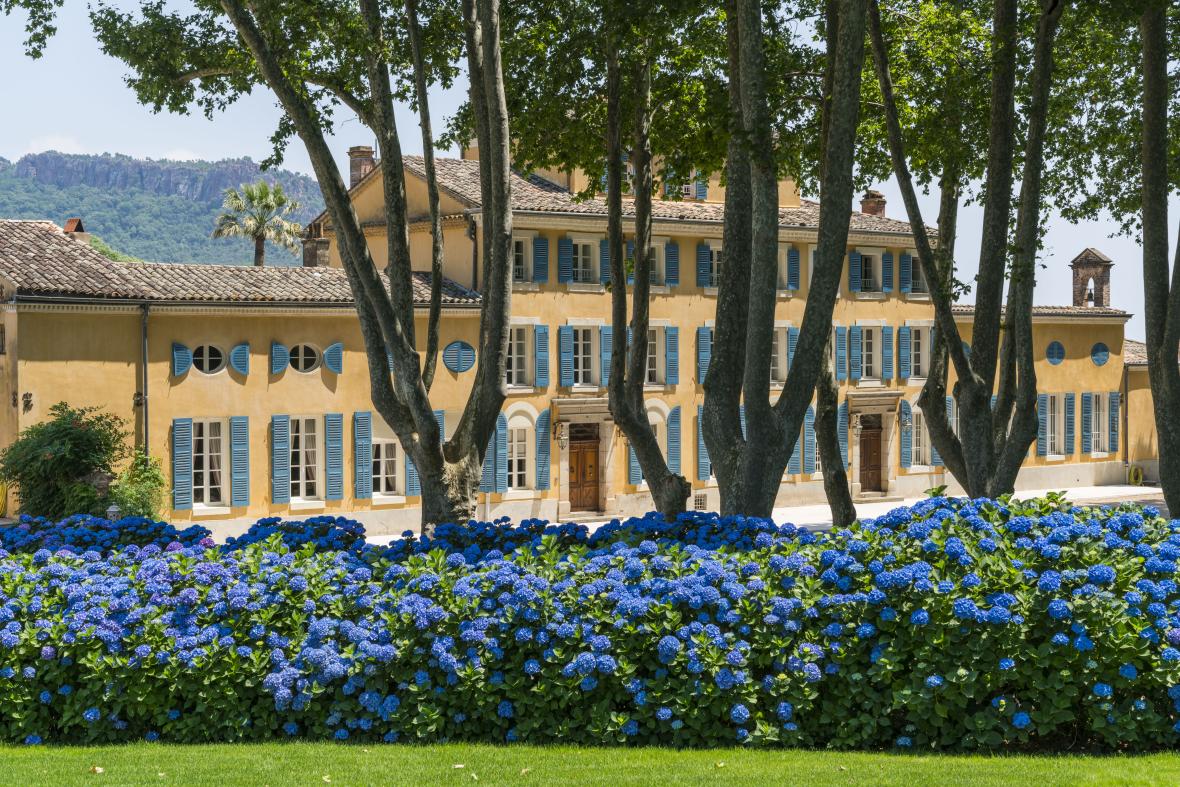 2: Price up with confidence
The brand's emphasis on superior quality allowed it to command premium prices. This meant higher margins allowing the company to invest in production, marketing and distribution. This in turn drove more sales, creating a 'virtual circle' of growth.
As the recognition and demand for Whispering Angel grew, it fostered a shift in consumer perceptions, solidifying the notion that Provençal rosé could compete with top-tier wines on quality and price. The 'Whispering Angel Effect' also had ripple effects throughout the industry, causing a general uplift in the prices of Provençal rosé wines. Since 2006 when the brand was launched, the average price of a hectolitre of Provençal rosé has nearly quadrupled, according to the Times article (2).
3: Craft a distinctive visual identity
Whispering Angel owes much of its success to its distinctive visual identity. In terms of naming, a bold move that drove distinctiveness was to break the tradition of French names often linked to a Chateau. Lichine opted for an anglicised name wheel helped the brand stand out. A contemporary and pronounceable English name also helped the brand as it expanded internationally.
The name itself is a good example of how you need to embrace chance opportunities in marketing. "Lichine was in the chapel at d'Esclans with a friend admiring a sculpture carved above the altar of two cherubs. The friend said it looked as if they were whispering to each other," according to the Times article (2).
In terms of label design, the delicate line drawing of two whispering angels was, again, distinctive compared to typical French wine bottle of the time which tended to feature traditional, Chateau-based imagery.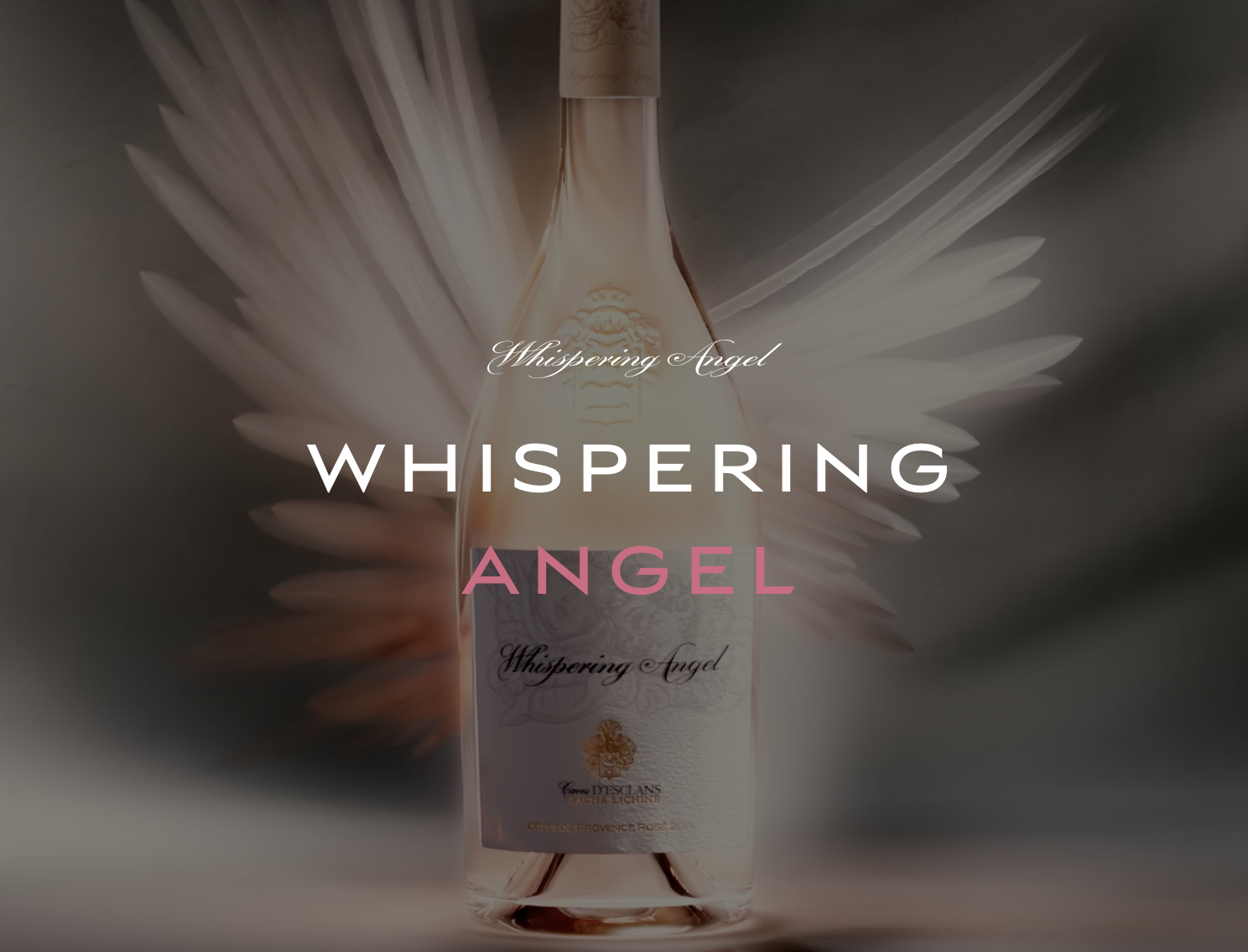 4: Drive distribution strategically
Lichine harnessed distribution to not only increase brand reach, but also build the brand's image. This is a strategy I've posted on before, including the example of Oatly here. Instead of focusing on high-end restaurants with sommeliers, who were often snobbish about rosé wines, Lichine set his sights on lively, trendy bars and eateries such as the Delano in Miami, the Peninsula in New York, Hotel Costes in Paris and the Chiltern Firehouse in London. These places aligned with the contemporary, vibrant spirit of Whispering Angel. And this strategic targeting won over a younger, more diverse audience, further driving distinctiveness versus the traditional, stuffy and old image of red and white wine.
Importantly, Lichine personally went on the road, moving with his family from Chicago to Hong Kong, Singapore, Boston, Miami and finally back to France (2). As he traveled the globe, his mission was to get Whispering Angel poured in bustling city bars, sun-soaked beach clubs and hip eateries. Even today, he spends several months a year on the road promoting the brand and opening up new outlets. I personally saw this approach come to life in a London riverside restaurant, The Mitre, which was the fist location for a series of Whispering Angel pop-up bars, further building brand awareness and creating memorable customer experiences (see below).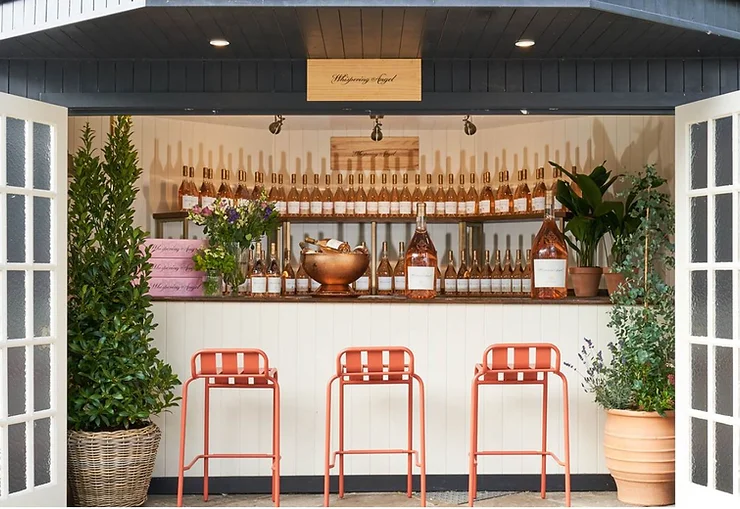 His creativity reached new levels on the Caribbean island of Mustique with its uber-rich villa owners. He persuaded the local baker who delivered cases of Whispering Angel with the pastries, which got the brand noticed, drunk and talked about!
5: Harness the power of influencers
An final part of Whispering Angel's marketing strategy has been the ability to harness the power of celebrity influencers. The brand effectively utilized the influential platforms of renowned celebrities such as singer-songwriter Adele. Her Instagram posts praising Whispering Angel gathered millions of likes and significantly boosted the wine's profile. Other celebrities including Victoria Beckham have publicly expressed their fondness for the brand, enhancing the brand's allure and cementeing Whispering Angel's position as a luxury product
In conclusion, the growth of Whispering Angel is down to a bold blend of product quality, distinctive design and strategic distribution that has been crafted with the same skill and care as the wine itself. Now, time to pour a glass myself: cheers!
Sources: