Rimova beautifully blends function and emotion
We are often told that we have to choose between communicating the brand or selling the product. A simple one page press advert from the Rimowa brand of luggage shows how it is possible to break this trade-off and do both. It struck me as a great example of how to expertly blend product 'sausage' and emotional 'sizzle'. Here's how I think they perfectly pulled this off.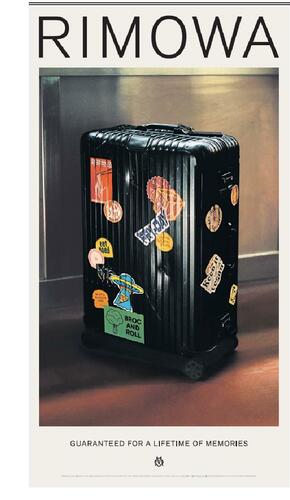 1. Rooted in the product
The advert is anchored on an strong functional product message: the lifetime guarantee that now comes with every piece of Rimowa luggage. The brand already offered a five year guarantee but went much further in July 2022 but extending this to a lifetime guarantee. This is a powerful product truth, suggesting that the brands sells luggage which is incredibly robust and resilient. The pride in a the product is captured in a statement given to website Man of Many. "We will be taking the bold step of implementing a lifetime warranty on all our suitcases. After years of constant efforts to elevate the quality of our products, we believe this expresses our confidence in their unmatched durability." (1)
2. Backed up by service
Though not clear in the advert, the Rimova brand does more than just offer a liftetime guarantee in its 'storytelling'. It backs this up with 'storydoing' by offering a repair service. "Our global store network enables us to serve you nearly everywhere," The brand explains. "Therefore we will process most of our basic repairs on the spot for you. Should an immediate repair not be possible, we will organize the shipment of your suitcase to our client care experts."
This is already great service. But the brand goes a step further to create 'wow' service by also offering a Rimowa repair service at participating luxury hotels! "Speak to your hotel and if they've partnered with us, we will fix your RIMOWA before your departure date," the brand promises.

3. A story told with emotion
An ad for the Rimowa brand lifetime guarantee could have been executed in a boring, rational way. However, Remowa and their creative agency have beautifully blended function and emotion. They have delivered against the mantra of agency McCann that I love: The truth well told.
The idea of 'Guaranteed for a lifetime of memories' triggers turns a Rimowa case from a simple piece of luggage from into a symbol of luxury travel. Looking again at the interview with Man of Many from back in 2022, it seems likely that that the Rimowa team captured this idea in the brand positioning and creative brief. "We believe RIMOWA offers a resilient companion for a lifetime of travels," they explained (1).
4. Excellence of execution
The ad is also nicely crafted and well executed. The case featured looks like it has indeed travelled the world with its owner. It is slightly battered but still looks in good nick. The stickers are subtly cue aspirational destinations like New York, without being overly flashy.
5. Baking sustainability into the core product
Another element to point out in the Rimowa approach is how the brand has baked sustainability into the core product. Rather than falling into the trap of relying only on communication or donations to charities, the brand has invested in the product and repair service to make the cases more durable. In this way, there is less need to replace your case, prolonging the life of the product to reduce waste. This makes the value proposition of what is an expensive product more compelling.
6. Bringing the idea to life
Digging a bit more, I found on the Rimowa website more detail on how the team have brought the idea to life.
There is a lovely manifesto which gives more detail and depth to the idea. This is really useful for briefing a creative agency team.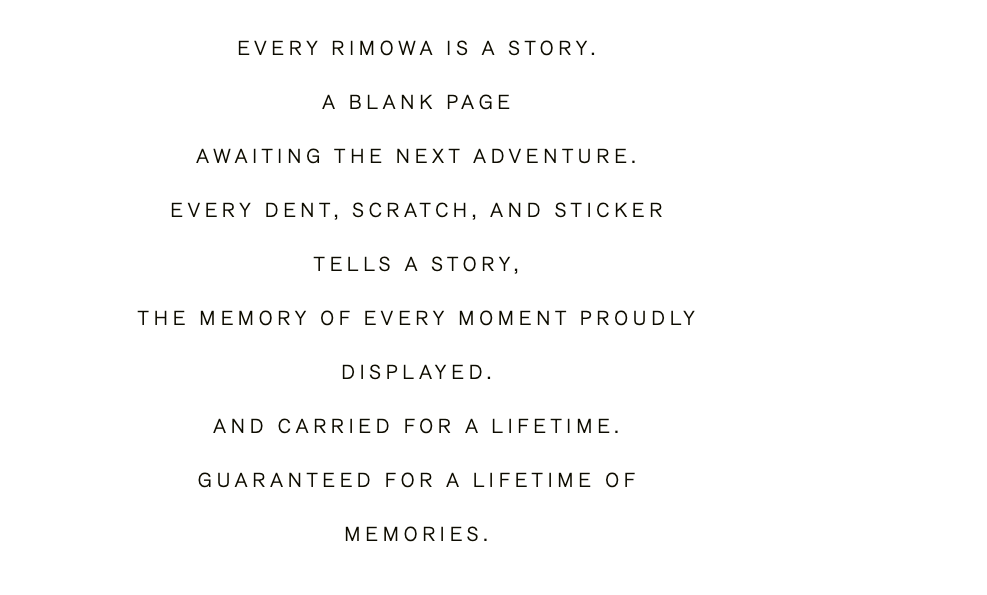 And a neat digital tool that you can swipe from left to right to reveal the lifetime of memories accumulate in a Rimowa case.

In conclusion, the Rimowa ad is a great example of skilful storytelling that successfully blends functional product messaging and emotional appeal. It elevates Rimowa luggage from a travel necessity to a symbol of luxury travel and lifelong companionship.
Maybe someone from Rimowa would like to offer a case for me to try out during my summer holiday?!
Sources