Innovation in a Virtual World: 5 key success factors
At the end of December we completed one of our most successful innovation projects, without meeting a single person face to face.
It wasn't a simple brief. Our client is based in the US and we couldn't leave the UK for obvious reasons. We were operating in a category where there was a relatively low level of consumer understanding. There were three levels of stakeholders engaged in the project. And success had to involve a subtle blend of technical advantage and consumer appeal without a long and costly timeline to launch.
All this in a 100% virtual process using Zoom.
The project was a resounding success with several ideas testing in the top 10-15% of partner agency System 1's data base.
Below I suggest five key success factors for this 100% virtual innovation project.
Post is by Jon Goldstone, Managing Partner and Head of our Marketing Excellence practice.
1. Create Rich Insight Fuel
Without the magic of face-to-face creative workshops, creating rich insight fuel as stimulus for innovation is more important than ever. Thankfully, the insight sector is going through a remarkable period of digital transition. There is no shortage of great insight methodologies and partners to work with. The art is to create the perfect blend and to extract maximum insight bang for your buck. We went for:
Extreme Ethnography – a combination of on-line platform and depth interviews
Social Analytics – analysis of social media and curation of content into themes
Semiotic Analysis – to identify residual, dominant and emergent cultural codes
2. Running Workshops That Count
Online workshops require a new way of doing things to be effective. The key is to maintain engagement, energy and creativity. This is made harder by the fact that participants are already spending hours in Zoom and Teams in everyday meetings. Here's a few of the things that we did:
Keep Technology Simple – most participants hate learning new technology and it can be awkward and time consuming. We went for a simple combination of Zoom and Google Slides
Contract Up Front – we had an agreement with all workshop participants. Be punctual (no dipping in and out). Be polite (build on the ideas of others). And be present (have your camera on)
Keep Sessions Short – we broke workshop days into a 3 hour morning session and 2 hour afternoon session. We had frequent short breaks and a 2 hour lunch break
Mix It Up – no session should be the same. We used a mixture of short presentations, breakouts, live consumer interaction, etc. to keep it interesting
Help With The Heavy Lifting – creating a winning innovation concept in an on-line session is really tough for participants. Therefore, during breakout sessions and overnight, we worked offline to lift the quality of the output. We created innovation ideas that participants could respond to. It's often easier to say why you like an idea, or how an idea could be improved than to actually have the idea.
A visual summary of some of the key success factors for virtual workshops is given below: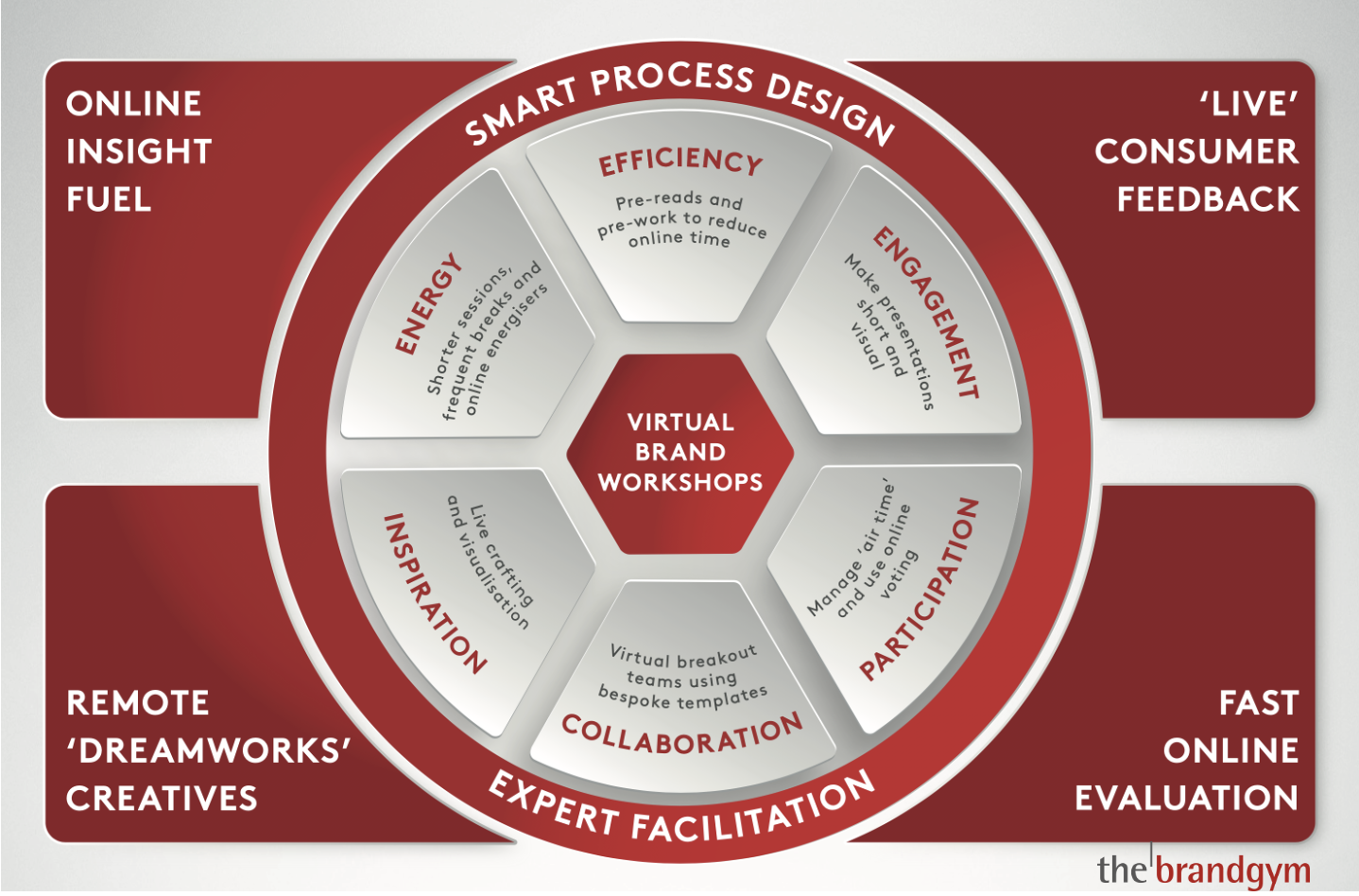 3. Cast the Perfect Team
In digital workshops, it is more important than ever to cast the right team. Missing an expert or padding out with make-weights can have a disastrous effect. Our learnings were:
Bake the Brand In From the Start – we had great brand representation on our project. This can be tough when 'brand agnostic' innovation teams are charged with developing a category innovation pipeline. But we found it to be invaluable
Get Technical Early – we had outstanding R&D representation from the start. This really helped raise the quality of the ideas and avoid designing in unnecessary cost and complexity
Know Your Core Team – there are times when difficult decisions need to be made. This is almost impossible to do collaboratively in an on-line workshop. Our Core Team were empowered by the rest of the group to make those decisions.
4. Keep Everyone Informed
Another challenge of remote working is keeping all stakeholders up to speed without over-whelming them with more emails, calls or Zoom meetings. For this project, we mapped out all stakeholders and created two groups: a Director Group and a Steering Group. The check-ins with these two groups were critical, and very deliberately designed:
Keep It Short – no check-in was longer than 45 minutes, with an equal blend of sharing and listening
Plan Up Front – it's really hard getting diary time with more senior stakeholders. We mapped all check-ins up front and got dates in diaries very early in the process
Clarity of Purpose – the purpose of each check-in was made very clear and simple. We had sessions like 'What do you love the most?' or 'Is there anything missing?'
Act On What You Hear – we acknowledged and considered every idea or piece of feedback, even if we didn't intuitively agree with it
5. Pitch With Confidence
Having worked for 20+ years in great companies like PepsiCo and Unilever, it always amazes me how poor the majority of internal pitch meetings are. According to brandgym research (below), only 6% of marketers are 'very effective' at pitching innovation. It really shouldn't be any different to an entrepreneur pitching for funding from investors. The stakes are as high and the importance of a great pitch is the same. Our team worked really hard on producing an excellent final pitch:
Make it Punchy – we had 45 minutes with the senior Steering Group and disciplined ourselves to a maximum of 30 very visual slides
Don't Hide Behind the Agency – the Core Team stepped up and consciously chose to take leadership and present themselves
Rehearse, Rehearse, Rehearse – make it feel like a really big deal. Rehearse your section and any hand-overs as if this was the most important presentation of the year. Dress well. Get your camera, lighting and sound working perfectly. Bizarrely, these things hardly ever happen for internal meetings and can make a huge difference.
With 'normal working' still a while away I hope that these tips for successful virtual innovation projects and helpful for you, your business and your brands.
On the subject of inspiration in a virtual world, a reminder about our webinar this Wednesday 27th March on How to Boost Your Brand Like Peloton. You can save a seat by clicking here. Even if you can't make it, save a seat and we'll send a link to a recording of the event.
And for more learning on making virtual workshops work, see this earlier post: https://thebrandgym.com/virtual-brand-workshops-6-lessons-from-a-crazy-year/