Practical brand strategy training: top priority for CMOs
Brand strategy training is the top priority for marketing capability, according to Gartner's latest CMO Spend Survey (1), which is great to see. It is also encouraging that CMOs are focused on growing the core. This is a highly effective but often neglected driver of sustainable, profitable growth.
In this post we look at the findings from the survey. We also share results from our own survey on what people want from an online marketing course.
1. Brand strategy training is top priority
Last year we flagged the need to keep working on brand strategy, in addition to short-term 'fire fighting'. Almost all (97%) marketing leaders agreed it was important to maintain brand strategy work during this crisis. And yet c.1/3 of had stopped/ paused brand strategy projects. This partly reflected questions over doing brand strategy work virtually. Fast forward to today and we have much more clarity on this. Our experience shows that virtual brand strategy projects CAN work well, as I posted on here.
Encouragingly, marketing leaders now share our belief in the importance of brand strategy. The Garter report states that brand strategy has "leap-frogged to the top of marketing capabilities, from its lowly position in 2019." One-third of CMOs now place brand strategy in their top three (see below). This is great stuff.
2. Focus on growing the core
I've long been banging the drum about the importance of growing the core, having posted on it many times and having also written one of only 2 books in the world on the subject. So, it is great to see marketing leaders firmly focused on growing the core (79%) in 2021. This is pretty evenly split between increasing sales of existing products (34%) and core range extension (45%). A much smaller 22% are looking to stretch into new markets.
These results are in line with our brandgym survey from last year in the middle of the Covid crisis.
Growing the core is a key module on our Mastering Brand Growth program that I talk about in the next part of this blog.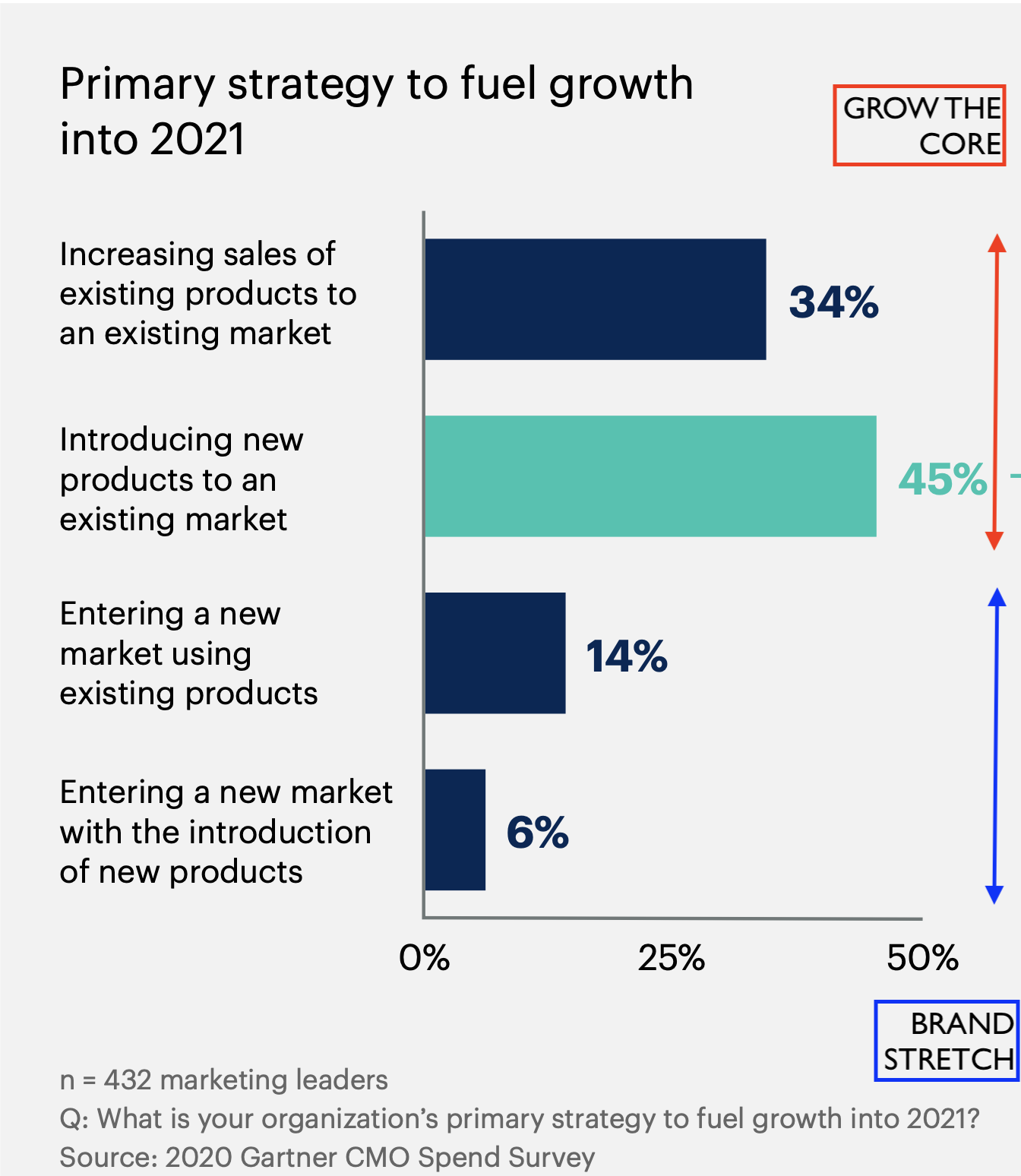 3. Need for practical, action oriented training
To meet the need for brand strategy training, we've developed the Mastering Brand Growth program, as part of our brandgym Academy online training platform. To help design the program, we asked marketers what they wanted from an online marketing training program. We did a survey of 100 people interested in an online marketing training program supplemented by qualitative interviews.
Over 250 people have taken the program, with 98% saying they would "be more effective in their jobs" and that they had "boosted their brand growth know-how". You can book a place on the next program by clicking here.
Practical tools
Above all, marketers want practical training. Practical tools brought to life with real-life examples came out as the top needs, above marketing theory.
The Mastering Brand Growth program includes a comprehensive 35 tool workbook, that you start using from day 1. The principles and tools are brought to life with case studies and examples from 20 years of real-life projects and our 8 books and 1,500 brandgym blog posts.
Direct 2-way interaction with your trainer was also quite important, almost the same as marketing theory. To meet this need, the Mastering Brand Growth program includes live Zoom workshops where participants can directly interact with me as their brand coach.
Action oriented
The majority of people (64%) want to end of a brand strategy training program with an action plan rather than an exam. Over the 8 weeks of The Mastering Brand Growth program, you work on tools that apply the key principles to your own brand. You finish with a comprehensive action plan, ready to use.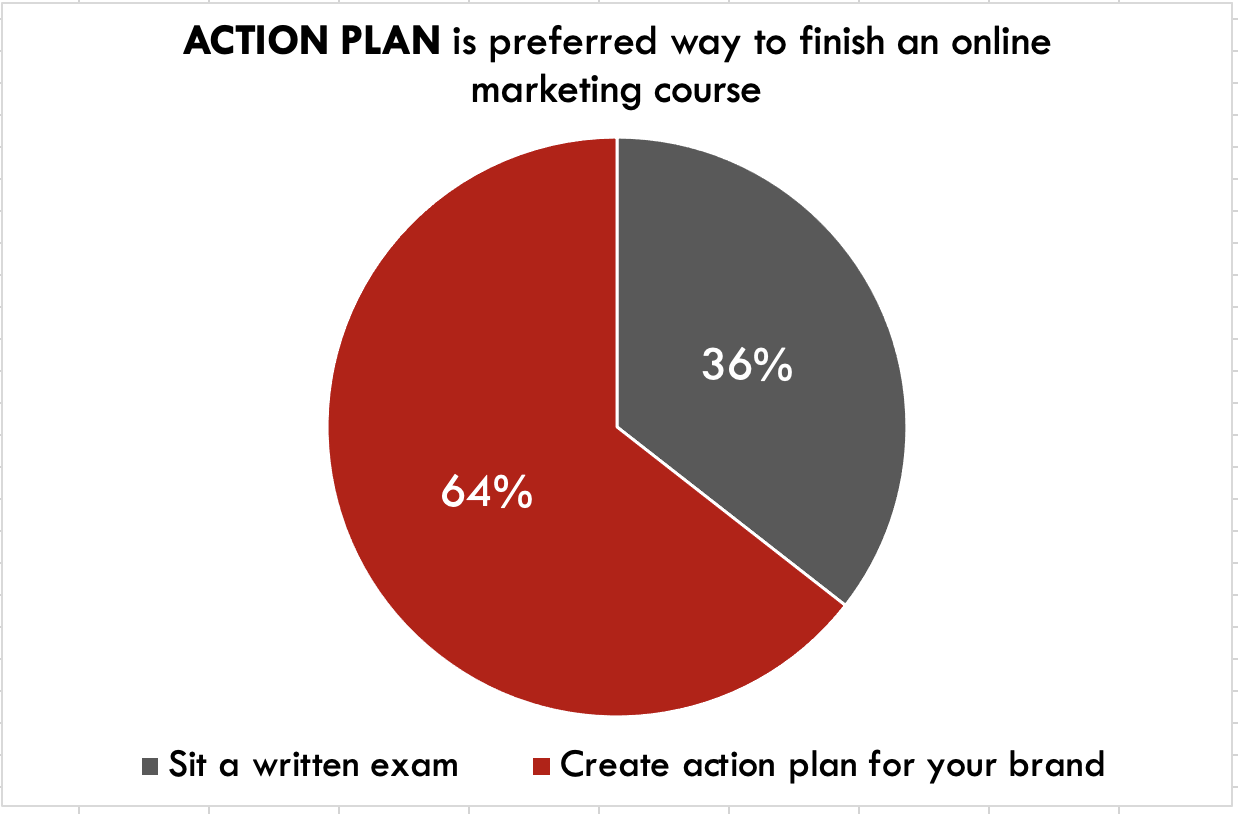 In conclusion, it's great to see the commitment to invest in brand strategy training, key for long term growth, including a focus on growing the core.
If you'd like some more information on the program, please pop your details in the box below. We'll also send you brandgym blog weekly updates, but you can easily opt out whenever you want.
Sources:
(1) Gartner 2020 CMO Spend Survey The survey talked to 432 marketing executives in North America, the U.K., France and Germany at companies with $500 million to $20 billion or more annual revenue.