Innocent's Big Knit at 20: A brilliant brand property
I first posted on Innocent's Big Knit campaign 16 years ago, back in 2007. People are invited to knit small hats which then go on top of Innocent smoothie bottles. 25p from each bottle sold is donated to charity partner Age UK to help keep old people warm at winter. Fast forward to today and the campaign is still going strong, with a feature on its 20th anniversary in Marketing Week (1). "It not only continues to have impact and value, it has more and more impact and value as time goes on," says head of brand Emilie Stephenson. A total of 1.5 million little hats were knitted for 2022's event, bringing the total raised for Age UK since the start of the campaign to just under £3 million.
I often use The Big Knit on brandgym projects and brandgym Academy programs as a great example of a distinctive brand property that helps grow the core. In this post I share some learning from 20 years of The Big Knit.
1. StoryDOING, not just storyTELLING
The Big Knit brings to life the Innocent brand idea, summarised as "Natural, delicious drinks that taste good and do good", and the brand's fun-loving personality. The campaign is a good example of delivering a social mission through action. We call this storyDOING, in contrast with a pure communication approach which is just storyTELLING.
A nice feature of the campaign is that it goes beyond simply raising money for Age UK. An additional social benefit is giving an opportunity for older people to get together and knit throughout the year. The way Innocent work on the campaign with Age UK and the army of knitters is highly collaborative.
2. Sell more stuff
The Big Knit 'bakes in' distinctiveness to the product itself via the special packs with hats on. This contrasts with other social mission campaign which simply involve asking for donations. The big benefit of this approach is that the impactful packs drive visibility on shelf, helping the brand stand out. The campaign also generates news and online conversation, further raising brand awareness. This all means that the campaign is not only good for the old folk it helps, it is also good for business. "The campaign has consistently driven "significant" uplifts in unprompted brand awareness, even when there is no media spend behind it, due to its in-store visibility and memorability," reports Marketing Week, based on Kantar brand tracking data (1).
3. Keeping consistency
Building distinctive memory structure takes several years of consistent marketing. When it comes to brand activation, few brands seem able to create this sort of consistency. Instead, a new annual planning cycle means new marketing ideas are created in the search for novelty.
The Innocent Big Knit is a rare example of running a campaign for long enough to build memory structure and so have a positive effect on boosting brand awareness. "The campaign's long existence means consumers see the knitted hats in-store and instantly associate them with Innocent", Emilie told Marketing Week (1), explaining that the brand-building activity helps keep Innocent top of mind all year round.
The power of this approach is that each year the brand is building on previous efforts, making a strong idea even stronger. "The best analogy is it's a bit like a snowball which starts small and then grows and grows, in terms of the money raised and the amount of people helped over the years," explains Emilie.
4. Adding freshness
The magic in creating a long-running activation campaign is to add some freshness to keep it interesting. This is for consumers but also for retailers and people inside the business, especially the sales team. This creates what we call fresh consistency. "We've always found ways of being disruptive around the same theme of knitting each year," says Emilie (1). She emphasise the importance of retaining the the core elements consumers enjoy whilst also evolving.
Past ideas to being freshness included recruiting celebrity knitters like Lilly Cole and offering to knit a wooly hat in the shape of your pet! This year to celebrate the 20th anniversary of the Big Knit, a team from Innocent and Age UK knitted the UK's largest woollen hat, measuring 23ft tall and 20ft wide.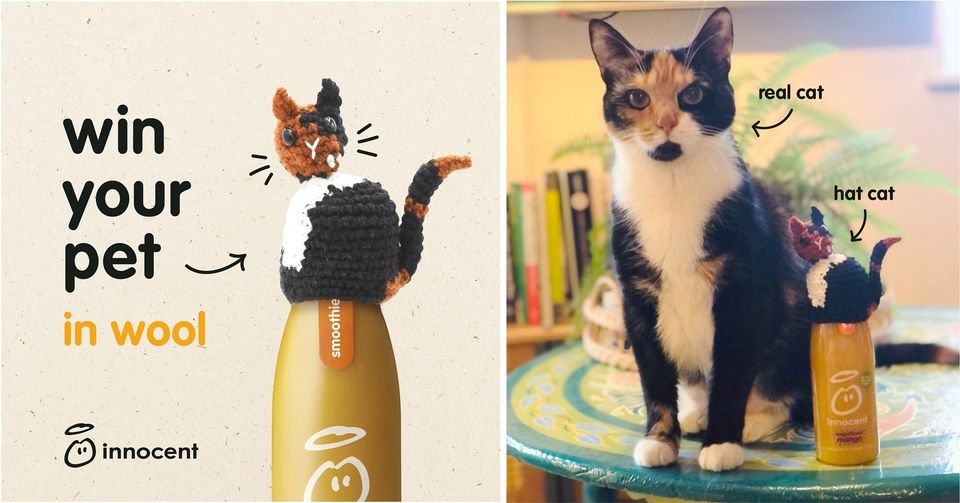 In conclusion, hats off (!) to the Innocent team for building, amplifying and constantly refreshing a brilliant brand property that does some good for society, for the brand and for the business.
We explore creating distinctive brand properties to grow the core alongside seven other modules on our flagship brandgym Mastering Brand Growth program, which kicks off this April. If you'd like more info on the program, simply pop your name and email in the form below 
SOURCES